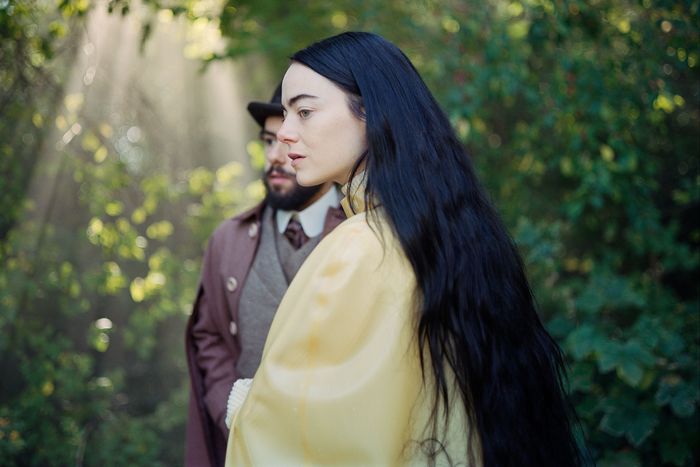 Her character in Yorgos Lanthimos's latest movie is her best role yet, one that is primed to earn her another Oscar nomination.
Photo: Yorgos Lanthimos/Searchlight Pictures
What would a woman do if she could start over from scratch? This is the central question for Emma Stone and Yorgos Lanthimos in Poor Things, the pair's second feature-length collaboration that ratchets up the deadpan absurdist comedy, unapologetic sexiness, men-really-are-fucking-idiots framing, and surprising emotionality of The Favourite. Yet again, the two are examining the strange constructs of human behavior by pointing out the inherent artificiality of it all — and also, letting women fuck a lot on screen and actually enjoy it.
The film is an adaptation of Scottish writer Alasdair Gray's 1992 novel of the same name, and follows Bella Baxter (Stone, who also executive produces), the subject of an unorthodox experiment at the hands of brilliant-slash-mad-scientist Dr. Godwin Baxter (Willem Dafoe) and his assistant, Max McCandles (Ramy Youssef). In her initial life — the details of which are kept a mystery for much of the film — as an unnamed 19th-century Victorian woman, Bella throws herself from a bridge while nine months pregnant. Dr. Baxter rescues her from the chilly depths, implants her unborn child's brain into her head, and raises her all over again. These conditions converge to create one of the most charming, shamelessly sexual characters committed to screen — and Emma Stone's best role yet, one that seems primed to earn her another Oscar nomination.
Stone plays Bella through every stage of her mental development — from joyful innocent to wizened grown woman, a transition that happens with exponential pace, perfectly timed arch comedy and pathos, and the same sort of relish that Bella herself reserves for sex, Champagne, and cutting open dead bodies. Her performance, somewhere on the spectrum of Nell and Splash and The Little Mermaid and My Fair Lady and Margot Robbie in Barbie, is intensely physical in every sense: we first meet her, surrounded by heaps of The Ring hair, as she staggers into the frame in a giant nightgown, plonking on the piano, hurtling plates onto the floor, pissing herself in the middle of the hallway, speaking in rapidly expanding bursts and, for a long time, almost exclusively in the third person.
Dr. Baxter raises her like his own child, and in return, she calls him God, offering unquestioning love and loyalty … until one day she climbs onto the roof and realizes she yearns to be part of that world. (It's understandable, beautifully rendered as it is by Lanthimos with sets that suggest a steampunk, Gaudi-esque storybook world, and an alternative Victorian past with sky-traversing trams and gas-fueled horse carriages.) Baxter won't allow it, though. The experiment wouldn't be "pure" if he lets her out. He's just one of the many men in the film who desperately try to keep her where they can see her, an impulse that's mostly malevolent but occasionally a misfiring of protectiveness.
Where she'd previously been happily trapped in the lab alongside Baxter, learning about anatomy and plunging surgical shears into cadavers' eyes, Bella is now a furious, rebellious tween, hurling kippers at her keeper, McCandles, who's been hired by Baxter to track her development. ("What a very pretty retard," he remarks upon meeting Bella, shortly before he falls in love with her and, after some prodding from Baxter, proposes marriage, which she indifferently accepts.) And when Bella accidentally discovers masturbating one afternoon, the jig is truly up: "I've discovered something that I must share … Bella discover happy when she want!" The only person who'll let her talk freely about her newfound sexual powers is a local lawyer who stops by to look over her extremely binding marriage contract, a rakish cad named Duncan Wedderburn played to sleazy perfection by Mark Ruffalo.
This is where the movie, and Stone's performance, really kick into gear. Bella talks Baxter and McCandles into letting her go on a "grand adventure" with Duncan before she gets married. She departs with him for Lisbon, where, like Dorothy's tornado or Pleasantville's bathtub orgasm, Mark Ruffalo's dick turns Bella's previously black-and-white world to screaming technicolor. The two spend the next several days railing each other in every possible position, Stone's comically expressive, near-cartoonish face perfectly elucidating the unbelievable delight of first lust. She's disappointed to learn he can only go three times before he's temporarily expired. "Is it a physiological problem?" she says, expressing curiosity but not judgment. "A weakness in men?"
Bella's desire — for men, for dramatic dancing, for pastel de nata, and eventually, for intellectual stimulation and agency — drives the film. She reveals herself to be one of cinema's horniest legends, fucking her way across the European seaboard. Stone's performance matches that fearlessness; she goes for broke here, cumming loudly, her body and face hitting every note of the human sexual experience — thrill, disappointment, disgust, horror, intrigue. She's often totally nude, most notably during a delirious second-act turn as a hyper-intellectual French prostitute studying socialism and Goethe while dabbling in S&M, role-play, lesbianism, and being disinterestedly hung from the ceiling. As one character describes it, it's all an unapologetic "diabolical fuckfest" that answers the oft-posted extreme-bummer of a Twitter thread about "unnecessary sex scenes" with one long, screaming orgasm.
As Lanthimos explained it at a post-screening press conference (which Stone was unable to attend as a member of striking SAG-AFTRA) at this year's Venice Film Festival, where the film premiered on Friday, Stone never blinked. She'd been involved with the film's development for years, and knew that the "film couldn't be prude, because that would be completely betraying the main character. We had to be confident and, like the character, Emma had to have no shame about her body, nudity, engaging in those scenes and she understood that right away," he said. He added that the two, who've now made four films together, including a 2020 short Bleat and an upcoming film called And, have developed a "shorthand" that made the whole thing easier.
They shot most of the sex scenes using natural light and rigged mics, meaning that for most of them, only Stone, the actors, the cameraperson, and Lanthimos were in the room. They also hired an intimacy coordinator, Elle McAlpine, to ensure everyone felt comfortable and appropriately choreographed. "In the beginning, that felt a little threatening to most filmmakers," he laughed. "But it's like everything, if you work with a good person it's great, you realize you actually need them." At one point, he, McAlpine, and Stone sat down to decide things like, "What position here? What do we do here? What's missing from the experience of sex and the different desires that people have that we need to portray in order to make it enough of a representation of human desire, the idiosyncrasies? It was important for all of us to have that be a part of a film and not shy away from it." He paused. "It's also very funny sometimes," he added.
"It's weird, isn't it?" he replied to a question about why the movie's proud sexuality felt so rare and so surprising. "Why is there no sex in movies?"