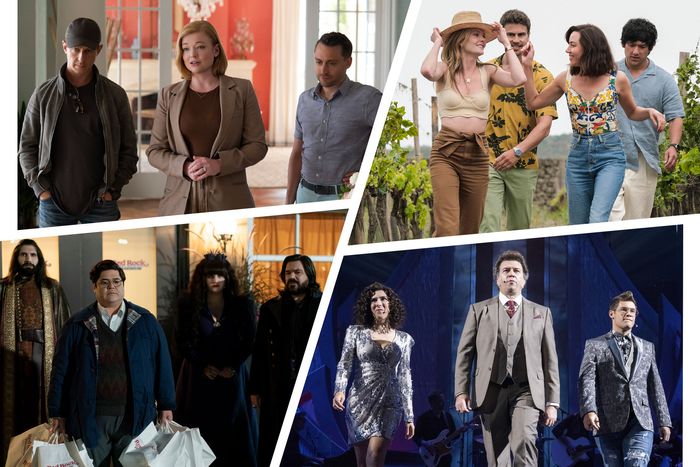 Four ensembles, all alike in dignity, but not nominations.
Photo-Illustration: Vulture. Photos: HBO; FX
Television is obviously not a solo project — just take a moment to actually sit through the credits after any episode — but that's been especially evident in recent Emmys seasons, when so many of the acting nominees represent the same series. "Succession, The Last of Us, and White Lotus Swept the 2023 Emmy Award Nominations" is not that different from "Succession, Ted Lasso, and White Lotus Lead the 2022 Emmy Nominees." If the Emmys chose monotony last year (which they did), this year was weighed down with overwhelming support for certain series and the need to recognize nearly every single front-facing person involved in them. Emmy voters seem to have a very narrow watch list, and they rewarded its individual cast members en masse. Isn't it time already for Best Ensembles categories to change things up?
When I wrote about last year's nominations, I suggested, "Only one Supporting Actor and one Supporting Actress for each series, so that ensembles don't end up dominating. Only one writing and one directing nod per series, so that voters are forced to consider more options." I still think that's a solution for category-bombing, and maybe when coupled with a Best Ensemble category that is designed to honor series with large casts, it would allow other deserving shows to finally break through. The reality is that there is simply too much damn television, and five to eight slots for each category aren't enough to recognize everything happening in this medium, especially if Emmy voters are going to stick to certain series for every choice. Make a Best Ensemble category, encourage networks and streamers to adapt their campaigns to emphasize the bond between these casts, and move away from an awards cycle dominated by only a few, buzzy series. This is such a no-brainer that it feels almost as obvious as the demand for Best Stunts inclusion at the Academy Awards. (And you know what? Best Ensemble should exist at the Academy Awards, too, and it should retroactively go to all three of Steven Soderbergh's Ocean's movies.) The Screen Actors Guild already has annual ensemble awards for drama series, comedy series, and stunt ensemble in a comedy or drama series, so the Emmys have a model to follow.
This isn't just a matter of how awards shows should function, though. It's about recognizing how the medium of television itself functions. Family sitcoms, workplace comedies, prestige dramas — nearly all categories of TV rely on groups of characters to build out their worlds. Sometimes the core cast is fairly fixed, like in Roseanne, Living Single, Friends, or Seinfeld, and episodes follow their exploits interacting with other people outside their circle. Sometimes the core cast expands, like in Mad Men, The Wire, True Blood, and Game of Thrones, and the series is driven by the growth of internal world-building and the characters' transformations. Both methods need ensembles to succeed, and it's past time for the Emmys to recognize the collaboration and chemistry that fuels that teamwork.
There are always central figures in TV — your Walter Whites, your Buffy Summerses, your Issa Dees — but they are more often than not an element of a collective, because this is a creative form that needs to sustain and prolong itself, and a useful way to do that is through distinct characters whose personalities provide all kinds of narrative avenues. How do these people relate to each other? How do their relationships deepen and deteriorate over time? What experiences do they share, on which goals do they diverge? The Emmys obviously recognize this beneficial codependency to a certain degree; the omnipresence of nominations for actors who spent this last TV season racing through the halls of Waystar-Royco, running around the AFC Richmond pitch, or traipsing around Italy while rich and unhappy is a sign of the Succession, Ted Lasso, and The White Lotus ensembles doing strong work together. But those ensembles dominating individual acting categories and boxing out dozens of other series isn't exactly fair, is it?
It's possible that nothing will get Emmy voters to recognize the perfection of Reservation Dogs (which they've now gallingly and embarrassingly ignored for two excellent seasons, save one Sound Editing nomination) or The Righteous Gemstones (Danny McBride remains an unrecognized genius in his time). Maybe they thought Dead Ringers was too gory (wrong), or P-Valley too soapy (melodrama isn't bad!), or Party Down too juvenile (wrong, again), or What We Do in the Shadows too weird (okay, arguable). Those are exactly the kinds of shows, though, that would benefit from a Best Ensemble category as a way to recognize the committed, emotive, powerful performances within them: the sensual and sinister energy that Rachel Weisz exuded to every single of her scene partners (especially herself); the mania of Edi Patterson and Ken Marino; the self-possession of Brandee Evans and J. Alphonse Nicholson; the vulnerability and hope guiding Devery Jacobs, Lane Factor, Paulina Alexis, and D'Pharaoh Woon-A-Tai; the gonzo hilarity of Harvey Guillén, Kayvan Novak, Matt Berry, and Natasia Demetriou. There's a risk that a Best Ensemble category wouldn't stop Emmy voters from overwhelming individual acting categories with all the castmates from one series. But it's getting pretty boring to experience year after year of Emmy voters going all in on certain shows while fully ignoring that others even exist. It's nice that they have their favorites, but it's time for a Best Ensemble category to introduce them to some new ones.