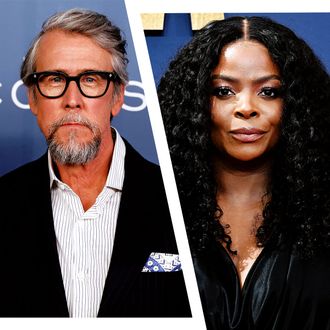 Emmy nominees Alan Ruck and Janelle James.
Photo-Illustration: Vulture; Photos: Getty
The Academy of Television Arts and Sciences held its live Emmy nominations announcement on July 12 in the middle of a difficult time for the television industry — turmoil that some (though not all!) honorees couldn't help but address in their statements post-nomination. "Because of the ongoing writers' strike, my ability to enjoy this accomplishment has become more complex than usual," tweeted Abbott Elementary producer Brittani Nichols, who earned an Emmy nomination today. "As a writer, I am not currently partners with the studios. Therefore, campaigning as if I am — as if everything is hunky-dory and they are not actively seeking to bring about the end of the profession of television writing — would feel crappy to me. Thus, I will not be campaigning on the show's behalf until a fair deal for WGA and SAG-AFTRA is reached." Henry Winkler told the Wrap that the WGA strike and looming SAG strike feel different than others in which he participated. "I was at the strike in 1980 when we had that big celebration at the Hollywood Bowl, and we didn't have all of the other crafts supporting us," he told the Wrap. "It was very contentious in 1980."
Writers across the country are currently on strike after negotiations between AMPTP and the Writers Guild broke down a little over two months ago, leaving late-night television and shows in preproduction on an indefinite pause until a fair contract is reached. Just yesterday, an industry veteran told Deadline that studios "think we're in for a long [writers] strike, and they're going to let it bleed out." Soon, the Screen Actors Guild could join the writers on the picket line if parties don't reach an agreement by midnight tonight. Both the WGA and SAG-AFTRA are asking studios for reasonable pay and protections against AI, among other issues that are a danger to the stability of their profession. Add these labor concerns to the big soup that is the flailing entertainment industry, and you get a weird Emmys season.
Below, we gathered all the statements nominees made that did the double duty of thanking the Television Academy and expressing solidarity with those fighting for fair deals.
"I'm so thrilled and proud to receive this nomination and to see so many of my SUCCESSION colleagues get nominated! This was really and truly a special show – a career high for all of us in all departments, in terms of originality and collaboration. And sheer joy of creativity!
"I also strongly want to express that all shows and performers nominated today are only as good as their WRITERS! No one should ever mistake the fundamental importance of writers and their connection to the quality of a TV show or a film. It's vitally important that a fair solution is found to writers' needs and requests."
"Thank you to the Television Academy for sending us off in such style. I've said this many times, but I waited for a show like Succession to come along for my entire career, so to receive my first Emmy nomination for this particular project makes this all the more gratifying. To be in the orbit of Jesse Armstrong, Mark Mylod and the best writers, directors, designers and crew on the planet has been an extraordinary experience. I share this with everyone behind the camera, and of course with my onscreen family, some of the most incredible actors I've ever worked with. I send a special thank you to Justine Lupe, my awesome scene partner and dear friend who I got to spend so much time with on this crazy ride. Looking forward to getting together with everyone, and in the meantime I stand in solidarity with my fellow actors, our writer colleagues and all during this critical moment for our industry."
"I am so honored to be recognized along with the other talented nominees by the Television Academy. Living out my dreams of making a living in the arts and sharing the gift of laughter is made that much sweeter working alongside my Abbott cast mates and the fantastic writers and crew on the show. Solidarity with the WGA and SAG-AFTRA, both of which I am a proud member."
"I am so honoured and excited! Thank you Television Academy for these nominations for two shows I'm immensely proud to be part of. I'm so thrilled about the nominations for Best Drama for Yellowjackets, and for our amazing casting directors. Everyone knows I am a superfan of our cast and I am looking at my nomination as being representative of the ensemble, as every member of the cast makes the show as special as it is, especially my sweet Sophie Nélisse whose performance this season was otherworldly.
I am incredibly happy to see all the nominations for The Last of Us! I'm eternally grateful to the brilliant Craig Mazin for asking me to be part of the show. I'm elated that so many incredible artists and craftspeople were recognized from multiple departments, not to mention the amazing cast. I'm overjoyed for Bella and Pedro and Anna and Storm and Murray and Nick and the wonderful Lamar, and I burst into tears when I saw that Keivonn was nominated. Also GO JULIETTE I LOVE YOU. And of course I stand in solidarity with the WGA — both of these amazing shows started with the script and we would be nothing without our writers — and as a proud member of SAG-AFTRA."
"I want to thank the Television Academy for an incredible eight nominations for Andor. We set out to make a drama series that defied genre categorization in its telling of a compelling, relatable human story, told in an extraordinary, other-worldly but identifiable setting, and it is so gratifying to see it celebrated by the industry in the same way audiences around the world have embraced it. It especially brings joy to see Andor nominated for 'Outstanding Drama Series,' as that is a testament to the collective work of hundreds and thousands of people in front of and behind the camera who have brought our show to life. Tony Gilroy's vision for the series has been inspiring, and I feel so fortunate to share this moment with all of my collaborators. I look forward to celebrating with everyone, especially once industry leaders have made fair deals with the writers, actors and countless other artisans who share their passion and talents and deserve to be properly compensated for their contributions to what is undoubtedly a golden age for television and film."
"It's been two months since I've cracked open this laptop so forgive me if I drift into cliché, but 8 nominations? I'm thrilled. Obviously, some big thanks are in order — first of all to the voters and audience who picked up on our show and have made the past 10 months the most affirming I can remember. Thanks to our entire ANDOR community — and it's a big one — for bringing this thing alive, keeping it rolling through COVID, and challenging each other to reach every day for something special. Congrats to all our nominees. I'd be remiss to not include a final shout out to the WGA and SAG for standing firm and making such huge sacrifices to preserve our incredible industry."
Beau Willimon (writer), Andor
"It's thrilling to see Andor receive so many nominations from the Television Academy. I'm grateful and honored to be part of the team that Tony Gilroy assembled. He had such a strong vision for the series and hundreds of talented people worked tirelessly to bring the scripts to life. All of us are indebted to the fans who have been so supportive of us trying to do something different within such a beloved franchise. I'd also like to acknowledge that while it's wonderful to celebrate the value of writers, 11,000 of us are currently on strike to protect the value of every writer on every show, and winning that struggle is the most important prize of all."
Craig Mazin (writer), The Last of Us
"I am honored to be recognized by The Academy, but even more pleased to see how many of our brilliant cast and crew were nominated for their work on The Last of Us. That said, my priority right now is to see the day when all entertainment industry artists and craftspeople are treated fairly by the companies who convert our work into their profits. Working within the union rules, I intend to focus any promotional efforts on supporting the nominated crew of The Last of Us. Our industry's crewpeople are just as impacted by this necessary labor action; showing them our enthusiasm and love is more important now than ever."