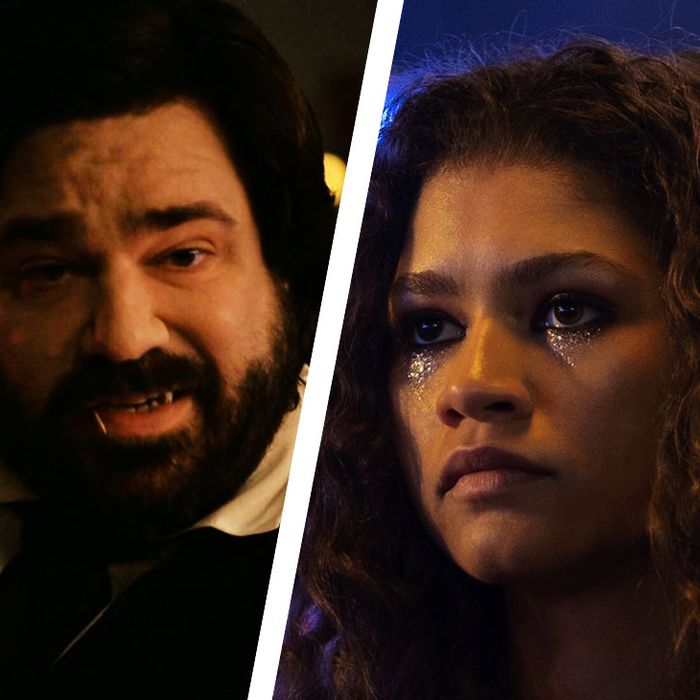 Reese Witherspoon may have been "snubbed" (as much as the producer of multiple heavily nominated shows can be snubbed), but the Emmys' unexpected love for
What We Do in the Shadows
and [
Leslie Jones voice
] ZenDAYA!!! made up for it.
Photo: Left: Hulu, Center: FX, Right: HBO
The biggest surprise of this year's Emmy season is probably that we're somehow still doing the Emmys, even as the world teeters into chaos. If it's going to fall apart, though, at least we can still take comfort in the simple things — like, for example, the painstaking dissection of how exactly Steve Carell got slotted into a "lead" category for The Morning Show, and whether we should take the several nominations for Quibi shows as another sign of the apocalypse.
In spite of the socially distant circumstances (and Tatiana Maslany's unfortunate backlighting), today's nominations felt notably jubilant thanks in large part to Leslie Jones's exuberant hosting, but also thanks to some pleasant and unexpected surprise nominations. (It would likely have been even better if Jones could've yelled "ZenDAYA!!!!!" in a room full of other people, but we will take what joy we can get in this strange Emmys year.) Here, some of the nominations that made us sit up and take notice — for better, for worse, and for Quibi.
Zendaya was nominated for Euphoria, an unusual move for the Emmys, which often prefers to stick to older, established names in the major acting categories. Also newly nominated in the Lead Actress in a Drama category this year: Jennifer Aniston for The Morning Show, proving that Apple TV+ didn't funnel all its millions of dollars into inventing a streaming service for nothing.
A strange lack of nominations for Reese Witherspoon, though, despite her roles on both The Morning Show and Little Fires Everywhere. Both of those shows were nominated in other categories, and Witherspoon will still be recognized as a producer. Still, it's odd that The Morning Show, a show about women stepping into their own power on a morning TV show, earned four (4!) nominations for male actors (Steve Carell, Billy Crudup, Martin Short, and Mark Duplass) and only one for a woman (Aniston).
Eight nominations for What We Do in the Shadows, including for Best Comedy! It's one of the more delightful surprises of this round of Emmy nominations because, while Shadows absolutely deserves those nominations, it's been a bit of a dark horse, much beloved by its audience but never cresting into massive popularity. Other than Best Comedy, the most exciting nomination is for Stefani Robinson for writing the glorious episode "On the Run." Jackie Daytona!!
No nomination for either Merritt Wever or Kaitlyn Dever in Unbelievable, a true travesty given their absolutely stellar performances. Toni Collette was nominated for Outstanding Supporting Actress, but it feels wrong to recognize just one of the three incredibly strong performers on that show.
The Mandalorian was nominated for Best Drama. It's a happy day for Baby Yoda. It's a somewhat confusing day for anyone looking to the Best Drama category and trying to imagine how to compare The Mandalorian, Succession, Stranger Things, and Ozark as though they are all the same kind of show.
Octavia Spencer was nominated for Self Made: Inspired by the Life of Madam C.J. Walker, proving that Spencer is so powerful that she can earn recognition even when she's performing in a show almost no one watched and can manage to get into one of the most competitive Emmy categories over possible favorites like Normal People's Daisy Edgar-Jones, Unbelievable's Wever, and this year's snub queen, Little Fires Everywhere's Witherspoon.
Both Nailed It! and The Masked Singer were nominated for Outstanding Competition Program, which means that we've finally made room for some truly weird reality-competition shows to take up space in a category usually dominated by big, self-serious spectacles like The Voice. Can't wait to see what Egg wears to celebrate the occasion.
When will the Emmys pay attention to Rhea Seehorn? She's so great in Better Call Saul, and they nominated the show for Best Drama, so they do know it exists! What gives, Emmys?
At least they had the good sense to remember Shira Haas for Unorthodox. Haas's performance as a young girl escaping a Hasidic family was one of the quietest but most striking performances of the year, and it's great that she was included in Netflix's massive sweep of nominations.
What is happening over there in the Original Music and Lyrics category? Several songs were nominated that I doubt many people even realized … were songs? No offense to "Memorized" from This Is Us or "Build It Up" from Little Fires Everywhere, but how on earth did they beat out perhaps the most recognizable original song from the TV year, "Toss a Coin to Your Witcher"? We also need justice for the tragically overlooked "Misbehavin'" from The Righteous Gemstones.
QUIBI? Jeffrey Katzenberg and Meg Whitman's seemingly cursed shortform TV-ish content experiment may have already failed in so many ways, but it has succeeded in one specific approach: Gaming the shortform Emmy categories to the extent of getting ten nominations. You, and most people you know, may never have watched or even heard of its adaptation of Most Dangerous Game, but it's in that nominations list for the best shortform series. Quibi also got nominations for a slew of actors from its shows, including, of course, Anna Kendrick in Dummy, a show about Anna Kendrick befriending a sex doll. Will this make anyone actually download the app? Probably not.
Alas, Jimmy Fallon was not nominated in the Variety Talk category, even though much of America remembered how much it liked him for a few weeks this spring. Also snubbed: Fallon's two daughters, the clear stars of Fallon's At Home edition. More important, though: Where is the nomination for Desus & Mero?
Netflix's Hollywood somehow managed to get 12 nominations. Ryan Murphy's big, expensive, pretty alternate history was pretty much a dud as a show, but that didn't stop it from getting a lot of love from the TV academy, which tends to love anything pretty and expensive. Congrats to theater's own Jeremy Pope, who was the best part of the show, and managed to get a nomination for Lead Actor in a Limited Series, but the rest — aside from the requisite production design and costume nods — is generally befuddling.
Cecily Strong got her first Emmy nomination. Strong's found a place for herself as one of SNL's sharpest performers, with her specialty collection of deluded, aggressive women, but she's not necessarily the cast member who gets the most attention — that'd be her fellow nominee, two-time winner Kate McKinnon. We'd love to know what absurd take the girl you wish you hadn't started a conversation with at a party would have about this news. 
Steve Carell is an Emmy-nominated(?) Lead Actor(?) for The Morning Show. While the TV Academy was busy not nominating Witherspoon, they still managed to ladle a lot of attention onto The Morning Show, something that no doubt thrills everyone at Apple TV+. Aniston for Lead Actress (the better performance, to be fair)! Crudup for Supporting Actor (sure, he's having a fun time)! Short for Guest Actor (congrats on his odd little Woody Allen impression)! Duplass for Supporting Actor (uhh, okay?)! And Carell for Lead Actor! In terms of star billing, it sort of makes sense, but Carell's Matt Lauer–esque fallen anchor is really much more of a supporting figure to Witherspoon and Aniston's characters, and it's surprising that Carell got into the highly competitive lead category over, say, Bob Odenkirk's work in Better Call Saul.
Brad Pitt was nominated for an Emmy for playing Dr. Anthony Fauci on SNL. LOL.
Lynn Shelton, who received her first Emmy nomination posthumously for Little Fires Everywhere, deserved to have gotten more recognition before now, considering her work on any number of TV shows and indie movies, but it is at least some small consolation to see her work recognized for directing the Hulu series (though it would've also been great to see her work in comedy on GLOW or Dickinson recognized as well).
Watchmen's two Will Reeves both got nominated against each other. It's rare to see one character get actors two nominations in a single category, but so it goes with Louis Gossett Jr. and Jovan Adepo, who were both nominated for playing Will Reeves in different time periods. That's probably a sign of Watchmen's overwhelming dominance in the Limited Series categories, with 26 nominations total (though, if we're allowed to quibble, no recognition for Hong Chau). However, both Will Reeves might not stand a chance against the blue man himself, Yahya Abdul-Mateen II, who's also nominated in their category.