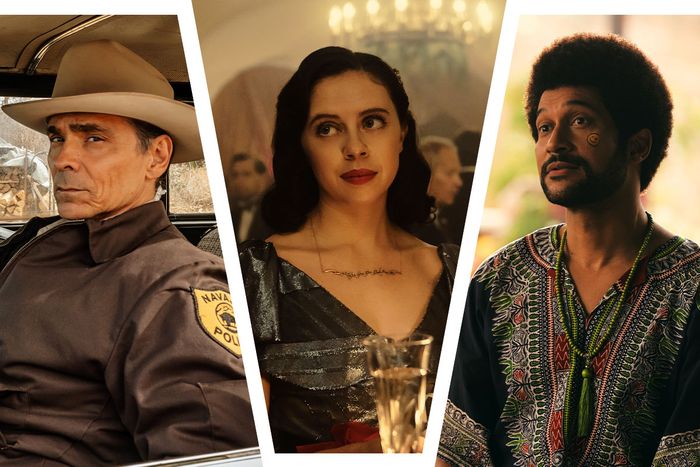 Photo-Illustration: Vulture; Photos: Michael Moriatis/AMC, National Geographic for Disney/Dusan Martincek, Everette Collection
It's Emmys time again! Or is it? With the writers strike continuing to dominate nearly every conversation about the TV industry, it's been one of the most unusual Emmy seasons in recent memory, as both fans and members of the Academy question whether there will even be a show this year. Yet the machine keeps running: Emmy nominations will be announced tomorrow morning, pushing critical darlings to even higher heights and hopefully elevating a few great performers to new celebrity status.
This means it's time once again for us to register our performance nomination wish list, where we highlight the potential nominees who aren't being predicted by the majority of pundits. Of course, we love Steven Yeun in Beef, Bill Hader in Barry, and Sarah Snook in Succession, but they've already prepped their nominee statements; we're focusing on those who are less likely to join this exclusive club but should. Even if these performances don't get the nominations they deserve, they're some of the best of the 2022–23 season, all worth both your time and Emmy's attention.
The Academy has been notoriously stingy when it comes to nominations for Better Call Saul. After all, Rhea Seehorn only received a single nomination for the first half of the final season (and she better repeat this year)! The odds that the Emmys will get this show right seem pretty low, but would it really miss the chance to praise one of TV's remaining living legends? Carol Burnett didn't just show up as a bit of stunt casting — she fit in perfectly and ended up playing a crucial role in the fate of Saul Goodman. The truth is if she was still in the Guest Actress category, she would likely be going up for her seventh Emmy this year, but it's much tougher to crack the Supporting Actress category, where she ended up being eligible after appearing in four of the half-season's six eligible episodes. A reminder of one of the most influential legacies in TV history plus attention for one of the best drama series of all time feels like an opportunity that shouldn't be ignored but probably will.
One of the best limited series of 2022, FX's adaptation of Taffy Brodesser-Akner's best-selling novel should be well represented on Emmy-Nomination Morning, but there's a chance its best performance could get shoved out owing to overcrowding. Yes, Claire Danes is remarkable as Rachel, but the acting turn that holds this whole thing together belongs to Lizzy Caplan as Libby. In a sense, it's a dual performance. Libby narrates the story of Toby Fleishman (Jesse Eisenberg) as he struggles through life after the disappearance of his ex-wife. Her narration is stunning and underrated, a cleverly crafted piece of voice work that sometimes feels like hearing a story told by a good friend. And then there's her work as Libby, an old friend of Toby's whose life is affected by his self-centered choices. Caplan is consistently great in everything she does, and this might be her best work to date.
Mike Colter for Evil
The Academy has never recognized the great, form-breaking work of Robert and Michelle King since they left CBS and started making The Good Fight and Evil. Maybe it's because of the comparatively low profile of Paramount+. Maybe it's because voters just don't get it. Whatever the case, Evil remains one of the most fascinating dramas of its era, and star Mike Colter had his best season to date in its third outing. Colter subtly conveys David Acosta's balance of temptation and faith — understanding how both his human needs and belief system play into every choice he makes. It's an increasingly excellent performance, and an Emmy nod would help this show find the audience it deserves.
There's something so challenging about playing "normal" in the era of high-concept TV; an average midlife crisis is often treated as a sitcomish source of derision or part of an anti-hero's growth. What's so captivating about HBO's Somebody Somewhere is how easy it is to see yourself in its characters, people reaching for happiness and dealing with grief. The writing is strong, but nothing about this show works without the grounded, sensitive central performance by Bridget Everett, who doesn't overplay the truth of her character but finds it nonetheless.
Dominique Fishback for Swarm
Janine Nabers and Donald Glover's vicious takedown of celebrity obsession was one of the most divisive shows of the first half of 2023, but even the drama's detractors took a beat to praise the undeniable commitment of star Dominique Fishback. The great young actress plays Dre, whose unwavering commitment to "the Swarm," the fan base of a Beyoncé-esque pop star, sends her down a dark path that includes murder. Fishback's is the kind of unsettling performance that awards bodies too often ignore, a character we're not supposed to root for but we can't stop watching. Let's hope voters remembered how much this performance stung.
FX just announced that one of the best comedies on television is coming to a close after its upcoming third season, and if Reservation Dogs doesn't get the recognition it should on Emmy-Nomination Morning, the disappointment will run even deeper. Ensemble shows have a habit of dividing voters, leading to zero acting nods — look at what's happened to What We Do in the Shadows, for example. Not only should Reservation Dogs land in Best Comedy, but there should be a representative from its incredibly talented young cast in the acting groups too. Devery Jacobs seems the most logical choice for year two given Elora's emotional arc; this is a show that deftly balances heart and humor, and Jacobs is at the center of both. Elora sometimes feels like the leader of the Rez Dogs—let's have Jacobs lead this ensemble, too.
Diego Luna for Andor
Will the Academy continue to nominate the declining The Mandalorian or pivot to the more acclaimed first season of the superior Star Wars show? Given its critical acclaim and award-winning pedigree, there's a good chance Andor becomes the Disney-Lucasfilm representative for the Academy this year, but Emmy nods for acting on Marvel or Star Wars shows simply don't happen. That should be corrected with a citation for Diego Luna, who really holds Andor together by taking his character's reality and arc totally seriously. Unlike a lot of performers on Star Wars shows, Luna never winks at the camera, grounding Cassian Andor's journey in a way that makes him relatable. So much modern fantasy and sci-fi TV doesn't give enough attention to the human element, and Luna proves why they should.
James Marsden for Jury Duty
Could the star of Dead to Me and Sonic the Hedgehog get his first major awards nomination for playing himself? Well, a variation on himself. He should! Jury Duty quietly became a massive word-of-mouth hit for Freevee, a network that probably doesn't expect to be represented on nomination morning, and James Marsden's work is one of its biggest draws. Ronald Gladden thinks he's just doing everyday jury-duty work, but everyone around him, from the attorneys to the judge, are actually actors — including Marsden, doing a playful riff on his own celebrity, reminding viewers of his ace comic timing while taking a few jabs at his own career. The show may struggle a bit with categorization given it's technically a reality show (Freevee submitted it in comedy categories), but Marsden would make for a joyful inclusion.
Zahn McClarnon for Dark Winds
Since he appeared in the second season of Fargo and on the hit Longmire, Zahn McClarnon has quietly become one of the most consistent actors on television. He's great on Reservation Dogs, but the real standout for him in the 2022–23 season was the first chapter of AMC's excellent Dark Winds, based on a series of novels by Tony Hillerman. As Joe Leaphorn, a Navajo police lieutenant in New Mexico in the '70s, McClarnon dials in on a combination of grace, intelligence, grief, and commitment to his people that makes him a captivating crime-solver. This is a show that could use a push to find the audience it deserves — an Emmy nomination for its greatest asset could start that ball rolling.
Keegan Michael-Key for Schmigadoon!
Apple TV+'s loving spoof of Broadway musicals not only avoided a sophomore slump; it got better in its revival. Moving from the Golden Age of musicals to the grittier subject matter of the '60s and '70s allowed the writers to add more depth to a show that's really about two people trying to navigate normal life through the very abnormal construct of a genre in which characters express themselves through song. Broadway legends like Alan Cumming and Kristin Chenoweth elevate an ace ensemble that could land multiple nominations in a just world, but we'd be satisfied with just one representative: Keegan Michael-Key, a performer who has been consistent for years without enough recognition for his comic timing and character work.
Kayvan Novak for What We Do in the Shadows
One of the loveliest surprises of the Emmys in the 2020s has been the comedy-series nominations for What We Do in the Shadows in seasons two and three. It feels very likely that the pattern continues for the hysterical fourth outing, but there's another pattern the Academy should break this year: No one from the ensemble landing a nomination. Maybe it's because the entire cast is too strong to pick only one performer, but for season four, Kayvan Novak deserves an Emmy for handling the arc of Nandor trying to find a wife with perfectly exasperated comic timing.
Bel Powley for A Small Light
Everyone knows the story of Anne Frank, but the tale of Miep Gies isn't taught in most schools. She was one of the Dutch citizens who protected the Frank family, and Nat Geo's series about her is one of the most moving and remarkable of the year to date. The limited-series categories are stacked, but let's hope Emmy found space for this one in multiple categories, especially Lead Actress. Bel Powley does nuanced, fully realized work as Gies, who finds herself unable to look away when she senses true horror on her doorstep — an element that makes A Small Light relevant again today. It's a phenomenal piece of acting from an actress who seems to get better with each part.
Alexander Skarsgård for Succession
Rooting for an extra nomination for a series that's likely to be the most nominated on Emmy morning may seem a little silly, but can we talk for a minute about the perfection of Alexander Skarsgård's work on the final season of Succession? Yes, give the prize to Kieran Culkin, that's fine, but also please nominate an actor who got so perfectly under the skin of his character that he shifted the entire trajectory of the show. Skarsgård didn't play Lukas Matsson as a caricature, choosing instead to fully embody the kind of Über-wealthy manipulator who sees people like dollars and cents, items to be reconciled on a balance sheet. He did so with a clever wink and sly smile, knowing that this is all just a game for people like Matsson. We'll miss all the Roys, of course, but it's almost more interesting to think about where Mattson would be in future seasons: destroying companies while he laughs the pain away.
Sydney Sweeney for Reality
Tina Satter adapted her own play Is This a Room into a daring experiment for HBO that should earn the Euphoria star her third Emmy nomination at only 25 years old. Sweeney could get pushed out by a crowded movie category, but her work here is some of the most complex of her career. Working from transcripts of the initial interrogation of Reality Winner, Sweeney captures a young woman who has little idea of the historical investigation into which she's fallen. The way she conveys the rising tide of nerves as the questions get closer to what she knows could get her in serious trouble is subtle and understated in a way that feels, well, real.
Alicia Vikander for Irma Vep
Premiering over a year ago likely doomed HBO's best miniseries of the last year to an Emmy shutout. We hope we're wrong. Not only should Olivier Assayas's revamp of his 1996 film be a multiple nominee in the limited-series categories, but it would be criminal to ignore an Oscar winner for the best work of her career. Alicia Vikander seems reinvigorated by the role of Mira, an American movie star stuck in a miniseries adaptation of Les Vampires. Somehow both relatable and existing in a universe most viewers can't imagine, Vikander grounds the entire production in smart, unexpected choices for a performance that's easily one of the best of the modern TV era.