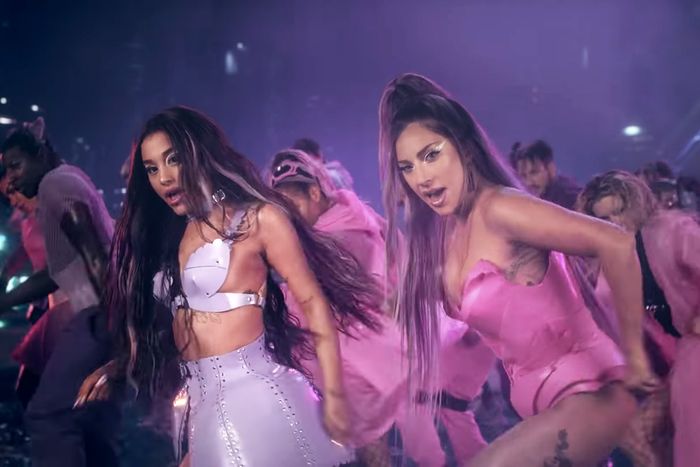 The world has witnessed Ariana Grande bloom into one of its biggest pop stars in the past two years, after she released her fourth album, sweetener, and its follow-up, thank u, next, in six months' time. But even before she ascended to the top, Grande has always been a generous, prolific, and in-demand collaborator. Her own albums include featured performers as varied as Lil Wayne, the Weeknd, and Zedd (all on 2014's My Everything); she's recorded multiple tracks with exes Mac Miller and Big Sean; she's a mainstay on Nicki Minaj albums. Even some of her earliest songs, recorded during her time on Nickelodeon's Victorious, find her duetting with the show's other stars.
Earlier this year, Grande checked off two more high-profile collaborations back-to-back— longtime friend Justin Bieber on "Stuck With U" and fellow Italian Lady Gaga on "Rain on Me" — inspiring us to revisit her near decade of collaborations (minus her theaterwork and remixes of her own songs). Grande's surprise new album, positions, finds her returning to collabs in her own work after leaving them off thank u, next. Here, all 54 of Ariana Grande's collaborations, ranked.
54. "Don't Call Me Angel (Charlie's Angels)" with Miley Cyrus and Lana Del Rey
Each singer's part on this pop hodgepodge for the 2019 Charlie's Angels remake sounds like a separate song, especially the Zeitgeist-riding Lana Del Rey bridge. (She didn't want to be there anyway.) Grande gives the best performance only because she takes chorus duty and sets the pace because, after all, she made the soundtrack.
53. "Problem" with Iggy Azalea
Like most of the low-ranking songs here, this isn't a bad Ariana Grande performance. But Iggy Azalea is deadweight on the song, with her blaccent and school-assignment-level rhymes. After collabs with T.I. and Charli XCX, Azalea got her biggest pop co-sign yet from Ari, which kept her relevant for longer than we should've had to endure.
52. "Hands on Me" with A$AP Ferg
Another "why?" moment. "Hands on Me" has all the makings of an all-time Ari performance … once you get past A$AP Ferg repeating, "It's your birthday, every day with me / And I make her hand rocky, A-S-A-P." "Put your hands on me" isn't an invitation to smudge a near-polished bop.
51. "Research" with Big Sean
50. "Best Mistake" with Big Sean
The two collabs from Grande and Big Sean's relationship get dragged down by Big Sean's dispassionate showings. Grande sounds almost anonymous on "Research," Sean's Dark Sky Paradise cheating track that he opens with the lines "The way you stressin' got me blowin' indo outdoor / Every time you intro, that's my cue to outro." His verse on My Everything's "Best Mistake" isn't much better — try following the lines "Ain't no number twos / We both ones of ones, and we the oddest couple / Only humans, 'cept you, you a goddess" — but that song at least shows promise when Ari sings.
49. "Beauty and the Beast" with John Legend
"Beauty and the Beast" isn't supposed to have drums and Disney doesn't need to keep commissioning pop covers for its movies. And that's that on that.
48. "Good As Hell" with Lizzo
Let's call this remix what it is: an attempt by Lizzo to ride the success of "Truth Hurts" to the top of the charts once more, years after she first released "Good As Hell." And it sounds like it, with Ariana Grande adding half a verse and some runs, but mainly just a name, on top of Lizzo's three-year-old recording. The remix did work, with "Good As Hell" peaking at
No. 3 a month after its release, but a true team-up from two of pop's biggest voices still feels necessary.
47. "All My Love" with Major Lazer
Grande has had some of her best collaborations with producers, and that usually happens when their light touches can accent her big voice. That's not the case on this The Hunger Games: Mockingjay — Pt. 1 cut, where Grande has to fight against the chaos of an obnoxious dancehall drop.
46. "Got Her Own" with Victoria Monét
45. "Bad to You" with Normani and Nicki Minaj
Every song on the 2019 Charlie's Angels soundtrack is synthetic in its own way, with both of these trying to re-create successful pairings with thank u, next co-writer–"Monopoly" singer Victoria Monét and serial collaborator Nicki Minaj. They come off as empty and forced, so why not just listen to the real things instead? (We deserve an honest Ari–Normani collab.)
44. "Break Your Heart Right Back" with Childish Gambino
There's one too many voices on this song, which also features a prominent, slowed-down sample of Diana Ross's "I'm Coming Out" in the chorus for no discernible reason. As a Gay Man, I can't focus on anything else, whether Ari's singing over it or Childish Gambino is rapping over it.
43. "the light is coming" with Nicki Minaj
Nicki and Ari are at their best when they can work off each other, which doesn't happen in this sweetener cut, which relegates Minaj to 12 bars in the song's first 40 seconds. The track was another move toward hip-hop from Grande, thanks in part to Pharrell's heavy producer's touch. Grande could've taken the team-up an extra step and traded bars with Minaj, but instead she oversold it.
42. "Popular Song" with Mika
Ari, a noted theater girl, joined Mika on the single cut of this Wicked–interpolating anti-bullying anthem when she was still in her Nickelodeon days. It probably should rank lower, but I don't have the heart to knock something so joyful.
41. "Everyday" with Future
If I had to draw a Venn diagram of Ariana Grande and Future fans, there'd only be enough overlap to fit the A&R rep who suggested this collab. It was nothing strange for Grande to sing over a trap beat on Dangerous Woman, but it's more than a little strange to hear Future's voice in an Ari chorus (especially after mishearing Ari's line in the chorus as "that make me nut quick," rather than "not quit"). His verse oscillates between inspiration and sex ("I fight for the things I believe in / I got your body and put it in drive, baby"), like he doesn't quite know his role on the song.
40. "off the table" with the Weeknd
Six years later, different singers have shown up to this "Love Me Harder" follow-up. Grande's voice is stronger and more controlled, but the Weeknd sleepwalks through the track, one of the most anticipated of Grande's quarantine album positions. It had the potential to be lush and sexy, with a strings-and-drums arrangement not far from the Weeknd's own "Earned It." But instead of stepping up like he did on that track, the Weeknd drags the track down and Grande with him.
39. "Stuck With U" with Justin Bieber
The first collab from two longtime friends, in the name of coronavirus charity fundraising, had promise. But instead of using quarantine to experiment like Charli XCX, Grande and Bieber (and their manager turned co-writer on the song, Scooter Braun) made a song that it sounded like they'd both already made before, separately. It does all the work it needs to — the pairing doesn't sound bad, they raised some money, and the song topped the charts — and nothing more.
38. "Quit" with Cashmere Cat
The Norwegian producer Cashmere Cat has been one of Grande's more curious serial collaborators since My Everything and pushes her out of her musical comfort zone more than Zedd or Pharrell. You can hear Cashmere Cat's good intentions with the whistling flute and tropical drop on "Quit," but the song lands a little too left of Ari's style.
37. "L.A. Boyz" with Victoria Justice
I know this list is about Ariana Grande, but let me go on the record: I also think we all sing. Grande clearly outshines her duet partner on this track from Victorious season three, but that doesn't stop both of them from having fun on this cheesy, innocent song.
36. "borderline" with Missy Elliott
Missy Elliott's blink-and-you'll-miss-it "borderline" feature is the last of just three total on sweetener, Grande's album with the fewest guests at the time. Grande was ready to open up on her own for her fourth full-length — but a 20-second Missy appearance is still worth fitting in.
35. "Time" with Childish Gambino
Grande only contributes about a minute or so of vocals to this pensive, sprawling cut from Childish Gambino's recent mysterious album 3.15.20. Unlike 21 Savage, Ink, and Kadhja Bonet on "12.38," the album's only other track with features, Grande doesn't add anything Gambino can't. But the feature, recorded under wraps and formally uncredited, shows her loyalty to past collaborators.
34. "A Hand for Mrs. Claus" with Idina Menzel
Two reigning queens of Christmas come together for a collaboration that's just as corny as it sounds. It can't touch Grande's best Christmas songs, but both she and Idina Menzel sure do commit to the bit.
33. "Nobody" with Chaka Khan
Chaka Khan wasn't confident in her Charlie's Angels collab with Ariana Grande — and given the state of the rest of the soundtrack, she had no reason to be. "It's not gonna change the world, okay?" she told Variety on a red carpet. Still, it's a pleasantly surprising soulful pick-me-up. No, it's not gonna save the world — or even live up to the Khan hit it name-checks, of course — but it might be the only moment of the Charlie's Angels soundtrack that brings you joy.
32. "motive" with Doja Cat
I came into this song with a low bar for Doja Cat: Don't get in Ari's way. In that regard, she succeeds, helping Grande loosen up on one of positions' more laid-back tracks. Past that, her verse is clumsy, especially against such a controlled singer as Grande.
31. "Boys Like You" with Who Is Fancy and Meghan Trainor
I wanted to hate this song — featuring one artist I'd never heard of and one I'm fairly cold on — more than I did. Grande laps both singers in her verse, but it's all in good fun. How generous of Grande to grace Who Is Fancy with her presence on his second of two singles.
30. "Almost Is Never Enough" with Nathan Sykes
One of the better singers from One Direction competitors the Wanted, Ari's ex Nathan Sykes joined her on this ballad for The Mortal Instruments: City of Bones, an under-the-radar showcase of their abilities to make more polished, stripped-down pop.
29. "boyfriend" with Social House
This late-burning summer hit would've been forgettable without the boost from Grande's rumored brief relationship with Social House member Mikey Foster. It's a fine example of Grande's lower-fi post–thank u, next work — not the best, but far from the worst.
28. "safety net" with Ty Dolla $ign
It's surprising this meeting of the collaborative minds didn't happen sooner. Ty Dolla and Grande never quite make each other light up like they can with some of their other collaborators, and they sound a little disjointed at times. Still, it's a capable showing that hits some good harmonies between two singers who know what they're doing.
27. "Bed" with Nicki Minaj
Minaj has brought out the sensual side of her friend on multiple occasions, the latest of which was this Queen joint. Grande's chorus is the breathy backdrop for Minaj's quotables about thousand-dollar sheets and strawberry lingerie — until she loosens up at the end, giving just a taste of the big notes we've been expecting.
26. "Monopoly" with Victoria Monét
Victoria Monét was the secret ingredient Grande needed to finally hit No. 1, with her first two No. 1's coming thanks to their songwriting partnership on "thank u, next" and "7 rings." The friends let loose on "Monopoly," the trappy first follow-up to thank u, next that devolves into them laughing about a Nutty Professor reference. They deserved a break.
25. "Save Your Tears" remix with the Weeknd
Grande slips so seamlessly into this remix of the Weeknd's After Hours hit, it's hard to believe it wasn't her song in the first place. After their subpar "off the table," it's good to know Ari and Abel can still work on the same wavelength.
24. "Over and Over Again" with Nathan Sykes
Grande's second collaboration with the Wanted's Sykes, a single from his debut Unfinished Business, is another piano ballad that runs much of the same course as "Almost Is Never Enough." The second time around, though, they're more confident and controlled, making this one of the better Ariana Grande team-ups that you've likely never heard.
23. "Oh Santa!" remix with Mariah Carey and Jennifer Hudson
Ariana Grande's long-awaited meetup with Mariah Carey (plus Jennifer Hudson, for an extra flex) isn't trying to be a great song, just a vocal tour de force. Sure, that explosion of belts and whistles at the end is far from earned, but they gave us what we wanted to hear.
22. "Arturo Sandoval" with Arturo Sandoval and Pharrell
21. "Leave Me Lonely" with Macy Gray
20. "Faith" with Stevie Wonder
Throughout her catalogue, Grande has proved she knows how to work with an icon. Patti LaBelle has long sung her praises, and there's a reason Ari was invited to perform at Aretha Franklin's memorial service. And when she makes songs with legends, she consistently makes enough space to highlight the skills that would draw her to them in the first place: Arturo Sandoval's culture-bridging trumpet playing, Macy Gray's haunting smoky delivery, Stevie Wonder's ability to inject a pop song with energy and heart more than 50 years on.
19. "Dance to This" with Troye Sivan
There's nothing serious about Troye Sivan's low-stakes electropop song with Ariana Grande, and there doesn't need to be. Grande leaves most of her big notes and runs at the door to make this relaxed joint one of the most fun moments on Sivan's breakout album, Bloom.
18. "Adore" with Cashmere Cat
Cashmere Cat's second song with Grande showed just how well he understands the singer. His production on "Adore" is on a near-constant upward build, challenging Grande's voice to go further and further. It does, of course.
17. "blazed" with Pharrell
The two opening tracks to Grande's sweetener transition you away from the larger-than-life club bangers of Dangerous Woman. On "raindrops," Grande promises that she can still hit the notes — then on "blazed," Pharrell helps her strip away the blaring synths for a bouncier dance track. He produced better songs on sweetener, like "successful," but "blazed" should get credit for being the building block.
16. "Santa Baby" with Liz Gillies
Grande and her Victorious BFF Liz Gillies are in on the joke for this performance, complete with kissing noises and a backup singer pretending to be a flugelhorn. They're not trying to compete with Eartha Kitt or Madonna, or even to respond to them — they're using a too-sexy Christmas song as a reason to show off some breathy vocals.
15. "Let Me Love You" with Lil Wayne
14. "Rule the World" with 2 Chainz
Grande's low-key side brings out the best in both of these rappers: the first as part of Wayne's run of great features in 2016, the second as part of 2 Chainz's 2019 opus Rap or Go to the League. And they don't get in her way here, unlike on "Everyday." Instead, Grande sounds like a natural.
13. "Heatstroke" with Calvin Harris, Young Thug, and Pharrell
Grande adds just a spritz of brightness to the bumping summer track that doubles as Young Thug's best pop performance. Consider her part the few drops of grenadine in your tequila sunrise — you might not think it's essential, but something would be missing if it weren't there.
12. "Met Him Last Night" with Demi Lovato
Few working pop stars can outsing Ariana Grande, and Demetria Devonne Lovato is one of them. What's more, Grande lets her on "Met Him Last Night," their linkup on Demi's new album, Dancing With the Devil … The Art of Starting Over. Born from their new shared managership under Scooter Braun, Grande and Lovato's first collaboration is as huge as you'd expect, yet nothing is over-the-top. Their voices circle each other perfectly, the production toes the line between sensual and epic, and somehow, that lyrical concept works. It's a meeting that easily earns a second date.
11. "Be My Baby" with Cashmere Cat
Arianators likely either didn't notice that this My Everything track had a feature or asked themselves who Cashmere Cat was, anyway. I can't imagine, though, that they asked why the Norwegian producer was on the song. His pitter-pattering drum track is the perfect complement to Grande's voice, turning "Be My Baby" from another R&B song into a higher-stakes affair.
10. "Love Me Harder" with the Weeknd
In 2014, the Weeknd was still making the case that a dark-minded alt-R&B singer (remember that?) could be a pop star. "Love Me Harder" was his most convincing effort at that point — it was no question whether he should've been duetting with Ariana Grande because he did it so convincingly. The song wouldn't have been the same bold, sexy hit without him.
9. "Side to Side" with Nicki Minaj
"Wrist icicle, ride dick bicycle" goes right into the Nicki Minaj lyric hall of fame. After two more-serious efforts together, "Side to Side" showed Nicki and her friend getting more comfortable with each other as they loosened up a bit. Grande sang with conviction, but she let Minaj steal the show — and she doesn't do that often.
8. "The Way" with Mac Miller
Looking back, Ariana Grande considers "The Way" her first single, scrapping the 4 Non-Blondes–sampling "Put Your Hearts Up" from her discography altogether. This piano-driven R&B love song is a much better announcement of a 2010s answer to Mariah Carey — along with the introduction of one sharp independent Pittsburgh rapper to the pop landscape.
7. "Rain on Me" with Lady Gaga
There was a time when it looked like neither diva would be able to pull off this titanic meetup. Grande's Bieber collab "Stuck With U" landed like a dud, and Gaga's Chromatica rollout had been capital-M Messy. Then the song came out and washed away our worries. Grande's smooth voice fits into Gaga's forceful, dance-floor-trained cry like a missing puzzle piece — and Gaga finally brings Grande back to the club. That's Italian excellence.
6. "Right There" with Big Sean
Yes, Ariana Grande and Big Sean made their best song together before they dated. Cheesy lines often drag down Sean's features, but he tightens things up on this one as Ari shows off her range and some whistle tones, making for another early-Mariah-channeling moment.
5. "My Favorite Part" with Mac Miller
Listening to "My Favorite Part" feels like sitting in a room as two best friends talk, laugh, and vibe, unaware that you're even there. Miller and Grande, dating by the time the song came out, performed for an audience of only each other, showing the world why they worked so well together. You can't not smile while listening to them sing to each other.
4. "Break Free" with Zedd
If a single collaboration changed Ariana Grande's career, it didn't involve Nicki Minaj, Mac Miller, or any of her Victorious castmates. It was working with Zedd on "Break Free," one of Grande's first true attempts at booming club music. Grande followed the synths and drops to more success on songs like "Into You" and "breathin" once she realized her voice was strong enough for it. "Break Free," a bit of a lighter touch for Zedd, was the blueprint for how EDM production could accent the strong, delicate voice that fans want to hear.
3. "Give It Up" with Liz Gillies
Grande's very first collaboration was this Christina Aguilera–size pop-R&B burner written for Victorious; Jade (played by Liz Gillies, one of Grande's most evenly matched duet partners) picks the song for their response in a karaoke sing-off. Jade and Grande's Cat lost the rigged contest (judged by the father of one of their competitors), and the episode convinced us to be shocked because the song was just so damn good. "Give It Up" continues to get bigger and better when you keep thinking it can't — like last year, when Gillies joined Grande on a tour stop to kill the song one more time.
2. "Bang Bang" with Jessie J and Nicki Minaj
When "Bang Bang" came out, people immediately wondered if this team-up was the 2010s answer to "Lady Marmalade." If such a song were to exist, it'd definitely involve Ariana Grande and Nicki Minaj — but Jessie J as ringleader? Grande recorded the first demo but didn't want to release it afterward, so Republic Records sent the song to Jessie J and Nicki Minaj; after Grande heard Jessie and Minaj on the track, she changed her mind and joined in. The song only works with the combination of Jessie's powerful belt, Ari's sultry runs, and Nicki's sharp flow, and it's become a high point of all three careers.
1. "Get on Your Knees" with Nicki Minaj
"Bang Bang" started Ari and Nicki's collaborative friendship, but "Get on Your Knees," off Nicki's The Pinkprint, showed their true power together. Minaj is audacious and assured as she bosses her man around in the bedroom, while Grande is singing the sensuous, ecstatic R&B she practiced on "Be My Baby" and "Love Me Harder" and masters here. The pre-choruses give Grande just a few seconds to go big, and she makes the most of them before coming back down to whisper the hook. Hearing them build off each other in the bridge — Grande sings her lines with increasingly more runs while Minaj demands, "Before I let you walk, you gotta show me how to crawl" — it's clear why they're a true pop dream team. They're bringing what the other can't, taking that, then bringing even more.
This post has been updated throughout.