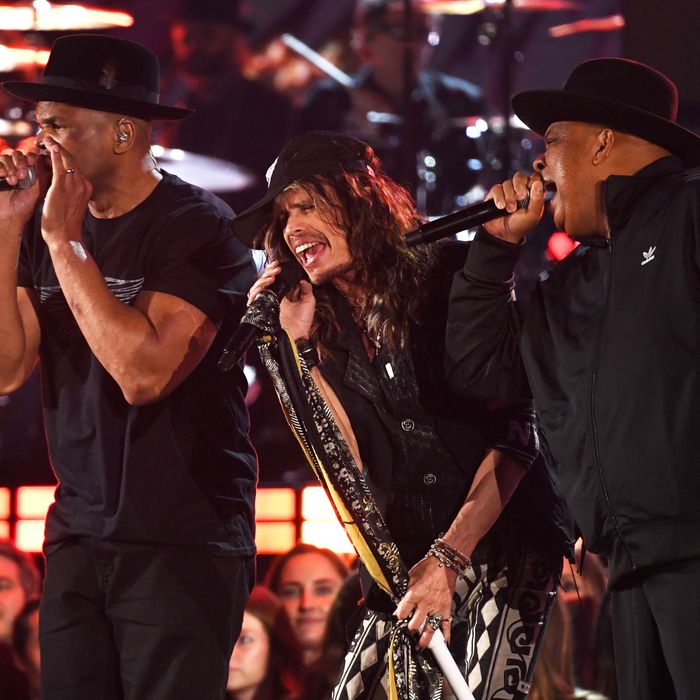 Unfortunately, many of these performances are train wrecks, and at best they still fall short of any kind of groundbreaking clash of styles.
Photo: Robyn Beck/AFP via Getty Images
Last night, Aerosmith and Run-D.M.C. shared the Grammys stage to re-create their classic 1986 "Walk This Way" collaboration, a natural end point for the near-annual procession of rap-rock collaborations that have dotted the ceremony over the past two decades. Rap-rock isn't necessarily the most reputable, awards-friendly genre — Limp Bizkit have zero Grammys, after all — but cross-genre collaborations are catnip for producers of the telecast. You can get two or more big acts together for a big "moment" that takes up less airtime than if each act had its own performance. And you get to celebrate the idea that this is a night for all of pop music's disparate tribes to come together. (Blink-182, for example, have never performed at the Grammys, but their drummer, Travis Barker, has performed three times, always with rappers.)
Unfortunately, many of these performances are train wrecks, and at best they still fall short of any kind of groundbreaking clash of styles. But where does last night's medley rank in this dubious tradition?
14. The Black Eyed Peas, Gwen Stefani, Eve, Los Lonely Boys, Maroon 5, and Franz Ferdinand (2005)
Remember when mash-ups were all the rage? Well, about five years later, the Grammys tried to get in on the fun with the "live mash-up" that opened the 2005 telecast. This ten-minute medley was less about collaboration and more about stuffing as many B-listers and rising stars into one set piece as possible, getting them out of the way early to clear room for a night ruled by Usher and Kanye West. Most of the segment consists of BEP performing a bit of "Let's Get It Started" and then throwing it to one of the other acts to perform their song. But at the end, everyone comes together for the messy climactic moment where bits of "Heaven," "This Love," and "Take Me Out" are awkwardly sung over "Let's Get It Started."
13. Coldplay and Jay-Z (2009)
In the oddly plentiful field of Coldplay-rap fusions, the remix of "Lost!" featuring Jay-Z is easily my favorite. But the scaled-down performance at the 51st Grammys, with Hov half-heartedly flowing over Chris Martin's solo piano arrangement, didn't do it justice as a mere preamble to the full band performance of "Viva La Vida."
12. Lil Wayne, Eminem, Drake, and Travis Barker (2010)
Blink-182 drummer Travis Barker is probably rock's biggest hip-hop head, performing with countless rappers and even producing respectable beats for T.I. and Paul Wall. But the band he lead for a medley of "Drop the World" and "Forever" at the Grammys just gave a thudding generic nu-metal makeover to two songs that were pretty charmless and overblown to begin with.
11. Deadmau5, David Guetta, Foo Fighters, Chris Brown, and Lil Wayne (2012)
This odd medley was mainly a celebration of EDM's newfound commercial relevance, but more traditional stars from rap, rock, and R&B were crammed in to put some recognizable faces in a performance that centered on Deadmau5's big, silly LED helmet.
10. Pitbull, Joe Perry, Robin Thicke, and Travis Barker (2016)
Pitbull's single "Bad Man" featuring Robin Thicke and members of Aerosmith and Blink-182 was the kind of random grab bag of stars from different genres that predictably results in a single that no radio format is interested in. But again, you put a rapper and Travis Barker together and CBS is ready to set it up as the grand finale for the Grammys.
9. Sly Stone, Steven Tyler, Joe Perry, Fantasia, Will.i.am, John Legend, Maroon 5, Ciara, Van Hunt, Robert Randolph, and Joss Stone (2006)
The reclusive Sly Stone gave his first public performance in nearly 20 years at the 2006 Grammys, showing up with a bright blond Mohawk toward the end of an all-star medley of Sly & the Family Stone hits to deliver a brief, barely audible vocal on "I Want to Take You Higher." Sly reportedly waited in a car until the performance began, and immediately left the building and drove off after his cameo. But this memorably anticlimactic performance gets in our rap-rock rundown because, crammed in between performances by members of Maroon 5 and Aerosmith, there was Will.i.am, rapping a deeply unnecessary verse from his 2005 remix of "Dance to the Music."
8. Post Malone and the Red Hot Chili Peppers (2019)
If Post Malone's Grammys performance felt a little familiar, it's because only six months ago he closed the MTV Video Music Awards with a similar routine, rapping his hit "Rock Star" and then strapping on a guitar to perform with a legendary rock band. Last time, it was Aerosmith, and the fact that Posty chose to perform a less obvious track from the band's early days, "Toys in the Attic," really livened things up. By comparison, Red Hot Chili Peppers showing up just to play their lackluster 2016 single "Dark Necessities" was a bit of a letdown. But the performance was high-energy, and highlighted the very different ways Post Malone and Anthony Kiedis combine singing and rapping (as well as their shared penchant for unflattering facial hair).
7. Kendrick Lamar and Imagine Dragons (2014)
It's impossible for Kendrick Lamar performing "M.A.A.D City" to be anything less than gripping. The fact that Kendrick Lamar's gripping performance of "M.A.A.D City" was smashed into Imagine Dragons' "Radioactive" diminishes the song's impact a little. And it's a perfect example of how rap-rock collaborations largely serve to water down the presence of hip-hop at the Grammys: a newly crowned rap superstar was up for AOTY for a landmark album, and he still had to share the stage with a grungetronica band.
6. Jay-Z, Linkin Park, and Paul McCartney (2006)
Danger Mouse's 2004 Jay-Z and the Beatles remix project, The Grey Album, was praised by both Jay and Paul McCartney, but the widely bootlegged album was never granted an official release. Instead, Jay teamed up with a more contemporary rock band later that year, Linkin Park, to match his verses to their songs. And in 2006, it all came full circle when "Numb/Encore" won the Grammy for Best Rap/Sung Collaboration, and Macca joined the boys to awkwardly sing a bit of "Yesterday" over the track (Danger Mouse put the vocals from "Encore" over the Lennon and Harrison deep cuts "Glass Onion" and "Savoy Truffle," which wouldn't have made as much sense for a McCartney cameo). Fun fact: At this point, Jay-Z had been performing "Encore," the most overtly retirement-themed song from his supposed farewell record The Black Album, for close to 26 months. He would officially unretire about eight months later.
5. Aerosmith and Run-D.M.C. (2020)
Steven Tyler and Joe Perry have re-created their legendary "Walk This Way" video moment with Run-D.M.C. on live television before, at the MTV's 1987 Video Music Awards and again at the 1999 VMAs with Kid Rock acting as the insurgent progeny of their musical union. There was no real reason to do it all again at the 2020 Grammys, other than that Aerosmith had been named the 2020 MusiCares Person of the Year. But it was still fun to see Run and Darryl bust down a flimsy prop wall and pretend to break down the cultural barrier between hip-hop and rock and roll one more time, while Tyler took an impromptu audience-participation moment to profess his love for a new rap star, Lizzo. It was awkward, however, that Aerosmith's strange feud with founding drummer Joey Kramer meant that the one band member not onstage was the guy responsible for that funky drum break that started all of this.
4. Eminem and Elton John (2001)
One of the most famous collaborations in Grammys history was between a rapper and a rock star, but that wasn't really the genre clash that made it a lightning-rod moment. The night the Marshall Mathers LP was up for Album of the Year, hundreds of protesters gathered outside the Staples Center, many from GLAAD, incensed by the album's homophobic lyrics. So Elton John, perhaps the most famous openly gay musician on the planet, performing "Stan" with Eminem and embracing him at the end of the song, was a defiant response to critics. As a spectacle, it's inarguably great television, but the performance hasn't aged well, musically or symbolically. Elton John belts out the chorus originally crooned by trip-hop ingénue Dido as if it was "I'm Still Standing," though the piano he plays over the track adds some welcome melody and texture. And though Em and Elton remain close friends to this day, the publicity stunt that brought them together feels a little empty 18 years later. Last year, Eminem called Tyler, the Creator a homophobic slur on Kamikaze. Those protesters had a point.
3. Jamie Foxx, T-Pain, Doug E. Fresh, and Slash (2010)
Slash has been the guitar superstar most likely to cross genre lines since his '90s collaborations with Michael Jackson and Blackstreet, so it's never surprising to see him show up in an awards-show jam. At the 51st Grammys, Jamie Foxx leaned into his role as music's class clown, turning his club hit "Blame It" into a big silly epic with Doug E. Fresh beatboxing and Slash playing the coda from "November Rain."
2. Kendrick Lamar, U2, and Dave Chappelle (2018)
I feared the worst when I heard that U2 would appear on Kendrick Lamar's DAMN. and was pleasantly surprised that they wound up as a subtle, unobtrusive presence on "XXX." That understated quality is lost a bit in a Grammys performance where Bono and the Edge stride out onstage next to Kendrick. But still, it's frighteningly rare for a top-tier rapper and top-tier rockers to perform together without anybody embarrassing themselves.
1. LL Cool J, Chuck D, Travis Barker, Tom Morello, and DJ Z-Trip (2013)
LL Cool J was a pleasant Grammys host for the five consecutive years he presided over the telecast earlier this decade. But the only time he performed during his hosting tenure, he made it count, closing the show with an all-star rap-rock medley. Adam Yauch had only passed away nine months earlier, and it's a genuine delight to hear two of the Beastie Boys' early Def Jam labelmates shout the "No Sleep Till Brooklyn" chorus while Tom Morello tore into the riff.