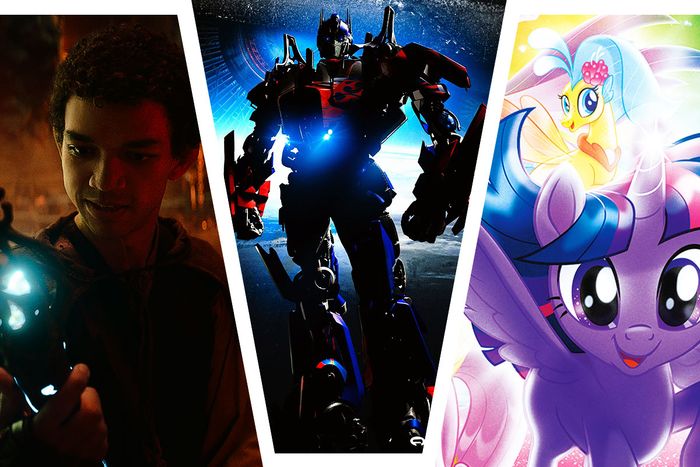 Photo-Illustration: Vulture; Photos: Paramount Pictures, Alamy, Lionsgate
Hasbro, the company behind Transformers, G.I. Joe, and tons of beloved board games, clearly enjoys success in the toybox. The box office, though? That's a different story. Since 1986, the Rhode Island–based company has been attempting to make it in Hollywood, turning nostalgia into blockbusters. The result is what we're calling the Hasbro Cinematic Universe, a collection of (mostly unrelated) films, some of which are good, some of which are bad, and all of which put nostalgia up on the big screen. To render plastic into flesh and blood is no small task, especially considering the wealth of toys and games whose feature adaptations have been abandoned during the gold rush: Ridley Scott's Monopoly movie, Adam Sandler's Candy Land flick, Taylor Lautner's Stretch Armstrong project, and movies about Magic: The Gathering.
​​Hasbro did manage to "Pass Go" with two movies this year: March's Dungeons & Dragons: Honor Among Thieves and June's Transformers: Rise of the Beasts, which comes packaged with a cliffhanger unlike any other Hasbro film yet. It's time to look at what has filled the Hasbro Cinematic Universe so far and consider the products that have bulked up or diminished its reputation. In this case, we're looking at movies based on properties owned by Hasbro upon their theatrical release, so we're omitting direct-to-video installments (sorry, G.I. Joe: The Movie), later purchases (like Power Rangers), and streamer sequels (My Little Pony: A New Generation). We will, however, be talking about a jillion Transformers movies.
The Transformers: The Movie (1986)
Hasbro's first attempt at getting into the movie business was marred by a baffling act of self-sabotage: killing off robot in disguise Optimus Prime in the middle of his feature-length debut. The red, white, and blue leader of the Autobots, famously voiced by Peter Cullen and his earth-shaking timbre in the cartoon, was knocked off as part of Hasbro's desire to make way for the 1986 toyline. It was an amazing disconnect for the company, which was smart enough to enliven its action figures with story lines (many written by Bob Budiansky for the brand's Marvel Comics run). Taking away Optimus Prime and replacing him with a whole bunch of other characters proved to be a disastrous act for the overall brand's momentum and led to a commercial decline. 1980s Hasbro had figured out the cartoon-storytelling landscape but was far from having the "The Touch."
My Little Pony: The Movie (1986)
The business of making a movie from a toy used to be so small, so innocent. Take Hasbro's other toy turned cartoon adaptation of 1986, My Little Pony: The Movie. The colorfully maned dolls with their tattoo-like "rump designs" (later called "cutie marks") may have been popular with the target audience, but the toy company didn't know what larger story to sell these characters with. And so we got the chaotic and underwhelming My Little Pony: The Movie, which throws in celebrities to voice non-pony characters: Danny DeVito, Tony Randall, Cloris Leachman, Madeline Kahn, Rhea Perlman (the latter two voice bat-eating, scene-stealing witch sisters named Draggle and Reeka, respectively). It's a humble effort from Hasbro, and at least it has some jaunty bangers ("Nothing Can Stop the Smooze" and "There's Always Another Rainbow"). But while the My Little Pony franchise would see much brighter days, the movie was a flop that killed theatrical plans for G.I. Joe: The Movie and inspired this prescient review by Charles Solomon of the Los Angeles Times: "The sugary cuteness of the Little Ponies masks a corporate greed as cold and sharp as a razor blade."
Dungeons & Dragons (2000)
In 1999, Hasbro made a historic purchase of the Wizards of the Coast, a gaming company whose portfolio included one sparkling property and unexplored territory: Dungeons & Dragons. This deal also came with a movie that was already in production and due out the following year. The director, Courtney Solomon, had acquired the film rights to the game when he was 19. He had been hard at work getting the movie made for years and even courted Francis Ford Coppola before taking it on himself as his directorial debut. But Solomon's passion for the game did not translate into a box-office success: While blockbuster producer Joel Silver (of Lethal Weapon, The Matrix Reloaded, and others) gave it a couple fiery moments, the project is a boring muddle. Far from a transportive experience like Lord of the Rings, this was gaudy dialogue, rubbery costumes, and fight scenes shot in blinding daylight.
Transformers (2007)
Steven Spielberg, executive producer of the 2007 Transformers, was among the many who were fascinated by these robots in disguise; he used to play with the shape-shifting toys with his kids. It took his humanizing approach to sci-fi spectacle and that of the bombastic nature of another boy turned filmmaker, Michael Bay, to make a new film franchise from the toys. Transformers offered an outlandish spectacle that can be accused of many things — excess, jingoism, sexism, shameless product placement — but not a lack of ambition. Thanks to the explosive impulses from car fetishist and openly commercial filmmaker Bay, Transformers updated the robots' stiffer mechanics from the cartoon series and made the toys' world shiny and new. Some fans were not happy with these modifications — take the scrutiny of the orange flames on Optimus Prime's truck. But Transformers is a crown jewel for the company, coming at a time when Hasbro CEO Brian Goldner was making a deliberate effort to make film and TV projects based on Hasbro products.
Transformers: Revenge of the Fallen (2009)
Turns out you need more than just a beloved toy line and a distinctive director to make a good movie. You also need, well, writers, and you need time to let them work. Case in point, this clamoring mess of a sequel from 2009 that made a ton of money domestically but later had Michael Bay apologizing for it. The 2009 Writers Guild Strike was looming when work on Revenge of the Fallen began, and its script was rushed into production. The resulting mess only proved haters of the first movie more correct, including Roger Ebert, who wrote about it as if this movie were the end of an era. And famously, movie jock Bay promoted the next one by calling out this one for its "dorky" humor (which is almost letting himself off the hook, given the racist caricature robots that are thrown in the mix). As Bay told Empire Magazine: "The real fault with [Revenge of the Fallen] is that it ran into a mystical world. When I look back at it, that was crap. The writers' strike was coming hard and fast. It was just terrible to do a movie where you've got to have a story in three weeks."
G.I. Joe: Rise of Cobra (2009)
G.I. Joe: The Movie may have been a fallen theatrical soldier back in the '80s, but Hasbro figured out how to do a fun live-action cartoon with the blissfully silly G.I. Joe: Rise of Cobra. Director Stephen Sommers (The Mummy) figured out just the right tone and spread its action, comedy, and destructive adventure across a game-enough cast: Channing Tatum, Marlon Wayans, Sienna Miller, Byung-hun Lee, Joseph Gordon-Levitt, Rachel Nichols, Dennis Quaid, Ray Park, and Brendan Fraser. A key force behind the scenes was consultant Larry Hama, who wrote the G.I. Joe comics that were a bigger inspiration for the movie than the comparatively better-known cartoon series. Many of Hasbro's efforts would be focused on masters of war, but G.I. Joe: Rise of Cobra is at least fast-paced, colorful, and openly ridiculous.
Transformers: Dark of the Moon (2011)
Pulling himself out from the wreckage of Revenge of the Fallen, Michael Bay responded to critics across the board with even more destruction in Dark of the Moon, his third Transformers movie and the last one to be led by Shia LaBeouf's character, Sam Witwicky. But at least Bay gave the viewers plenty of nonpareil CGI carnage to chew on, as with a bravura third act that tears through Chicago skyscrapers like sand castles, bouncing from one colossal set piece to the next. Boosted by Bay's decision to shoot the film in 3-D (raising ticket prices in the process), Dark of the Moon became the highest-grossing Transformers movie up to that point and a billion-dollar winner for Hasbro.
Battleship (2012)
Months after the first Transformers made a bunch of money for DreamWorks and Paramount in 2007, Universal entered into an agreement with Hasbro to make movies based on their games and toys. But the first project was a major box-office disaster that marked the beginning of that deal's end. Peter Berg's Battleship put $209 million into an attempt to give audiences more of what they liked from the Transformers movies: more military might, more real-life veterans (both sea vessel and human), more CGI destruction, and more underdogs (including Taylor Kitsch, Brooklyn Decker, Jesse Plemons, Tadanobu Asano, and Rihanna, who gets the movie's best line, "Mahalo, motherfuckers!"). And yet, for however much Berg intended on paying tribute to a real battleship, the USS Missouri, the film's goateed alien enemies only highlighted how the script's major battle sequences was a contrived emulation of the board game, with a seriousness and derivative nature that hollow it out. ("This is a whole lot like Battleship," says no one). Not even the final showdown, co-starring badass elderly veterans (introduced with AC/DC fanfare) who help turn the USS Missouri into a spaceship-killing machine, couldn't save it. Battleship is a novel, very expensive lesson in why you can't just emulate a past success. Consumers can tell a knockoff when they see one.
G.I. Joe: Retaliation (2013)
G.I Joe: Rise of Cobra was successful enough, but Channing Tatum, who originally said "no" to that film seven times before taking the part, still wanted his character to die in act one in the sequel. Ready to take up Tatum's fallen arms was Dwayne Johnson, bringing with him more gun-nut PG-13 carnage from the Hasbro brand. By the time Bruce Willis appears in the film as the original G.I. Joe with a Waco-ready arsenal of guns in his kitchen, it's just sad. Fashioned by director Jon M. Chu as a type of soft reboot for the franchise, the movie kills the fun from Sommers's previous movie and affirms the uglier sides of the toy brand: how much it loves guns, what it really thinks about other countries (Pakistan was so pissed about how the country's portrayal, rightfully so, they had the movie banned), and how its deeper fears concern destroying the Constitution (as the evil Zartan, a master of disguise pretending to be POTUS, desires). Nonetheless, Retaliation was enough of a box-office success, but it still couldn't create the momentum for a Transformers-fast follow-up.
Transformers: Age of Extinction (2014)
Michael Bay's fourth Transformers movie is a shiny piece of movie history, and not so much because it introduces Grimlock, a Dinobot that Optimus rides like a horse in the film's Hong Kong-destroying third act. In the garish game of playing the box office, Transformers: Age of Extinction has many records to boast: It was a billion-dollar movie, and when it played in China, it became the first ever to hit $300 million at the nation's box office, outgrossing Avatar's numbers there. That's no coincidence given the attention Transformers put on Chinese audiences by casting Bingbing Li and the Chinese central government for major roles, filling the story with Chinese product placements and debuting the film on the country's 18,000-plus theater screens. Overall, Bay's slight reboot of the Transformers formula made for the highest-grossing movie of 2014. Sure, the film ain't so good. But look. Look at all that money.
Ouija (2014)
In 2014, Hasbro created another mini-franchise by going smaller than its war films and turning to a product built on cryptic uncertainty: Ouija. A collaboration with growing horror staple Blumhouse, co-writer and director Spencer White's Ouija wasn't weary of its board-game roots and made them prominent within an otherwise serviceable movie for teenagers to talk and scream at. Doomed teens (including the one played by House of the Dragon's Olivia Cooke) are mesmerized by the planchette that moves because of involuntary response and weary of the glass hole that, when looked through, can sometimes offer ghostly visions. A humble success that led to a sequel, Ouija actually captures how playing a game can feel — a deceptively difficult feat. Best of all, the film serves as a warning to anybody who doesn't take the Ouija board (itself a fine, fine Hasbro product available for purchase) seriously. That's what the toy business calls "good marketing."
Jem and the Holograms (2015)
For all of the success that Hasbro experienced with toy robots and American heroes, it could not muster the same support for its live-action adaptation of the sparkling, sugar-paced, and one-of-a-kind cartoon Jem and the Holograms. Regardless of the intentions of director Jon M. Chu, the movie was limited by a $5 million budget — which is also the originally agreed-upon kill fee that Universal would pay Hasbro for other toy movies that didn't get made. With such minimal resources and without the support of original Jem writer Christy Marx, Hasbro tried to skirt by with something more like a fictional riff on Chu's Never Say Never Justin Bieber doc, complete with an angle about how anyone could be a star thanks to YouTube. But this movie, following a rising pop star's identity crisis, revealed the pitfalls of nixing source material, ending up with something unable both to appease fans or hook new ones. If Hasbro reboots this one, it'd better do it right — it can't afford to achieve the third-lowest per-theater average of all time, and the worst-ever opening for a major studio, again.
Ouija: Origin of Evil (2016)
Before the hauntings of Hill House and Bly Manor, respectively, co-writer and director Mike Flanagan took a stab at the game of toy adaptations with the prequel Ouija: Origin of Evil. Inspired by classics like The Changeling, Flanagan's 1960s-set prequel boasts the rare cred of actually being a freaky PG-13 horror film, and it does so with his lived-in style. Does the movie have cigarette burns on the top right of the screen as a film reel would? Yes. Does it include a family being torn apart by supernatural forces thanks to the game? It sure does. In this case, the conduit becomes little Doris (Lulu Wilson, who gives a truly scary performance) alongside other Flanagan staples: Elizabeth Reaser, Henry Thomas, and Kate Siegel. But the greatest facet of Flanagan's movie is what other Hasbro movies could use: It plays like an inspired script that included a major brand, not the other way around.
Transformers: The Last Knight (2017)
Can you believe Michael Bay made five of these things? All of that explosive chutzpah, polarizing as his talents may be, and he took it to the limit with his final toy-robot movie, Transformers: The Last Knight. Although the series has had fun changing history before (like reimagining NASA's space race in Dark of the Moon), this Camelot-retconning story is mythology overload for a saggy spectacle. The Last Knight is crammed with more apocalyptic nonsense; more magical items save the world. Just as Bay had a mega-opening for the franchise back in 2007 when audiences were hungry for it, The Last Knight became a gruesome bookend — it was the most expensive Transformers movie and also the least profitable.
My Little Pony: The Movie (2017)
For all of the pink-and-blue dichotomy that Hasbro may have previously created with its films and products, My Little Pony: The Movie is a Rainbow Dash–grade Sonic rainboom over all of that. And fans loved it, as it earned $61.3 million worldwide. Next to a cast of My Little Pony mainstays from the toy and animated iteration's current generation, the movie features spirited voicework from acclaimed cameo actors, too, such as Emily Blunt ("All this power … wasted on parties!"), Taye Diggs ("They're infected with pastelus coloritus!") and the likes of an improvising Michael Pena, Uzo Aduba, and Liev Schreiber. But however sugary sweet it may be, the movie is earnest and adventurous, thanks in part to Lauren Faust's work in retooling the entire franchise (including the series My Little Pony: Friendship is Magic). Far removed from the self-serious combat of Transformers and G.I. Joe, My Little Pony: The Movie includes a battle scene in which a villainous Storm Creature is defeated by one of the ponies (in this case Fluttershy), who asks, "You seem tense, do you want to talk about it?"
Bumblebee (2018)
After five movies, the Transformers franchise put Bay aside and worked to take Bayhem out of the Transformers formula. Bumblebee, directed by Travis Knight (of Laika Studios' Kubo and the Two Strings), took things back to the '80s and focused on the yellow underdog Autobot who had become even more prominent in the last Transformers outing. Inspired by The Iron Giant, the movie put Hailee Steinfeld into a more laid-back, coming-of-age story about a teenager and her robot friend while fending off a scowling military man planned by John Cena. Bumblebee was a sunnier bid for nostalgic viewers, especially with other characters returning to original Generation 1 form.
G.I. Joe Origins: Snake Eyes (2021)
After the modest success of G.I. Joe: Retaliation, Hasbro tried for years to crack other cinematic storylines for G.I. Joe characters and enlisted the help of a writers' room. And when a project did rise to the surface with Snake Eyes, a character-based reboot for the whole enterprise, audiences didn't care. Despite having Henry Golding playing the mysterious black-clad ninja, as backed up by some pretty good action filmmaking that steps up from the cluttered two G.I. Joe movies, Snake Eyes was a box-office failure that lost Paramount millions. It didn't help that the movie was released in August 2021, at a time when pandemic-wary audiences were more selective about which films they ventured to theaters to see.
Dungeons & Dragons: Honor Among Thieves (2023)
Hasbro's latest big-screen gamble has constructs that are almost too familiar to let it fail. Dungeons & Dragons: Honor Among Thieves, directed by Jonathan Goldstein and John Francis Daley, is like medieval Deadpool starring the Guardians of the Galaxy, but it at least pilfers from various memorable parts of Hasbro's cinematic history: the lighter tone of G.I. Joe: Rise of Cobra, mixed with the bigness of Transformers, as told with the sincere craftiness of Ouija: Origin of Evil, and held together by the welcoming niche nature of 2017's My Little Pony: The Movie. And not for nothing, it's far less serious than the 2000 Dungeons & Dragons movie, earnestly leaning into the broader appeal of a sometimes goofy group experience featuring skill sets and various powers. A TV series is already under way from Red Notice director Rawson Marshall Thurber, meaning we could very well be on the brink of Hasbro's latest successful crossover from box to big screen, provided that both fans and non-fans show up.
Transformers: Rise of the Beasts (2023)
Steven Caple Jr.'s Transformers: Rise of the Beasts marks a new storytelling era for the toy company's highest-grossing film franchise. Though it looks like a chamber play in comparison to Bay's gargantuan sequels, this sprightly remix of the '90s Transformers cartoon Beast Wars introduces new robots (like Pete Davidson's sassy sports car Mirage, Ron Perlman's big gorilla Optimus Primal, and Michelle Yeoh's mechanical bird Airazor) and gives us humans to actually invest in (played by the likes of Anthony Ramos and Dominique Fishback). But the movie saves its giddiest moment for last: a mic-drop twist that G.I. Joe wants to recruit Ramos's character. It's a synergistic crossover that offers the promise that Autobots and Real American Heroes could soon battle their respective enemies, the Decepticons and COBRA, on the silver screen. The two franchises have teamed up in the comics since the '80s, and Lorenzo di Bonaventura, who has produced both cinematic franchises, told Uproxx that such a team-up was "inevitable" back in 2021.
Whether or not Rise of the Beasts helps the Hasbro Cinematic Universe finally connect its properties, there's always next year's Transformers film: an animated feature project that takes place on Cybertron focused on Optimus Prime and Megatron, which sounds a lot like The Transformers: The Movie. We can at least be certain Hasbro won't kill off Optimus mid-movie this time.