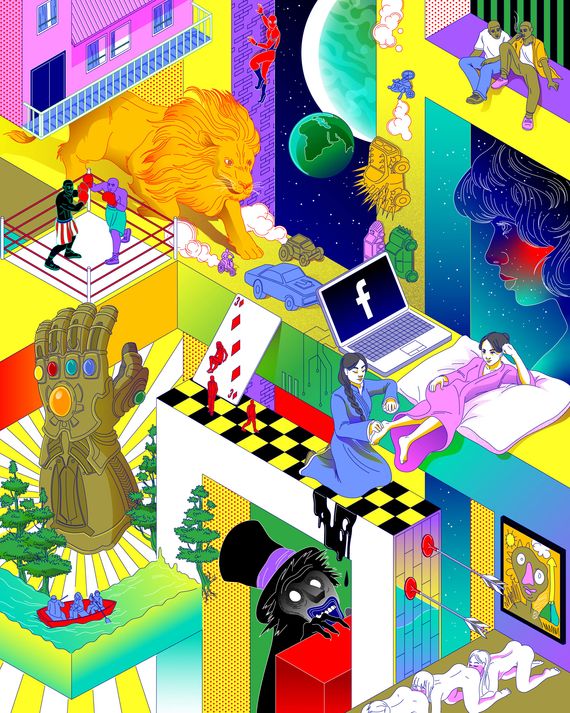 From celestial collisions to man-eating aliens to human centipedes, here's to another decade at the movies.*
Illustration: Ari Liloan
Want to feel old? In 2010, the No. 1 movie at the box office was Avatar. Hypercool indie darlings Robert Pattinson and Kristen Stewart were the coupled-up stars of a lucrative supernatural teen romance. Netflix, which is likely to be competing with itself at the Oscars this year, was just starting to stream in Canada. Toy Story 3 came out, and now we're on … well, Toy Story 4. Not everything has been marked by radical changes, even over 10 years and the release of so many movies. Thousands of movies. The sheer amount posed the first and biggest challenge of putting together this list: deciding which of the movies that filtered through theaters and VOD services and streaming platforms qualified for a ranking of the decade's best films.
Perhaps arbitrarily, we decided that for a film to be eligible for our ranking, it had to have played in at least four theaters in the U.S. That cut down the crop to something slightly more manageable. But were we punishing smaller films simply because their distributors deemed them uncommercial? Cue the guilt, and the exceptions. A movie released in less than four theaters could force its way into the mix, we determined, if it had been nominated for an industry award — from the Academy, the Directors Guild, the New York Film Critics Circle, etc. Of course, we're critics, so we decided to allow any film included in one of our previous best-of-the-year lists to compete too. Soon, we were permitting ourselves a few wild-card contenders, because list-making is more art than science. It's more argument than science, too, which we proved over the course of a few mostly civil weeks of bickering and bantering over personal preferences, creating an appropriately chaotic point system for our ranking and then throwing that point system out the window — haphazardly moving things up, down, or off the top and bottom tiers entirely as we grew nearer to our deadline.
The list wasn't a result of any consensus (to which the various annotations attest), and it certainly isn't definitive. (Is there such a thing as a definitive ranking?) But it does reflect the highs and lows of a tumultuous decade. We hadn't, for instance, planned for our top-three picks to be so … apocalyptic. But when it turned out that way, it felt entirely appropriate. The past 10 years have been marred by doomsday predictions about cinema, whether the harbingers are Netflix or superheroes or high frame rates. On the other hand, we absolutely did plan for our bottom choices to be incendiary, and to speak to larger tendencies in the industry that have filled us with dread — except, of course, when they fill us with delight. It's messy, and it's filled with contradictions, and we wouldn't have it any other way. Here are the films of the 2010s, ranked, for better and worse.
No image from this decade at the movies has felt as radical-reverberant as that of Kirsten Dunst luxuriating — like a Grande Odalisque of annihilation — in the light of the rogue planet set to destroy humanity in Melancholia. Lars von Trier's 2011 magnum opus is a film about depression, and it's a film about the end of the world, and more than anything, it's a profoundly resonant film about how the two can feel indistinguishable from one another. Melancholia is about personal apocalypses so all-consuming that it can be hard to notice when an object from space burns up all the air in the atmosphere on its collision course with Earth. Von Trier knows his destructive impulses — he essentially sabotaged the premiere of this, the best thing he's ever made, with his behavior at the press conference, which speaks to his close personal knowledge of the impulse to burn down everything around you. But what pushes this particular work into greatness is the tenderness it affords for characters like the one played by Charlotte Gainsbourg, who are invested in the world, and who fight, no matter how fruitlessly, against entropy. It may conjure up a vast emotional void, but it never forgets what it means, and how much it costs, to care. —Alison Willmore
Maybe movies were invented to capture life as we know it in motion. And maybe they were invented to show a man shooting flames out of an electric guitar while heading up a fleet of mutant vehicles riding to battle across a burnt-out desert wasteland. Mad Max: Fury Road is one of the greatest action movies ever made. It's also a long-in-coming installment of a series that started in a recognizable future and that stretched itself into territory that's nearly mythological. It's proof that existing within a franchise doesn't have to limit imagination or creativity and that a dystopian Mel Gibson revenge saga can end up passing the baton to a formidable warrior-mother figure played by Charlize Theron and blessed with the incredible moniker of Imperator Furiosa. George Miller's spectacle is a testament to dreaming big — so big that it feels like the only appropriate way to take it in is with a grin on your face and tears pouring out of your eyes. —A.W.
Rebuttal: Many are puzzled why this often exciting but repetitive, formulaic chase movie has been so wildly embraced ("one of the best films of the decade!") by pretentious film critics. Though a pretentious film critic, I say, "Moi aussi." —David Edelstein
Stretching from the origins of time to the heat death of the universe, with a lyrical coming-of-age story sandwiched in between, the most ambitious film of Terrence Malick's career — so ambitious he worked on it for 30-plus years and has now actually made it five times and counting — is a movie whose power matches the scale of its vision. Malick connects the somewhat autobiographical (and symphonically constructed) central story, about a trio of brothers growing up in mid-century Texas with a stern father and an angelic mother, to the metaphysical and astronomical forces at play in creation itself. Where many other filmmakers see good and evil, Malick sees constriction and expansion, tension and movement, retribution and acceptance, aggression and grace. —Bilge Ebiri
The Rider announced the talents of Chloé Zhao, who directs this film with untold grace and fine-tuned simplicity. It's a beguiling blend of documentary and fiction that follows amateur actors playing fictionalized versions of themselves. The film charts the life of Brady Blackburn (Brady Jandreau provides the bruised performance), a Lakota Sioux on the Pine Ridge Reservation, in the aftermath of suffering a traumatic head injury during a bronco competition that prevents him from riding again. The Rider is a grim meditation on the nature of masculinity and what happens when we lose the ability to do what brings meaning to our lives. —Angelica Jade Bastién
Asghar Farhadi's divorce drama came out in 2011, and, with apologies to Noah Baumbach, there has been no more finely wrought film about the dissolution of a relationship since. A Separation begins with an upper-middle-class couple from Tehran battling in front of a judge about whether their marriage is over, then builds into so much more — a spellbinding two-household tragedy that encompasses themes of class, faith, generational obligations, and the flight of human capital. That Iran, with its many restrictions on filmmakers, chose A Separation as its foreign-language Oscar submission (it won) speaks to how deftly the film's political criticisms are woven into its human dramas. They're so organic to the story as to evade threat of censorship because of how they're portrayed — simply as the stuff of life. —A.W.
How can I do justice to director Barry Jenkins and co-writer Tarell Alvin McCraney's evocative 2016 film? Watching Moonlight has brought me to tears, with its piercing turns by Ashton Sanders, Trevante Rhodes, and Mahershala Ali. There's an overheated beauty to seeing my childhood home of Miami onscreen, shot exquisitely by cinematographer James Laxton, who renders the city in shades of ice, cobalt, and amber. I love the film's smaller details, too: Chiron's relationship with the ocean, how Kevin (André Holland) serves Chiron pollo a la plancha when they reconnect. Moonlight is the decade's trembling, heartfelt coming-of-age story about queerness, blackness, and the ripple effects of addiction. —A.J.B.
An 11-year-old girl who spends her days in a Cincinnati boxing gym is drawn into the world of an all-girl dance squad, and her strained, aggressive reality is transformed into one of freedom, movement, and possibility — and then a mysterious, possibly symbolic illness starts to hit the squad. This is a glorious work of pure cinema: Director Anna Rose Holmer's expressive use of space and motion conveys psychology and emotion in ways reams of dialogue and conventional "acting" never could. That said, the film's young star, Royalty Hightower, is also one of the most exciting faces to emerge this decade. —B.E.
Kenneth Lonergan's masterpiece was shot in the aughts, yanked from its director in the 2010s, and released in a longer (three-plus-hour) cut in a DVD supplement. Go for the longer version. It charts the agonizing journey of a teenage Manhattan girl, Lisa (Anna Paquin, fearless), a blasé relativist early on, to come to terms with the moral arc of the universe (or lack thereof) following a bus accident that cuts a woman in half. Lonergan knows that teenagers see and, more importantly, feel on a different level, and Lisa's desperate attempts to communicate lead grown-ups to accuse her of overdramatizing. But that's what teenagers do, says Lonergan, in a world in which people rarely connect or see the world through one another's eyes. —D.E.
The best superhero movie of the Superhero-Movie Decade wasn't part of the MCU or the DCU but rather this dazzling animated adventure in which Brooklyn teen Miles Morales becomes the new Spider-Man with a little help from a cavalcade of Spideys across multiple universes, each with his or her own style of animation and even formal and narrative logic. Relentlessly inventive and hilarious while also being enormously powerful, this is the closest cinema has come yet to replicating the aesthetic delirium of comic books. —B.E.
Sean Baker's The Florida Project centers on rambunctious little kids (principally the astounding Brooklynn Prince) bopping around a transient motel not far from Disney World. Baker captures their crazy elation — playing pranks, mouthing off — but also the gnawing uncertainty of their lives, the grayness of their families' financial precariousness a counterweight to the eye-popping artificial pinks and purples. Willem Dafoe is unforgettable as the motel manager who can't fix what most needs fixing. —D.E.
Robert Greene's uncommonly intimate documentary about the life of Brandy Burre, an actress who got her big break on The Wire but then moved to Beacon, New York, to start a family, is modest in setup — Burre was Greene's next-door neighbor when he decided to start filming her — but insanely ambitious in execution and effect. In showing all the faces Burre must put on in her life — whether she's trying to get her next gig, playing mom, or entertaining guests — the film imparts a great truth about the way we all perform our way through our lives. In its full-blooded, compassionate, complex portrait of its subject, it's the rare documentary that achieves the emotional breadth of a great novel. —B.E.
Running just a little over an hour and consisting primarily of animated, featureless black-and-white stick figures, Don Hertzfeldt's look at depression, dementia, death, and transcendence builds an insanely beautiful cinematic cathedral out of the simplest ideas. The title is both ironic and sincere: This is the story of an ordinary man dying of a brain disease (well, sort of) but somehow it's also a life-affirming reaffirmation of the awe-inspiring wonder of existence. To that end, the film includes mundane interactions that sometimes slip into surrealism, and wild experimental passages. An unimportant exchange suddenly reveals deeper realities; odd, throwaway images come back as soul-crushing memories. The utter meaninglessness and forgettable humiliation of an ordinary life is reimagined as a heartbreaking tribute to our common humanity. How can something so small, created by one guy slaving away with a pen and paper for years, be so complex, so indescribably transcendent? You have never, ever, ever seen anything like it. —B.E.
David Mackenzie's haunting drama (from a witty, layered script by Taylor Sheridan) is the greatest Western of our post-financial-collapse era. It features bank robbers, rangers, cowboys, and Indians, but the time is the present and the West — here, West Texas — is a different place: The frontier that gave birth to symbols of "rugged individualism" is now a home for the collectively dispossessed, with Native Americans and white people who once upon a time took their land in the same sinking boat. Chris Pine and Ben Foster are the brothers who steal from banks that have stolen from others, Jeff Bridges the sardonic lawman on their tail. —D.E.
This is probably, what, the 78th best-of-list blurb you're reading about Korean director Bong Joon-ho's masterpiece? Is there anything left to say about it? Maybe just this: In telling the story of a lumpen family who insinuates itself into the lives of a wealthy family, only to discover there's someone even lower on the food chain, director Bong has not only crafted a metaphor-engorged thriller about capitalist striving and class warfare, he's also managed to reinvigorate the farce as a tool for artful social criticism. —B.E.
Late in Jonathan Glazer's icy science-fiction film is a scene in which Scarlett Johansson's alien lead curiously examines the landscape of her naked body. What could have felt gratuitous, even silly, instead is rendered with care and specificity. Loosely based on the strange novel of the same name by Michel Faber, the film follows Johansson's alien through Glasgow and the Scottish Highlands as she searches for prey. It's a striking parable about gender — its elasticity and its horrors. The film boasts a mesmerizing, lucid turn by the actress that ranks as some of the best work of her career.—A.J.B.
Director Park Chan-wook loosely adapts Fingersmith by Sarah Waters, transporting it to Japanese-occupied Korea, creating a culturally sumptuous queer tale brimming with turns of fortune and double crossings. The probing gaze of Park and cinematographer Chung Chung-hoon is rich with hypnotic detail and texture. Coupled with its evocative performances, particularly by Kim Min-hee as the mysterious and yearning Lady Hideko, watching The Handmaiden is like being lulled into submission by an ornate spell. —A.J.B.
Kirsten Johnson, who shot some of the most important documentaries of the last three decades — including films like Laura Poitras's Citizenfour and The Oath, and Kirby Dick's Derrida — uses discarded snippets and scenes from those previous efforts (as well as some of her own personal home-movie footage) to put together this marvelous memoir. It's not that we see her in this footage, however; instead, we see blown takes, tripod adjustments, filmmaker interventions, drifty longueurs, and other bits of cinematic detritus that come together to create a poetically inflected portrait of the consciousness behind the camera. In so doing, Johnson not only gives us a glimpse into the observational, technical, and emotional work that filmmaking requires, she teaches us how to see anew. —B.E.
After a decade of running in place (to great box-office success), Quentin Tarantino found his sweet spot again — a fetishistic collage of Hollywood '60s bric-a-brac that allows him to examine (or maybe just to live inside) the world that, for better or worse, shaped his fantasies. On paper, it's reactionary: Two increasingly irrelevant white males from '50s cowboy TV (Leonardo DiCaprio as the star, Brad Pitt his devoted stunt double/valet) recover their mojo enough to defend themselves against dirty hippie girls (Mansonites) and thereby save a blonde, pregnant movie princess from being butchered. But it's more wistful pipe dream than manifesto, building to a denouement at once euphoric and heartbreaking. —D.E.
A high-flown title for a film of countless earthly pleasures, chief among them the faces of three fascinating performers: Juliette Binoche as an aging international star, Kristen Stewart as her jittery personal assistant, and Chloë Grace Moretz as the ripening young actress poised to seize the throne. The writer-director Olivier Assayas has a genius for using ephemeral, gossip-magazine ingredients — wealth, fashion, celebrity — as a springboard for that most timeless of themes: the ephemerality of us. There's so little in the way of histrionics that it's hard to put your finger on why the film is so terrifically intense. —D.E.
Early in Paul Schrader's exacting, thrilling drama, Ethan Hawke's struggling pastor Ernst Toller delivers a line — told to a man he's counseling who is wrestling with the horror of bringing a child into a world beset by climate change — that stopped me cold: "I talked my son into a war that had no moral justification," Toller says, referring to his son who died in Iraq, an event that ruptured his former marriage. Perhaps it was the 4:3 frame ratio that made every scene a titch more claustrophobic. Perhaps it was the world-weariness lining Hawke's face. Perhaps it was Schrader's cool eye upon him. But what this moment signaled to me is that I was in the hands of truly striking filmmakers. —A.J.B.
Ozarks 17-year-old Ree Dolly (Jennifer Lawrence in her breakthrough role) embarks on a bloody, nightmarish odyssey to locate her lost father to keep the bank from foreclosing on the house in which she lives with her young siblings in Debra Granik's harshly beautiful adaptation of Daniel Woodrell's "Ozark noir." The film achieves a mythical intensity, building to a midnight boat ride on what might be the River Styx — and to a silent scream that will echo forever in your mind. The performances of John Hawkes (as Ree's meth-fueled uncle) and Dale Dickey (as a violent but all-too-human matriarch) are beyond praise. —D.E.
Christopher Nolan's WWII epic, a nesting-doll of ticking-clock narratives built around the British Expeditionary Force's 1940 evacuation from France, is the most ambitious film of his career to date, and perhaps also the most compassionate. The movie's three timelines all play out in ways that foreground the subjectivity of the people experiencing them. And as the timelines and stories and characters collide amid the escalating delirium of war, what comes through is a touching narrative about the clarifying power of defeat and failure. —B.E.
Rebuttal: Christopher Nolan has his (often belligerent) enthusiasts, but some of us couldn't tell one skinny white male from another and find his synchronized-swimming worldview as inane as it is labored. Great opening shot though. —D.E.
Lynne Ramsay's experimental thriller, featuring Joaquin Phoenix as a mercenary-vigilante (no, really, he's both) who finds missing people and takes brutal revenge, is an electrifying portrait of absence. In following a character whose great power is his ability to evade and disappear, it explores the psychic scars that propel his need for self-negation. A formally dazzling movie that represented a triumphant return to form for Ramsay after a series of aborted projects and poisonous press. So glad to have her back. —B.E.
Director Jung Byung-gil's The Villainess opens with one of the most dazzling fight sequences in years, all shot from the point of view of our lead, Sook-hee (Kim Ok-bin). It's bloody and exhilarating, with the camera swinging and serving with dancerly grace. The action in this South Korean spectacle is undergirded by an intriguing, moving tale of control, power, and trauma anchored by Kim's tremendous performance. —A.J.B.
Leos Carax's ecstatic hallucination is an elegy for filmmaking and evidence of its power, with Denis Lavant as its steadfast avatar, chauffeured around Paris in a limousine to appointments that amount to dropping into different narratives. In their far-reaching variation — a motion-capture love scene, a neorealist family drama, and an intensely mournful encounter with Kylie Minogue — is a testament to the magic and madness of creating miniature worlds for the camera. But it's the intermission that makes my heart explode with joy, with Lavant on accordion, joined by a bevy of other musicians for a cover of R.L. Burnside's "Let My Baby Ride." It's shot in the Saint-Merri Church, of course, the sacred and profane in one glorious interlude — Trois! Douze! Merde! —A.W.
The thing about The Social Network is that it never really set out to be about the details of how Mark Zuckerberg founded Facebook in the first place. But it ended up being a spiritually accurate portrait anyway, by turning Zuckerberg's rise into a fable about a young man who wants to be liked, and who, rather than attempt to be likable, builds a social-media empire so people won't have any choice but to pay attention to him. The script remains the best thing Aaron Sorkin's written, because it's one of the few things of his in which the main character is actually supposed to be a dick. And whatever ragged ends of sympathy might have been there on the page get smoothed away by David Fincher's butter-rich direction, which treats what happens to its subject, played so impeccably by Jesse Eisenberg, as a supervillain origin story. —A.W.
Abderrahmane Sissako's deeply human fable about a real-life 2012 Islamist takeover in Mali avoids alarmist and exploitative clichés and instead finds terror and tragedy through the lightest of touches. The jihadi invaders are all too human, even goofy at times, which makes their casually monstrous actions that much more startling and horrific. —B.E.
On one level, the title of This Is Not a Film is an extremely dark joke — Jafar Panahi made it with his co-director, Mojtaba Mirtahmasb, while on house arrest, after having been sentenced to a 20-year ban on filmmaking by the Iranian government, and it was smuggled out to its Cannes premiere on a flash drive hidden inside a cake. On another level, it's an acknowledgment of the amorphous nature and deceptive casualness of the 76-minute feature, which was shot in Panahi's Tehran apartment building, partially on an iPhone. What starts as a chronicle of loneliness and resilience becomes a testament to its creator's insatiable curiosity about the friends and strangers who cross his doorway. It's a funny, tremendously sad work of protest, a reminder that you can ban someone from making films, but you can't stop him from being a filmmaker. —A.W.
Freddie Quell (Joaquin Phoenix) is a man undone. He's an erratic and yearning World War II vet struggling to adapt to quotidian life who becomes entangled with the likes of Lancaster Dodd (Philip Seymour Hoffman), the leader of what can only be described as a cult in its early years, and his wife, Peggy (Amy Adams), who wields more power in this close-knit community than it first seems. Writer-director Paul Thomas Anderson creates a work defined by its precision and details — the achingly serene blue of the ocean, light the color of melted gold, alcohol used as both healer and weapon. But what transfixes are the performances. Phoenix stands with crooked, hunched posture, making Freddie look like a living question mark. Hoffman portrays Lancaster Dodd with both ragged egoism, a hulking presence, and the shimmer of self-doubt. —A.J.B.
Four score and seven films — at least — might be contrived from the life of Abraham Lincoln, but Steven Spielberg and screenwriter Tony Kushner home in on a few months in 1865 leading to the vote in the U.S. House of Representatives on the 13th Amendment outlawing slavery. The prism is politics, the fine and coarse art of persuasion, the machine in a democracy through which ideals are translated into legislation and legislation into law. Daniel Day-Lewis speaks in a soft, cracked voice that lulls its listeners with indirection before driving home a lawyerly point. He captures what contemporaries described as Lincoln's mysterious private sadness. You don't feel you know Lincoln — few in his time claimed they did. But you feel you know what it was like to be in his presence. The film is based in part on Doris Kearns Goodwin's book Team of Rivals: The Political Genius of Abraham Lincoln, widely reported to be on Barack Obama's bedside table after winning the presidency. Can Lincoln be taken as a smack at Republicans or a gentle rebuke to Obama, who lacked the Lincolnesque wiles to entice his rivals to the table? —D.E.
Jennifer Kent's horror film is best known for its malevolent titular creature whose graphically rendered design immediately grounds itself in your imagination (so much so that it's become an unexpected queer icon). It follows Amelia (Essie Davis), a widow raising her annoying-as-hell son alone, riddled with exhaustion and increasing unease over the figure of the Babadook she first encounters in a pop-up book. It isn't just genuinely scary, but a layered treatise on unexpected loss and mental illness. —A.J.B.
A sprawling nocturnal procedural that turns into a metaphysical reverie before making a sharp turn into harsh daytime realism, Turkish director Nuri Bilge Ceylan's masterpiece is a murder mystery unlike any other. It's less about guilt and violence and obfuscation — the traditional material of the crime drama — and more about how our mundane lives are constantly influenced by the dreamlike forces of symbol, myth, and romance. —B.E.
There's nothing supernatural about Christian Petzold's Phoenix, but it is, nevertheless, a ghost story in which a woman returns from the (presumed) dead to find herself haunting the bombed-out remains of the Berlin life she used to have before the war — before she was sent to a concentration camp, possibly betrayed by someone close to her. Phoenix is a postwar noir, an incredible showcase for star Nina Hoss, and a reworking of Vertigo from the opposing perspective. More than anything else, though, it's an exploration of trauma so great that its survivor has yet to begin to reckon with it. —A.W.
A triumph of humanist filmmaking. Brie Larson (in her breakout film) is Grace, a counselor at a short-term resident foster facility for at-risk kids, where many of her charges stay for years — and where Grace must confront her own history of abuse. Writer-director Destin Daniel Cretton has a brutally real design: Every seeming breakthrough is followed by a harsh fallback. Lakeith Stanfield is a kid whose raps are howls of rage against his mother, and Kaitlyn Dever is a studiously blasé emo girl — until the demonic rage comes. —D.E.
In Two Days, One Night, written and directed by the Dardenne brothers, Marion Cotillard delivers a raw nerve of a performance as Sandra, a woman returning from mental-health leave to work at a small solar-panel factory only to find her position on the line in precarious circumstances: Management has realized it can force Sandra's colleagues to cover her shifts, making her redundant. The company offers each stand-in a €1,000 bonus to do so. Sandra must now convince her peers to turn down those bonuses so she can keep her job. Two Days, One Night follows the character as she makes her case and unearths fraught emotions. It's an austere, working-class drama brimming with genuine feeling and power. —A.J.B.
A dark, delectable comedy involving two distant cousins: the formidable Lady Sarah (Rachel Weisz) and the wily, on-the-make Abigail (Emma Stone), each vying to be the favorite of the ailing Queen Anne (Olivia Colman). There's so much to marvel at in this film — its sharp script by Deborah Davis and Tony McNamara, the lush costume design by Sandy Powell, Yorgos Lanthimos's sharp direction that sets aflame even minute moments with intrigue, sexual and otherwise. But I return to The Favourite for its tremendous performances — especially Weisz's cunning, sultry turn — that work in concert to create a film of piercing magnitude. —A.J.B.
And made for television, really, but shown in enough theaters to qualify for encomiums and awards from film critics — and to make us once again muse on the dwindling distance between the various means of exhibition. Using amazing archival footage and fresh interviews, Ezra Edelman's 467-minute O.J. Simpson epic pokes and prods, extrapolates and interpolates. We see the fractious world out of which the inhumanly handsome and talented black football star emerged, and the impact of that world on his psyche. The horrible irony lingers — that this man with zero interest in being a symbol for his race became an instrument of black revenge on a police force that had brutalized it for decades. —D.E.
Toward the end of Joshua Oppenheimer's documentary about the Indonesian genocide, one of its subjects begins retching after returning to a spot where, by his account, he committed many murders as a leader of a Sumatran death squad. It's one of the most disturbing images I've ever seen — as though someone's body were trying to acknowledge what his mind still refused to. The Act of Killing is an extraordinary experiment, a way of using cinema to test the boundaries of denial and erasure by having two government-sanctioned killers reenact the atrocities they participated in, in increasingly fantastical interpretations. It's not a record of history so much as it is a document of how history is erased, and how it nevertheless lingers in the memories and in the very forms of those who survived it — and who perpetrated its worst crimes. —A.W.
Madeline (Helena Howard) is a teenage actress encouraged by her theater director (Molly Parker) to blur the lines between the character she'll be playing onstage and the actual life she leads with her mother (Miranda July). Writer-director Josephine Decker pushes the boundaries of reality and dreams, creation and personhood, through a series of bold aesthetic and narrative choices. POV shots disorient. Scenes are blurred at the edges. It's a slippery, exasperating, transcendent film that haunts long after seeing it. —A.J.B.
The decade's greatest bookends are the first and last scenes of Mother, which feature the nameless main character, a widow played by Kim Hye-ja, dancing. The first is a deadpan lark, the second absolutely devastating, and how the film navigates from one to the other is a testament to the electric unpredictability of director Bong Joon-ho's tonal shifts. Mother has the setup of an unlikely detective story in which a middle-aged woman attempts to clear her son's name after he's accused of murder. But what it becomes it so much darker and more profound — a brilliant meditation on the monstrous side of maternal love, a tie forever binding you to someone, no matter how much hurt comes with it. —A.W.
Mike Mills's melancholy comedy goes down so easily, you can forget how inventive it is: a philosophical, free-form (sometimes madcap) weave of past and present that eases you into the mind of its hero (Ewan McGregor) as he agonizes over his emotional inheritance from a father who has come out of the closet at age 75. That's well and good for the dad (at the end of life), but Mills's fictional alter ego has been scarred from growing up in a family of secrets in a culture of façades (presented via archetypal photos): He has no experience bonding for real. A long-overdue Oscar went to Christopher Plummer, who's light and lithe, buoyed by his new life among the boys. —D.E.
For the past three decades, Keanu Reeves has prevailed as one of our most beguiling modern stars. With 2014's John Wick, Reeves synthesizes his greatest strengths: unerring cool, an astute understanding of loneliness, and a facility with the ways our bodies communicate the stories we tell ourselves in order to live. The neo-noir-tinged action flick, written by Derek Kolstad, takes a simple premise — an ex-assassin plagued by grief returns to his former life when the sniveling son (Alfie Allen) of a powerful mob boss kills his dog — wringing from it supreme, wholly cinematic pleasures. Surprising performances by Willem Dafoe, Ian McShane, Adrianne Palicki, and Michael Nyqvist. Neon-drenched gun battles. A lightning-bright, fresh mythos. What makes the film rise to the level of one of the best of the decade is how directors Chad Stahelski and David Leitch, former stuntmen and coordinators who met Reeves on The Matrix, understand the beauty and mayhem of the human figure, capturing its contours with an unprecedented clarity. —A.J.B.
Rebuttal: Respectfully, this is as basic as thrillers get: You killed my dog, prepare to die. I will concede that the sequel, John Wick: Chapter 2, was sensational, its carnage so balletic it was almost abstract. (The third part, Parabellum, had some great stuff amid the bloat.) —D.E.
What starts off as an immersive, loving re-creation of the American folk-rock scene in the 1960s becomes, in the Coen brothers' hands, a kind of anti-Odyssey. Following the travails of a promising but way too abrasive and strident folkie (played by Oscar Isaac, becoming a star before our very eyes) who has too much integrity to sell out, and not enough talent or charisma or luck to break out big, they give us a journey of failure masquerading as triumph. Listen carefully to the background song of the final scene: It's Bob Dylan, turning into the kind of star our hero will never become. Sad! —B.E.
Blockbusters largely left reality behind in the 2010s in favor of the fantastic and the intensely franchised, and while Ryan Coogler played a prime role in that with Black Panther, it's his Creed that's lingered with me as ideal big-screen entertainment, as well as a reminder that earthbound stories can also feel larger than life. With Creed, Coogler didn't just deftly craft the kind of sports drama that gets a theater full of people cheering in the aisles — he created one that celebrated Rocky while also interrogating its place as a Great White Hope fantasy. Adonis Creed is a fascinatingly complicated underdog for a new millennium, and Michael B. Jordan is a true-blue movie star who's equally compelling in virtuosic fight scenes, romantic interludes, and tender sequences of mentorship. That the sequel, which Coogler wasn't directly involved with, was disappointing was all the more in line with the boxing series' brand. —A.W.
Howard Ratner (Adam Sandler) is a jewelry-store owner, and, more importantly, he's a gambler, and the Safdie brothers' latest is an adrenaline-ridden adventure in being addicted to having your whole life riding on your next big bet. Watching it is like taking a joyride in a car with its breaks cut, following Howard as he careens around the city attempting to balance his business, his family, his mistress (the awesome Julia Fox), and his debts, and doing an outstandingly terrible job of it. The Safdie brothers have always had a way with live-wire subjects and intensely New York setting, but Uncut Gems is in its own league, a movie about a man who thrives on chaos that replicates his point of view with a cinematic jolt of sensory overload. —A.W.
Rebuttal: I'd like this movie more if anyone in it behaved like an actual human being. —B.E.
I stumbled onto the independent Irish horror film A Dark Song when it was still streaming on Netflix and was blown away by the arresting simplicity of its staging and visual landscape, along with its lead performance by Catherine Walker. It's a claustrophobic film about a grieving mother (Walker) who abruptly lost her son and who hires a gruff occultist (Steve Oram) to perform an arcane ritual that would allow her to summon a guardian angel. Tense and riveting, A Dark Song grapples with the nature of grief in a way that terrifies and emotionally bruises in equal measure. —A.J.B.
It may not feel like it at first, but Mia Hansen-Løve's Eden is a horror story — one about staying too long at the party, about looking up and realizing that everyone around you grew up while you're still trying to make a go of youthful ambitions. The rub is that Paul (Félix de Givry), the young, and then no longer quite so young, man at its center, isn't a failure in his pursuit of being a DJ. He's just not enough of a success to live off it. The highlights of his journey, like the stretch in which he travels to New York to perform for an adoring crowd at MoMa PS1, are intoxicating, and then time slips by and reality rises up unavoidably under his feet like the ground beneath a skydiver. There are a lot of movies about chasing your dreams, and almost none about coming to terms with moving on from them — and Eden is a masterful reflection of the latter. —A.W.
Long story, but this Georgian masterpiece never actually saw the theatrical light of day after premiering at Sundance, garnering wild acclaim and getting picked up by Netflix — who promptly buried it deep in their lineup with little announcement or fanfare or screenings or anything. It's the story of a middle-aged woman who decides one day to leave her husband and her grown kids and move into an apartment by herself, not for any scandalous reasons but because she wants to be by herself, free of obligations and expectations and all the doublethink that life demands. That's a simple idea, but the filmmaking here is outrageously beautiful, with every moment ringing achingly true. —B.E.
Martin Scorsese's Judas Iscariot saga is a threnody for lost grace, a work of self-abnegation set in the gangster milieu where Scorsese normally showboats. Shaped around the 1975 (presumed) killing of Teamsters president Jimmy Hoffa, the film is notable for what it doesn't have: flashy set pieces, whip pans to carnage, or Rolling Stones songs to pump up the adrenaline. The violence is brusque, flat — un-mythic. The computer de-aging of the characters half works: It doesn't make you suspend your disbelief, but the knowledge that the stars are old men adds to the poignancy. Robert De Niro and Al Pacino are very fine, but it's Joe Pesci who anchors the film. Who could imagine the pop-top Pesci as a gangster who seeks to modulate every encounter, accepting that murder is inevitable but, sadly, seeing it as the ultimate failure? —D.E.
Rebuttal: I love The Irishman, but Silence was Scorsese's true masterpiece this decade. —B.E.
Maren Ade's chronicle of a father and his semi-estranged adult daughter is an exquisite miracle of tone — a true tragicomedy, a movie about deep familial dysfunction that plays out via a series of escalating dares. The superb Sandra Hüller is the uptight Ines, and Peter Simonischek is her puckish father, Winfried, and after the initial impulsive visit he pays his child goes wrong, he comes back to try again, in character as the fictional oddball of the title. Toni Erdmann is funny in structure and often terribly pitiful in practice, a story of two people who love each other and are fundamentally unable to communicate, culminating in the world's most fraught performance of "Greatest Love of All." —A.W.
Director Pawel Pawlikowski's austere drama, following a young novice nun in 1960s Poland who uncovers her Jewish roots, is a movie about buried secrets, restricted lives, the return of the repressed — and as such, the eerily still black-and-white photography represents not just a bold visual choice, but an emotional one as well. After making films for years in England, the director announced his return to Poland with this Oscar-winning movie. He followed it up with last year's almost equally monumental Cold War, confirming his status as one of the great cinematic masters of our time. —B.E.
Comedies always go underrepresented on best-of lists, this one included, because it can feel harder to gauge how they're going to hold up over time. Will, for instance, a mockumentary about the rise and fall of a pop-rapper named Conner4Real remain as funny in a few years as it was when it came out? Yes. The answer is yes. The Lonely Island's riff on This Is Spinal Tap remains deliriously good, even as its most specific 2016 details have started to make it a micro period piece. The Macklemore skewering, hoverboards, and home-appliance partnership were, anyway, just the trappings of what is, at heart, an enduring story about the fickleness of celebrity, the enduring bonds of friendship, and Seal getting attacked by wolves during a viral proposal gone wrong. —A.W.
Weirdly, Damien Chazelle's exuberantly original, medium-budget romantic musical ended up standing in for the white Hollywood Establishment against the outsider indie Moonlight, when any other year it might have been hailed as the closest thing since The Umbrellas of Cherbourg to what might be called a "unified field theory" of music and film. The flow of the camera, the vibrant colors of the set and costumes, the gait of the gorgeous leads (Emma Stone, Ryan Gosling) enhance everything else, so the stylishness seems exponential, if not existential. —D.E.
54–267: The Runners-up
Throughout our deliberations, we considered the following 214 films as contenders for the Best. Although they didn't make the cut, our critics have annotated the choices for which they fought hardest below.
24 Frames | 45 Years | A Better Man | A Fantastic Woman | A Star Is Born | A Touch of Sin | Ad Astra | After the Storm | Almayer's Folly | Amazing Grace | American Factory | American Hustle | Amour | An Oversimplification of Her Beauty | Anna Karenina | Annihilation | Anomalisa | Aquarius | Ash Is Purest White | Before Midnight | Beloved | Best of Enemies | Beyond the Lights | Big Eyes | Black Mother | Blackhat | Blind | Blue Caprice | Blue Valentine | Bone Tomahawk | BPM | Brooklyn | Burning | Byzantium | Caesar Must Die | Call Me By Your Name | Captain Phillips | Carlos | Carol | Catfish | Certified Copy | Chronicle | Climax | Coherence | Cold War | Cosmopolis | Dark Horse | Dear White People | Django Unchained | Dogtooth | Edge of Tomorrow | Eighth Grade | Elle | Ex Machina | Extraterrestrial | Faces Places | Fast Five | Felicite | Fire at Sea | First They Killed My Father | Fish Tank | Fog | Force Majeure | Ford vs. Ferrari | Foxcatcher | Frances Ha | Get Out | Goodbye First Love | Graduation | Happy as Lazzaro | Haywire | Heart of a Dog | Heaven Knows What | Hell and Back Again | Her | Hereditary | Hissein Habre, a Chadian Tragedy | Home | Hustlers | I Am Love | I Am Not Your Negro | In the Fade | In the Family | Inception | Inherent Vice | Interstellar | Into the Abyss | It Follows | Jackie | Jafar Panahi's Taxi | James White | Jauja | Julieta | Kedi | Keep the Lights On | Knight of Cups | Kubo and the Two Strings | Last Train | Let Me In | Leviathan | Life of Pi | Little Men | Logan | Love & Friendship | Love Is Strange | Loveless | Manakamana | Manchester by the Sea | Margin Call | Marriage Story | Martha Marcy May Marlene | Marwencol | Me and You | Meek's Cutoff | Minding the Gap | Monos | Moonrise Kingdom | Mountains May Depart | Mudbound | Mustang | Nightcrawler | Okja | Oklahoma City | Pain and Gain | Paterson | Phantom Thread | Poetry | Prometheus | Psychohydrography | Raw | Room | Room 237 | Rust and Bone | Saint Laurent | Samsara | Selma | Sembene! | Shame | Silence | Skyfall | Snowpiercer | Starless Dreams | Step Up to the Plate | Stories We Tell | Stray Dogs | Support the Girls | Sweetgrass | Take Shelter | Tangerine | The Adventures of Tintin | The Arbor | The Bling Ring | The Cabin in the Woods | The Counselor | The Dark Knight Rises | The Death of Stalin | The Deep Blue Sea | The Diary of a Teenage Girl | The Duke of Burgundy | The Eclipse | The Edge of Seventeen | The Ghost Writer | The Grand Budapest Hotel | The Great Beauty | The Green | The Grey | The Guest| The House | The Hunt | The Immigrant | The Invisible Woman | The Jungle Book | The Keeping Room | The LEGO Movie | The Loneliest Planet | The Lost City of Z | The Martian | The Mend | The Mill and the Cross | The Past | The Perks of Being a Wallflower | The Post | The Queen of Versailles | The Raid: Redemption | The Second Mother | The Souvenir | The Spectacular Now | The Square | The Tale of the Princess Kaguya | The Trip | The Witch | The World's End | Things to Come | To the Wonder | Tower | Toy Story 3 | Train to Busan | True Grit | Uncle Boonmee Who Can Recall His Past Lives | Vincere | War Horse | Warrior | We Are the Best! | Weekend | Weiner | What We Do in the Shadows | Where Is Kyra? | Whiplash | Wild Grass | Wild Rose | Wild Tales | Wonderstruck | Young Adult | Zero Dark Thirty
268–5,228: The Middle
Here are the 4,961 films that are neither the Best nor the Worst. We have broken them out by category, so you can relive the trends that defined just-okay movies this decade. Inevitably, one of your favorites will fall in this vast range, and for that we apologize.
Some Biopics
Seems like every year we get a new batch of biographical films, culminating in 2019's absolute deluge of stories based on the real thing. How very middle!
At Eternity's Gate | Beautiful Boy | Black Mass | BlacKkKlansman | Blaze | Bohemian Rhapsody | Cesar Chavez | Churchill | Colette | First Man | Florence Foster Jenkins | Gainsbourg: A Heroic Life | Genius | Get On Up | Hacksaw Ridge | Hitchcock | I, Tonya | J. Edgar | Joy | Judy | Legend | Lizzie | Love & Mercy | Loving Pablo | Miles Ahead | Million Dollar Arm | Molly's Game | Moneyball | Mr. Turner | Nowhere Boy | On the Basis of Sex | Richard Jewell | Rocketman | Straight Outta Compton | The Fighter | The Imitation Game | The Iron Lady | The Runaways | The Theory of Everything | The Wolf of Wall Street | Tolkien | Vice
Mission: Impossible Movies
This series probably should have died after the dreadful second installment. And yet … it does everything right. As much as we may be nauseated by franchise bloat in every corner of Hollywood, we'll gladly take another 20 of these. (Please do not give us another 20 of these.)
Mission: Impossible — Ghost Protocol | Mission: Impossible — Rogue Nation | Mission: Impossible — Fallout
Some Rom-coms
The 2010s did not kill the romantic comedy. Here's but a sampling of the titles that avoided death, which is reportedly still imminent? Stay safe out there, rom-coms.
About Last Night | About Time | Admission | Always Be My Maybe | Bridget Jones's Baby | Crazy Rich Asians | Crazy, Stupid, Love | Easy A | Isn't It Romantic | Juliet, Naked | Just Go With It | Just Wright | Larry Crowne | Last Christmas | Leap Year | Love, Simon | Mamma Mia! Here We Go Again | Midnight in Paris | New Year's Eve | Nobody's Fool | Obvious Child | Plus One | Ruby Sparks | Set It Up | Silver Linings Playbook | Sleeping with Other People | Something Borrowed | The Back-Up Plan | The Big Sick | The Switch| To All the Boys I've Loved Before | Valentine's Day | What Men Want | Yesterday
James Badge Dale Movies
James Badge Dale has been in movies near the top of this list (Shame, The Grey) and movies near the bottom of this list (Iron Man 3). He's also been in the following 14 films that you might have forgotten, or never even knew about in the first place.
13 Hours | Donnybrook | Flight | Hold the Dark | Little Woods | Mickey and the Bear | Only the Brave | Parkland | Standoff at Sparrow Creek | Stretch | The Kitchen | The Lone Ranger | The Walk | World War Z
If we had to choose one, the most medium movie of the decade is probably Ivan Reitman's Draft Day. It stars Kevin Costner as a general manager who's trying to get the most of his team's No. 1 draft pick. It's not really an NFL procedural; if it were devoted to the nitty-gritty of the business, it'd be more interesting. But instead it just is. If middling had a face, it'd be someone's from Draft Day. —A.W.
Freaks and Geeks Alumni Movies
It's been 20 years since the show's premiere, and boy, have these kids gotten around. Linda Cardellini had a thankless role in Green Book. Seth Rogen has become one of the busiest men in Hollywood. Jason Segel played with Muppets and played David Foster Wallace.
127 Hours | 22 Jump Street | 50/50 | A Simple Favor | Alien: Covenant | Arctic Dogs | Bad Teacher | Child of God | Cloudy with a Chance of Meatballs 2 | Daddy's Home | Daddy's Home 2 | Date Night | Despicable Me | Eat Pray Love | For a Good Time, Call… | Game Night | Goat | Gulliver's Travels | Homefront | Honey Boy | Horrible Bosses | Horrible Bosses 2 | Howl | Hunter Killer | I Don't Know How She Does It | I Feel Pretty | I'll See You In My Dreams | Intruders | Jeff, Who Lives at Home | Jobs | Kill the Irishman | Kin | King Cobra | Kung Fu Panda 2 | Kung Fu Panda 3 | Lemon | Long Shot | Lovelace | Made in Cleveland | Memoria | Neighbors | Neighbors 2: Sorority Rising | Oz The Great and Powerful | Palo Alto | Paul | Rise of the Planet of the Apes | Sausage Party | Sex Tape | Spring Breakers | Steve Jobs | Super | Take This Waltz | The Curse of La Llorona | The Disaster Artist | The End of the Tour | The Five-Year Engagement | The Founder | The Gift | The Green Hornet | The Guilt Trip | The Iceman | The Incredible Burt Wonderstone | The Institute | The Interview | The Little Prince | The Muppets | The Night Before | The Vault | Third Person | This Is 40 | This is the End | True Story | Vacation | Veronica Mars | Why Him? | Yosemite | Your Highness | Zeroville
Marvel Movies
These costumed superheroes will come to define the middle section of this decade, when the Marvel Cinematic Universe came into full imperial fruition. They might get lumped together, but we ranked them for posterity. (There are 21 in total this decade, though only 19 are featured here. For the remaining two, jump to the Worst.)
Guardians of the Galaxy | Thor Ragnarok | Black Panther |Captain America: The First Avenger | The Avengers |Ant-Man |Iron Man 3 | Avengers: Infinity War | Spider-Man: Homecoming | Thor | Captain America: Winter Soldier | Doctor Strange | Captain America: Civil War | Spider-Man: Far From Home | Ant-Man and the Wasp | Captain Marvel | Guardians of the Galaxy 2 | Thor: Dark World | Avengers: Age of Ultron
RIP YA
To track the decade-long decline in dystopian YA, look no further than the Divergent series. The first film, released in 2014, was a hit. The second did even better. The third bombed. The fourth never happened — it was initially shunted to TV, and when the cast rebelled, it was canceled entirely, leaving the series unfinished.
The Hunger Games | Ender's Game | The Host | The Hunger Games: Catching Fire | The Giver | The Hunger Games: Mockingjay – Part 1 | The Maze Runner | The Hunger Games: Mockingjay – Part 2 | Maze Runner: The Scorch Trials | The 5th Wave | The Darkest Minds | Maze Runner: The Death Cure
Some Best Picture Winners
These eight films won Academy Awards in the 2010s, but never once did we consider them as contenders for the Best portion of this list. C'est la vie!
The King's Speech | The Artist | Argo | 12 Years a Slave | Birdman or (the Unexpected Virtue of Ignorance) | Spotlight | The Shape of Water | Green Book
Never Forget
Friends With Benefits | No Strings Attached
So Bad They're Good
It was not a great decade for the so-bad-it's-good movie. Once upon a time, such films came with regularity, but with the total corporatization of Hollywood, there are now so many layers of story committees that the most common danger is dim-bulb blandness. Still, there were a few adorable hot messes out there.
Winter's Tale | Serenity | Battleship | The Boy Next Door | Collateral Beauty | Jack and Jill | Venom | A Haunted House 2 | Safe Haven
The Absolute Worst
This home-invasion horror flick was well-liked by lots of smart people, so I will assume their threshold for detestable characters, unconvincing behavior, lousy acting, and schlocky jump scares undone by poor framing and editing choices was just significantly higher. Director Adam Wingard did, however, redeem himself with his next thriller, the far superior (and way better-acted) The Guest. —B.E.
Rebuttal: No idea what this is doing all the way down here, this movie rules. —A.W.
That Taylor Sheridan has managed to have work on both ends of this list speaks to his particular strengths as a filmmaker and what happens when he departs from them. Wind River is technically Sheridan's second film as a director, and third as a screenwriter, and while it shares the machismo of Hell or High Water, it has none of the incisive accompanying critique or underlying sense of economic despair. Instead, it tells what it clearly wants to believe is a story about violence against Native-American women, but is in actuality a self-congratulatory cowboy fantasy starring Jeremy Renner as a near-superheroic avenger who kicks ass and takes names and then delivers a climactic speech on behalf of indigenous pain. And as his rookie FBI-agent sidekick, Elizabeth Olsen gets stuck being the action-movie equivalent of the romantic-comedy lead who falls down all the time because the writer believes it makes her approachable. —A.W.
Sometimes we hurt the ones we love, and sometimes they hurt us back by making a movie that's didactic to the point of feeling like it might actually loathe its viewers for presumably requiring tactics this ham-fisted. Ken Loach is a great filmmaker with an unimpeachable history of making significant, socially engaged work, but agreeing with the politics of his 2016 Palme d'Or–winning anti-austerity drama doesn't make it any less agonizing to watch, from the risible way it humiliates its female lead for engaging in sex work to how it arranges for its title character to dramatically expire right before he finally gets the long-awaited benefits appeal he's been fighting for. —A.W.
Patti Cake$ does have one thing going for it — it gave Danielle Macdonald her breakout role. Otherwise, Geremy Jasper's Sundance movie par excellence is the decade's foremost example of the most tiresome sort of clichés the festival has a tendency to showcase. There are interesting, tough questions raised by the story of Patricia "Dumbo" Dombrowski — a Jersey girl with longings for hip-hop stardom who forms a group with her best friend, her goth love interest, and, yes, her ailing grandma — not the least of which is the way the film equates different kinds of marginalization. Of course, Patti Cake$ skirts all of them in favor of telling an underdog tale in which someone's big dreams matter more than how she treats people with regard to personal boundaries or accusations of cultural appropriation — yasss, queen, yasss. —A.W.
The sequel to Split (2018) and the comic-book art movie Unbreakable (1999), M. Night Shyamalan's ambitious monster jamboree takes off from the notion that we have gods in our midst: humans (played by Bruce Willis, James McAvoy, and Samuel L. Jackson) who metamorphose into superheroes or archvillains via a mixture of latent genius and severe emotional trauma. Shyamalan's true villains, though, are those who deny such exalted individuals exist or actively strive to suppress them. Shrinks. Bureaucrats. Critics. It's too bad his mixture of pulp and idolatry congeals on the screen. There's nothing here that hasn't been done more entertainingly in scores of superhero movies, minus the funereal pacing and clunky dialogue. If Shyamalan is an original, his originality is in draining the life out of pop archetypes, twerpily annotating them, and presenting it all as a gift from on high. —D.E.
On this acclaimed reimagining, Luca Guadagnino takes everything deliriously surreal — gaudy and madcap and more fun than flesh-shredding has any right to be — in Dario Argento's 1977 Grand Guignol fairy tale and lumbers it with post-Nazi German history, gender studies, and cloddish, Pina Bausch–like dance/performance art. Guadagnino (Call Me by Your Name) is trying to concoct a Camille Paglia–like fever dream, a deep wallow in women's "chthonic nature," but he's a very dull, literal-minded fellow. The movie would be a hoot if it didn't drag on for two and a half hours and feature witches who talk so much that Hansel and Gretel would fling themselves into the oven to get it over with. —D.E.
For months after I first saw Sex and the City 2, I couldn't get Kim Cattrall's delivery of the phrase "Lawrence of my labia!" out of my head. She sings it, "Lawrence of my labiaaaaaaaaa," as though the line were not, in fact, the stuff of nightmares, and instead a piece of writing too good not to be drawn out as long as possible. The trouble with Sex and the City 2 wasn't just that it brought the HBO series to such an ignominious end some 12 years after its premiere, with the New York foursome playing ugly Americans in Abu Dhabi and branding it as empowerment. It was that it was a concentrated (if also interminable) dose of all the queasier aspects of the show that were there all along, down to Emirati women whipping off their abayas and veils to bond with the main characters about the designer duds they're wearing underneath — cultural gaps bridged by high-end consumerism. —A.W.
5,236. I Am
Tom Shadyac was the high-flying director of hits like Ace Ventura: Pet Detective and The Nutty Professor before a bike accident left him with post-concussion syndrome. It changed the course of his life — he sold his things, donated a lot of his money, and left the industry. His story is fascinating, but I Am, the 2010 documentary he made about it, is not. For the film, Shadyac gathers an impressive roster of greats to interview, from Noam Chomsky to Desmond Tutu to Howard Zinn, and essentially asks them to confirm his new thoughts on the world, including a lot of simplistic truisms about human connection and materialism. It's a reminder that all the best intentions in the world don't exempt someone from indulgent acts of ego. —A.W.
Remember that brief period when movies about magic were all the rage? Okay, The Prestige was excellent. But the rest? Not so much! Sometimes, even the magic was bad: This weird, dumb action caper — a sleeper hit that actually spawned a sequel, if you can believe it — kept trying to wow us with more elaborate, more ridiculous tricks, while somehow forgetting that it was a movie and that there was nothing impressive or plausible about any of them. Also, despite the presence of many likable stars, somehow every character in this was supremely irritating. —B.E.
The lush orchestrations — so homogenized they sound pre-stereo — and bold yellow letters on an azure sky recall the days when Disney was merely a Magic Kingdom and not a Giant Corporate Entertainment Squid. But the spell begins to dissipate the instant the overly icy new Mary (Emily Blunt) touches terra firma. The re-creation is painstaking, but the plot is ungainly and the songs vie with one another to be less memorable — the loser being a Cockney Meryl Streep's grating paean to "turning turtle." —D.E.
The Bourne Legacy epitomizes the trend of franchise continuum — even after the loss of crucial members. In this case: Matt Damon as Jason Bourne and Paul Greengrass as a director. Here, Tony Gilroy takes the helm and Jeremy Renner takes his turn as the star. I've loathed Renner's acting style since first seeing him in a 2000 episode of Angel. (Yes, he played a vampire.) Despite his negative screen presence, he keeps getting slotted into stories he has neither the gravitas nor the physicality to pull off. The Bourne Legacy continues this tradition, but he's only one of the film's problems. The other issues are the script and the sinful waste of the transcendent Rachel Weisz. —A.J.B.
5,240. The Sea of Trees
To give Gus Van Sant credit, he made his own calamitous trek to Aokigahara a few years before Logan Paul did — though aside from some booing audiences at Cannes in 2015, no one really noticed. The Sea of Trees should probably be best remembered for quietly marking the end of the McConaissance, with Matthew McConaughey starring and struggling to find the emotional center of this contrivance-filled story about an American businessman who travels to the forest to end his life, only to encounter a Japanese man, played by Ken Watanabe, bent on doing the same. There are undercurrents of Orientalism to the whole affair, though the U.S.-set flashbacks are their own kind of maladroit, and the past and present eventually come together for the kind of twist you see from the start but also refuse to believe is actually the endgame. —A.W.
A comic-book update of The Dirty Dozen with an unnervingly plausible idea: A secret government entity blackmails costumed psychopaths and "meta-humans" ("the worst of the worst") captured by superheroes like Batman and Superman into fighting on behalf of American interests. (Consider how happy some in our government were, in places like Iraq, to let borderline psychotic private contractors loose, collateral damage be damned.) But the finished film, after studio recutting, is one of the decade's most muddled pieces of storytelling, in which the uncharismatic ensemble (excepting Margot Robbie's punk Raggedy Ann, Harley Quinn) seems to have as little idea of what it's supposed to be doing as the audience. As Quinn's abusive lover, the Joker, Jared Leto doesn't seem so much unhinged as unhygienic, like a crazy Method actor with no safe word. —D.E.
Rebuttal: It's probably professional suicide to stick up for one of the most loathed movies of our time, but Suicide Squad, while often cut like a not-very-good trailer for itself, was still more entertaining to me than the average comic book movie, in part because of those moments where David Ayer, a writer and director of considerable talent, was clearly struggling to impose his personal sensibility on the silly material. —B.E.
Andrei Konchalovsky's adaptation of Tchaikovsky's ballet reduces the dance to about 45 seconds, axes most of the score, and appends lyrics to what's left, mostly iterations of "Dance of the Sugar Plum Fairy." (Try singing something — anything — to "Dance of the Sugar Plum Fairy." Awkward.) The title character is now a cursed boy prince who joins the little heroine to take on the black-clad fascist Rat King and his mouse storm troopers. The movie has so many terrible ideas that the terrible execution is almost irrelevant. Was this a The Producers–like tax scheme to open and close in a week and make off with the unused three-quarters of the budget? —D.E.
Insufferable corporate hagiography. Walt Disney himself is the hero of this comic weeper, in which the Big Man (Tom Hanks) uses every means at his disposal — charm, wiles, money — to convince the persnickety author of Mary Poppins, P.L. Travers (Emma Thompson), to sell him the rights to her character. The source of Travers's mulish refusal turns out to be the character of Mr. Banks, who was based on Travers's depressive, alcoholic father (Colin Farrell in flashback) — but it's impossible to see a connection between Farrell and David Tomlinson's sexless martinet in the finished film. Thompson and Hanks get nothing going in their draggy scenes, probably because the portrait of Walt was vetted to death by Disney family members and executives. —D.E.
5,244. Miss Sloane
Miss Sloane is a parody of the so-called Strong Female Character ushered onto the screen by people whose work reflects a disregard for interiority — in this case, director John Madden and writer Jonathan Perera. Elizabeth Sloane is a cunning lobbyist okay with spilling a little blood, metaphorically speaking. She works obsessively and has no time for romance. The script is convoluted, Aaron Sorkin–lite. Jessica Chastain's performance is one of the worst of her career, all hard edges and little soul. —A.J.B.
Combine Hollywood's desire to sell tickets to women with its insistence on recycling old ideas, and what you get is the gender-flipped remake, which asserted itself with a vengeance this decade. It's a concept that, in theory, could work, but so far the results have ranged from the underwhelming (Ghostbusters, What Men Want) to the dire (The Hustle, Overboard) to Ocean's 8, which felt … a little insulting? The cast was phenomenal, but the production featured a half-baked heist and barely-there motivations. The best parts of the movie have nothing to do with the big theft, which emphasizes how annoying it is that there needed to be one at all. It's a film that overtly positions itself as a wan knockoff of the original trilogy, down to the curious choice to set up a cameo that never comes through. —A.W.
5,246. Too Late
There's been a growing tendency over the last 10 years to equate showy feats of filmmaking with quality, whether those feats serve the final product or not. Just consider the way the long tracking shot has been used to gas up everything from episodes of underwhelming prestige dramas to self-conscious war sagas this decade. Or consider Dennis Hauck's 2015 neo-noir Too Late, starring John Hawkes, a film that thrilled genre fests with the fact that it was made up of only five individual shots, each running the 22-minute length of a 35-mm reel. It had to be hard to make, with its intricate blocking and strategic zooms, which only calls attention to how much effort was put into realizing material this valueless, with dialogue out of a subpar '90s Tarantino knockoff, and open misogyny of the kind that Tarantino, for all the complications regarding the women he puts onscreen, would never express. —A.W.
5,247. Arthur
The remake no one wanted of Steve Gordon's 1981 P.G. Wodehouse simulation was a death blow to the film career of Russell Brand, whose alcoholic wastrel has mommy, rather than daddy, issues. Helen Mirren plays his Jeeves — she gazes on Brand with a disgust that's too credible to be funny. The most telling part is the opening, which in the original featured Dudley Moore driving drunk through Manhattan. But DUIs can't be passed off as harmless high jinks now, so Brand's Arthur dons a Batman suit, forces Luis Guzmán (as his chauffeur) into Burt Ward shorts, and babbles directions that cause the faux Batmobile to crash into the Wall Street bull statue, whose testicles dangle over Brand's face. The inept staging, Brand's braying falsetto, and those bull balls read as a symbolic castration. —D.E.
Rebuttal: Yes, it's a terrible film — perhaps objectively so — but I cried like a little baby at the end. I realize that's a "me" problem and not a "you" problem, but still. —B.E.
Ruben Fleischer's period thriller about L.A. cops who throw away the rule book to nail Mickey Cohen (a puttied-up Sean Penn) plays like an untalented 12-year-old's imitation of Brian De Palma's The Untouchables. Do noble ends justify ignoble means? Only in movies, where bogus good-guy vigilantes sustain the paranoid fantasies of real-world gun nuts. The film puts a hit on your soul. Amid the fusillade of bad dialogue is one good line, when moll Emma Stone sticks a freckled leg out of the long slit of her gown, and across the room, Ryan Gosling says, "Who's the tomato?" They're always cute together. —D.E.
Tomas Alfredson has an excellent excuse for the disaster that was The Snowman: He wasn't given enough time to shoot the whole screenplay, leaving him with an incomplete mess of footage he had to try to piece together into something coherent in the editing room. But there are so many other weird-isms within this movie: No one pronounces the main detective's name (Harry Hole) as it would sound in his native Norwegian, instead opting for its vaguely NSFW English reading. Poor Val Kilmer, recovering from throat cancer, had to be shot around, with his dialogue dubbed in, while Chloë Sevigny plays an abruptly revealed pair of identical twins. And then there's the snowman motif, which the movie strives so hard to make ominous, but remains the most adorable serial-killing calling card imaginable. —A.W.
5,250. Ma
Directed by The Help's Tate Taylor, Ma is a troubling horror flick that plays with the mammy stereotype, even if the filmmakers seem unaware of the trope they've picked up and wielded like a cudgel. Octavia Spencer stars as a vengeful veterinarian who becomes obsessed with a group of teenagers and ingratiates herself into their lives leading to bloody results. Ma never interrogates its lead character's obsession with whiteness or lives up the possibilities of its premise. —A.J.B.
Reese Witherspoon staked her claim as the bane of modern rom-com in this action-romance directed by the man called McG in a facetious, gut-whomping style that kills both the laughs and the thrills. Chris Pine and Tom Hardy play best-bud CIA agents competing for the hand of fair Reese, who rolls her eyes and scrunches up her face to convey indecision. The movie trashes a good idea: The lovelorn rivals exploit the Patriot Act and its attendant satellites, surveillance cameras, and slews of eager operatives to spy on the woman and each other — which might have been the springboard for an excellent civil-liberties satire if anyone involved had the wit or courage to get real with it. —D.E.
Alex Ross Perry directed good films before this, and he made good films afterward, too, and this one, about a young novelist who also happens to be a supreme asshole, got its fair share of acclaim; you might even call it a breakout feature. Look, I get it: Unlikable characters are common in movies, and plenty of great films have been made about them. But the protagonist here is such a one-note douchebag, such a dimensionless void of contempt, and the characters around him so uninteresting, that the whole thing feels like an elaborate joke on the audience. It took me four tries to make it through the whole thing. —B.E.
The end of the line for Bella, Edward, and Jacob is sadly torpid. There was once something ineffably 21st century about the awkward quasi chemistry between Robert Pattinson's clammy Edward and Kristen Stewart's Bella, but in the final installment, the director, Bill Condon, seems too exhausted to see the thing through, and it doesn't help that the decisive climactic battle turns out to be a fake-out — a vision. You can practically see the actors edging toward the exit in their last scenes — apart from poor Taylor Lautner, who's like, "Where's everybody going?" —D.E.
Rebuttal: I honestly don't understand how anyone could see this film as anything other than a good time. Heads get popped off like beer caps! Taylor Lautner explains how he fell in love with a baby! Michael Sheen lets out a kind of cackle-shriek that surely put to use all of his years of training at the Royal Academy of Dramatic Art! —A.W.
5,254–5,256. The Hobbit Trilogy (but mostly just The Hobbit)
It's not just that it was an utterly pointless project — taking J.R.R. Tolkien's delightful, slim adventure and giving it the portentous, lumbering, interminable Lord of the Rings treatment, thereby somehow devaluing that earlier trilogy as well. It's not even that ghastly high-frame-rate presentation that Peter Jackson tried to get away with, which made everything onscreen look like a washed-out making-of video. It was also just a fucking terrible movie, with zero narrative momentum, thoroughly forgettable characters, and — since they chopped up a tight little narrative into three parts — no decent resolution. A case study in how not to make a movie. —B.E.
5,257. I'm Still Here
The stunts that Joaquin Phoenix pulled off on behalf of I'm Still Here took place before the start of this decade — when he declared he was retiring from acting, embarked on a series of shambolic hip-hop performances, and torpedoed the press tour for the tremendous Two Lovers with that notorious Letterman interview. Looking back at the resulting mockumentary, which was directed by Phoenix's then-brother-in-law Casey Affleck, what's so depressing about it is how little insight into celebrity it actually offered. It was an exercise in acting out, not vulnerability, and the resulting sexual-harassment lawsuits from crew members concerning Affleck's on-set behavior are a reminder of who tends to be left exposed when the rule books get tossed out. —A.W.
It's hard to say what hurts more — that an estimated quarter-billion dollars was poured into giving an animated Disney Renaissance title a "live action" remake that was infinitely less expressive, less artful, and less vibrant than the original, or that it was such an enormous hit that (alongside Aladdin, etc.) it's guaranteed this corporate nostalgia death spiral will continue for years to come. —A.W.
A hunky escaped prisoner (Josh Brolin) takes a divorced mom (Kate Winslet) and her son (Gattlin Griffith) hostage in Jason Reitman's romantic drama from Joyce Maynard's novel. What begins as a wet Oedipal fantasy with a dash of kink takes an odd turn: The convict ties Mom up, pulls a pack of ground meat out of the freezer, browns it, chops an onion, adds a couple cans of tomato sauce, finishes it with a generous splash of coffee, and feeds it to her, blowing gently on the spoon. Then he whips up some fabulous biscuits. Soon, he's fixing the sink and teaching the kid to catch a baseball. Women in the audience are meant to say, "Can I get one of those?" It's so terrible that it's amazing. —D.E.
It's basically A Streetcar Named Desire if it really hated Blanche, specifically, and women, in general. Cate Blanchett gives a very outward-facing performance, doing her all to convey Jasmine's crackling downfall, but she's working against Woody Allen's listless direction and a script which aims for profound but falls flat. —A.J.B.
5,261. Iron Man 2
They reportedly shot this one without a script, and, well, it shows. An idiotic and confusing and tedious smorgasbord of superhero clichés and subplots, Jon Favreau's second entry in the Iron Man series (following up on his wonderful first entry, which helped set the jokey, colorful action template of the entire Marvel movie project) might have killed the whole franchise dead. Except it didn't, and millions of people went to see it, proving, sadly, that you didn't actually have to bother to make any of these movies any good — a terrifying lesson the entire industry took to heart. —B.E.
There are bad movies that are just unwatchable, and then there are movies like The Book of Henry, whose badness manages to become something akin to magnificence. It begins as the unbearably twee story of a precocious child genius playing head of his single-parent household, and after he dies, it attempts to transition into being the equally twee story about how his mother follows the instructions he left to murder their abusive neighbor. Naomi Watts, who plays the mom, has had a rough decade, role-wise, but it's director Colin Trevorrow, fresh off Jurassic World, who's generally shouldered the blame for this one. Sometimes people clearly know when they have a stinker, but Trevorrow seemed genuinely shocked at the reception The Book of Henry received, making you wonder just what kind of film he thought he had on his hands. —A.W.
5,263. Death Note
I know I've seen Death Note, based on the manga of the same name, but it is such a rushed and hollow movie that charting its particulars is like trying to capture smoke in the palm of your hand. Neither its plot nor its visuals leave much of an impression beyond being dumb, sloppy, and lacking any particular flavor. The acting ranges from the grating to the forgettable by the likes of Nat Wolff and Willem Dafoe. —A.J.B.
5,264. Atlas Shrugged
Rushed into production so the producer could hang on to the rights of the book, this infamously reviled Ayn Rand adaptation is comically lazy, shoddily scripted, and more interested in scoring political points than telling a story. (Attention filmmakers, even right-wing ones: If you're going to make a movie that will largely consist of dry exposition, then for the love of God, find some actors who can deliver that dialogue.) Watching this movie, you'd never guess that once upon a time, perfectly good, professional films were made from Ayn Rand books; think King Vidor's The Fountainhead or Goffredo Alessandrini's We the Living. —B.E.
I refuse to spend too much time thinking about this brazenly idiotic sequel, directed and co-written by star Ben Stiller, who once again plays the empty-headed male model Derek Zoolander. Zoolander 2 came out 15 years after its predecessor, which only highlights its irrelevance. Laden with tiresome celebrity cameos, a vile nonbinary "joke" of a character played by Benedict Cumberbatch, and lowest common denominator humor, Zoolander 2 is too grating an endeavor to even earn the distinction of a decent hangover film. —A.J.B.
What to say about the movie that once literally reduced me to writing nothing but gibberish? How about this: A week or so later, I'd completely forgotten that it existed. Once upon a time, Michael Bay could have gotten away with throwing the kitchen sink at us and more; there was a certain bravado to his filmmaking that was charming, even when it didn't quite work. But this overstuffed, swirling black hole of narrative and stylistic nonsense wasn't energetic or brazen or even dopey fun. Nobody should be shocked that the series basically died then and there, the modestly likable Bumblebee notwithstanding. —B.E.
Written by Dan Fogelman, the creator of NBC's hit This Is Us, this movie is a terrifyingly schmaltzy, emotionally manipulative, multigenerational family drama starring actors you love (Oscar Isaac, Annette Bening, and Antonio Banderas) trying to bring their level best to this loathsome story. Narratively incoherent and rippling with misogyny. Life Itself is an easy film to make fun of. But Fogelman had the gall to blame the bad reviews on the lack of diversity in film criticism, which is insulting and hilarious on multiple levels.—A.J.B.
I say this as an Adam Sandler fan: This is the movie that convinced me, ever so briefly, that Sandler's detractors were right, and that he was just a lazy schlub who hired his buddies to shoot scriptless non-movies wherein they killed every joke dead. (His career has subsequently entered a new, more serious phase.) Grown Ups 2 also somehow wasted a fun turn by Taylor Lautner as a local bully-jock-frat-boy-douche, and I'm pretty sure that was the last time anybody saw Lautner. —B.E.
Passengers was billed as a sci-fi romance bringing together two huge stars of the moment — but it's really a horror film. At least, it's only watchable if you think of it that way. Jim (Chris Pratt) prematurely wakes up 30 years into a 120-year-long journey on a sleeper ship transporting colonists to a new planet. Instead of resigning himself to a lonely life with only an android bartender (Michael Sheen) for company, he decides to wake up a woman named Aurora (Jennifer Lawrence) in a move that completely disregards her consent and future. Passengers is riddled with issues thereafter. The ship looks like an ugly, sterile shopping mall. The intended chemistry between the two lead characters fails to complicate the icky narrative. Oh, and Pratt isn't a good actor. —A.J.B.
5,270. Gotti
Given that no one but ushers saw this in theaters, you will come to this flop gangster biopic on TV prepared for the absolute worst — and perhaps say, early on, "Hunh. It's not that bad." Indeed: From moment to moment, it looks and sounds like a real movie. But slowly, the numbing effect of lines you feel you've heard a hundred times before, spoken by actors who gave their last surprising performances decades ago, on furniture that could have been bought for pennies from the emptying Sopranos warehouse, becomes overpowering. It does raise one interesting question: Does John Travolta want us to think that's his real hair, or are we mistaking his vanity for the Dapper Don's? —D.E.
It's both too easy and too fraught a task to discuss the critical failures of auteur Tyler Perry. He's provided work for so many great black actors, whose talents Hollywood had otherwise ignored or mishandled. But he's also responsible for some of the most pernicious representations of black identity in the modern age. Here, For Colored Girls lacks the precision and grace necessary to adapt Ntozake Shange's 1975 work. It unevenly deals with heavy themes like infidelity, abandonment, and love, and its its bizarrely melodramatic tone does a disservice to both Thandie Newton and Anika Noni Rose. —A.J.B.
5,272. The Last Face
Of all the films on our worst-of-the-decade list, Sean Penn's achingly sincere and hilariously garbled romantic epic about aid workers in Africa — an epochal disaster from literally its first frame, and a picture that destroyed any goodwill Penn might have built up as an acclaimed director over the years — has at least one thing going for it: This is the only one among these movies that I would gladly watch again. That should count for something, even if that something is simply confirming its awfulness. —B.E.
As a die-hard Keanu Reeves fan, I've been through hell, and it's called Knock Knock. Eli Roth tries to satirize the graphic horror style upon which he's made his name, but it all falls flatly into misogyny. Reeves plays a happily married architect whose doorstep is darkened by two women (Lorenza Izzo and Ana de Armas) who force him into a bizarre game of nonconsensual sex and torture. It's ridiculous, arch, and a grave misuse of Reeves's tremendous screen presence. —A.J.B.
Who are these films even for? The movie pushes the image of a human body to extreme limits when a mad scientist starts sewing people together mouth to … well, you know the story. A nadir of filmmaking in all manners of speaking, with not one iota to praise. It only grew more gross and galling as the franchise continued. —A.J.B.
Roland Emmerich is not a good director, but he is a reliable manager of cinematic mayhem, so we let him make disaster movies. And it should not have come as a surprise to anyone that his foray into serious, sincere historical drama would have resulted in a disaster of an entirely different kind. Emmerich not only whitewashes the history of the Stonewall uprising, he finds a way to make it boring — primarily by focusing on a bland, cliché (and, let it be known, fictional) protagonist/failed audience surrogate at the expense of far more compelling figures. —B.E.
5,277. 2016: Obama's America
Dinesh D'Souza tweeted last month that "the apocalypse has become a political racket!" It was the kind of statement that reveals more about its author than his topic (which was climate change). After all, in 2012, the far-right commentator made a documentary about how the country would face nothing short of end-time if then-President Barack Obama were to be elected to a second term. 2016: Obama's America was clearly intended to be a conservative analog to Fahrenheit 9/11, and, like Michael Moore's film, it had more success at the box office than it did with swaying an election. But 2016: Obama's America didn't rake in $33.4 million due to its policy critiques, or facts, or logic, or an amusing tendency to push past inconvenient answers from its interviewees. It succeeded because it made for the president's fundamental foreignness — not of birth, but belief. D'Souza ferociously stokes xenophobic resentment and paranoia while presenting himself as an example of the right kind of immigrant, and it's every bit as ugly as it is familiar. —A.W.
The most reverberant bad movies of the decade are worse than the sum of their negatives, demonstrating how studios' new priorities have crippled storytelling itself. One the one hand, we have The Mummy, which is neither a self-contained horror-thriller nor an attempt to simply launch a "franchise" or "tentpole." Instead, it's a would-be "universe," like Star Wars or DC or Marvel, in which every meaningful story decision emanates from a single executive source rather than individual artists making creative choices. This one in particular was distended by the demands of its overweening star, Tom Cruise, and bloated by three disparate openings and a second act featuring one mini-climax after another, with no one able to get from point A to point B without some inessential intervening calamity — a building collapse, a sandstorm, a zombie attack. Impersonally staged by director Alex Kurtzman with so much computer-generated imagery, the movie feels prefab. Its flop was absolute (Universal canceled the Dark Universe thereafter) — but its blueprint will live on.
As will Avengers: Endgame's, now the highest-grossing movie of all time. Meant to be the culmination of a decade-defining movie franchise, and in many ways the most significant entertainment product of the past 10 years, the film has its relative merits: It probably has the best visual effects of any Marvel movie, which is not an inconsiderable achievement. But even during the parts we enjoyed (and one of us did choke up at the conclusion), we couldn't help but feel that we were simply being grateful for the few crumbs of decent filmmaking our corporate-culture captors were throwing us. The studio's financial stakes never quite translated narratively, or emotionally, in a time-travel plot designed to chaotically showcase the franchise's shiniest assets from the installments. Much of this had to do with Endgame's haphazard characterization, barely held together by its several dozen stars and their varying levels of actorly charisma. The crux of the film is Robert Downey Jr.'s performance, which, after all these years, ends up fading into the fracas in order to make way for characters who are graduating to the IP front lines after his death.
But what tips the film into truly obnoxious territory is its treatment of Black Widow (Scarlett Johansson), whose lackluster resolution proves Marvel never really knew what to do with her — or the other female heroes who team up for a blatantly pandering battle shot in the end. Nearly $3 billion later, though, does it matter? Black Widow is getting her origin story next year, and the franchise's Hydra-like existence persists. Universal might still be contemplating its next move, but Disney's next decade of theme-park cinema is all but certain. —D.E., A.W., B.E. and A.J.B.
*Illustration key (clockwise from left): The Pink Motel from The Florida Project, a Spider-Man from Spider-Man: Into the Spider-verse, the celestial collision from Melancholia, the beach scene from Moonlight, the car chase from Mad Max: Fury Road, Scarlett Johansson's character from Under the Skin, a laptop from The Social Network, the foot massage from The Handmaiden, the painting and a pair of arrows from Parasite, the centipede from The Human Centipede, the Babadook from The Babadook, the boat scene from Winter's Bone, the gauntlet from Avengers: Endgame, the boxing match from Creed, the playing cards from Now You See Me, and Simba from The Lion King.
Shame on this film critic for not having seen this allusive masterpiece in its initial release despite Mr. Ebiri's fervent recommendation. —D.E.
The fact that The Master is the only PTA film on this list probably speaks to the fact that we all had individual favorites that ended up canceling each other out. —A.W.
Oh, come on, Alison. This is a perverse … Whoops, I see. No exclamation point, so it's not Darren Aronofsky's crackbrained allegory. Never mind. —D.E.
Bong Joon-ho is the only director with two films in the top tier.
This should be much further up on this list, IMHO! —A.W.
When we were setting the criteria for this list, I said we couldn't require a film to have had a theatrical release because Bilge was going to want to include this Georgian film that was dumped on Netflix. Then Bilge came in and was like, "I really want to include this Georgian film that was dumped on Netflix." —A.W.
At first blush, Annihilation is a sci-fi horror film about a group of accomplished women who venture into a hazardous region brimming with alien life. But Annihilation soon reveals itself to be a film about the impulse toward self-destruction, and one of the best of the decade, at that. —A.J.B.
Gina Prince-Bythewood's musical romantic drama did not get enough love when it opened, but it's one of those movies that enchants anyone who sees it — a soul-twisting tale of two lost individuals learning to love not just one another, but the people they really are underneath all that ambition and expectation. And the songs are great. —B.E.
Michael Mann's Chris Hemsworth–starring cyberthriller was one of the biggest flops of the director's career — so much so that even its Australian and Chinese theatrical releases were scuttled, and the film's stars are from those countries. The movie has its flaws, but it also happens to be an endlessly rewatchable fever dream. (And Mann later premiered a director's cut that makes more narrative sense.) It may not be a decade-best movie, but it is not easily forgotten. —B.E.
It's difficult for some of us to believe that some of us did not respond as deeply to Bo Burnham's debut feature, which charts the last week of middle school for a lonely 13-year-old girl, Kayla (the incomparable Elsie Fisher). The film reminds you what the greatest coming-of-age stories share: infuckingcredible levels of anxiety. Because what is at stake is one's very place in the world. —D.E.
The Romanian New Wave exploded onto the scene last decade, but some of the most fascinating work from that national cinema actually came in this decade, and I'd be remiss if I didn't put in a word here for Cristian Mungiu's slow-burn drama of mundane corruption and social aspiration, which to my mind is even better than his seminal, Palme d'Or–winning 4 Months, 3 Weeks and 2 Days. —B.E.
In one of the funniest and saddest movies of the decade, Spike Jonze depicts a world in which culture has become even more private, its most intense emotional connections between people and their operating systems (one voiced by Scarlett Johansson). The question is implicit and of increasing urgency: Do we need our bodies? Or is love all in our brains? —D.E.
Jackie is a secret horror film. —A.J.B.
There is an alternate universe where this film — made by the Harvard Sensory Ethnography Lab – was the most revolutionary of the decade. —B.E.
People got weirdly grumbly about the follies of the human characters in Ridley Scott's Alien prequels, as though they were heroes of the story — when, obviously, the protagonist is actually Michael Fassbender's android David. —A.W.
Terence Davies's triumphant return to narrative filmmaking might not have been perfect, but it was shot through with the kind of attention to emotional texture that characterizes his best work. Plus, he got three pantheon-worthy performances out of Rachel Weisz, Simon Russell Beal, and Tom Hiddleston. —B.E.
A smashingly well-done procedural thriller — and also reprehensible. —D.E.
We are sorry to this man for overrepresenting his movies in the bottom tier.