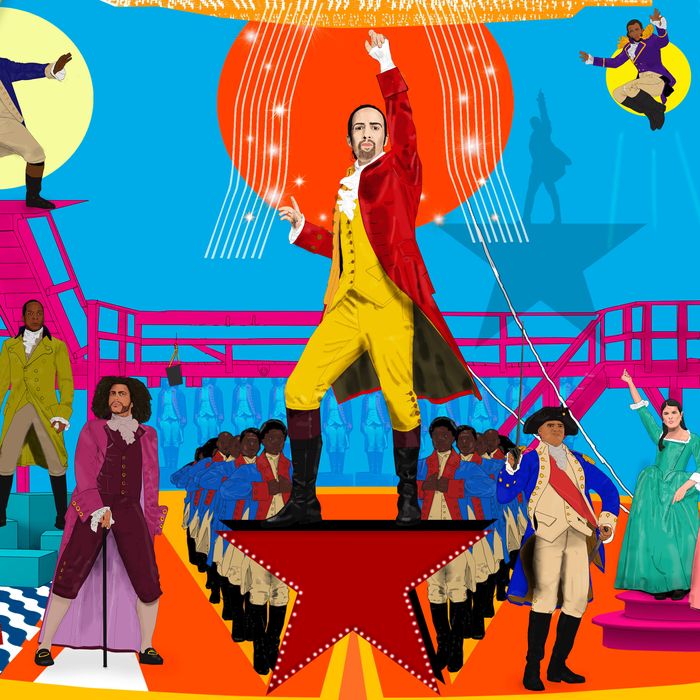 The famously hard-to-see production, with ticket costs reaching into the thousands, is now streaming as a movie on Disney+.
Illustration: Lyne Lucien
In 2020, it's difficult to find someone who hasn't at least heard of Lin-Manuel Miranda's Hamilton, a musical that debuted five years ago and went on to garner 11 Tonys, a Grammy, a Pulitzer, a Kennedy Center Honor, not to mention a MacArthur "genius grant" for its creator. And by heard of, we could simply say heard. Tickets to the show — in its Off Broadway run at the Public Theater, in its Broadway run at the Richard Rodgers Theater, and in its national tour — were famously difficult to procure, but the cast album and subsequent remixes were played far and wide. You didn't need to see Hamilton in person, habitual lottery losers opined, to experience the production's exceedingly singable numbers and radical national narrative.
Still, the news that Disney would release a full taped version of the musical in theaters in 2021 had the internet agog. And those same fans were even more ecstatic when, in the midst of a pandemic, Disney threw up its hands and announced it'd be premiering the Hamilton "film" on its new streaming platform 15 months earlier than planned. Ahead of the movie's debut on July 3 on Disney+, Vulture has rounded up 25 stories that celebrate, investigate, and prod a cultural product that so many longtime adherents are preparing to watch for the first time.
Table of Contents
Raise a Glass to Criticism | They Were in the Room Where It Happened | Looking Around, Looking Around | I'm Miscellanea, Whee! | History Has Its Eyes on a Movie
Raise a Glass to Criticism
There's a million things we haven't done, but write several reviews of Hamilton is not one of them.
"I don't mean to suggest that you're unpatriotic if you aren't moved by Hamilton, Lin-Manuel Miranda's sensational new hip-hop biomusical at the Public," Vulture's Jesse Green wrote in February of 2015 in our first review of the production. "But in order to dislike it you'd pretty much have to dislike the American experiment."
A few months later, Green revisited Hamilton on Broadway: "When Hamilton debuted Off Broadway at the Public Theater in February, the rapturous reviews, including mine, all hailed its 'groundbreaking' incorporation of contemporary musical genres … A second look, as the slightly revised musical opens on Broadway for what will no doubt be a long and profitable run, suggests that something even more significant is going on."
Nearly two years after the musical's Off Broadway premiere, Miranda dropped the much anticipated Mixtape, a compilation of songs from the musical performed by the likes of John Legend, Kelly Clarkson, and Nas. "Hamilton hasn't just touched the hearts of thousands who may never get to see it because it's clever and catchy, though it certainly is," Vulture's Craig Jenkins wrote in 2016. "The songs hold up because we see ourselves in them."
In 2016, Green came back to the subject of Hamilton, praising Miranda as a modern-day Stephen Sondheim (or Frank Loesser, Cole Porter, Adam Guettel, Michael John LaChiusa, and Jason Robert Brown — take your pick). Of course, Miranda is not only the composer and lyricist, he is a book writer and star. Not even Jonathan Larson of Rent can claim that kind of fame.
Every decade gets at least one Broadway juggernaut. In theater in the 2010s (the century's teens, classic time of rebellion and learning how much damage we can do), we had two: The Book of Mormon and Hamilton. Vulture theater critic Helen Shaw reconsiders both shows at the end of the decade.
They Were in the Room Where It Happened
Long talks, chats, and dinner parties with the cast and crew that … accomplished the task at hand.
In an interview with Vulture, Lin-Manuel Miranda discusses the joy of Mary Poppins Returns, the importance of performing his musical in Puerto Rico, the terrible dopamine addiction that is Twitter, and what his life will look like post-Hamilton: "I'm not reading Aaron Burr's biography and being like, Part two? There's nowhere to go but down."
The character of King George III appears in Hamilton for just nine minutes — and spends only six minutes and 45 seconds of that time actually singing. Yet despite George's appearances being brief, he's become one of the most-beloved characters in the show. Brian d'Arcy James, Jonathan Groff, and Andrew Rannells talk how heavy the head wearing the crown really is.
To find out what it's like to be part of a once-in-a-generation hit, Vulture sat down with Leslie Odom Jr. (Aaron Burr), Renée Elise Goldsberry (Angelica Schuyler), Christopher Jackson (George Washington), Daveed Diggs (Marquis de Lafayette/Thomas Jefferson), and Jasmine Cephas Jones (Peggy Schuyler/Maria Reynolds), as they ate dinner between shows at the classic Broadway staple Sardi's.
"I'll tell you, this is unlike any working, creative relationship I've ever had," Muñoz tells Vulture. "You can't just throw two people together and ask them to create a role together. Actors have to feel very safe in the process of creation, and if you've got too many cooks in the kitchen, it stifles the creativity, period. However, when it comes to me and Lin, I feel safest in the process with him. It's unlike anything I've ever experienced."
How does a Berklee hotshot halfway to an EGOT end up playing keyboard on a tribute to a melting pot, spend half a decade working to eliminate its weak spots, and find himself sitting at the right hand of a juggernaut? That's the path traced by musical director Alex Lacamoire, who spoke to Vulture from his dressing room at the Richard Rodgers Theater and broke down the complex architecture of Hamilton's musical themes.
"I've been rapping freestyle for years," James Monroe Iglehart tells Vulture of the experience that prepped him take take over for Daveed Diggs in the dual role of Lafayette/Jefferson. "I think the thing that surprised me [about the rapping in Hamilton] was the preciseness of it. Somewhere in my head I was like, 'Oh cool, I can rap fast.' But it's like a puzzle piece, and if you're not specifically in the puzzle, you'll miss the next move."
Looking Around, Looking Around
When push comes to shove, we have an explainer or roundup for everything.
By 5:55 p.m. before a Hamilton show at the Richard Rodgers, a thousand people will have shown up outside. They're ostensibly there to wait in line and drop a slip of paper into a bucket, because seats in the front row, at $10 each, are offered by lottery each day at 6 p.m. But those waiting in line for discounted tickets get something else: a Ham4Ham performance. Here, Vulture goes deep on the Broadway show's equivalent of a DVD extra performed live on a Manhattan side street, twice a week.
The Ham4Ham shows are an eclectic grab bag of a cappella tunes, elaborate lip-syncing, role-swaps, mash-ups, inside jokes, and special guest performances. Vulture put together a compendium of the first six months of Ham4Ham shows, sorted by chronology and categories, starting during Hamilton's Broadway previews back in July.
In Hamilton, the founding father emerges as an immigrant striver and Constitution architect, one who struggles with his own sense of ambition — and the odd duel — and does it while rapping and singing complex and historically accurate lyrics. Ron Chernow's biography was a key influence, but, as Miranda told us, far from the only one.
According to Talib Kweli, Hamilton is a tribute to rap's strength and malleability — its tendency to fall back on itself while also figuring out new ways to evolve: "The guy who plays Jefferson, as soon he came onstage and did a couple of bars, I was like, 'That's an MC. That's not a traditional Broadway dude. That's a guy who raps and was put in this play because he raps.'"
I'm Miscellanea, Whee!
Just a few more palaces made of paragraphs.
Back behind stage right of the Richard Rodgers Theater, just down a few stairs, is a nearly life-size image of Alexander Hamilton affixed to the wall. Any fancy people who attend Hamilton write a brief pleasantry on the image. Here, you can see a selection of those who have — with, as far as we can decipher, what it is they wrote.
The Reynolds Pamphlet was printed in Philadelphia in 1797. Today, you can read it page by page, courtesy of the New-York Historical Society. But it's not the easiest for modern eyes to read. Vulture walks through a few of the "extenfive and complicated mifchiefs" for those curious about Hamilton's vigorous retort to rumors of his affair.
"There's just a lot working against the part," Vulture's Jesse David Fox wrote in 2018, just after Hamilton received 13 Olivier nominations — for almost every role except Phillipa Soo's. "It's a bit of a tweener."
A lot of famous people attended Hamilton, including then-Vice-President-elect Mike Pence. "What happens when Pence, whose anti-LGBT record as governor of Indiana was so scurrilous that it sparked a national backlash and lost his state $60 million, waltzes into our house? On a night when the cast was fundraising for Broadway Cares/Equity Fights AIDS?" Vulture's Mark Harris asked. "Yeah, he was going to get booed."
Angelica insisted there'd be women in the sequel, so the women of Hamilton took over the White House's Vermeil Room to stage "The Schuyler Sisters," a follow-up to Miranda's memorable Rose Garden freestyle with President Barack Obama.
Looking back, we'll surely remember this moment as peak Hamilton mania.
History Has Its Eyes on a Movie
We trust you'll understand the reference.
Vulture asked theater critic Helen Shaw and columnist Mark Harris to watch the film version of the musical, and discuss the experience of watching a five-year-old, Obama-era Broadway production on a streaming platform in 2020. "This show is in-your-face at a moment when nothing is allowed to be in your face," writes Harris.
Director Thomas Kail and editor Jonah Moran put together footage from Sunday matinee and Tuesday night performances by the original cast in 2016, plus close-ups from 13 of the numbers in the show shot on the Monday between those performances, into a two-hour-and-40-minute recreation of the show with the guiding principle, according to Kail, that the film "embrace that we're in the theater, and celebrate that we're in the theater." Moran and Kail talked us through the roughly four-year process of making it all happen.
We're sorry.
If you subscribe to a service through our links, Vulture may earn an affiliate commission.