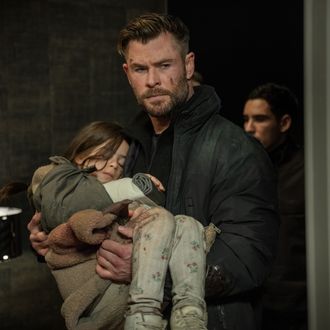 It's three times the charm for Tyler Rake.
Photo: Jasin Boland/Netflix
Chris Hemsworth is a man on the move. During Netflix's Tudum Day, he and Extraction 1 & 2 director Sam Hargrave announced that a third Extraction film was already in the works. The second movie just came out yesterday, and Netflix is already having conversations about bringing Tyler Rake back for a third film. Well, with all of the practical effects in the movie, it does take time to plan everything, so why not get an early start on organizing and scheduling? The movie series follows Rake, played by Hemsworth, a black-market mercenary who rescues various people who are imprisoned, but not without a hefty paycheck to go along with it. Who will he rescue this time? Probably all of us, collectively. We're still hiding in fear after seeing the I Think You Should Leave pig monster.