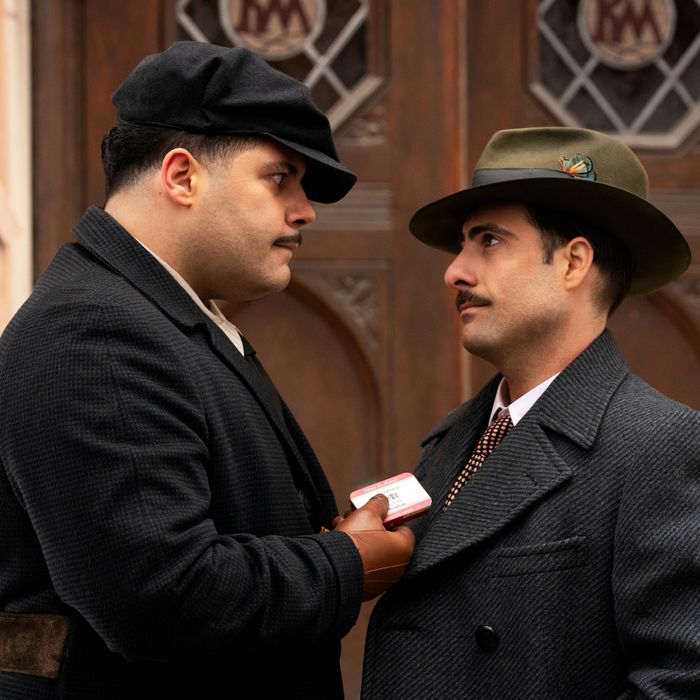 "I won't do it anymore. I promise," Hawley jokes about season four's deployment of the frequent
Fargo
theme of warring brothers.
Photo: Elizabeth Morris/FX
It's inevitable that a TV show derived from a popular movie would include references to its source material. But in the four seasons that it has been on, creator Noah Hawley's FX anthology series Fargo has also developed its own way of being self-referential and paying homage to the 1996 Joel and Ethan Coen movie that shares its name. Since, at this point, it's not really a surprise when settings and events from the movie, like a lake house or a death at a parking garage, pop up in the Fargo TV universe, Vulture was interested in some of the more thematic recurrences the show has developed over the seasons. So we asked Hawley about some of them.
Warring brothers
Season two saw factions and familial alliances emerge inside the Gerhardt crime family of North Dakota almost immediately after patriarch Otto (Michael Hogan) suffers a stroke. Season three had feuding twins Emmit and Ray Stussy (both played by Ewan McGregor). And the fourth season, which is currently airing, centers on two rival gangs in 1950s Kansas City, one of which is headed by siblings Josto (Jason Schwartzman) and Gaetano (Salvatore Esposito) Fadda, who don't really need their dad's (Tommaso Ragno) death to be at each other's throats, but they'll take the excuse.
"I won't do it anymore. I promise," Hawley (maybe) jokes about this recurring topic.
But he says of this season, "This is a family business, and especially on the Italian side — you know, that 'family is everything' mindset, and the Cosa Nostra is a kind of family — the best way to create tension and a kind of chaos on Jason Schwartzman's side of it was to give him a rival, which in that case was a brother." He points out that this is "a different dynamic than the aggrieved parole officer brother [Ray] in the third year."
And what of the fact that Hawley, himself, is a twin? (His brother is The Rookie creator Alexi Hawley.) "I don't think that fiction writing is therapy," Hawley says. "I don't think that that's where you're meant to work out your issues. Also, I don't tend to write autobiographically."
Biblical allusions
Fargo characters frequently quote biblical verses or spout philosophical ideas about life and death, such as the conversation the terminally ill Betsy Solverson (Cristin Milioti) has in the season two finale. The Stussy brothers from season three are fighting over a birthright that one tricked the other into trading.
In season four, Ben Whishaw's character is known as Rabbi Milligan because he's an Irish guy who'd spent time with a Jewish gang (and who now lives with, and works for, the Faddas), and Timothy Olyphant's Deafy Wickware is a U.S. Marshal and devout Mormon. Chris Rock's capo of the second Kansas City gang is named Loy Cannon (okay, that last point would have worked better if Hawley had used the homonym's spelling).
"Here's the thing," Hawley says. "We live on a religious planet, right? And if the stories you're telling do not have religious people in them, you're not actually telling stories about people on the planet Earth." He points out that some of the Coens' own work — such as A Serious Man, which featured Fargo season three players Michael Stuhlbarg and Fred Melamed — "was informed by their Judaism."
The show's midwestern milieu also plays a part here. Hawley thinks of Patrick Wilson's Lou Solverson from season two, a small-town police officer and family man, and other characters that are "humble" and have a "quiet faith."
"Fargo has always been the story of basically decent people who are in over their heads," Hawley says. "I think there's something compelling about that instead of, you know, he's an eccentric billionaire with a superpower."
Outsiders living with, and working for, a crime family
Rabbi isn't the only Fargo hired gun forced into working for — but never really with — a family crime syndicate. Early on in this season, Cannon's younger son Satchel (Rodney L. Jones III) is forced to live with the Faddas in exchange for Jameson Braccioforte's Zero, a boy from that family. The trade is part of a long-standing tradition that is meant to instill peace between the gangs (it has never worked). And in season two, the Gerhardts' major downfall was that they were too trusting of their Native American enforcer, Hanzee Dent (Zahn McClarnon).
"On some level, it's an American story," Hawley says, pointing to Kelsey Asbille's season four character, Swanee Capps, "a Native character who was taken from the reservation and sent to a white school." He adds that "this is just American history," and that the idea of assimilation "became more of a focus this year" because "we all have our American immigration experience story in our background."
And is there something of note in that Rabbi shares the same last name as Mike Milligan, Bokeem Woodbine's KC Mafioso from season two? That season is set a couple decades after the events depicted in season four …
"There probably is," Hawley says, adding that "I don't think that any anyone's going to be surprised to discover a connection down the line," especially since Mike "was such an iconoclastic guy who didn't fit in either the sort of white crime structure he was involved in or the Black community. Where does a guy like that come from? On some level, this story is that story."
Disrespected female cops
Frances McDormand's police chief Marge Gunderson from the movie Fargo was very well respected and had no qualms telling hard truths to male colleagues. The TV series's female police officers haven't always received this much admiration. Allison Tolman's Molly Solverson from season one was deflected by her boss, Bill Oswalt (Bob Odenkirk), when she kept poking at the murder of Lester Nygaard's (Martin Freeman) wife. Carrie Coon's season three heroine Gloria Burgle is the chief of the Eden Valley Police, but her bureau is in the process of being absorbed by a county office, meaning she has to answer to Shea Whigham's Moe Dammick — and they don't usually see eye to eye.
Hawley says this has less to do with gender than that: "It's a pretty classic story [of] the cop who was onto something and his boss is telling him to move on, and there's nothing there and he risked everything to expose the truth."
"I mean, obviously, when it's a man, it might feel different," he says. "Telling her to move on might feel more dismissive or might feel more about her gender."
He says the first season wasn't "a deliberate exploration of misogyny" in as much as it was "the fact that Bob Odenkirk's character had such a pure, small-town sense of what he wanted the world to be. The idea that this guy he went to high school with was capable of brutally murdering his wife … he just didn't want to live in a world where that was true."
Hawley says part of the problem for Gloria in season three was that she was getting a new boss and "she was bringing him a problem he didn't want." A bit of this can also be seen in season four. E'myri Crutchfield's Ethelrida Smutny is only a teenager, but there's what Hawley calls a "Rear Window dynamic," where she sees that something is definitely up with her neighbor, Jessie Buckley's … quirky nurse Oraetta Mayflower — a character whose habits the adults either don't notice or don't want to acknowledge.
"That allowed me to move this moral pillar away from the actual police and put it on a character like Ethelrida, who was investigating something but didn't have any power or authority," Hawley explains.
Cases of mistaken identity
Dodd Gerhardt, Jeffrey Donovan's power-hungry meathead from season two, convinces his mom (Jean Smart) that Jesse Plemons's Ed Blumquist is the ace assassin "the Butcher of Luverne" even though he simply works in a butcher shop in Luverne, Minnesota. In season three, there are several people with the Stussy surname.
"I think this goes to the heart of the fact that this is a true story that isn't true," Hawley says, referencing the brand's infamous opening text that reads "this is a true story," before explaining that names have been changed but events have not — even though, of course, it's mostly fiction.
He says, "We are exploring, on some thematic level, this idea of truth and fiction and facts — the distance between what we believe and what history records."
Interesting character names
Lester Nygaard? Noreen Vanderslice? Nikki Swango? Oraetta Mayflower? Hawley acknowledges that his character names sound like they came from some online name generator.
Hawley says his research for this season included the work of photographer Mike Disfarmer, who shot portraits of midwestern families in the 1910s and 1920s. He found forgotten names or variants of names we recognize, like the way Jack Huston's season four character Odis Weff spells his first name with a "d" instead of a "t." This led him to look into biblical names and old Italian names.
Not to mention, he adds, "Fargo is a slightly heightened world where you want a cop named Gloria Burgle over something less memorable."