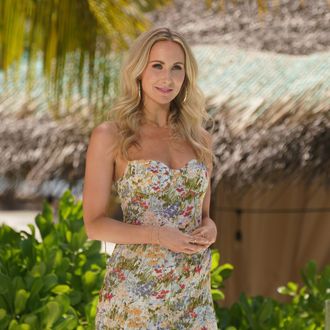 Now on the CW, still with Nikki Glaser.
Photo: STXtelevision
HBO Max may have ghosted FBoy Island, but you can't get rid of an FBoy that easily. The dating show has bounced back with a new boo, the CW, for season three, and just announced the full cast. As rumored, our three women include Katie Thurston, who's ready to subject herself to more male idiocy just two years after starring on The Bachelorette. There's also Hali Okeowo, a 28-year-old model, and Danielle Grace, a 33-year-old triple-threat "influencer, real estate investor and swimwear brand founder" who joked to Entertainment Weekly that she "may or may not have lost a bet" to go on the show. But we know you're not here for them — you're here for the guys. This year's batch of 21 FBoys and Nice Guys includes such horrific job pairings as "DJ/health care consultant" and "auditor/comedian," not to mention a Chippendales dancer, a yoga teacher, and the brother of last season's Mercedes Knox. Oh, and a pair of twins named Elijah and Elisha who own a trucking company together. Oh, Nikki Glaser is gonna have fun with this. The full list of men is below — get your FBoy and Nice Guy guesses in before FBoy Island hits the CW on October 12.
Bryce G., 28
Los Angeles, CA
Occupation: Consulting Firm Owner
Christian L., 30
Houston, TX
Occupation: Teacher / Coach
Connor F., 26
Kansas City, MO
Occupation: DJ / Healthcare Consultant
Curtis "CJ" W., 24
Dallas, TX
Occupation: Basketball Player
Deonte "Marquies" P., 25
Dallas, TX
Occupation: Fitness Coach
Dio P., 30
Las Vegas, NV
Occupation: Chippendales Dancer
Elijah D., 25
Houston, TX
Occupation: Trucking Company Co-Owner
Elisha D., 25
Houston, TX
Occupation: Trucking Company Co-Owner
Evander C., 25
Milwaukee, WI
Occupation: Personal Trainer
Ian M., 22
Nashville, TN
Occupation: Hospitality & Branding Agency
Jared A., 24
Miami, FL
Occupation: Model / Entrepreneur
Jonathan T., 31
Los Angeles, CA
Occupation: Fashion Creative Director
Keith M., 30
Las Vegas, NV
Occupation: Opera Singer
Kris T., 25
San Diego, CA
Occupation: Sales for a Medical Marketing Company
Marco D., 28
West Hollywood, CA
Occupation: Auditor / Comedian
Nyk R., 32
Los Angeles, CA
Occupation: Singer / Songwriter
Pierce W., 28
Los Angeles, CA
Occupation: Yoga Teacher
Shaun P., 29
Los Angeles, CA
Occupation: Personal Trainer
Steven C., 23
St. Petersburgh, FL
Occupation: Finance
Tanner G., 25
Anaheim, CA
Occupation: Manual Therapist / Cyber Security
Vince X., 31
Los Angeles, CA
Occupation: Lawyer