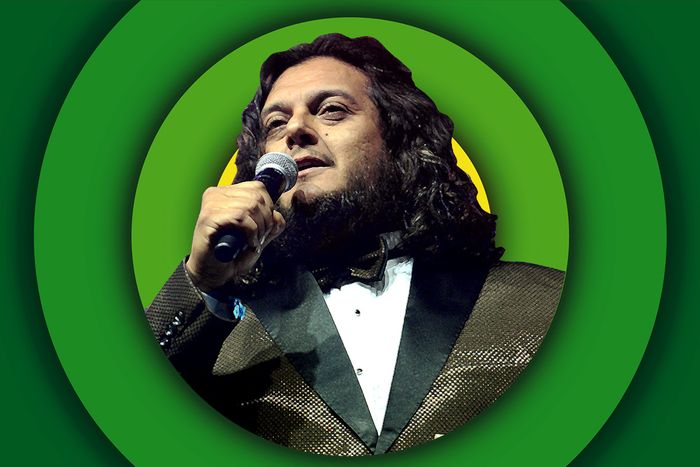 Felipe Esparza.
Photo-Illustration: Vulture and Getty Images
I wouldn't say stand-up is effective therapy, but both demand a similar self-excavation. Especially after you've done it for a while, you run out of novel observations on contemporary life and are forced to look back: What happened when I was a kid that I haven't dealt with, and can I deal with it a funny way — a cathartic (at least for the audience) way? Ten years ago, when he was nearly 15 years into stand-up, Felipe Esparza won his season of Last Comic Standing with an affable, almost Mitch Hedberg–ian style. Now, a decade and multiple hours later, Esparza finds himself digging deep. Inspired partly by the stories he's told on podcasts about coming to L.A. from Mexico as a little kid, running in gangs as a teen, and being in recovery, Esparza's material on his new Netflix special, Bad Decisions, which was concurrently released in English and Spanish on the streaming service (a first!) last week, includes some of the darkest material you'll find anyone doing now.
On Vulture's Good One podcast, Esparza talks about translating his material, Last Comic Standing, and getting audiences to laugh at a painful memory of witnessing domestic abuse as a kid. You can read some excerpts from the transcript or listen to the full episode below. Tune in to Good One every Tuesday on Apple Podcasts, Spotify, Stitcher, Overcast, or wherever you get your podcasts.
On Becoming a Stand-up
In the beginning, like most comedians, I became a student of stand-up. I dug into it as far as I could to learn from everyone from the old days. I read a lot of books. I was in rehab when I wanted to be a comedian, when I said, I'm going to do this. A Catholic brother, like Nacho Libre type of guy — he's not a priest, but he worked for the archdiocese as a devoted brother — he told me, "Give me three things you want to do in your life." And I wrote that I want to be a comedian, I want to go to Italy because I like Olive Garden, and I want to be happy and sober.
So I went to a library. They had a computer. Wi-Fi was not for everybody yet, and I didn't have a laptop. So I talked to a librarian at the library, some older woman. I talked to her like she was my guidance counselor. I said, "Listen, miss, I want to be a stand-up comic. I have no idea how to start. I [can] read, but I don't know how to write stand-up comedy." So she took me to this section of the library where the arts are — like screenplays, and Our Town. We went through everything, man. Jack Parr. And finally, one book on stand-up writing, back in like 1994. It was Gene Perret's Comedy Writing Step by Step.
I read the book. There was a little homework after every chapter on how to write a joke. I basically learned from that book how to brainstorm jokes, which is what most comedians could do now naturally without even thinking about it. But as a young comic, you have no idea how to do that. How do you just come up with a joke like that? Why is Jay Leno so quick? Why is Katt Williams so quick to come up with a ten-minute set when he's being heckled? How does [Carlos] Mencia write a whole bit out of thin air? How do they do that? I guess it takes time.
On Why He Almost Got Kicked Off Last Comic Standing
When I was on Last Comic Standing, the NBC lawyer, or private investigator of personal affairs — the guy who checked my background — he came back and said, "Felipe, you have two outstanding bench warrants for not appearing in court for two different drug offenses." And I said, "Well, I'll tell you right now, that's not me." I said, "That's my brother. I think he stole my identity. Here's a picture of him. We'll match the photos. And don't kick me off the show." And it ended up being my brother.
On Releasing a Comedy Special in Spanish and English
I wanted to challenge myself. When I was approached by Netflix for the English [special], I said, "How about we do a Spanish one, too, for more money?" No, I said, "Why not both? Let's try to release both." Because I knew here in America, Netflix has like 76 million subscribers. But all over the world, worldwide, it has to be 176 million people. Because 76 million is just in the United States. All of South America must be more, and so on. So I wanted to reach everybody. I also wanted to bring the American style of stand-up to Spanish-speaking audiences in other parts of the world. I'm from Boyle Heights, and where I'm from, there's a type of flavor, a little East L.A.–Boyle Heights flavor, that people around the world already know from watching movies like Blood In, Blood Out and American Me; the lowrider culture has transcended and crossed over to Japan.
I even have these two fans from Morocco who know all the quotes from the Chicano movie Blood In, Blood Out. That was such a surprise to me. They're from Spain, they speak Spanish, but they live in Morocco; they're both Muslim, they're hijabi. And I figured if they understand Blood In, Blood Out, I have to do a Spanish stand-up comedy show coming from the Mexican-American perspective. Because there's a lot of comedians from Mexico coming over here and doing specials, and my Spanish isn't that good. When it comes to professional Telemundo, if you're speaking too fast, you need to slow that shit down, homie. Because I speak Cheech and Chong level. And they're hilarious, these guys from Mexico. But I'm speaking from a Mexican-American point of view. If I don't understand it, there's going to be other people who don't understand it. So I better better my Spanish, and I better do a Spanish comedy show for the people in Latin America who want to see a comedian from the United States.
On Processing Childhood Trauma Through Stand-up
I hope people can watch the whole set and laugh and then come back to that part and say, Wow, this was hard to watch, but it was a healing process for me. I could relate to this. And I better go tell somebody "Sorry" or "I forgive you, I didn't know you were going through this." Or maybe when they watch the Spanish set together, they could look at their dad and go, "This is you, motherfucker." Or they could laugh at it and be a family.