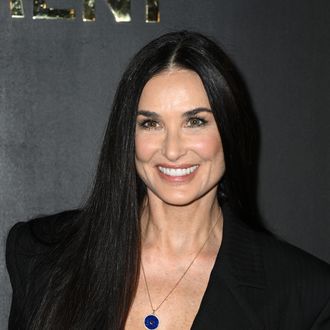 Photo: Pascal Le Segretain/Getty Images
This may be news to you, but acclaimed novelist Truman Capote was the Dan Humphrey of his time. True-crime novelist by day, gossip girl by night, Capote ingratiated himself with A-list socialites in the 1950s and '60s only to betray them by using their secrets as fodder for a new book. Anything to meet your editor's deadline and fulfill your contractual duties, it seems. Because show creator Ryan Murphy's favorite things are stabbing and backstabbing, he has adapted this history in Feud: Capote vs. the Swans, the second installment of his Feud anthology series. Oscar-nominated director Gus Van Sant helms all eight episodes, and Pulitzer-nominated Jon Robin Baitz writes the entire season. As the Murphyverse transitions into the streaming space, it's unclear whether the show will land alongside its older sibling on Hulu after its winter premiere on FX. Below are all the details we could dig up about Feud.
The series finds New York high society in shambles after Capote publishes a story.
Feud: Capote vs. the Swans is an adaption of Laurence Leamer's book Capote's Women: A True Story of Love, Betrayal, and a Swan Song for an Era, which details Capote's relationships with a group of his female friends whom he called his "swans." He famously stabbed them in the back in 1975 when he published "La Côte Basque, 1965" in Esquire, with characters based on New York socialites Barbara "Babe" Paley, Gloria Guinness, Marella Agnelli, Slim Keith, Pamela Churchill, C.Z. Guest, and Lee Radziwill. The story would become part of Capote's incomplete, posthumously published final novel, Answered Prayers. Feud focuses on how the writer sells out the ladies who lunch and how they band together to exact revenge, even though nothing in their world will ever be the same.
"Ryan and I had exhaustively intimate conversations about what friendship is, what happens as you get older, and how there's a gulf that can open up between you and the people you love as you change," Baitz told Town & Country. "The other thing we obsessed about were those moments when a culture splits, and this story exists at this point where a world of elegance, ritual, and class is being supplanted by a fervor of youth: disco, Studio 54, drugs, and all. What had been interesting and glamorous was no longer, and we both felt the poignancy of that."
And it stars our favorite "It" girls as the socialites in question.
Variety first reported that Demi Moore would play controversial society figure and voice actress Ann Woodward, who had been accused of murdering her husband, William, in 1955. Capote wrote about the case in "La Côte Basque, 1965," and Ann died by suicide ten years after its publication. Tom Hollander (Pride and Prejudice) will take on the role of the Breakfast at Tiffany's novelist in the series, according to Deadline. Joining Hollander are Calista Flockhart as Radziwill, Jackie Kennedy's sister, and Diane Lane as fashion icon Keith. Naomi Watts and Chloë Sevigny were previously announced as leading ladies Paley and Guest.
When can I watch the mess unfold?
The drama arrives this winter on FX.
This post has been updated throughout.