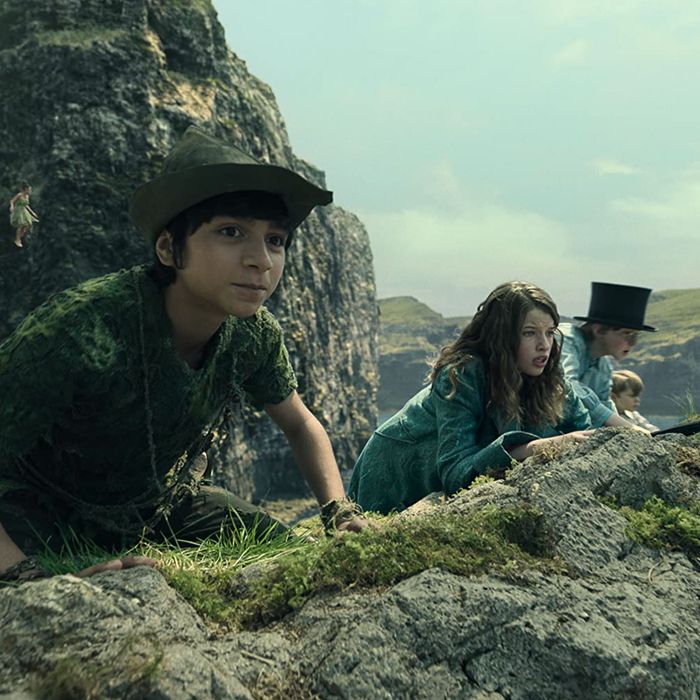 Alexander Molony and Ever Anderson in
Peter Pan & Wendy
.
Photo: Walt Disney Studios
A word to filmmakers looking to remake Peter Pan: Don't. Maybe this is one classic that deserves to live in the past, preserved in all its wonder and problematic charm. I say this as something of a Peter Pan nut: The animated 1953 Disney film is probably my favorite from the studio's golden era, and I grew up obsessed with James M. Barrie's original tale. Apparently, I'm not alone. Over the years, a number of talented directors have offered their takes on the Boy Who Wouldn't Grow Up. Some have had the right idea and avoided trying to retell the same story, instead going forward or backward in time. But the right ideas can still yield disasters like Joe Wright's Pan, a prequel. I actually think Steven Spielberg did a fine job with Hook, a sequel that saw Peter as a grown-up yuppie struggling to reconnect with his past self — but mine is still a minority view.
David Lowery's Peter Pan & Wendy represents Disney's official live-action remake of the studio's 1953 hit. So it probably can't afford to stray too far from the basic events of the story, in which the Darling children — Wendy (Ever Anderson), John (Joshua Pickering), and Michael (Jacobi Jupe) — are whisked away by Peter Pan (Alexander Molony) across the skies of Victorian London, following the second star to the right until they reach the idyllic island of Neverland, where they join the Lost Boys and do battle against Captain Hook (Jude Law) and his band of pirates. It's a familiar story, but in its details, the film suffers from an odd mix of overcorrection and half-hearted ness.
We all know that the original Peter Pan story has its share of outdated elements: demeaning portraits of Native Americans, a surprising amount (at least for children's fare) of romantic jealousy, and a few too many situations involving Wendy's utter helplessness as a girl. All those are good reasons to free up the filmmakers to try something different. And Lowery has added a couple of interesting twists to Peter's past, turning him into a more complicated and reflective character, which might have paid emotional dividends later in the movie. But the moniker of the Boy Who Wouldn't Grow Up doesn't just denote age and childishness; Peter Pan should be the very spirit of youth, pure dash and bravado, at least initially. Otherwise, why would anyone follow him to the ends of the Earth? Here, he's mostly joyless right from the start. Peter Pan & Wendy seems afraid to let Peter be any kind of hero, which makes his eventual mopeyness more dispiriting than insightful. There's no point in undercutting the fun if you've already excised all the fun.
The problem with Peter Pan & Wendy is all too often one of subtraction, not reinvention. You can almost read the tsk-tsking studio notes as you watch the movie. Peter's loyal fairy Tinkerbell (Yara Shahidi), once a sassy and occasionally traitorous sprite, consumed by her love for Peter and spite for Wendy, has now been reduced to an assortment of affirming gestures, which renders her useless as a narrative element and an awkward afterthought as a character. If you told me she was added during editing, I'd believe you. Ever Anderson's Wendy still has to extoll the virtues of mothers and of growing up, but she's also a fighter in her own right. The young actress brings plenty of liveliness to the role, but the film seems confused about what to do with this Wendy, leaving her half-imagined.
These are well-meaning changes, but they're surface ones, and the characters haven't been transformed in any fundamental ways — which means that there are gaping holes where their motivations and souls should be. The film fares better with turning Tiger Lily (Alyssa Wapanatahk) from a damsel in distress to an indigenous warrior who joins in with Peter and the Lost Boys in their battles against Hook and the pirates. She at least gets some stuff to do this time.
The picture redeems itself mightily, however, with Law's Captain Hook, whom the actor plays as a total psychopath. His performance is in some senses an extension of Dustin Hoffman's marvelous turn in Spielberg's Hook, where the pirate captain was portrayed as a whimpering weirdo. To be fair, it's a great part. Hook's obsession with Pan, ostensibly the result of the boy's slicing off the older man's hand, has always been more pathological than vengeful. (In the animated Disney version, Hans Conried's voice acting lent him an operatic single-mindedness that was chilling, another example of the magic those early Disney films worked with their villains.) Law grabs this idea and runs with it so far that the menace and the comedy become one; his Hook is unpredictable, wild, dangerous, and (yes) fun. Even Jim Gaffigan's Mr. Smee, a character usually depicted as a cozy, confident caretaker of the captain, now seems baffled much of the time, unable to solve the riddle of his master. Whenever Peter Pan & Wendy stays with the pirates, it's on solid footing. Maybe because they're pirates, and they get to be assholes.
In most other respects, the movie is a mess. It certainly didn't need to be. Lowery also made 2016's lovely Pete's Dragon remake, where the studio seemed to give him the freedom to do with the original as he saw fit. He took that not-so-classic story of an orphan and his enormous dragon best pal and turned it into the portrait of a small-town community, settling into the Pacific Northwest atmosphere and letting the cuddly creature of the title exist in the margins, glimpsed in captivating snatches, as much local folklore as real-life beast. This director is good with mood, and he has a great eye. (It is a shame that Peter Pan & Wendy's grand, windswept Neverland vistas will never be seen on a big screen, since the film is going straight to Disney+.) One wonders if, without the weight of a classic property bearing down on him, Lowery's fondness for striking imagery and elliptical storytelling might have soared. As it is, Peter Pan & Wendy feels both too unwieldy and inconsequential ever to take flight.