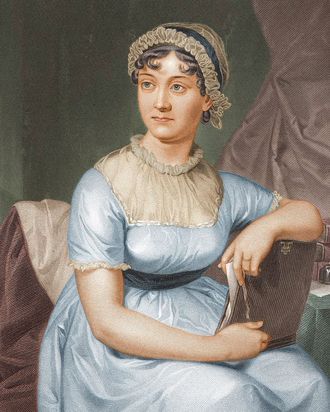 Photo: Courtesy of the University of Texas Libraries, The University of Texas at Austin.
Another year may be over, but Jane Austen isn't going away. 2018 had its fair share of adaptations, from Ibi Zoboi's Pride to Leah Marie Brown's Badly Done, Emma Lee — but 2019 is coming in strong. Ballantine Books will release Soniah Kamal's Unmarriageable later this month, and this May we'll see Sonali Dev's Pride, Prejudice, and Other Flavors. That's two South Asian versions of Pride and Prejudice before we get to the second half of the year.
None of those novels are on the list below. Instead — thinking you might need a break from the adaptations — Vulture has ranked our favorite Austen-related stories. These book use the cult of Jane as a premise for the story itself, serving as both an homage to and a commentary on the Austen-adaptation industrial complex.
1. The Jane Austen Project, by Kathleen A. Flynn (Harper Perennial)
In the most brilliant Austen-adjacent book on the market, Flynn takes readers to "a technologically advanced future" where Jane is adored. The main character, Rachel Katzman, is tasked with traveling back in time to 1815 with the mission of keeping the author alive long enough to finish The Watsons. But when Katzman returns to her own time, she learns a chilling secret: The quest to save Jane was in fact a project to save humanity itself. Flynn's style makes this a quick, fun read, and since the story is Jane-related, there's even a romance subplot.
2. Austenland, by Shannon Hale (Bloomsbury)
Romance is central in Hale's Austenland, and for Janites, that's a good thing. Unlike the simpering half-wit actress Keri Russell portrays in its film adaptation, the novel's heroine, Jane Hayes, is smart. She's a graphic designer working to hide her chronic Darcy obsession. But her great-aunt finds her out and, in her will, bequeaths Jane a trip to Austenland, a fantasy camp where wealthy women live inside the great author's world. Class struggles naturally arise. And since it's the Regency, so does sexual tension. This delightful read was followed by a less-delightful sequel, Midnight in Austenland.
3. The Jane Austen Book Club, by Karen Joy Fowler (G.P. Putnam's Sons)
If you've read anything relying on Austen herself as plot device, it was likely The Jane Austen Book Club. Not only is the 2004 best seller well-known, it's also well-written. The story's about six people who form, as the title suggests, a book club devoted to Jane. Only one is male, and what makes this novel worth reading now — especially in light of ever-changing ideas on gender — is how it addresses what men are and aren't "supposed" to read: Can real men read Jane?
4. Writing Jane Austen, by Elizabeth Aston (Touchstone)
A book that feels geared more toward writers than readers, Writing Jane Austen follows an author who's facing a common publishing curse: Her first novel was a hit, but she just can't seem to finish her second. Her agent brokers a deal for her to write the ending to an unfinished Jane. Problem is, she's never read her. The story itself is clever, even if the writing is sometimes not. And it's refreshing to see Aston, known for Mrs. Darcy's Daughters, turn from Austen "sequels" to the contemporary. But this is by no means a classic — more like beach-reading with a brain.
5) The Austen Escape, by Katherine Reay (Thomas Nelson)
Reay has written so many Austen-tangential novels, they almost make a genre. While three adapt Mansfield Park, Pride and Prejudice, and Emma, The Austen Escape stands alone. Set in Bath — that hot Regency vacation spot — it's about two women: The first suffers a breakdown and believes she lives in Austen-times. The second is her friend. What's interesting about Reay is the way she tests how far from canon new stories can get. Where Flynn's Jane Austen Project gave us time travel; Reay offers an Austen-triggered psychotic break. Such storylines reveal something Janites already know: Austen is infinitely adaptable.