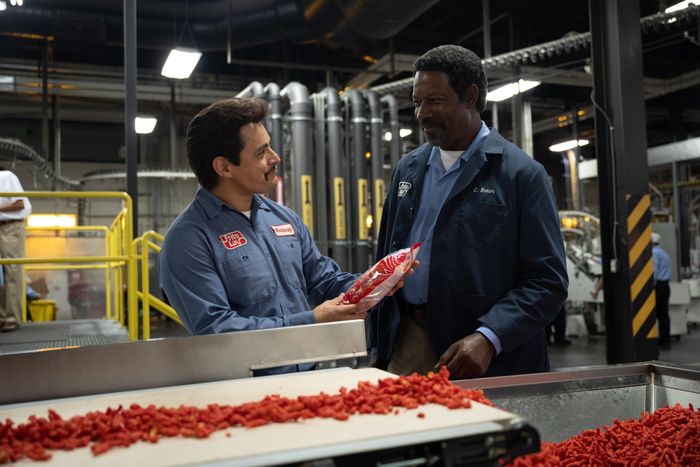 This corporate fairy tale, directed by Eva Longoria, is resolutely feel-good in a way that starts to feel bad.
Photo: Anna Kooris/20th Century Studios
Richard Montañez, the subject of Flamin' Hot, started his career at Frito-Lay as a janitor and retired, after 42 years, as a VP at PepsiCo, an American Dream–affirming rise that could only be topped by the stuff of fairy tales. Conveniently, Montañez has that, too — in his telling, he came up with the idea for Flamin' Hot Cheetos back when he was working on the plant floor, mixing up spices inspired by elote to make samples he presented directly to CEO Roger Enrico, unaware of how unorthodox it was for a low-level employee to call up the head of the company. It's a catchy story, one that's been recounted in Montañez's memoir, and in the media, and now in this biopic, in which he's played by Jesse Garcia. It's also, according to detailed reporting in the L.A. Times, just not true — Flamin' Hot snacks were in test markets before Enrico ever took over, and while Montañez did spearhead some products, the line he takes credit for appears to owe its inception to a less dramatically satisfying combination of sales teams, R&D departments, and a freshly minted Chapel Hill MBA.
This news broke a few months before Flamin' Hot started shooting, but it didn't stop the team behind the movie — which includes Eva Longoria in her directorial debut and writers Lewis Colick and Linda Yvette Chávez — from betting it wouldn't matter and printing the legend. They were, in a sense, right, and it's certainly not the only corporate origin story out this year with a squishy relationship with the facts. What makes Flamin' Hot such a depressing offering isn't the relative truthiness of its source material, but the qualities it holds aloft as inspiring. Colick, after declaring the L.A. Times' reporting a "hit job," countered by wondering why Frito-Lay cooperated with the production if Montañez's claims weren't true. The answer would seem obvious — Flamin' Hot is as flattering to the company as it is to its subject. The movie may introduce an antagonistic executive or two, but it ultimately enshrines Frito-Lay as a place where hard work and loyalty are rewarded, and where the kindly CEO (played by Tony Shalhoub) keeps his door open to anyone with ideas to share, including a Mexican American high-school dropout working on the custodial staff.
Longoria directs Flamin' Hot with the genial bounce of a sitcom. It opens with a "You may be wondering how I got here" fake out that leads you to believe Richard, who narrates the action in voiceover, is the waiter the camera initially follows from the kitchen before revealing that nope, he's the self-declared "big shot" being served at the table. The domestic sequences — featuring Annie Gonzalez as Richard's ride-or-die wife, Judy — stay in this mode, treating the family's financial troubles and Richard's daddy issues with the same cartoon lightness as the drug dealing that Richard's old crew continues to be involved in. Later, those former colleagues are called upon to spread the word about Richard's innovation in foodstuffs, a development that in a sharper film would come across as commentary on pushing something addictive and highly processed on your community in order to get by. But Flamin' Hot's tone is resolutely feel-good in a way that starts to feel really bad. It's so reluctant to designate villains that it can't bring itself to call out Reagan even as it links his presidency to tougher times. "I didn't know politics affect people, especially hard-working people like us," Richard intones solemnly.
Richard himself may be obliviously apolitical, but Flamin' Hot firmly believes in bootstrapping, even if it's a perverse rise-and-grind fable whose hero gets ahead not on the basis of his hard work but on the initiative he takes in spotting Latinos as an untapped customer base. Flamin' Hot's Richard is even more of a company man than Montañez himself — while the real Montañez got bumped up to machinist operator not long after he was hired, the movie's version chases that promotion fruitlessly for nearly a decade, and nevertheless turns down on outside job offer when the chance comes up. His success in turning flavors from his culture into a product that's "100 percent Mexican approved" leads him to make a speech in which he declares, "I'm down here with mi gente — they're looking for themselves on those shelves." This blunt equating of a desire to be seen with a desire to be marketed to is a bleaker commentary on corporate representation than Flamin' Hot intended, not that the movie sees it that way. Neither, you would guess, does Frito-Lay. After acknowledging that an internal investigation didn't support Montañez's version of events, the company attempted to soften their public response in a way that all but acknowledged how mutually beneficial his mythmaking was — a spicy slurry on some extruded cornmeal as a sign of acceptance.