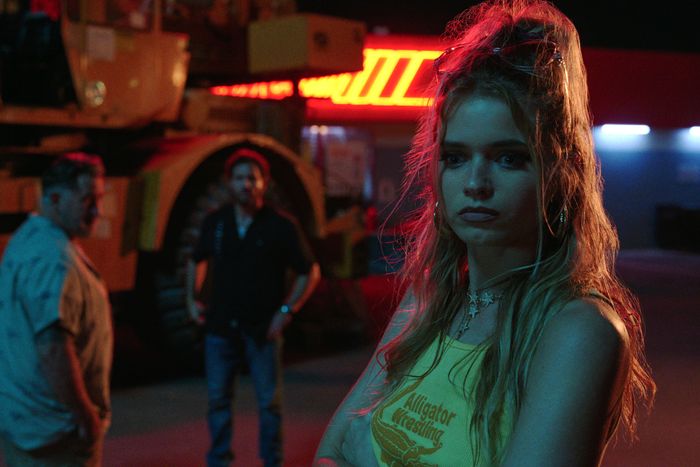 Spoilers follow for all of Florida Man, which debuted on Netflix on April 13. 
Florida Man may share its name with a meme about the state's most prevalent criminal description, but in true neo-noir fashion, its real mastermind is a woman. Reveling in the same eccentric villainy and funky humidity explored by crime authors like Elmore Leonard, Carl Hiaasen, and Edna Buchanan, Florida Man throws a shipwrecked treasure, a sensual romance, a bunch of daddy issues, and murder into a complex web of motivations and betrayals. Following in the feminist footsteps of other Florida-set series like Claws and On Becoming a God in Central Florida, the architect at the center of it all isn't titular character Mike Valentine (Édgar Ramírez) but his secret lover, Delly West (Abbey Lee), who in final episode "Sunk Costs" is revealed to be much craftier than anyone gave her credit for.
Lee has played baddies of a certain type before: a cannibal-witch supermodel in Nicolas Winding Refn's The Neon Demon (a film that confirmed how great she looks under the purple-pink-blue lighting that Florida Man favors) and a witch cult leader chasing immortality in HBO's short-lived Lovecraft Country. As those characters, she's all assessing, unblinking gaze and perfect posture, but Florida Man gives Lee the opportunity to rough up that pomposity with some enigmatic smirks, coquettish physicality, and wry confidence.
Creator Donald Todd's series begins with Delly's entanglements. She's a year into a relationship with mobster Moss Yankov (Emory Cohen), who inherited an organized-crime and gambling empire from his deceased father in Philadelphia. She's getting tired of receiving stolen items as gifts and hearing him torture debtors in their home. And she's sleeping with Mike, a gambling addict who lost his position as a police officer and now works for Moss to pay off what he owes. When she disappears with information about Moss's business and in search of a treasure off the coast of Florida, Moss sends Mike to find her, which leads Mike back to his childhood home — and the past he was trying to escape.
Florida Man takes on a lot narratively (probably too much) once its characters are settled in the U.S.'s most chaotic state, which the series nods to with breaking-news segments about the latest "Florida man" crimes. There's a major subplot involving Mike's dad, Sonny (Anthony LaPaglia) — a cop who broke bad after leaving the force — and minor ones about Mike's separate frictions with his ex-wife and sister, Moss's difficulties running his family's crime business, and, in the series' most superfluous tangent, a deputy sheriff (Clark Gregg) whose unquenchable desire to own a gun lands him in prison for buying a piece that was used in a murder. All of that nearly crowds out the central plot about Mike and Delly's tenuous alliance and plan to fake Delly's death, find the $100 million worth of Spanish gold coins, and double-cross Moss — a goal that gets more complicated when they learn that the treasure was already found and loaded into a moving truck that is now at the bottom of a sinkhole and that Moss knows Delly isn't actually dead and is on his way to Florida to reclaim her.
Some of this doesn't quite work. Cohen gets Moss's bumbling buffoonery down but not his menace. We all know that the U.S. has a gun problem, and neither the deputy-sheriff character nor Gregg's performance feel essential to further illuminating that issue. The appeal of Florida Man is less about narrative cohesion than silly gags (like a flashback to the Spanish ship carrying the treasure before it sank, its dandyish captain spontaneously deciding to mutiny against the king and brushing it off as a "series of misdemeanors") and visual delights (Ramírez in an array of sunglasses and cabana shirts). Under those parameters, Lee's Delly steals the show with her "club rat on an airboat tour" outfits and self-satisfied line deliveries — "It's fun watching people's faces when they see I'm alive. I wonder if this is what Jesus felt like."
She steals the fortune, which is how Florida Man ends. About midway through the season, Delly and Mike reach an agreement with Sonny and his two partners, Ray-Ray (Leonard Earl Howze) and Buzz (Mark Jeffrey Miller) — also cops turned criminals — that they'll all work together to retrieve the gold from the Penske truck where it's stored. Using scuba equipment, they'll attach flotation devices to the truck, raise it up from the sinkhole, clean out the treasure, then resink the truck before the hole is filled with cement. Their first attempt is interrupted. Afterward, Sonny gets arrested, Ray-Ray gets killed, and Buzz disappears, and when Mike and Delly give it another go, they're held at gunpoint by Moss, who now wants the money for himself. When the truck makes it to the surface and is revealed to be empty, it seems like Moss is just going to kill Mike and Delly for all the trouble — only for Delly to pull her own gun and kill him, the culmination of her secret plan to get revenge on him for murdering her father a year earlier.
Lee's snarling "That degenerate fucker" is a reminder of how great she was as one of Immortan Joe's hate-fueled wives in Mad Max: Fury Road, and her exhausted "All you guys thought I was just some character in your story" to Mike is a setup for the series' final twist. After Delly and Mike part ways, with him unable to commit to her because of his lingering feelings for his ex-wife, Mike visits Sonny in prison and shares his theory: Sonny, Ray-Ray, and Buzz had actually stolen the gold for themselves and cut Delly and Mike out of the deal. With Ray-Ray dead and Sonny put away, Buzz got all the gold — only to be eaten by one of the pythons devastating the state's natural ecosystem. (The snakes' prevalence is the inspiration for another recent Florida-set show, Killing It.) And with Buzz dead, the speedboat where he stashed the gold was available for the taking — which is exactly what Delly did.
In the final episode's closing minutes, Mike tracks Delly down, finds the compartment full of coins on the boat, and thinks of the lusty passion that drew them together back in Philadelphia. He doesn't have an answer for Delly's "Did you come here for me or the gold?" so Florida Man ends on a cliffhanger. Netflix describes Florida Man as a limited series, but the open question of Mike and Delly's future together could theoretically support a second season. What isn't in question is that this show proves Lee's femme-fatale bonafides and her ability to find the nuanced middle ground between outright antagonist and damsel in distress.