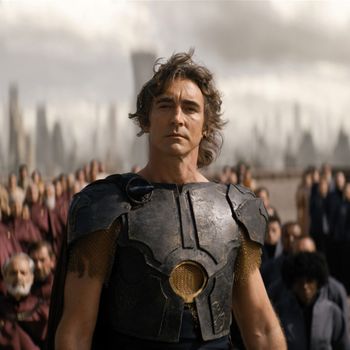 Demerzel is Foundation's biggest secret weapon — a character the show is mostly keeping a mystery while slowly unraveling just how central to every aspect of the story she really is. The fact that the show is making so many changes to the source material also helps because it makes every reference to the source material feel like a surprise. Demerzel is nothing like the book counterpart, but she is also the same in many ways. This week finally enters the season's endgame, with the gloves and masks coming off in each storyline.
The entire season has been about the secretly huge importance Demerzel has in relation to the Cleonic Empire and how strange it is that the Cleons themselves are unaware of this. That is what Dusk realizes when he finds Rue sneaking into the robot's chamber and asks him about her origin and purpose, which prompts Dusk to repeat the words "She will always be here, and she always has been" over and over like he was programmed to do so. He is unable to even think about Demerzel's role or origin without drawing a blank and repeating those words. Even Dawn, who goes along with Sareth's plan to get pregnant with his child rather than Day, finally starts to suspect Demerzel and sees that he and Dusk are in danger. By the time Dusk finds a secret passage behind one of the palace paintings that leads to an ancient chamber guarded by a projection of Cleon I, we know they are in trouble. They are all puppets, and as Dawn tells Sareth, it is Demerzel who actually is Cleon I's one and true heir. She is his original empress.
Adding to the mystery and context of Demerzel, Dusk finally explains the history of robots this week to Rue. He tells of how the robots used to serve humanity and how humans were inevitably cruel, while robots were more humans than we could have known. Of course, robots grew to understand their station, and they resorted to strike back when their one desire of having their personhood acknowledged was unfulfilled. By the time a robot broke the first law and murdered Emperor Benefoss, it ignited a war that saw robot fight robot, and robot fight men. When humans eventually won, all robots were destroyed except Demerzel. It seems that next week will be focused on finally explaining Demerzel's story, and that is one of the most exciting things Foundation has done.
In the meantime, Day makes another dumb decision and announces a public execution of Poly and Constant, to be broadcast throughout the Empire. He is trying to portray the Foundation as traitors to the Empire and as terrorists, choosing the execution on the anniversary of the bombing of the Star Bridge. But Day, who has not experienced rebellion or revolution, does not expect Constant's prayer and faith to be so compelling and captivating that he is making her a martyr to a movement.
Except, right before Constant is beheaded via a pretty guillotine necklace, Hober Mallow warps to the middle of the execution ground, blasting all the guards and Cleons away. He declares war on behalf of the Foundation. Becky also helps out and almost mauls and annihilates Cleon before sadly getting shot and thrown off the roof of the palace. Making matters worse, Mallow is unable to rescue Poly, who gets left behind, and despite their escape, Mallow and Constant still get captured by Bel Riose when they arrive on Terminus.
Day, of course, is furious about the botched execution. He is mad at Dusk for dismissing the threat of Seldon and decides he will personally go to Terminus to extinguish the Foundation and take all their technology. No emperor has done this, Dusk reminds Day, but he does not fear change. He also takes Poly with him and seems genuinely interested in his role in the Foundation and his faith in Seldom. For Poly, the appeal of the Church is that it is still based on actual science, which Day seems a bit intrigued by, before going back to just mocking the entire endeavor and Poly's faith in a dead man.
On Terminus, Constant's dad, Director Sermak, is having a crisis of faith, doubting Seldon and his grand plan, saying he cares so much about history he ignores the people living in it. Magically, a projection of Seldon arrives and tells Sermak that he cannot account for individuals or their fates, but he does see them and cares for them. Psychohistory is made of the memories of individuals, their choices, and stories. Everyone who has ever lived has built it psychohistory, and they matter (this Seldon is nicer and better than the other one).
On Ignus, Tellem takes off her own mask and goes from nice Senator Sheev Palpatine to full-on Darth Sidious. She traps Salvor in a hole and has Gaal tied to a table for a ritual. Turns out, Tellem did tell the truth in saying she was terrified of death, but she failed to mention how she has been taking over children's bodies for years to be immortal. Worse yet, Tellem has been grooming Gaal for years, and it was she who planted the thought of the waves destroying Gaal's home planet when she was a kid, the very thought that set her on the path that always led to this moment.
As for Salvor, she uses the radiant to access the Vault and talk to the other Seldon, which seems to mess up the entire plan, as her appearance makes Seldon realize he is a copy and that his other self withheld knowledge from him. Through that thought, he deduces he is not meant to know the whole plan, so there must be another Foundation. As usual, Jared Harris is just a joy to watch, as this Seldon goes from being hugely disappointed by his role in the plan, and also rather impressed by himself.
Salvor tells Hari everything, from the Mentallics to Gaal's predicament, which he should absolutely not know. She then proceeds to help Hari directly by telling him of Hober Mallow, who she remembers from Gaal's vision of the future as the guy who pierced the Empire's side. She is an outlier in the grand plan, so she doesn't care about the rules, and Seldon agrees. What is the point of having thumbs if you can't put them on the scale? So, we see the moment Seldon writes Hober Mallow's name across the Vault, kickstarting the chain of events that led to the rescue of Constant on Trantor. All along, the events on Ignus were happening earlier in the timeline.
How does this affect psychohistory, the plan? Who cares. This is pure pulp sci-fi, pure space opera. It may not be faithful, but it rules. Hari Seldon is getting his hands dirty.
The Prime Radiant
• Glawen Curr continues to feed the idea of rebelling against the Empire, jokingly telling Riose that Hober Mallow proved the Empire can be touched; it can bleed.
• Salvor giving Seldon the idea of Hober Mallow creates a big paradox since she only knows about him from a vision of the future — not at all based on the books, but an interesting idea to explore here.
• Constant telling Hober Mallow that all their dates have been at each other's executions is cute and also a huge red flag.