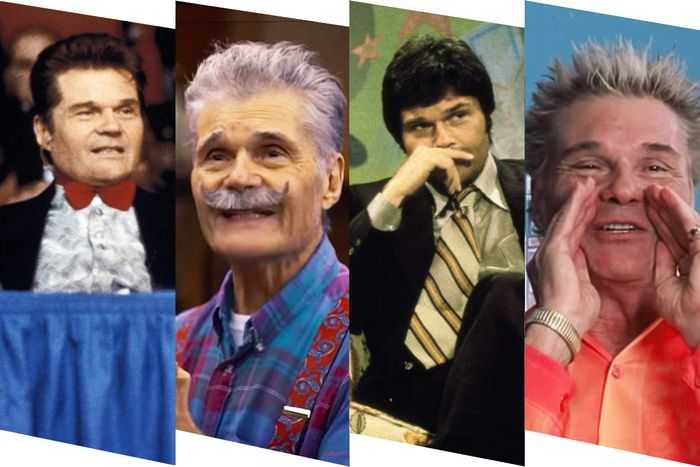 He'll be missed.
Photo-Illustration: Vulture, Netflix, Sony Pictures Television and Warner Bros.
The legendary Fred Willard has passed away at age 86. He leaves behind a long legacy of work that was vastly improved by his seemingly effortless wit and talent for playing lovable, clueless doofs. Willard's career was an immense one, with hundreds of credits ranging from Sister, Sister to Salem's Lot. He began as a stage performer in the late 1950s in Greenwich Village in New York alongside partner Vic Greco before joining the fledgling Second City in Chicago, then rose to national prominence in 1977 as the sidekick on the fake talk show Fernwood 2 Night.
From that point on, it seemed every comedy production needed Willard. Whether it was as part of the company of players in the Christopher Guest films, one of his memorable recurring roles (Roseanne, Review), or just a quick appearance (WALL-E, Golden Girls), this weekend, Twitter was abuzz with favorite clips spanning Williard's long, diverse career. Willard has done it all, and for more than 50 years, he brought delight to audiences of every age the second he appeared onscreen. Though he leaves behind hundreds, here are just 12 of his funniest moments from film and television.
The Tonight Show (1974)
In one of his first appearances on national television, Willard, as part of the sketch and improv group Ace Trucking Company, serves as the maitre'd and emcee at Danny's on the Turnpike, a quiet restaurant with big energy. Willard holds this sketch together with his exuberance and is no doubt a big part of the reason Ace Trucking Company appeared on Carson's Tonight Show 35 times.
This Is Spinal Tap (1984)
When his agent told him about being offered the role in Spinal Tap, Willard said he wasn't interested in playing "another square," but he was eventually convinced to go in for a meeting. After being shown some of the improvised footage that had already been shot of the fictional band, however, Willard was ready to go, accepting the job before his agent had a chance to negotiate a price. His appearance in the film is short (in fact, he left the set before filming was complete to spend time with his mother who was visiting town) but led to many more collaborations with this crew.
Roxanne (1987)
Sometimes you only need a couple seconds to make your mark. Willard as the mayor of a small Washington town delivers a toast that is a masterclass in subtlety.
Best in Show (2000)
If you want to see a man steal a movie in its last 30 minutes, look no further than Best in Show. Every moment with Willard onscreen is a gem as he creates golden moment after golden moment. His performance was so memorable that he was later brought on to The Bachelor/The Bachelorette to first commentate a dog talent show, and eventually, non-dog dating activities like roller derbies and dodgeball.
Undeclared (2001)
This short-lived Judd Apatow series had Willard on as a guest and basically just gave him the keys for a few minutes. In this scene as a history professor, Willard is given free reign to guide the audience through a whirlwind summary of the Kennedy administration, complete with costumes, accents, and conspiracy theories.
A Mighty Wind (2003)
In just two minutes of film, Willard creates several indelible catchphrases, a backstory, a connection to the plot, and a callback. On the commentary track, Guest remembers seeing that hair for the first time when Willard arrived on set and Willard's boundless energy. Frequently when Guest called "Cut," Willard would respond, "I'm not finished." This moment showcases Willard's ability to bubble over with idea upon idea.
Anchorman: The Legend of Ron Burgundy (2004)
Willard, as station manager Ed Harken, often serves as the catalyst for much of the humor in Anchorman, hiring and eventually promoting Veronica Corningstone and igniting the rivalry between her and Ron Burgundy, but nearly every scene he appears in begins with a bit of phone conversation concerning his troubled son. Though we only ever get to hear half the conversation, he paints a picture from his end as things escalate the longer the movie goes on.
Jimmy Kimmel Live! (2004–2019)
Willard made many appearances over the years on Jimmy Kimmel Live! in roles ranging from Fred Trump to Ruth Bader Ginsberg, but one of the most memorable was when he reprised his role from a 1978 TV movie called Space Force to coincide with Donald Trump announcing the formation of a real Space Force (not to be confused with the upcoming Netflix show, Space Force, also featuring Fred Willard). Willard appears from space, having just reenlisted, where he confuses Jimmy with Jay Leno and threatens "those filthy Neptunians." For more classic moments of Willard on the show, Kimmel and many of his co-stars paid tribute to him on the show last night.
Tim and Eric Awesome Show, Great Job! (2007)
In a 2012 interview with The A.V. Club, Willard described the Tim and Eric experience as "very strange," and he's not wrong. He plays a man named Tragg who is peddling a diet (?) in which meals are blended, along with his signature Brown Slop, and served in a trough. To remember Willard, Tim Heidecker shared some delightful behind-the-scenes footage from this sketch in which he and Eric Wareheim stand on the sidelines, working hard to contain their laughter and not ruin the take.
I Think You Should Leave (2019)
Tim Robinson's Netflix sketch show is packed to the rafters with insane characters, but Willard's appearance as replacement organist New Joe might be the one who performs his task with the most glee. It's an uncharacteristically succinct character who speaks through his music, but in this case, that's more than enough.
Modern Family (2009-2020)
When Phil Dunphy's father was introduced early in Modern Family's run as portrayed by Willard, Phil's constant quips, positive attitude, and general buffoonery had an instant backstory. Frequently Willard was called upon to balance the jokes with the real moments, and nothing encapsulates this better than his final, poignant appearance on the show earlier this year.
Fernwood 2 Night (1977)
There is perhaps no better clip to end this collection than this one from one of Willard's first roles, that of Jerry Hubbard. Willard knew how to be funny, obviously, but he also knew when to let off the gas a little and play with pathos just enough to lure you in. Few have been clever enough to play dimwitted so well. You will be remembered, Fred.