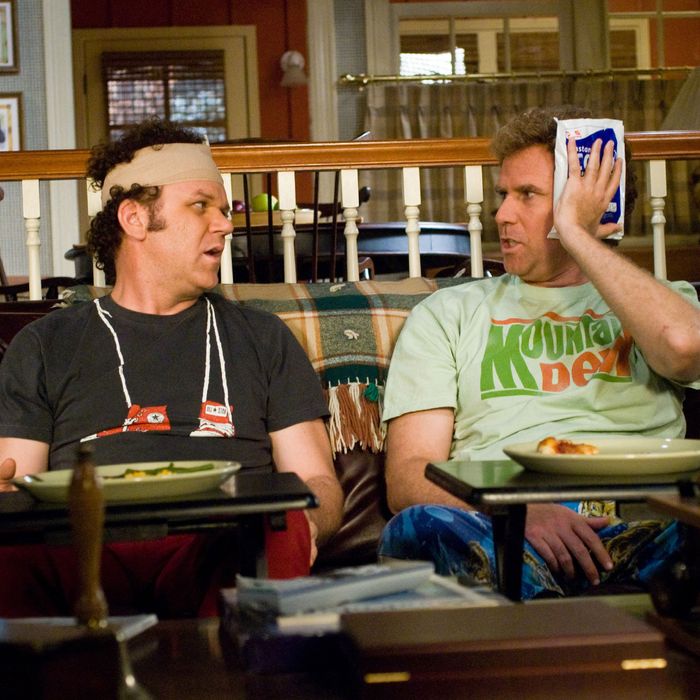 Step Brothers
.
Photo: Columbia/Kobal/Shutterstock
You've stocked up on groceries. You've realized all sports, theater, and concerts have been cancelled. You're stuck in your apartment. Now you need to watch something — anything — to get your mind off the dire state of our current events, which could go on for who-knows-how-long. May we suggest watching these lighthearted comedies, all of which are available on major streaming services? We promise: It'll feel good to have a laugh right about now.
Comedies on Netflix
Between Two Ferns: The Movie
Scott Aukerman directs a Netflix Original movie version of his own web series starring the king of awkward interviews, Zach Galifianakis. Believe it or not, they did find a way to string together the hysterical shorts into a movie with a story, although the highlights are still the mean questions asked to people like Benedict Cumberbatch, Will Ferrell, Gal Gadot, Tiffany Haddish, Jon Hamm, Matthew McConaughey, and many more.
Dolemite Is My Name
Eddie Murphy is back! It's been a long time since we saw this version of Eddie, who reminds us how funny and charismatic he can be with the right part. That part is the flashy personality that was Rudy Ray Moore, a washed-up musician who transformed himself into the character of Dolemite. Like The Disaster Artist and Ed Wood, this is an ode to DIY filmmaking with not just a great performance from Murphy, but Wesley Snipes and Keegan Michael Key too.
Ferris Bueller's Day Off
One of the most popular comedies of its era turned its title character into a household name. The pitch is so beautifully simple: the most popular kid in high school takes the day off and gets into trouble in Chicago while driving his sister and principal insane. Great physical sequences mixes with a very hip '80s sensibility to create a classic comedy that could be a hit if it came out today.
Frances Ha
Greta Gerwig got a lot of deserved attention for Lady Bird but it wasn't her first semi-biographical screenplay, and maybe wasn't even her best. She co-wrote this quarter-life crisis comedy with director Noah Baumbach, in which she stars 27-year-old New Yorker Frances Halladay. It's one of those films that doesn't have much of a plot but works because of the genuine, empathetic way it approaches its leading lady, a character who feels both incredibly specific and yet universally relatable at the same time.
Groundhog Day
Relive one of the best comedies of all time over and over again on Netflix. Believe it or not, this 1993 Bill Murray vehicle wasn't that rapturously received critically or commercially when it came out, but it's become a beloved genre classic. Murray stars as a weatherman forced to relive the same day over and over again until he gets it right. It's not just the clever premise but how much co-writer/director Harold Ramis and Murray inject humanism and truth into it. And it's held up so much better than most early '90s comedies.
Hot Rod
Long before Popstar and Brooklyn Nine-Nine, Andy Samberg starred in his first Lonely Island project and first major film after Saturday Night Live. Relatively ignored and critically derided at the time, Hot Rod has developed a loyal cult following over the years. It's easy to see the Lonely Island comedy voice developing in this story of a goofy stuntman trying to perform the biggest stunt of his career to save the life of his irascible father.
Men in Black
Remember when they rebooted and updated Men in Black with Chris Hemsworth and Tessa Thompson? Yeah, we don't really either. The original sci-fi/comedy has had much longer legs, now delivering its quirky blend of genres to a new generation. The reboot may not have worked like Sony hoped it would be, but we'll always have Will Smith and Tommy Lee Jones in the original to make us smile.
Monty Python and the Holy Grail
There's a bunch of Monty Python specials and movies on Netflix, but this remains arguably the career peak of one of the most beloved comedy troupes of all time. A parody of tales like those of the Knights of the Round Table, Holy Grail is one of the most heavily quoted movies of all time, a comedy that feels like it's playing in some theater somewhere in the world, probably at midnight, every single day. Its popularity simply never recedes.
Obvious Child
Jenny Slate should be a household name. She's always charming, has great comic timing, and seems to find new dramatic registers with each outing. This remains her best overall film and performance, the story of a stand-up comedian who has to deal with a few of life's unexpected curveballs. Shorthanded as "the abortion comedy," there's more to Obvious Child than just that brief description allows. It's smart and genuinely likable — things that aren't often said about what could be called a rom-com.
The Other Guys
Is this Will Ferrell's last great comedy? Capping off a decade that included Anchorman, Old School, Step Brothers, and Talladega Nights, the SNL alum co-stars with Mark Wahlberg as two cops forced to step into the spotlight after the hysterical death of the two most popular officers on the force. Ferrell and Wahlberg are great in one of Adam McKay's funnier comedies. He should reunite with his best leading man and make another one.
Scott Pilgrim vs. the World
Michael Cera stars in Edgar Wright's vibrant adaptation of Bryan Lee O'Malley's graphic novel, a movie that feels like it could come out exactly the same way today, almost a decade after its release. Wright's style is perfect for this material, capturing the tone and structure of the source material with his razor-sharp editing and wit.
Step Brothers
The pinnacle of Will Ferrell and Adam McKay's comedy career remains this modern classic, a movie that's as rewatchable as anything you could possibly find on any streaming service. One of the reasons for that is the fearless joy with which Ferrell and John C. Reilly literally throw themselves into the roles of stepbrothers who start as enemies and end as family.
Comedies on Amazon Prime
The Big Sick
It's not common for a breakthrough comedy to be so acclaimed and popular that it actually becomes an Oscar nominee for Best Screenplay, but The Big Sick is not a typical comedy (and Holly Hunter was robbed of a nomination too, by the way). Kumail Nanjiani and Emily V. Gordon loosely adapt their story, with Nanjiani starring alongside Zoe Kazan. It's really as crowdpleasing as comedies get. You kind of have to be an asshole not to like it.
The Birdcage
Mike Nichols' remake of the beloved La Cage aux Folles is a joyous comedy about acceptance and love that still works well today (which is not something you can about a lot of mid-'90s comedies). Robin Williams and Nathan Lane are phenomenal as a gay couple forced to jump through hoops for their son's new in-laws, played wonderfully by Gene Hackman and Dianne Wiest. It's funny and smart from front to back.
Eighth Grade
Bo Burnham's feature film debut won him multiple awards last year and it's already on Amazon Prime for you to see what all the fuss is about. Elsie Fisher gives a breakthrough performance as a young lady who makes YouTube videos that pretty much only she sees and struggles her way through the most socially awkward years of existence. Smart, moving, and incredibly clever, this is a great comedy that rings of enough truth that it hurts.
Heathers
Christian Slater kinda does a Jack Nicholson impression and Winona Ryder is at the peak of her '80s emo-charm in this clever satire of high school life. Ryder plays the high school outcast and Slater plays the guy who teaches revenge is a dish best served with an attitude.
His Girl Friday
When people think of the most influential Hollywood comedies of all time, this 1940 Howard Hawks hit often makes the list. Watch it to see why. You'll witness Cary Grant at his most charismatic as Walter Burns, an editor who is watching his best reporter and ex-wife walk out the door. He suggests they cover one last story, and Hollywood magic ensues. American movies don't get much more classic than this.
Lady Bird
Greta Gerwig's Oscar nominee is one of the most personal and striking coming-of-age films in years. Saoirse Ronan stars as the titular character, a young Californian who longs for someplace cooler than her own hometown. It's a heartfelt and very smart film, buoyed by great performances throughout, including Ronan, Tracy Letts, Timothee Chalamet, Lucas Hedges, Beanie Feldstein, and Laurie Metcalf, who was robbed of that Oscar.
Some Like It Hot
One of the best comedies ever made. It's as simple as that. When someone in your life is struggling to watch anything made before 1990, introduce them to this Billy Wilder classic, a movie that is so good that it works as a gateway drug to classic cinema. It may have been made in 1959, but the perfect performances by Tony Curtis, Jack Lemmon, and Marilyn Monroe, as well as Wilder's masterful timing, mean that it's just as funny as it was six decades ago.
Comedies on Hulu
Bachelor Party
Before he became America's most likable actor, Tom Hanks made a few films that appealed more to the adults in the audience, including this 1984 broad comedy that's pretty self-explanatory in its title. In the glut of "raunchy comedies" of the '80s, Bachelor Party stands out a bit, largely because of how much Hanks could bring even to something this relatively mediocre and this early in his career.
Booksmart
Olivia Wilde's directorial debut is one of the smartest and straight-up funniest comedies in years. Beanie Feldstein and Kaitlyn Dever star as lifelong friends who learn on the last day of school that their priorities may have been a bit out of whack. Determined to make up for lost time, they have a wild and crazy night. Often described as "Superbad with girls," this is destined to be a cult classic.
Colossal
Anne Hathaway stars in one of the most original and creative dramedies you could watch on Hulu. What happens if you blend an addiction drama and a kaiju movie? You get this crazy story, in which Hathaway's troubled soul learns that she is somehow controlling a monster on the other side of the world. It's imperfect but there's nothing else quite like it.
Force Majeure
This 2014 Swedish film became an international hit on the back of rave reviews. It's a searing examination of how an incident can forever change a relationship. In this case, the incident happens to be an avalanche, and the patriarch of a traveling family's decision to run instead of protecting his wife and kids. All four survive the natural disaster, but they're not quite the same again. It's being remade with Will Ferrell and Julia Louis-Dreyfus. See the original first.
Heathers
Ignore the think pieces about how Heathers plays today and watch this 1989 dark comedy, a satire that caught Christian Slater and Winona Ryder at just the right time in their careers. She plays the outcast in high school and he plays the mysterious new kid who teaches her the art of vengeance. Is some of it dated? Sure, but it's still sharp in the way it weaponizes the clique culture that has arguably become even more prominent in the three decades since.
Jackass 3
The 3D version of this film literally made people sick in theaters when it was released in 2010. It's still got the power to make you nauseous at home on Hulu too. It's hard to believe it's been a decade since Johnny Knoxville and the boys made one of these joyously hysterical movies, but they're coming back in 2021 for Jackass 4. Catch up with where we left off the last time these grown men nearly killed themselves.
My Best Friend's Wedding
Julia Roberts might never have been more charming than she is in this 1997 comedy about a young woman who made a pact in college to marry her best friend, played by Dermot Mulroney. Not until her buddy gets engaged to someone else (the wonderful Cameron Diaz) does she realize she really loves him. A great blend of physical humor and memorable characters makes this one of the best rom-coms of the '90s. They really don't make them like this anymore.
Swingers
Every few years, a comedy comes completely out of nowhere and taps something in the zeitgeist that makes everyone involved a star. No one knew who Jon Favreau and Vince Vaughn the day before Swingers came out, but it launched them into the celebrity sphere, where they still reside. This movie is still money, baby, as it captures the posturing of young men trying to get work and get laid in Hollywood in the mid-'90s.
National Lampoon's Vacation
Time for a marathon! All four movies about the Griswold family are sitting there on Hulu – Vacation, European Vacation, Christmas Vacation, and Vegas Vacation. Despite what fans of the holiday classic may think, the original is still the best, a wonderfully constructed piece of '80s comedy with arguably Chevy Chase's best on-screen performance. Most of all, it's still just a damn funny movie.
When Harry Met Sally…
Meg Ryan and Billy Crystal star in this 1989 rom-com that became an essential movie about whether or not men and women can truly be friends without romance entering into the picture. Ryan and Crystal have arguably never been as charming as they are here, but it's really Nora Ephron's razor-sharp script that made this an instant classic.
Comedies on Disney+
10 Things I Hate About You (1999)
It's been twenty years since this 1999 romantic comedy introduced the world to Joseph Gordon-Levitt, Heath Ledger, and Julia Stiles. Sometimes the cast of a young rom-com just catches lightning in a bottle, which is what happened here in this version of Shakespeare's The Taming of the Shrew. It's so very '90s even as the charm of its cast also gives it that timeless feel.
Ant-Man (2015)
Both Paul Rudd adventures in Ant-Man and Ant-Man and the Wasp are on Disney+ as of this writing, part of the service's large catalogue of MCU films. This little guy may not get the press of someone like Captain America or Iron Man, but his movies are much-needed, heavy-on-comedy diversions in a universe that often takes itself a bit too seriously. They remind us that sometimes superhero stories should be fun.
Freaky Friday (1976/2003)
Doesn't everyone have to see this Disney classic at some point just to get the references in all of the iterations of body-swapping fiction over the next four decades to come? The original story of a mother and daughter switching bodies stars the wonderful Barbara Harris and Jodie Foster, while the underrated remake features Lindsay Lohan and Jamie Lee Curtis. Both are on Disney+. (So is a 2018 musical TV version that we're all choosing to ignore.)
Guardians of the Galaxy (2014/2017)
James Gunn's action-comedy was arguably the biggest surprise in the modern MCU. After all, we all kind of knew and loved Iron Man, Thor, and Captain America already, right? But who the heck is Groot? Well, now we know, and the people who love these movies really love these movies. They're both on Disney+ and you've probably watched them twice already.
The Incredibles (2004)
Any list of the best modern superhero movies that doesn't include the great Pixar film about Mr. Incredible, Elastigirl, Dash, and Violet is incomplete. Brad Bird's adventure about the family of superheroes next door is smart, funny, and legitimately contains some of the best action sequences in the history of the modern blockbuster. And it's so easy to rewatch again and again, making it perfect for a service like Disney+.
The Sandlot (1993)
It's always fun when a movie transcends its original response to become a cult classic. This coming-of-age comedy barely made a dent when it was released, but years of rentals and cable airings turned it into a phenomenon. Ask people their favorite baseball movies, and most will have this on the list.
The Simpsons Movie (2007)
Sure, sure, we all agree that this would have been stronger if it were made closer to the peak of the Fox hit, but it's still pretty damn fun. And you may want a break from the 30-plus seasons of The Simpsons that are also on Disney+. Many people believe this was a turning point in the history of the show and that the program was never the same after it was released. Make up your mind for yourself.
Three Men and a Baby (1987)
Young readers may not a remember a time when a movie about three bachelors and an infant took over the world. This 1987 comedy vehicle for Steve Guttenberg, Tom Selleck, and Ted Danson was a massive hit, making over $240 million on a budget less than 5% of that. People took to its blend of slapstick comedy and heartfelt emotion. Trivia: It was directed by Spock himself, Leonard Nimoy.
Thor: Ragnarok (2017)
The entire arc of the MCU version of Thor changed forever when Taika Waititi was tapped to direct the third standalone movie about the big guy with the hammer. Gone was the dour tone of the first two movies, replaced with something closer to a comedy in this bright, fun adventure movie. Thank God someone realized Thor could have a good time too.
Turner & Hooch (1989)
Before he won an Oscar, Tom Hanks had scenes stolen from him by a drooling pooch in this 1989 hit. The truth is that the buddy cop movie was such a staple of the '80s that it was only a matter of time before someone paired up an officer and a dog. No one is going to argue that this is the best comedy on Disney+, but it surely has a bit of nostalgia value for those who were just the right age when it was released. Maybe you're one of those people?
While You Were Sleeping (1995)
The best romantic comedy on Disney+ is this 1995 flick from when Sandra Bullock was at her most charmingly likable. The future Oscar winner plays a CTA token collector who saves the life of a man on the tracks one day, and then falls in love with his brother. In a sweet and funny movie, Bill Pullman, Peter Boyle, and Jack Warden also give charismatic performances, but this is a Bullock Movie through and through.