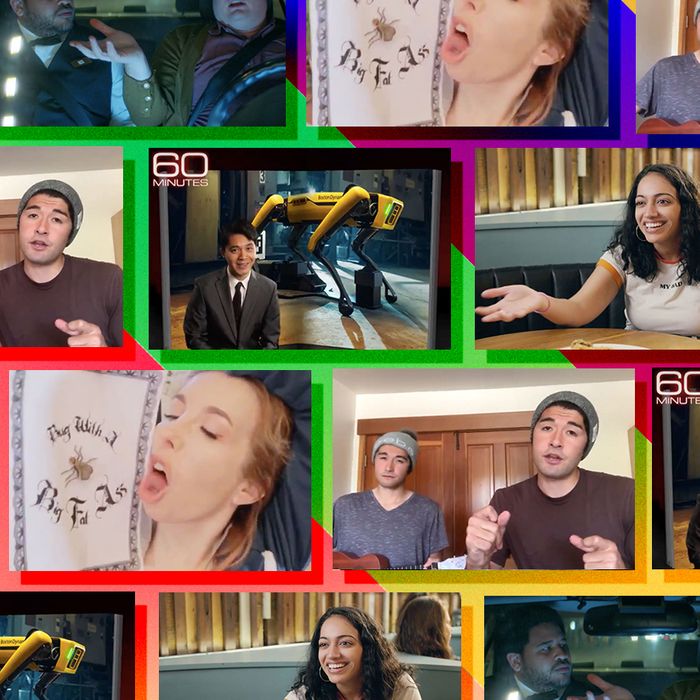 Photo-Illustration: by Vulture; Photos by Katie Sicking/Twitter, Alec Cohen/Vimeo, Zane Rubin/Vimeo, Dylan Adler/Twitter and Jordan Mendoza/Twitter
Each month, many funny videos are posted to every corner of the internet — from Twitter to Instagram, Vimeo, and sometimes other weird places we'll have trouble embedding. Because you're busy living your life, you might miss some of these funny videos and feel left out when others bring them up in conversation. Well, worry not! We're here to make sure you're not listening in on conversations but leading them … as long as those conversations are about funny internet videos. Here, our favorite comedy shorts of the month.
"Big Ass Bug," by Stupid Music Videos
On their Rizzle show Stupid Music Videos, Katie Sicking, Adrien Pellerin, and guest Brooks Allison dropped a strong contender for song of the summer with this tune about a caked-up bug they found in the grass, but the group's incredible ability to accomplish almost anything with a camera from inside their apartment means you'll want to check out the video for the full effect.
"Boss Whom Is Girl: Surveillance State xoxo," by Jamie Loftus
Based on her 2019 solo show of the same name, this video stars Jamie Loftus in character as Shell Gasoline-Sandwich, the girlboss founder of a nightmarish surveillance-technology company, who is here to atone after being canceled for a combination of her words and actions. "That was unfortunate, misguided, and I honestly thought people were going to fall for it," Shell says about her company's attempt to rebrand an oil spill as a slip 'n' slide. An indictment of late-stage capitalism and TED Talk culture in one fell swoop, this isn't one to miss.
"Break Up Baby," by Fareeha Khan and Alec Cohen
Fareeha Khan writes and stars in this absurdist little short about a woman dumped by a bro who is suddenly thrust into an unforgiving — sometimes animated — New York City where everyone but her seems to be madly in love. Fun execution aside, the real story here is Khan's enchanting onscreen presence. She's achieved a seemingly insurmountable feat by somehow cracking a new shade of awkward, stoner-y, lovable aloofness. Just when we thought we'd seen every color in that rainbow and heard every change in that frequency, she's gone and changed the game.
"Forgotten Animals," by Jessie Jolles and Sarah Smallwood Parsons
In this indie pilot from Jessie Jolles and Sarah Smallwood Parsons, a group of women in charge of a struggling nonprofit devoted to the wellbeing of unpopular animals take it upon themselves to throw a luncheon for homeless raccoons, with disastrous results. Evoking the colorful tone and joke-a-minute pace of the best of the sitcoms that emerged in the wake of 30 Rock, Jolles, Parsons, and director Alec Cohen lead an impressively deep roster of characters that each get showcase moments. The only reason not to click it is to avoid your inevitable craving for a whole season.
"Fresh Prez of DC," by Kyle Dunnigan, Kurt Metzger, and Jessica Montes
In an effort to fully forget about Donald Trump and to not let President Biden get too cocky about all the progressive, productive, good shit he's been doing, we're poking a little fun at the left of the aisle. Kyle Dunnigan, Kurt Metzger, and Jessica Montes created a horrifying Biden deep fake and absolutely nailed a parody of the Fresh Prince of Bel-Air opening theme. You won't be able to get it out of your freshly vaccinated heads.
"Genius No. 2," by James Austin Johnson
Known for being the best Trump impersonator in the West (who are we kidding? He's far and away the best nationally; sorry, Alec and Anthony), James Austin Johnson has taken a break from offering up meandering DJT Cameo vids to deliver a surprisingly fresh mock doc about himself and his creative process. It sounds really well-worn and unoriginal, but it's somehow not. Kind of like his Trump impression, actually.
"Inland Empire," by Tim Barnes, Ian Abramson, and Zane Rubin
This explicitly Lynchian short directed by Zane Rubin and starring creators Tim Barnes and Ian Abramson is a surreal tribute to that nagging feeling that you're wasting your life. "Tim, our 20s are for delusions of grandeur," says Abramson. "We're 30 now. We can change the world through a radical revolution of local politics." Horrifying, mesmerizing, and hilarious in equal measure, Inland Empire will make you think twice before volunteering for a medical study anytime soon.
"My Job As Host of 60 Minutes Did Not Work Out …," by Jordan Mendoza
Vulture frequenter Jordan Mendoza is a deadpan gem, so it should be no surprise that this video of him introducing bad 60 Minutes segments is real good. (Jim Gaffigan even called it "Funny!") If you find yourself eager for some more Mendoza deep cuts after watching, head on over over to links like this one from pre-pandemic times, where he tries (and fails) to drum up the perfect response to a nude photo text.
"That Song Wh*te Ppl Love Where the Chorus is Just Someone Whistling," by Dylan Adler
You've heard this song before. Maybe it was in a Gap commercial, maybe it was while you were getting picked up from soccer practice, maybe it was on the soundtrack for the Curious George movie, but you've heard a hundred versions of this song from the ukelele revival. Dylan Adler has just distilled it into its most powerful form.
"When You Brown in Hollywood," by Waleed Mansour
If you're actor and comedian Waleed Mansour and you're in a fancy Hollywood general meeting, chances are you've been told that whatever idea you're enthusiastic about is nowhere near as powerful as the idea of you "doing a Ramy!" "You gotta do like a frickin' Fresh Off the Boat, Black-ish, Jane the Virgin, Ramy!" says the Hollywood power player on the other side of the desk. A few phone calls later, and Mansour's non-dreams have come true.
Like what you saw? Want to be on this monthly roundup? Show us your stuff! 
Luke Kelly-Clyne is president at Big Breakfast and a watcher of many web videos. Send him yours at @LKellyClyne.
Graham Techler performs at the Upright Citizens Brigade Theatre and contributes writing to The New Yorker. Send him your videos at @gr8h8m_t3chl3r.