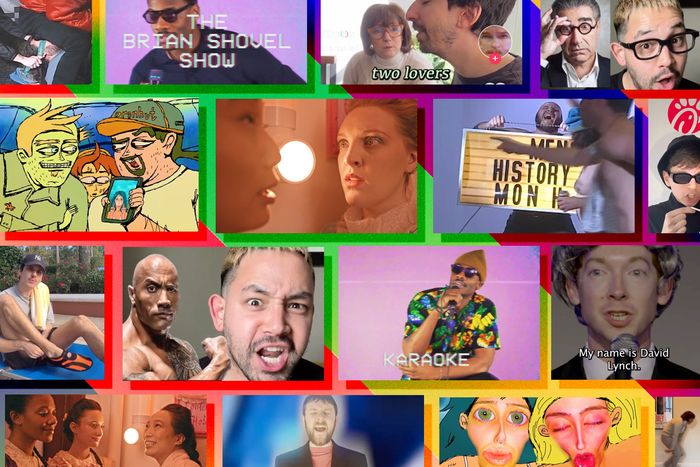 Photo-Illustration: Vulture
Each month, many funny videos are posted to every corner of the internet — from Twitter and Instagram to Vimeo and sometimes other weird places we'll have trouble embedding. Because you're busy living your life, you might miss some of these funny videos and feel left out when others bring them up in conversation. Well, worry not! We're here to make sure you're not listening in on conversations but leading them … as long as those conversations are about funny internet videos. Here, our favorite comedy shorts of the month.
"The Cute Boy You Meet on Vacation," by ThatMartinKid
Oblivious narcissism is the bedrock of so many transcendent characters, and it's certainly been praised many times over the course of this column's existence. This video reminds us of that power and that cringey delight that comes only from seeing someone who reminds us of an actual awful person so much that we must stand and applaud. Stand now and applaud.
"David Lynch," by David Brown
Jury Duty's David Brown stopped by the Funny or Die Lab with a pitch-perfect impression of Twitter's favorite director, David Lynch. Brown nails not only Lynch's nasal cadence, but also his sometimes sublimely simple way of describing his own ideas. "What if there was a weird room?" Lynch asks. "And what if that weird room had one to four weird guys in it?"
"Ethical Journalism Is a Human Right," by Cameron Logsdon
What can we say? We're suckers for impressions about current events. In the wake of Tucker Carlson and Don Lemon getting the ol' heave-ho from their respective network posts, this is a historical compilation of what some of the shiniest stars in Hollywood might have to say if this were anything even remotely close to historical.
"Heading to Tampa? Enjoy the Flight," by Maddie Brewer
Eye-popping character design and stomach-churning characterizations are on display in this new video made by animator Maddie Brewer for Comedy Central. In it, a woman on a flight to Florida suffers as she's sandwiched between two braggadocious bros who want to get back to their girlfriends by any means necessary.
"Men's Month Again," by Jolie Darrow
At Highland Park TV, a public-access station in Los Angeles, Jolie Darrow is hosting a Women's History Month broadcast when the clock strikes midnight, March ends, and the tables turn. The men return. Their month has come again. Don't worry, Jolie — next March is right around the corner.
"My Childhood Guitar Teacher Listened to My New Single and Something Amazing Happened," by Hotel Art Thief
The sketch group Hotel Art Thief (Mike Kandel, Jo Miciak, and Zach Tomasovic) has become a reliable source of video fun, often within the "What's going on in our apartment" genre popularized by groups like Please Don't Destroy, but always with an extra sense of the bizarre that comes at you much faster than you expect. This video, in which Kandel's childhood guitar teacher moves into his apartment, is a perfect example.
"POV: We're Figuring Out Where to Eat On Our First Date," by Mikey Angelo
Just top-notch rhymes here breaking down the essence of top-flight eateries. What more could you want? Maybe an international version? We can hope. Surely Mikey could bring the heat.
"Shy Singer OBLITERATES Judges and WINS," by Tom Achilles
Jesus, this is dumb. Intentionally bad editing and magical SEO optimization combine to create a bull's-eye for the mindless scrolling to which we all find ourselves falling victim. We laughed out loud.
"Sisters!" by Rachel Ravel
This new web series from writer-director Rachel Ravel follows a group of sister-wives who live in devotion to their (unseen) husband Josiah, as seen through the eyes of a newcomer (played by regular Vulture fixture Jamie Linn Watson). Sisters! often recalls the best of the Tina Fey/Robert Carlock universe, especially in this final installment, in which the wives admit their sins to the "confession hole."
"The Very Best of Brian Shovel," by Devin Gant
Holy shit, Devin Gant is funny. Let's get him way more than 22 views (at time of publication, of course) and show the world that retro-infomercial parodies don't have to die with the 2010s, so long as they're as worthwhile as this one.
Like what you saw? Want to be on this monthly roundup? Show us your stuff! 
Luke Kelly-Clyne is a co-head of HartBeat Independent and a watcher of many web videos. Send him yours at @LKellyClyne.
Graham Techler has contributed writing to The New Yorker and McSweeney's Internet Tendency. Send him your videos at @gr8h8m_t3chl3r.