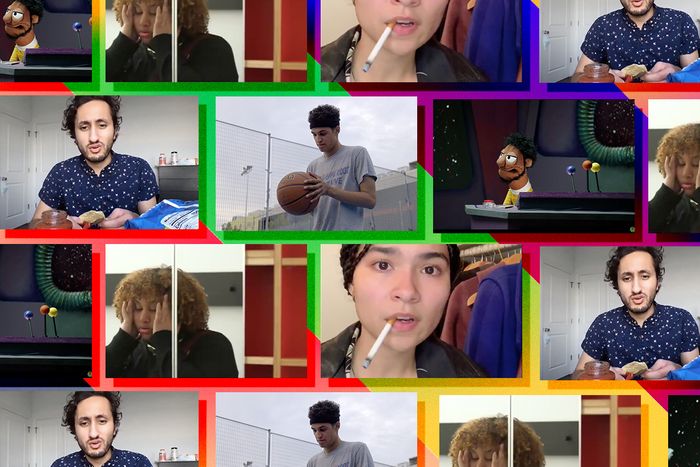 Photo-Illustration: Vulture, Hoop Dreams 2/Vimeo, BUFU/Twitter, Wyatt Cenac/YouTube and Lureena Cornwell/Twitter
Each month, many funny videos are posted to every corner of the internet — from Twitter to Instagram, Vimeo, and sometimes other weird places we'll have trouble embedding. Because you're busy living your life, you might miss some of these funny videos and feel left out when others bring them up in conversation. Well, worry not! We're here to make sure you're not listening in on conversations but leading them … as long as those conversations are about funny internet videos. Here are our favorite comedy shorts of the month.
"Finally Updated My Character Reel," by Joanie Drago
Comedians need to keep their reels fresh with whatever best represents them at the moment, and Joanie Drago has updated hers with all of her many varied characters. For example, Jodie Foster in The Silence of the Lambs. Or Jodie Foster in the original Freaky Friday. "Nice place. Does it come with a panic room?" asks another Foster. "Sold."
"Hoop Dreams 2," by Liam Klinkenberg and Eytan Boclin
When Steve James, Frederick Marx, and Peter Gilbert's 1994 documentary, Hoop Dreams, was released, its vérité embedding with two would-be college-basketball stars and their families took the genre by storm. Today, a new classic emerges, with a subject, Liam Klinkenberg, who has NBA dreams that cannot be quelled, despite an offensive lack of talent.
"I Just Got Broken Up With and You Came Over to Keep Me Company," by Amar Risbud
In this video, you take on the role of a true friend who's responsible for consoling Amar Risbud in his time of need. He's just been dumped by someone who didn't like his tendency to make technically logical but utterly illogical decisions. Spend a minute with Risbud and you'll agree that they didn't know what they were talking about.
"It Be Like That Sometimes," by BUFU Comedy
BUFU Comedy kicked off its Twitter presence brilliantly with this commercial for prescription-strength It Be Like That Sometimes, highlighting a medication for Black women who aren't being listened to by their doctors. "I almost died during childbirth because my doctors and nurses didn't believe that I had symptoms," one woman says with a genial smile. "And then, after just one week of It Be Like That Sometimes, I learned that it really do be like that sometimes."
"Looking for Rodney," by Chelcie Lynn and Libbie Higgins
Chelcie Lynn and Libbie Higgins have the burgeoning female-redneck comedy space on lock. Here, Lynn's character, Tammy (a.k.a. Trailer Park Tammy), and Higgins's Carla team up to bring us a fiery indictment of Carla's ex-boyfriend, Rodney. Move over, Blue Collar Comedy boys. (Watch it here.)
"My Last Recorded Set," by Ana Fabrega
With live comedy more or less on hiatus, nostalgia for gathering in a room with people to watch the same thing has never been more powerful. Lots of comedians have taken the time to post the last set they performed, and Ana Fabrega was nice enough to grace us with hers, recorded from behind a drum kit and featuring what sounds suspiciously like canned reactions from the crowd.
"The New Face of the NRA," by CollegeHumor
This great CollegeHumor sketch from writer Raphael Chestang — highlighting the hypocrisies in how Second Amendment rights are protected depending on who's the one carrying the gun — premiered way back in 2018 but had a second bout of virality earlier this month. It's either more relevant than ever or simply has never been irrelevant. "Let's just show a little … control with the gun," one NRA member says, walking backward into the point.
"A Ragtag Team of the Most Epic Hackers," by Ladies Who Ranch
No computer in the tristate area (or Russia) is safe in this cyberthriller from Sophie Zucker, Maya Sharma, Caitlin Dullea, Caroline Yost, and Kelly Cooper, otherwise known as the Ladies Who Ranch, a sketch group that performs regularly at the Brooklyn Comedy Collective in New York. If you're a tech buff who always wonders what it means to "firewhack the module," this sketch is for you.
"Running Into Popular Guy From High School: A Fantasy," by Maddie Smith
Monica, the girl whom the popular kids used to call "beanbag" while trying to stuff uncooked beans in her mouth, has grown up to do pretty well for herself: She's outrageously hot now, and she married the heir to the Dippin' Dots fortune. Maddie Smith lords this over one of her has-been former classmates with this fabulous character.
"Terroir," by Devin Ritchie and Tessa Greenberg
In search of a fix for the hunger crisis, a bold new voice in fine dining has stepped up to the plate with an unorthodox solution. That voice is restaurateur Yoshua Talbottam, who tries to sell the world on chowing down on dirt in this mockumentary short from Devin Ritchie and Tessa Greenberg. Dirt has never looked more appetizing than it does in dishes like "Li'l Cup o' Dirt."
"Trump Supporter Discovers Ladders for the First Time," by Andrew Heder and Ryan Kelly
We've been all about NowThis-style parodies the past couple of months, it's true. Ideally, we wouldn't be featuring another this month, let alone one that's been out for a few years, but Andrew Heder and Ryan Kelly's indictment on, well, racists feels not only timeless but also necessary in this particular American moment.
"World's Longest Tie," by Blake Rosier
Long celebrated in these e-pages for being unabashedly absurd, Blake Rosier has a new on-the-street piece wherein he's a finance guy wearing a cartoonishly long tie. That's basically it. Actually, no, that's literally it. Just a bunch of incoherent investment jargon spouted by a guy in a six-foot-long tie. Somehow, it works.
"Yellowbellies," by Wyatt Cenac
It's rare that we hear from celebrities about the projects they didn't get to make, and "Yellowbellies" is one of those. From comedian and TV host Wyatt Cenac comes a puppeted Star Trek send-up featuring Cenac, Ilana Glazer, Sasheer Zamata, Dan Soder, John Hodgman, Roy Wood Jr., and Ronny Chieng. As Cenac explains in the description of the YouTube video, "I pitched it around again and while networks liked it, they were afraid of puppets. My response was always, 'People were afraid of prime time animation for a long time too.' Eventually it sold to a network but shortly after selling it, the network stopped development on all new projects." Well, we're here to say it should've been made, and we bet you'll agree.
"Zoë Kravitz Addressing Hulu's Cancellation of High Fidelity," by Lureena Cornwell
Lureena Cornwell becomes the spunky, tragically hip protagonist of the High Fidelity TV show in this fourth-wall-breaking character reacting to Hulu's decision to cancel the show. Don't feel too bad for her, though. "Plenty of amazing shows got canceled after their first season," she says. "Like, Freaks and Geeks and …" Kravitz trails off.
Like what you saw? Want to be on this monthly roundup? Show us your stuff! 
Luke Kelly-Clyne is president at Big Breakfast and a watcher of many web videos. Send him yours at @LKellyClyne.