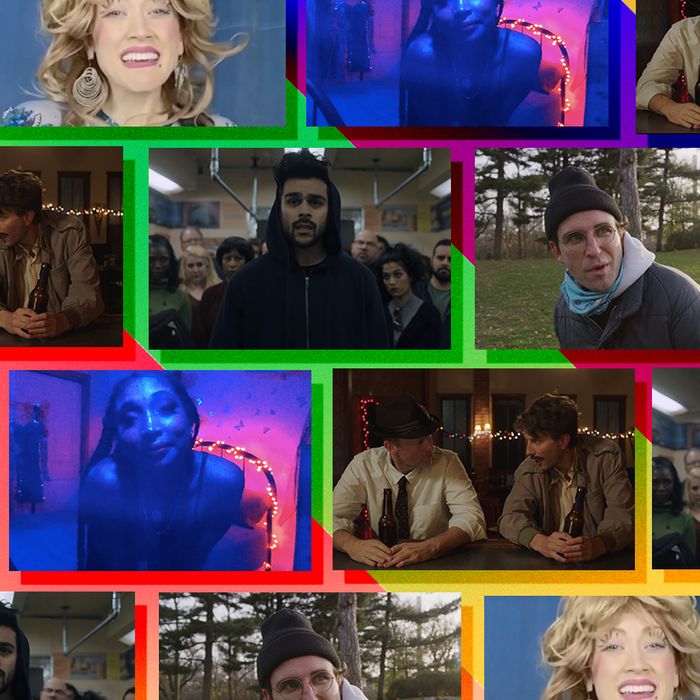 Photo-Illustration: Vulture, whit conway/Vimeo, raythedestroyer/Vimeo, Dan White/Vimeo, Short of the Week/YouTube and Katherine Palardy/Facebook
Each month, many funny videos are posted to every corner of the internet — from Twitter to Instagram, Vimeo, and sometimes other weird places we'll have trouble embedding. Because you're busy living your life, you might miss some of these funny videos and feel left out when others bring them up in conversation. Well, worry not! We're here to make sure you're not listening in on conversations but leading them … as long as those conversations are about funny internet videos. Here, our favorite comedy shorts of the month.
"How YouTubers Apologize," by Jordan Mendoza
RSVP NOWThe apology video is a particularly modern phenomenon, as Jordan Mendoza illustrates in his hilarious compilation of hindsight-is-20/20 atonement. As he chokes back tears and apologizes to his subscribers for everything from riding a horse through the 9/11 memorial to explicitly encouraging people to try meth, you may be tempted to pity the humble YouTuber. But do not fall into this trap, for he brought this apology video on himself.
"James Hong: The Musical!" by Woody Fu, Shem Pennant, and Hunter Nelson
James Hong is one of the most recognizable character actors of all time, with a list of over 600 credits to his name. But his legacy is not an entirely comforting one for Woody Fu, an actor who senses that Hollywood is steering him towards a similarly prolific career of stereotypes onscreen. In this bouncing, genre-bending musical number, Fu opines on the state of the industry for Asian men, only to discover that his biggest competition may be James Hong himself.
"Ladies Night," by Dan White and Jaxi Alegría
This miniature sad-sack masterpiece from director Jaxi Alegría and writer-performer Dan White sees White playing opposite Chicago improv legend T.J. Jagodowski as two barflies hanging around at last call and swapping escalating tales of romantic misadventures and disappointments. Despite its depressing veneer, it's uproariously funny and even oddly cozy — the strands of Christmas lights in the background of two lonely hearts coming together make it an unexpectedly good holiday watch.
"The Mayo Bubble," by Whit Conway and John Reynolds
Sad as it is to see On Becoming a God in Central Florida won't be coming back to Showtime, that show's given us a great gift by turning the lingo of multi-level marketing (read: pyramid) schemes into common vernacular. And column favorites Whit Conway and John Reynolds make beautiful Christmas-spirited use of their "downlines" in this short about a down-on-his-luck Reynolds visited by an angel of holiday scamming (Carmen Christopher) who promises great wealth … if Reynolds can sell theoretical mayonnaise to a big-ass number of people. Tale as old as time.
"Single Dad," by Carmen Christopher and Whit Conway
Every time we watch Carmen Christopher, we can't help but wonder what he must've been like as a kid. Did he play little league and pretend to be a normie like so many of us? Or did he let his freak flag fly? Whatever the answer, it's fun to consider a genius in development, and he's on a roll this month. Christopher possesses that rare and undefinable openness that every performer craves — a sonar for the peculiarities of the human condition that allows him to do more than merely act onscreen. Galaxies beyond rote, Christopher appears to be living before our very eyes, but finding comedy in every sorrow. It's next level and he's due for a serious breakout. Let this soul-crushing short about a single dad be evidence of that.
"Tribes," by Nino Aldi and Andy Marlatt
Who among us hasn't stepped onto a subway for a quick trip uptown and received an eye-opening lesson in identity politics, socioeconomic and racial divides, and inherent bias along the way? Okay, well some of that could probably happen if we lifted our heads up from our phones for a goddamn second. In Tribes, passengers are forced to do just that when a trio of armed assailants — one African American, one Arab American, and one white — try to stick up a subway car and accidentally realize the oneness of all Earth's people in the process.
"Tilda," by Ray Smiling and Konyin Ayuba
We probably haven't felt this way about a web series since we covered a little project called High Maintenance way back in 2013. Seven years later, director-writer Ray Smiling and writer Konyin Ayuba have made us do a double take with their quarantine-produced, remotely-shot anthology about human loneliness, connection, and cam sex in their six-episode series Khaki Is Not Leather. While almost all the episodes are an A24 wet dream (meant in the most complimentary way, of course), "Tilda" is the standout. Led by Damien Lemon and Yaya Williams, the short captures the hilariousness of a most unplanned break from horniness and the hopefulness of finding a match in a most unlikely place.
"We Forced a Bot to Watch 1,000 Hours of Holiday Movies, Then Write Its Own," by Keaton Patti
Keaton Patti has long been sharing little snippets of scripts he "forced a bot" to write after feeding it examples of similar content on Twitter; he even recently turned it into a book. But the results have never been as uncanny as they are in this short he made for Netflix that's simply overstuffed with holiday contrivances and gloriously cheap computer animation, all building into a nearly unintelligible stew of tropes that would fit in perfectly if the Hallmark Channel ever wanted to start airing Adult Swim-style shorts at 4 a.m.
"Weekend At Bernie's 3," by Brendan Walter and Jon Lullo
Beginning with a card that reads "January 1, 2020," Weekend At Bernie's 3 expeditiously unpacks the only plausible explanation for how we got into the mess that was — and still is — 2020. Ryan Simpkins plays a kind of Winston Wolfe for the task economy as she tidies up a house party turned bloodbath in what is apparently a possessed Airbnb run by an Alexa-like home assistant called C.O.B.Y. (voiced by "Weird Al" Yankovic). It's bleak and horrifying and very fun — assuming, of course, that January 1, 2021 is a whole fuck of a lot different.
"Zoom Christmas," by Kat Palardy
Maybe we should all be making a little less fun of ol' Dolly in the wake of her (humanity saving?) generosity this year. We should, but we won't. Comedian Kat Palardy's impression is just too good, and the "Zoom Christmas" ballad ain't half bad either. Go ahead, get all your relatives back on the proverbial "horn" and get to practicing.
Like what you saw? Want to be on this monthly roundup? Show us your stuff! 
Luke Kelly-Clyne is president at Big Breakfast and a watcher of many web videos. Send him yours at @LKellyClyne.
Graham Techler performs at the Upright Citizens Brigade Theatre and contributes writing to The New Yorker. Send him your videos at @gr8h8m_t3chl3r.