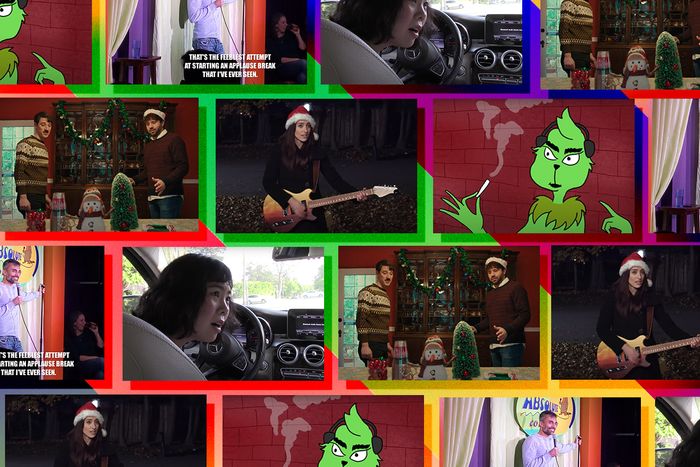 Photo-Illustration: Vulture; Photos: Pardis Parker/YouTube, GoodCopGreatCop/YouTube, Jenna Laurenzo/YouTube, NoBudge/YouTube, Dan Yang/YouTube
Each month, many funny videos are posted to every corner of the internet — from Twitter and Instagram to Vimeo and sometimes other weird places we'll have trouble embedding. Because you're busy living your life, you might miss some of these funny videos and feel left out when others bring them up in conversation. Well, worry not! We're here to make sure you're not listening in on conversations but leading them … as long as those conversations are about funny internet videos. Here, our favorite comedy shorts of the month.
"Every Holiday Love Movie," by Trey Kennedy
Is it the most original? No, but the multiple hand towels over the shoulder got us good. Plus you can see every single holiday movie past, present, or future just by spending a minute or so on this clip. Call that yuletide efficiency.
"Failed Applause Break," by Pardis Parker
It's amazing to see a funny comedian become a great comedian. We've been on the Pardis Parker train for some time, and our coverage here isn't meant to disparage the set we covered earlier this year in any way. It was fun. This latest one just shows a performer who's found his comfort zone. He jokes about performing in the middle of the lineup. He won't be for long.
"Holidays," by Good Cop Great Cop
This new sketch from the always excellent duo Good Cop Great Cop (Matt Porter and Charlie Hankin) delivers everything we've been missing from them during their hiatus from making videos that ended last month. This particular video is filled with holiday cheer, holiday decision-making, holiday disagreements, and men in hazmat suits.
"How to Fire Someone (With Jules and Jonas)," by Mike Lars White, Lanie Lim, and Michael James Wong
Sure, The Office danced around terrain with some crossover, but Lanie Lim and Michael James Wong's totally improvised single take of Wong preparing to fire an employee while Lanie critiques his methods is pretty impressive. They're clearly both smart and intuitive, which makes them performers to watch.
"Joe Rogan Interviews the Grinch," by Dan Yang
Every podcaster in Austin liked Christmas a lot. But Joe Rogan, who had recently relocated to Austin, was interviewing the Grinch, who did not (like Christmas). This animated short from Dan Yang — who provides the voice of the Grinch himself — sees Rogan's mind routinely blown by the Grinch's recollection of his Whoville antics. If your heart is two sizes too small, maybe amanita muscaria mushrooms can help with that.
"The Paranormal Communicator," by Michael Benjamin and Tyler Miguel Mercer
Michael has arrived at the site of a young man's murder to possibly commune with his spirit and discover the grisly circumstances behind his death. "I'm not a ghost hunter; I'm a spiritual medium," clarifies Michael. "But an Old Navy extra small," he adds. So begins his charming investigation written by and starring Michael Benjamin and directed by Tyler Miguel Mercer with a great assist from Alex Song-Xia as the murdered man's oblivious sister.
"POV: Your College Roommate's Friend From Home Visits, Part 2," by Will Angus
Calling Judd Apatow. The kid's got the goods. Will Angus is an employee at Instagram-meme powerhouse Friday Beers. He's also just the thing they need to start branching out past curated content and into original comedy. And then, beyond the accolades, this is just insanely accurate for a very large subset of the college-going population, and that makes us excited (read: so glad to be out of our 20s). Here's "Part 1" if you're into thinking linearly.
"Quar Quar Binks," by Mike Hanford
This video depicts one-half of Mike Hanford's extended conversation with the NYC Test & Trace program letting him know how to proceed in life after testing positive for COVID. "Can I drink someone else's sweat?" he asks. "Can they drink my sweat?" This has nothing to do with Jar Jar Binks that I can tell, but maybe I was just distracted by Hanford's soothing harmonies.
"Tucci Talkin' Tucci With Stanley Tucci," by Tyler Foltz
Stanley Tucci has been around forever, it seems — a staple in our shared American-entertainment diaspora. He's versatile in his acting talent and somehow manages to claim that rarified air of a supporting player who is also an A-lister. Lately, he's begun flexing his culinary and mixology chops with a new autobiographical cookbook. And this is a pretty spot-on impression of the Tooch having some fun with that new side hustle. Here's another installment for a second helping of some old-world fun.
"A Very Girl Night Stand Christmas," by Jenna Laurenzo
Jenna Laurenzo is back with some holiday cringe in this latest installment of her Girl Night Stand series (we covered "Chapter Two" earlier this year). But like each that has come before it, "A Very Girl Night Stand Christmas" artfully blends squirmy awkwardness with raw emotion — this time most successfully. It's a feel-good Stand!
"Young Santa," by Lisa Gilroy
Watch the video, then read the caption before you watch it a second time. You'll be blessed with a whole new understanding of why Lisa Gilroy is standing with her arms crossed for most of the clip and why the slide-in she does at the very end is the unintended cause of this unique high art.
Like what you saw? Want to be on this monthly roundup? Show us your stuff! 
Luke Kelly-Clyne is president at Big Breakfast and a watcher of many web videos. Send him yours at @LKellyClyne.