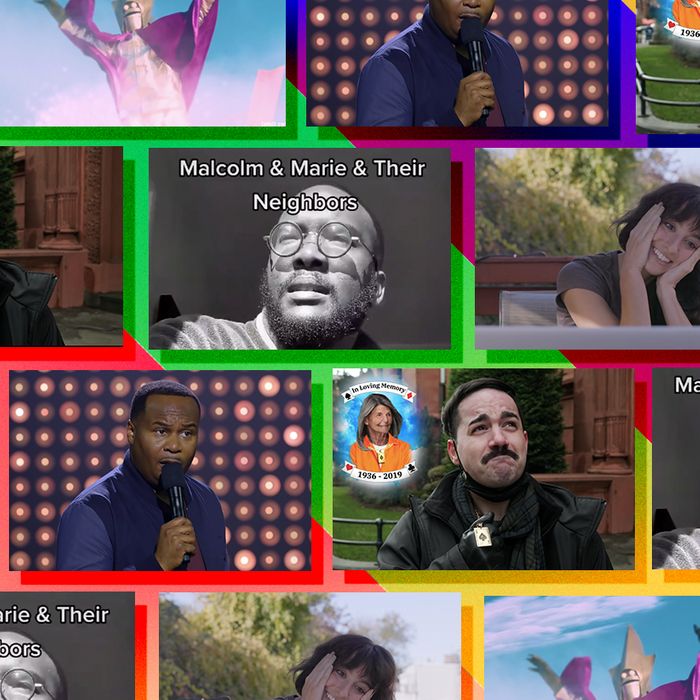 Photo-Illustration: by Vulture; Photos by Ryan_Ken_Acts/Twitter, Jenna Laurenzo/YouTube, Adult Swim/YouTube, Christiana Lopez/YouTube and Comedy Central Stand Up/YouTube
Each month, many funny videos are posted to every corner of the internet — from Twitter to Instagram, Vimeo, and sometimes other weird places we'll have trouble embedding. Because you're busy living your life, you might miss some of these funny videos and feel left out when others bring them up in conversation. Well, worry not! We're here to make sure you're not listening in on conversations but leading them … as long as those conversations are about funny internet videos. Here, our favorite comedy shorts of the month.
"Boston Mayor Marty Walsh at His First Day on the Job As Secretary of Labor," by Julia Claire
Few things are funnier than a strong but casual Boston accent, and this impression of Boston mayor and Labor secretary-in-waiting Marty Walsh from Julia Claire is a perfect example. Claire's Walsh is a chummy working man who'd be just as at home at a potluck as at a union meeting. Let's hope that if Walsh is confirmed as secretary of Labor, his tenure is more successful than his attempts to make "Roadrunner" the official anthem of Massachusetts.
"Girl Night Stand: Chapter Two," by Jenna Laurenzo
From writer, director, and producer Jenna Laurenzo comes the sequel to viral short Girl Night Stand. The original has garnered over 14 million YouTube views to date and inspired the Bobby Farrelly–produced, Laurenzo-directed feature Lez Bomb. Now, Jenna's back with Girl Night Stand: Chapter Two, something of a COVID love story, punctuated by the clunky-but-fun reality of awkward romance that's come to define Laurenzo's work.
"Starting to Think My Roommate Is From the Future," by Martin Herlihy
In the first ten seconds of this new sketch from Martin Herlihy, you may think that you've gotten ahead of the character. But that just means that Herlihy has you exactly where he wants you. This rapid-fire video goes through every possible angle on the central joke you can imagine, and then moves on to angles you definitely didn't imagine. Like all of Herlihy's videos, the joke-per-second ratio is as favorable as it gets.
"It's the 2000s, and You're a Famous Singer Being Interviewed by Someone Who Cares About You," by Melissa Lozada-Oliva
This month revived the discussion of the media's treatment of Britney Spears and young pop stars in general, with several horrifying videos of old interviews surfacing in which the attitude of the interviewer ranges from condescending to shockingly aggressive. "If I could, I would turn her skin into several lamps and a bag for myself," says Melissa Lozada-Oliva in this excellent video parodying those interviews with laser accuracy.
"Malcolm and Marie's Neighbors Have Had Enough," by Ryan Ken
Malcolm & Marie, the new romantic drama about an arguing couple from Euphoria creator Sam Levinson, was released this month to decidedly mixed reviews. This video from Ryan Ken, in which the couple's neighbor watches in concern as Malcom's solipsistic monologuing goes round and round in circles and wonders whether he should intervene, got unanimous praise, and with good reason.
"S.T.A.R.H.A.W.K.S.," by Graham Mason
Ikechukwu Ufomadu commands this X-wing Starfighter-esque brigade of misfits known as S.T.A.R.H.A.W.K.S. But the mission of the week gets a little more dire when one of the Hawks (Carmen Christopher) crashes his fighter plane, forcing the rest of the group to reflect on their complicity in his alcoholism and drug use. With a full cast of alt-comedy standouts like Eudora Peterson, Peter Smith, Edy Modica, Clare O'Kane, Wes Haney, and Anthony Oberbek and produced by Lexi Tannenholtz of La Bruja, keen readers will clock that this one's a real round-up of Vulture favorites.
"Unaired Jeep Superbowl Commercial," by Tim Dillon
You need only sneak a peek at Tim Dillon's Twitter (more specifically, his pinned tweet) to see how little he gives a shit about your feelings or the things you like. The vitriol could come off as annoying or even offensive if sprung from a tongue less silver. True to form, Dillon's critique of our country's reflexive and (increasingly?) meaningless calls for "unity" as presented by a fake Jeep Super Bowl commercial feels like just the thing to curl up with on a cozy, post-coup COVID afternoon.
"The Vaccine PSA That Goes Very, Very Wrong," by Christiana Lopez and Yves Armand Albaret
This one made the list both for its textbook adherence to good old clean joke heightening, a deserved indictment on anyone paying to jump the vaccine line, and a heartwarming coda of earnest bloopers that reminds us how cathartic it can be to produce videos with your friends.
"Weird Guy Sends Weird Email," by Justin Linville
We'd be lying if we said this wasn't the video we probably watched the most this month. It's very short, very simple, and — with the lo-fi soundscape behind it — very soothing. In it, a weird man sends a weird email with a very straightforward sentiment, but it tickles us the same way every time.
"What Every Civil Rights Movie Is Like," by Roy Wood Jr.
A blast from the comedy-special past. Even though this one's from way back in 2017, we must bring back to the forefront this segment from Roy Wood Jr.'s special Father Figure because it's, unfortunately, more relevant than ever. See, Mr. Wood isn't shy about admitting he cries during civil-rights movies. And on an unrelated note, sometimes he needs to set cashiers at Best Buy straight. But, see, it's really not unrelated. The way these two bits connect prove why Father Figure is worth a watch, and why Wood is one of the smartest performers working today.
Like what you saw? Want to be on this monthly roundup? Show us your stuff! 
Luke Kelly-Clyne is president at Big Breakfast and a watcher of many web videos. Send him yours at @LKellyClyne.
Graham Techler performs at the Upright Citizens Brigade Theatre and contributes writing to The New Yorker. Send him your videos at @gr8h8m_t3chl3r.