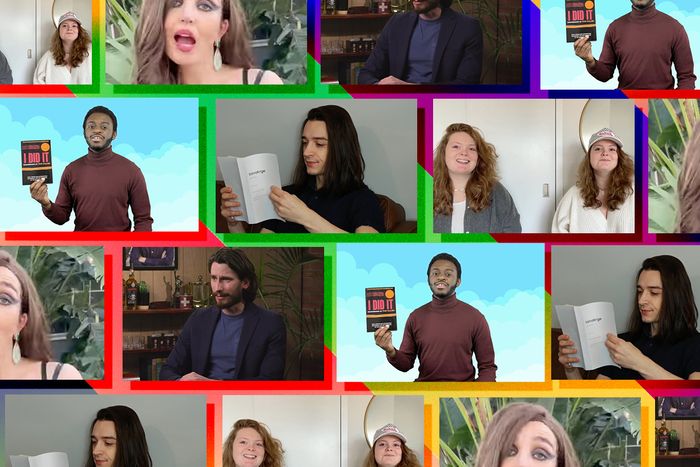 Photo-Illustration: Vulture; Photos by Skyler Higley/Twitter, mr. joshua/Twitter, Ms. Grace Kuhlenschmidt/Twitter, Chloe Fineman/Instagram, teenwheelstv/YouTube and phil/Twitter
Each month, many funny videos are posted to every corner of the internet — from Twitter and Instagram to Vimeo and sometimes other weird places we'll have trouble embedding. Because you're busy living your life, you might miss some of these funny videos and feel left out when others bring them up in conversation. Well, worry not! We're here to make sure you're not listening in on conversations but leading them … as long as those conversations are about funny internet videos. Here, our favorite comedy shorts of the month.
"Constant Super Bowl Advertising," by Gareth Reynolds
The only thing better than a last-second Super Bowl comeback? A barrage of not-so-subtle in-game advertisements spewing from the juicy lips of a commentator who is bursting out of his slim-fit windowpane suit talking game terms while wedging in everything from tax advice to auto insurance. Gareth Reynolds nails it.
"An Intimate Conversation Where Men Talk About Their Penises," by George Kareman and Dan Klein
From the minds of the creators behind the incomparable Two Guys Who Hate Each Other comes a piece from last summer that we missed and would now like to highlight in the hopes it lifts you out of the doldrums of winter. A group of men "share" by discussing their totally expected and banal sexual preferences. That's the whole schtick, and it's a good time.
"It's Reading Time!" by Problemagic
Troy, the host of a Reading Rainbow–esque show on public television, just wants to read one of the countless, conceivable, unproblematic options there are if you want to read something to kids on TV. But the hand handing him stuff has other ideas. We feel for you, Troy. You're just trying to do the right thing. We hope that your wife reconsiders her choice to leave you for your brother.
"Pairing MrBeast Burger With Riunite Lambrusco," by Steven Wong
Mostly editor Steven Wong steps in front of the camera for this one as he serves up an oldie-but-goodie episode of his Fast Food & Wine Pairing digital series with a steady deadpan. The jokes seem like they almost come against his will, and that's what makes them so special. Wong's kind of dogged commitment to (brilliant) weirdness is what the internet was invented for.
"Reading the First Page of Any Sci-Fi Novel," by Phil Jamesson
Reading is hard work, and we applaud anyone who puts themself out there and does it. But we applaud you even harder if you're diving into a canonical classic of science fiction where none of the stuff you're reading makes any sense. Such is the problem faced by Phil Jamesson as he reads the first page of a truly classic work filled with a world and characters and proper nouns and verbs from a hyperactive imagination.
"A Religious Experience," by Whitley Watson and Pavel Ezrohi
Classic noir gives way to extreme oddity in this art-house short that explores how one goes about getting the Illuminati on one's side. It's a tough regimen, but, if mastered, could result in vast wealth, fame, and the swift death of a few enemy neighbors.
"Twins Who Met on Bumble," by Grace ​​Kuhlenschmidt
Those advertisements in which success stories from dating apps are flaunted in our faces are generally really boring, but not when they're done by Grace ​​Kuhlenschmidt (whom you might recall as a standout cast member from the final season of Search Party). Here, ​​she introduces us to two identical twins who met on Bumble despite doing enough DJ-ing to qualify for Raya. To answer the question everyone asks: Yes, they did hook up, but only for a little bit after they found out that they were twins.
"Uncut Jaaaams," by Chloe Fineman
For years Chloe Fineman has been next-level at pinpointing the oft-missed specificities of celebrity personas to create eerie-good impressions. Just in time for Julia Fox's split from Kanye and a New York Times–praised experiment in eye makeup comes Fineman's take on the fashionista "Mah-hat-en"-ite.
"Untitled," by Josh Mecouch
Josh Mecouch's single-panel cartoons are unilaterally fantastic, squiggly little wonders that Jules Feiffer would envy, so it's just one of the simple joys of the internet to log on and see one move. This short and subtle animation perfectly captures the spirit that animates all of his drawings and their world of weird little men confidently announcing themselves to the universe.
"When the Protagonist Goes Viral and It Changes Everything," by Chandler Dean
This quick and canny video from Chandler Dean gets at one of the incongruities nagging at the back of our modern brains as we consume media presumably created by other modern brains: Why do people in movies and on TV act like "going viral" really accomplishes anything? Not that it's not a little ego boost, but come on, does getting 100,000 views on a video really propel you into act 3? When you're playing the role of Friend of Protagonist, it's certainly your job to make them think so.
Like what you saw? Want to be on this monthly roundup? Show us your stuff! 
Luke Kelly-Clyne is president at Big Breakfast and a watcher of many web videos. Send him yours at @LKellyClyne.
Graham Techler has contributed writing to The New Yorker and McSweeney's Internet Tendency. Send him your videos at @gr8h8m_t3chl3r.