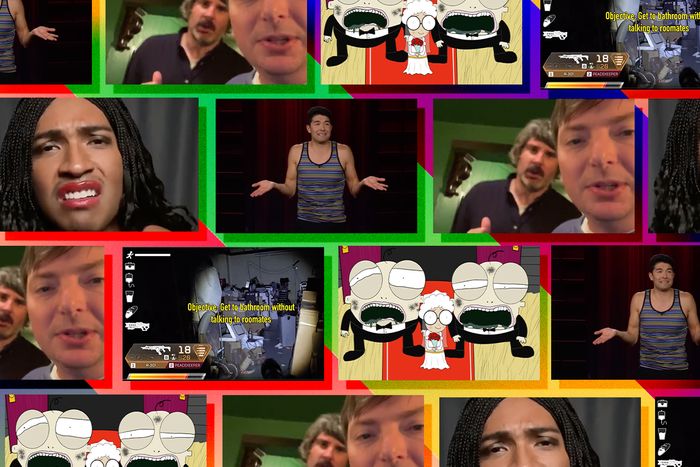 Photo-Illustration: Vulture; Photos: @larrygayvid/Twitter, The Late Late Show with James Corden/YouTube, @samuel_lanier/Twitter, Michael Chau/Vimeo
Each month, many funny videos are posted to every corner of the internet — from Twitter and Instagram to Vimeo and sometimes other weird places we'll have trouble embedding. Because you're busy living your life, you might miss some of these funny videos and feel left out when others bring them up in conversation. Well, worry not! We're here to make sure you're not listening in on conversations but leading them … as long as those conversations are about funny internet videos. Here, our favorite comedy shorts of the month.
"Alpha Dads at Their Sons' Game," by American High Shorts and Krab Videos
Jeremy Garelick's American High film studio is making good use of the high school they built in upstate New York. Instead of just using it as the backdrop to a revolving door of movie shoots, they've started to National Lampoon themselves into what some might call a 360 content pipeline with American High Shorts. (For the layperson wanting an insufferable mini-lecture: A 360 content pipeline is buzzword biz-speak for making things that might be adapted into other creative forms outside of the first form they take, like books to movies to podcasts about the book or movie, etc.)
"Angela Bassett Did the Thing Ariana Debose Was Talmbout," by Calvin Seabrooks
The Oscars haven't even happened yet, but 2023 has already generated its requisite uncomfortable awards-show moment that is going to outstay its welcome as it's referenced ad nauseam forever. On the other hand, it's graced us with something the culture (to our knowledge) did not already have and may not have known it desperately needed: a truly excellent, spot-on impression of Angela Bassett. We can only hope that her inevitable Oscar win will give Calvin Seabrooks more and more chances to flex this one.
"Arthur Pickles," by Baphta
Tim Kov and Andy Ward are ordinarily referred to as comedy duo Baphta. But Ward, at least in this video, is known as Arthur Pickles. Pickles is the embodiment of churlishness disguised as curiosity, passive-aggressive pompousness veiled in a cloak of fumbling glee. In essence? A try-hard poser of the most entertaining magnitude. And who is Kov? Why, Pickles's documentarian. Of course.
"As the Bard Himself Once Said …" by DJ Mausner
DJ Mausner's interpretation of what a dog might be thinking if its thoughts were translated is enough to make Shakespeare proud — and very, very confused. Part sketch and part dog-eared interpretation of Hamlet, this one takes risks that surprisingly pay off.
"Dylan Adler Stand-up," by Dylan Adler
As a rule of thumb, we generally try not to feature videos that premiered on national television to an audience of millions, but exceptions must be made in exceptional cases. We've been following Dylan Adler's career and featuring his videos in this column for a while, so it warmed our hearts to see him make his late-night stand-up debut on The Late Late Show and crush it this hard.
"The Elysian Theater," by Mike O'Brien
SNL veteran and A.P. Bio creator Mike O'Brien livestreams a show he's attending at L.A.'s blackbox Elysian Theatre and then runs into an angry, never-been-kissed 40-year-old (played by Ben Seeder) posing as a bouncer. Sound complicated? Only if you haven't yet indulged in its weird, beautiful nectar. (Note: This video didn't have a title, so we called it "The Elysian Theater." Thanks, geotagging!)
"Had to Try This Trend," by McShirehampton
I don't even know how to explain this TikTok effect where people dance and seem to snatch their hands and clothes out of thin air as they zoom toward them like DDR arrows. But I do know that this is the only video featuring that effect that has made me laugh even close to this hard. Death comes for us all, and our greatest folly is pouring water on our heads while we try to outrun it.
"Mama Frizby's Sick Boys," by Michael Chau
A con man gets more than he bargained for when he attempts to seduce an elderly, wealthy widow. "You're a beautiful woman, and I'm a beautiful man," says Jimmy Conman. "I don't think your husband's rotting corpse would want you to pass up on such a beautiful thing." Unfortunately, this particular elderly, wealthy widow comes with two revolting, bile-vomiting twin sons that will need to be dealt with. Twist after twist unveil in true Stephen King–Daphne du Maurier fashion. If you have a stomach for Sick Boys, you won't want to miss it.
"My Bubby Kenneth Talkin About His Son Goro …" by Bubby Wade
If Danny McBride characters were animated, they might best be brought to life by Bubby Wade's Instagram. Plenty of super-detailed and disturbing ruminations on the human form and accoutrement. Teen Mom accents. A commitment to crude simplicity in all thought. It's perfect.
"Objective: Get to Bathroom Without Engaging Boyfriend's Roommates," by Simple Town
Another banger from Simple Town, this time depicting one woman's Resident Evil style journey to use the bathroom without getting sucked into a boring conversation with her boyfriend's NPC roommates. The behavior of those roommates, played by Sam Lanier and Felipe Di Poi, are rendered with such pitch-perfect PS1 uncanniness that Simple Town achieves something both hilarious and genuinely unnerving at the same time.
Like what you saw? Want to be on this monthly roundup? Show us your stuff! 
Luke Kelly-Clyne is a co-head of HartBeat Independent and a watcher of many web videos. Send him yours at @LKellyClyne.