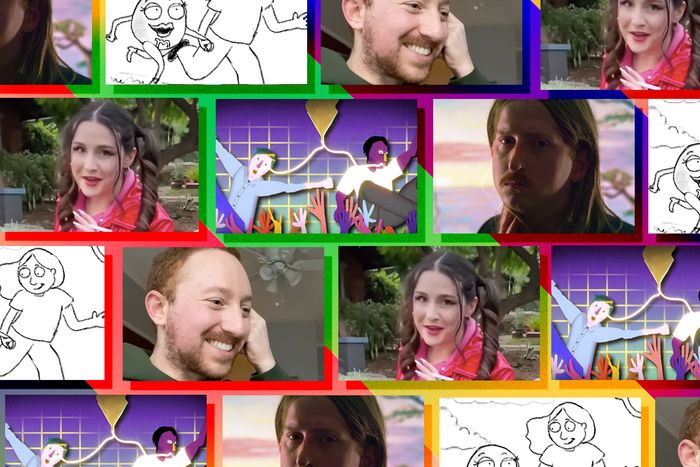 Photo-Illustration: Vulture; Photos by bryanbstray/YouTube, sex_is_weird/Instagram, jeremylevick/Twitter, sydandolivia and ocdelaurentis/Instagram and Adult Swim/YouTube
Each month, many funny videos are posted to every corner of the internet — from Twitter and Instagram to Vimeo and sometimes other weird places we'll have trouble embedding. Because you're busy living your life, you might miss some of these funny videos and feel left out when others bring them up in conversation. Well, worry not! We're here to make sure you're not listening in on conversations but leading them … as long as those conversations are about funny internet videos. Here, our favorite comedy shorts of the month.
"Atheists in Christian Movies," by Syd Heller and Olivia DeLaurentis
Hallmark movies are 100 times better than most faith-based films. Think about that. Think about what's just been said. Yes, most (not all, sure) of movies driven primarily with a faith-based component are so bad that they make underwritten shlock seem like high art. But at least for those of us who are going to hell, that's precisely what makes them so appealing. Here, writers and stars Heller and DeLaurentis perfectly capture the nonbeliever characters in every "San Fernando Valley high-schooler for Christ" contribution to the faith-based canon.
"Background Actors in the Harry Potter Reunion Special," by Jordan Mendoza and Brooks Allison
The much-hyped Harry Potter reunion special debuted on New Year's Day and gave us a chance to look at some of the stories behind the stories behind the people behind the people behind the films. For example, Philip Kelly (Jordan Mendoza) and Andrew Rice (Brooks Allison), two background child actors who whose classic-comedy dynamic of "guy with low voice and guy with high voice" made them instant standouts amongst the hundreds of extras in Harry Potter and the Sorcerer's Stone even if they didn't have any lines. And yes, they did talk to Daniel, Rupert, and Emma, and no, they weren't supposed to.
"Guy in the Macbeth Universe Trying to End a Call With His Buddy He Used to Work With as a Sentry," by Jeremy Levick
Joel Coen's The Tragedy of Macbeth was released this month to great acclaim for its bold production design and chiaroscuro lighting. But what of the more mundane corners of the Macbeth cinematic universe? Sometimes you're a king grappling with the weight of prophecy, and sometimes you're a sentry trying to end a phone call with an old co-worker. Seriously, how many times do you have to tell someone "anon" before they take the hint?
"If I Was a Time Traveler," by Lisa Gilroy
Back with her second appearance in as many months is Lisa Gilroy, this time talking to Beethoven (also played by her), as she describes his legacy in our modern day. Is it about the music? Not really. People more know the name for the mediocre Charles Grodin movie, Beethoven, about a giant, rambunctious Saint Bernard. For poor Ludwig, the years have not been kind.
"My SIM Son," by Michelle Gold
You might hate the first 30 seconds of this because it seems kind of amateur. But once you allow yourself to luxuriate in its silliness, what first appears rushed becomes recognizable as a complex and layered execution of the classic family story: a weird, mustached dad attempting to bond with his bald, non-verbal SIM son.
"Power Up for the Weekend," by Marissa Goldman
It's the weekend, and while office workers are off to party, their computers boot themselves up to compare software updates, brag about which of their users are having "sec" (the singular of "sex"), and maybe develop the pop-up problem that could be their downfall in this incredibly colorful animated short created by Marissa Goldman for Adult Swim. Oh, and if you're only going to watch this if there's randomly a zebra, don't worry, there is.
"Ride Around," by Wes and Sara Hennessey, Tynan DeLong, and Alex Winfrey
A ride-along with an ex-law-enforcement officer, requested by an amateur reporter starting her own newspaper — that's the setup for this deadpan ode to small-town curiosity in the face of relentless banality. Starring Wes Haney, Sara Hennessey, and Bardia Salimi, what appears powerfully silly on the surface may have a kind of eerie air of familiarity for many American hamlet-dwellers.
"SeinTrek: The Star Trek & Seinfeld Mashup," by Picard Looking at Goats
This is the Seinfeld–Star Trek mashup we never knew we've always wanted. The piece integrates scene work between two shows that probably couldn't be any more disparate and does so with such aplomb that we really wish two things: that we knew the creator's real name, that a new installment be released.
"Sex Is Weird: Green M&M," by Katy Fishell
Spotted on comedian Katy Fishell's brilliant Instagram, @sex_is_weird: One green M&M–obsessed lady's frenzied soliloquy in the aftermath of big candy's decision to change the "sexy," go-go-booted image of the green candy into a sneaker-wearing, much less sexy, sugar-coated candy loser. Of course this is a joke, an over-the-top commentary on a clear nonissue. But Tucker Carlson took it very seriously, unintentionally making our funniest videos of the month roundup. That's a two-for-one, folks!
"VÄÄMM," by Brian B. Stray, James Austin Johnson, and Andrew Gumm
Directed by Brian B. Stray and written by Stray, Andrew Gumm, and SNL star James Austin Johnson (who also stars as Aalmdvik Marthinsen a.k.a VÄÄMM), the first episode of this web series (presented by "TV55 France") introduces us to the titular expat Swedish music producer living and working in L.A. Few mockumentaries we've seen have captured the frenetic style of the hagiographic TV music doc so accurately or entertainingly, and Johnson's deadpan character-actor easiness makes VÄÄMM fully realized from the moment you meet him.
"Vote for Zorgon," by Home Planet
There's a new, young, maverick politician running for office in New York, and he doesn't care whether you think a half-Zorgon, half–Puerto Rican rabble rouser like him is supposed to. So when you fill in your ballot this election day, ask yourself if any of the other candidates murdered 1,400 Zoogs in the Battle of Jimmy. If you look into your heart, I'm sure you'll find the answer.
Like what you saw? Want to be on this monthly roundup? Show us your stuff! 
Luke Kelly-Clyne is president at Big Breakfast and a watcher of many web videos. Send him yours at @LKellyClyne.
Graham Techler has contributed writing to The New Yorker and McSweeney's Internet Tendency. Send him your videos at @gr8h8m_t3chl3r.