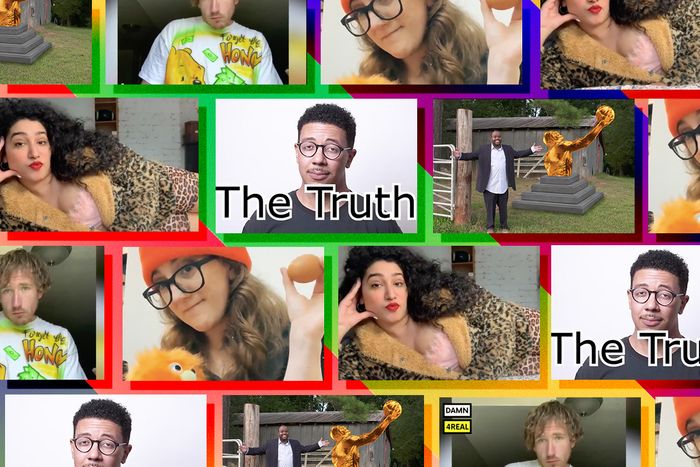 Photo: Vulture, Lida Darmian/Instagram, Ashley Glicken/Twitter, Conner O'Malley/Twitter, Ol' QWERTY Bastard/Twitter and Mark Kendall/Facebook
Each month, many funny videos are posted to every corner of the internet — from Twitter to Instagram, Vimeo, and sometimes other weird places we'll have trouble embedding. Because you're busy living your life, you might miss some of these funny videos and feel left out when others bring them up in conversation. Well, worry not! We're here to make sure you're not listening in on conversations but leading them … as long as those conversations are about funny internet videos. Here are our favorite comedy shorts of the month.
"Buy My Bed, Baby," by BedRock
Nothing is more sensual than a bed — specifically a perfectly good bed purchased at a 50% discount. At least that's the theory proposed by the sketch team BedRock. This sketch (performed by Lida Darmian, written by Ethan David, and directed by Dustin Molina) was a highlight of the team's first show entirely organized and shot at home.
"The Criterion Closet," by Ryan Perez
For several years, the folks at the Criterion Collection have been feeding the film-loving community a steady stream of comforting videos featuring filmmakers, writers, and actors raiding their supply of artful DVDs. Say, Richard E. Grant geeking out over Nashville. Let Ryan Perez in there, however, and you can kiss your copy of Chef goodbye.
"False and Slanderous Attack Ad," by Dillon Stevenson
Our sympathies go out this month to comedian Dillon Stevenson, who was subjected to this indecent political attack ad smearing his career aspirations while digging through his past. Dylan may have spent time on Sesame Street as a kid, but that doesn't mean it was his responsibility to stop the 1994 crime bill from passing. Civility is truly a bygone virtue.
"A Father's Newfound Feminism," by Sophie Kohn
Jon Hamm narrates an ode to woke dad-dom in this 21st century, where some peripheries of the patriarchy are finally realizing it's real fucking weird to monitor their teenage daughters' love lives. Be warned: Terms like "daddy's little girl" are no longer considered cute. Also be warned: They never were in the first place. (Watch it here.)
"Karen — Mask Off Remix (Walmart Diss)," by Eric D'Alessandro
Future's "Mask Off" defined the summer of 2017 thanks to the eerie pairing of gospel samples and foreboding flute riffs born out of Metro Boomin's beat-making treasure chest. It was a song about pharmacology, self-medication, and deciding to drop the facade to reveal the demons within us all. Actor-comedian Eric D'Allessandro's now-viral cover is basically about the same thing, except instead of revealing our inner demons, it shines a light on the most insufferable hell-beast of modern society: the self-righteous, rigorously stupid, red-hat wine moms, oft labeled "Karens." (Apologies to good Karens everywhere — you don't deserve any of this.) A couple of cherry picks from the parody include the intro: "Hello 911. I'd like to report a crime. My local Walmart is forcing me to wear a mask" and the pre-"Mask Off" refrain: "Workers sick, I'll make your workers sick."
"A LeBron Solution for Confederate Monuments," by Mark Kendall
Comedian Mark Kendall is, as far as we know, the first person to suggest a good solution to the issue of the racist statues littering the country that doesn't involve tearing them down. Simply put up a statue of LeBron James dunking on that statue right next to it. Everyone wins! Especially LeBron.
"Introducing Pride: VR," by Grace Thomas
We just missed this Grace Thomas video last month, but while its content is June-specific, her parody of corporate Pride celebrations taken to an extreme should keep the overlords at "Coors Heinz Cigna Halliburton Six Flags" in check for the rest of the year. Attractions at Pride VR include getting to see "Anne Hathaway, Taylor Swift, and Alyssa Milano fight in the Ally Brawl Pit to the death."
"Things You (Probably) Didn't Know About Wheelchairs," by Ashley Glicken
This month marked the 30th anniversary of the signing of the Americans with Disabilities Act, and to celebrate, "licensed wheelchair person" Ashley Glicken (the license is an expired driver's license) graced us with this video illuminating some features of the wheelchair that you may not be aware of. We'll admit to not being wise to this particular feature before now!
"Wonderful Story About Young Man," by Conner O'Malley
In this take on NowThis-esque human-interest stories, Conner O'Malley is shattering the bounds of accepted humanitarianism all the way from his job at the "piss and shit factory." We gotta stand up and recognize. Sir James Corden already has. Well, says Conner.
"Wow, This Is Actually Inspiring," by Jesse McLaren
Okay, ordinarily we wouldn't feature two NowThis parodies in one monthly roundup, but Jesse McLaren served us up something too good to resist. In this short, he pays tribute to the group that's quickly becoming the unsung heroes of the pandemic: people who put in a bare-minimum effort to protect others.
"You Can't Match a Woman's Slickness," by Mike Brooks
About every third post on comedian Mike Brooks's Instagram account features a conversation between Brooks and … his girlfriend (himself in the breathy high pitch every man has probably done to poorly imitate their significant other at one time or another). In these tiny gems, Brooks covers all manners of common weekend chatter, from double dates to last night's turnup and lying for your ride-or-die ladies.
Like what you saw? Want to be on this monthly roundup? Show us your stuff! 
Luke Kelly-Clyne is president at Big Breakfast and a watcher of many web videos. Send him yours at @LKellyClyne.
Graham Techler performs at the Upright Citizens Brigade Theatre and contributes writing to The New Yorker. Send him your videos at @gr8h8m_t3chl3r.