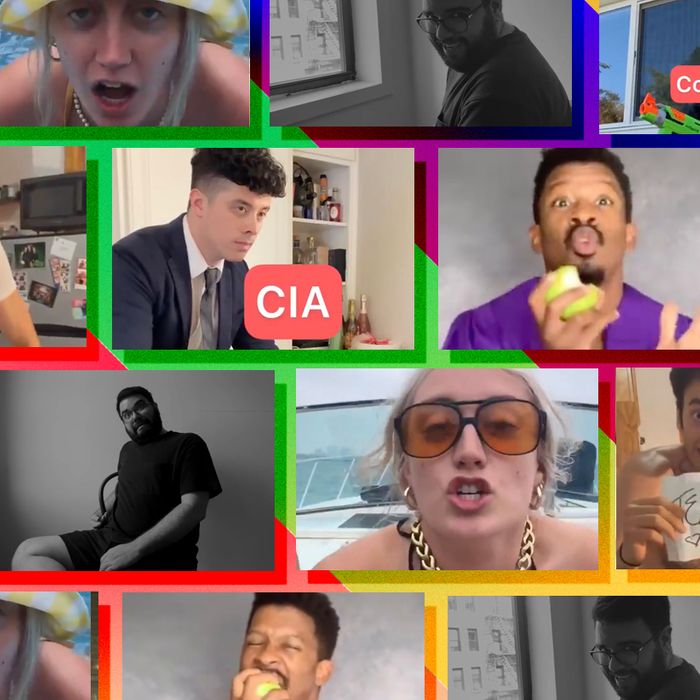 Photo-Illustration: Vulture; Photos: James III/Twitter; Alex Bigelow/Twitter; Akhmal Tajihan/Instagram; James Rehwald/Twitter; Gianmarco Soresi/Twitter
Each month, many funny videos are posted to every corner of the internet — from Twitter to Instagram, Vimeo, and sometimes other weird places we'll have trouble embedding. Because you're busy living your life, you might miss some of these funny videos and feel left out when others bring them up in conversation. Well, worry not! We're here to make sure you're not listening in on conversations but leading them … as long as those conversations are about funny internet videos. Here, our favorite comedy shorts of the month.
"Every Guy on 90 Day Fiancé Going on a Date," by John Trowbridge
Few shows on television manage to walk the line between heartbreak and hilarity better than 90 Day Fiancé. It's a programming unicorn and, as such, public fascination is peaked and parody abounds. But the level of specificity delivered by comedian John Trowbridge here, and also here and here? The man has a gift. Case in point: "I make Family Guy costumes for dead bodies." Never forget.
"Clinical Randomness," by Akmal Tajihan
We've all heard the phrases: "That's so random." "Um, random." "How are you … so random right now?" But we've never really taken to heart what a troubled and deeply annoying existence the clinically random lead. Until now, that is. Watch as Akmal Tajihan discusses his lifelong struggle with living a random life.
"Girl at Bachelorette Party Who Can't Stop Talking About Pirates of the Carribean: Dead Man's Chest," by Alex Bigelow
Many pioneers of indie cinema, from John Cassavetes to Robert Rodriguez to the Duplass Brothers, have all stressed one thing: Take advantage of the resources at your disposal. Which is to say that if you are about to go to a bachelorette party with a bunch of locations and free extras and you don't do a bit about a girl who is obsessed with one of the unfairly maligned Pirates of the Carribean sequels, then that's sort of a betrayal of the art form, isn't it? Luckily, Alex Bigelow did.
"The Guys Send the Bachelorette Home," by John Marshall Warder
From bachelorette parties to The Bachelorette, we love us some pre-betrothal content here at Vulture, and that's why John Marshall Warder's recut of the latest season of The Bachelorette strikes solid gold. Through preciously unpretentious editing and some bootstrappy pick-up shots, we see what it would look like if season 19's Katie Thurston got the old heave-ho from a group of dudes who decided that true friendship was more important than true love.
"If Bane Were Played by Michael Cera," by Nate Meeker
You had no idea you needed it. But once you watch this bad boy, the copy-paste fingers are gonna be flying and group chains everywhere are going to be eating up some serious data. And the story doesn't end with Nate Meeker mashing up a Superbad stud with a DC despicable, no, no. Meeker is an impression all-star, tackling everyone from Jesse Eisenberg to Jason Bateman to Sebastian Maniscalco and, yeah, Michael Cera playing Dominic Toretto from the Fast & Furious franchise.
"Join the CIA Today," by James Rehwald
The long and storied history of the CIA's opportunistic meddling in world affairs, only to see it blow up in their faces on American soil, is given the 60-second TikTok treatment in this incredibly kinetic and inventive video from James Rehwald, who plays every role (even if that means waterboarding himself). It's a globe-trotting real-life tale of intrigue and corruption, delivered so succinctly and with such panache Steven Soderbergh himself must be green with envy right now.
"Kang Eats an Apple," by James III
Jonathan Majors made his MCU debut this month as Kang the Conqueror. Or, technically, He Who Remains. Or, he's sort of a composite character with Immortus. It doesn't matter. What matters is that Majors literally made a four-course meal out of his limited screen time, chewing on the scenery as well as a celestial Granny Smith. The apple forms the cornerstone of this great impression from James III (Astronomy Club), who finds that the Granny Smith is a little more than even the architect of time itself can handle.
"The Lucas Museum of Narrative Art," by Connor Ratliff, Casey Jost, and Baldy Comics
Why make a (presumably on-spec) music video that serves as an advertisement for a museum named after George Lucas that isn't slated to open until 2023? If you're familiar with the career of Connor Ratliff, host of the cult stage and online show The George Lucas Talk Show, that's an extremely redundant question. The result, delivered by Ratliff, Casey Jost, and Baldy Comics, is an incredibly charming animated short wherein Lucas (Ratliff) guides us through what his museum has to offer. Ratliff's impression of Lucas has always been refreshingly empathetic to the creator, underlining his earnestness and enthusiasm for the worlds he's created. This video is a perfect summation of that worldview.
"My GF Had No Idea What Was Coming," by Gianmarco Soresi
A man's attempt to surprise his girlfriend with an elaborate gesture technically succeeds in this video from comedian Gianmarco Soresi, but probably not the way he intended. This one goes out to all the girlfriends who have been waiting to come home to a living room full of balloons, and I guess it also goes out to all the boyfriends who have decided to get one or more tattoos of something just because they think it's cute.
"The Writer's Process," by Maggie Smith
Ah, writers — those silver-tongued scribes who soak in the world as they see it and pour it onto the page for us to reflect upon. How do they hone their skill with the pen? Maggie Smith was kind enough to give us a peek behind the curtain, revealing that getting a writer to write is like getting a toddler to do anything. She'd rather be spun around in a chair or make sure the apartment is totally free of dust. "I can't," she says, wincing as she touches her face. "I have acne." Who could write under these conditions?
Like what you saw? Want to be on this monthly roundup? Show us your stuff! 
Luke Kelly-Clyne is president at Big Breakfast and a watcher of many web videos. Send him yours at @LKellyClyne.
Graham Techler has contributed writing to The New Yorker and McSweeney's Internet Tendency. Send him your videos at @gr8h8m_t3chl3r.