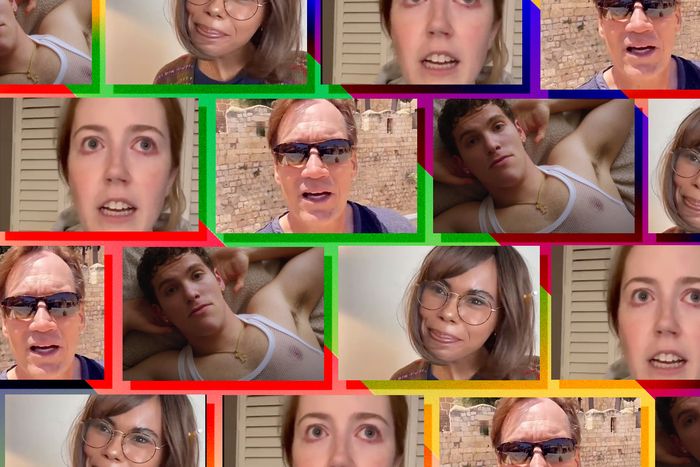 Photo-Illustration: Vulture; Photos by SydneyBattle/Twitter, Kyle Matthew/YouTube, nickciarelli/Twitter, and kimquindlen/Twitter
Each month, many funny videos are posted to every corner of the internet — from Twitter and Instagram to Vimeo and sometimes other weird places we'll have trouble embedding. Because you're busy living your life, you might miss some of these funny videos and feel left out when others bring them up in conversation. Well, worry not! We're here to make sure you're not listening in on conversations but leading them … as long as those conversations are about funny internet videos. Here, our favorite comedy shorts of the month.
"Catisfaction," by Andre Almeida
LISTEN NOWThis is one of the most inspired, odd, and subtly hilarious animated shorts we've ever featured. Andre Almeida's bite on 3-D character design and world-building makes us feel like we're watching Vince Gilligan's interpretation of Wallace & Gromit. Mr. Almeida needs a call from Pixar or DreamWorks stat. Or should we say … cat? (Sorry.)
"Dads Talking About the Backyard," by Nicky Cass
There's something about Nicky Cass's imitation of older, potbellied Italian American men that just revolutionizes the well-trodden territory. It's why we're featuring his work two months in a row. He has clearly lived amidst these characters his whole life, and it shows. Our favorite part of this one is the abrupt back turn to the neighbors' yard and yell-to-whisper voice lowering when he's about to talk some shit about their fence politics.
"Ferris," by Austin Kolodney and Kyle Matthew
John Hughes nostalgia meets Euphoria-inspired Gen-Z alt-core in this trailer parody of Ferris Bueller's Day Off. What a sentence! But the piece lives up to the hype: It perfectly blends the comfortably silly with the needlessly intense. Kyle Matthew, Kara Royster, and Nirvan Patnaik show that when you mix teenage ennui with relentless self-seriousness and set it all against the backdrop of one of the most beloved high-school movies of all time, you get a video you should think twice about playing hooky on.
"POV: Your Middle School Theater Teacher Just Heard a Girl Call Herself an 'Actor,'" by Sydney Battle
There are no pettier petty tyrants than middle-school theater teachers, and Sydney Battle's take should be next to the phrase "middle-school theater teacher" in the encyclopedia. In this video, Battle shuts down a child who deigns to take on the mantle of "actor" before they are ready. For any current or former theater kids out there, it will give you flashbacks.
"POV: You're Ordering at the Restaurant from The Bear," by Kim Quindlen
FX's The Bear has taken the internet by storm in its depiction of high-stakes tension and full-mouth yelling within a Chicago sandwich shop. But what about the spectators who are forced to bear witness to all that yelling? Kim Quindlen hilariously renders the psychological toll this takes on sensitive souls who don't need a sandwich all that badly if this is how stressful it's going to be.
"POV: It's July 4th," by Lisa Albano
Lisa Albano spits out pointed, Whit Stillman–esque barbs of snobbish superiority at an astonishing rate for any party, let alone a standard July 4 barbecue. Whether she's using an enormous sun hat to create a radius that keeps her haters at bay or complaining about someone else complaining about their kids at summer camp, you won't be able to get a word in edgewise.
"Protest Photography," by John Connor Hammond
Better late than never. We missed this one when it came out last year but felt it needed a shout-out anyway. Especially in a culture where virtue signaling as a practice gains more and more traction by the second, John Connor Hammond's PSA should be taken as a warning as much as a joke. The human race is becoming increasingly insufferable, and the aliens may soon tire of us altogether. So no more posting black squares on Instagram while sipping Palomas, please.
"These Mobile Game Ads Are Wild," by Nick Ciarelli
There's getting a celebrity on Cameo to say something silly for our entertainment, and then there's recruiting Kevin Sorbo to hawk your fake mobile game that appears to be only microtransactions, which quickly becomes an "In Memoriam" that I am sure was not included in the copy Mr. Sorbo was sent. That's the Nick Ciarelli difference.
"A Wine Sommelier at a Tasting," by Miranda Rozas
Sommeliers always take an obnoxious amount of pride in being able to discern the age and vintage of a wine with an accuracy that would stupify a hayseed layperson. But the one played by Miranda Rozas in this video has a sixth sense for discerning even more details surrounding the wine's creation — with hilarious results.
Like what you saw? Want to be on this monthly roundup? Show us your stuff! 
Luke Kelly-Clyne is a co-head of HartBeat Independent and a watcher of many web videos. Send him yours at @LKellyClyne.
Graham Techler has contributed writing to The New Yorker and McSweeney's Internet Tendency. Send him your videos at @gr8h8m_t3chl3r.