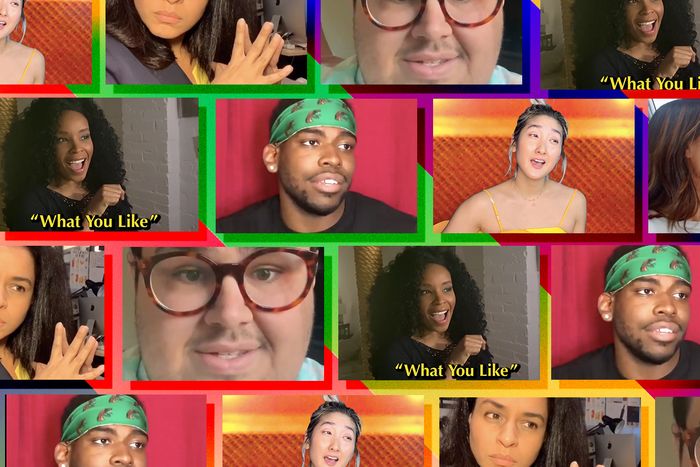 Photo-Illustration: Vulture, Woody Fu/YouTube, Late Night with Seth Meyers/YouTube, sarahcpr/Instagram, Jeff Wright/Twitter and Caleb Hearon/Twitter
Each month, many funny videos are posted to every corner of the internet — from Twitter to Instagram, Vimeo, and sometimes other weird places we'll have trouble embedding. Because you're busy living your life, you might miss some of these funny videos and feel left out when others bring them up in conversation. Well, worry not! We're here to make sure you're not listening in on conversations but leading them … as long as those conversations are about funny internet videos. Here are our favorite comedy shorts of the month.
"Alison Roman Names 5 Asian People," by Ziwe Fumudoh
There's nothing quite like watching comedian-writer Ziwe Fumudoh make people feel real uncomfortable on her show Baited With Ziwe. She's got a true gift, and we've celebrated it before. But now, many more fans are taking notice of her superpower because of an incredible Instagram Live interview she did with food writer and cook Alison Roman. The featured video is also part of a larger Twitter thread, in which Ziwe makes Roman eat her words over … and over … and over … again. It's so great. Honestly, even Roman seems to think so — in between noticeable shock waves of crippling shame.
"Chris D'Elia When They Pitched 'You,'" by Lureena Cornwell
If you've been following one of the last month's major developments, you should basically be able to put together what happens here based on the title, but you'll have to watch the video to learn that Lureena Cornwell's version of Chris D'Elia answers and hangs up the phone with a casual "suck my balls," which tracks for us.
"Group Therapy with Gov. Cuomo," by Brian Geiger
Lots of folks consider Governor Andrew Cuomo a hero. For those who consider him a guy who talks an awful lot more than he needs to, here is an absolutely flawless video that adapts a real, honest-to-God speech by the gov in a way that his wife, family, and most of America would probably really appreciate.
"Hot Woke Asian," by SJ Son and Woody Fu
This summer's first acoustic jam is a ballad of longing from SJ Son, who pines for no-strings-attached action with a variety of men (Woody Fu, in several wigs), who each fall short of her expectations. "I wanna have sex with a hot Asian," she sings. "Then we could chat about being Asian. Like, does your mom cut meat with scissors? I can relate …"
"How to Bible," by Sarah Cooper
If you haven't seen the lip-sync stylings of writer-comedian Sarah Cooper, you're missing out on the vaccine to COVID-19: laughing at her perfect embodiment of Donald Trump's painful stupidity. Okay, it's not actually been proved that her Instagram (and TikTok) can cure this deadly plague, but let's tell DJT it's the only way and see what happens. Deal? Please give more of Sarah's work a look here. And really here, when she lip-syncs Trump revealing he almost definitely doesn't really even know who Abraham Lincoln was.
"I Know What's Wrong With Your Phone," by Jeff Wright
Jeff Wright has blown up recently with these sketches, in which he plays all the parts. The Orlando-based comedian quickly clips back and forth between Jeffs with perfect timing, like in this video where one Jeff explains to another why his phone service through T-Mobile is so inconsistent despite a great price. "Yeah, they gave you a good deal," a third Jeff chimes in. "The deal was no service."
"Quarantine Love Album Commercial," by Amber Ruffin
Two lovesick R&B stars kept apart by a deadly virus, both played by the incomparable Amber Ruffin. This Late Night With Seth Meyers "Quarantine Love Album Commercial" sketch is just what the socially distanced love doctor ordered. Our personal favorite, "Let Me See Your Body," laments the challenges of putting on a peep show within a Zoom frame. We truly are in this together.
"Raphael School of Athens," by Hans Holsen
Comedian Hans Holsen wants to give every eighth-grader the tools they need to combat art museum field trip boredom. In his sportscasterlike play-by-play of some of the most famous works in art history, Holsen has perfectly juxtaposed the deadly serious with the boldly absurd. Take that analysis, "real" art critics. And watch the rest of Holsen's musings as part of his Talking Paintings series here.
"Substitute Spanish Teacher," by Gabe González
Unfortunately, your usual Spanish teacher is unavailable, but thankfully drama teacher Mr. David (Gabe González) has agreed to step in. "While I do not identify as Latinx," he says, "I do hope to utilize my talents in the dramatic arts to channel the passion and heritage of this lovely language." And so he does, skewering the unwieldiness of online learning in the process. Play and see how you do on Mr. David's pop quiz!
"Talk It Out," by Connor Martin, Hannah Pilkes, and Lizzy McGroder
If only there were some short that lampooned the seriousness with which white people take to heart the most trivial malfeasances, mistaking self-indulgence with wokeness. Oh, wait! It's this! Please watch and laugh but, more than anything else, please take Talk It Out as a reminder of what not to do. Interrupting each other is actually fine, if you're talking about real shit, so let's start doing that!
"A White Celebrity Weighs In on Everything," by Caleb Hearon
Caleb Hearon, a front-facing camera expert at parodying the language of people who can say a lot without saying anything at all, perfectly takes on the rash of white celebrities inserting themselves into the conversation surrounding the Black Lives Matter protests without actually taking a firm stance one way or the other. "I want to make it known that I am adamantly … opposed." To what? The white celebrity shall not say.
Like what you saw? Want to be on this monthly roundup? Show us your stuff! 
Luke Kelly-Clyne is president at Big Breakfast and a watcher of many web videos. Send him yours at @LKellyClyne.
Graham Techler performs at the Upright Citizens Brigade Theatre and contributes writing to The New Yorker. Send him your videos at @gr8h8m_t3chl3r.