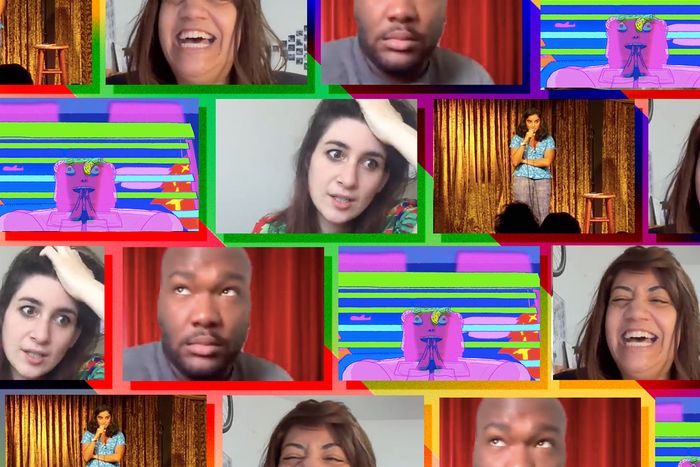 Photo-Illustration: Vulture; Photos by Ryan Ken/Twitter, Alison (G)Reese/Twitter, Lizzie Logan/Twitter, Sahana Srinivasan/Twitter and Hot Regards/YouTube
Each month, many funny videos are posted to every corner of the internet — from Twitter to Instagram, Vimeo, and sometimes other weird places we'll have trouble embedding. Because you're busy living your life, you might miss some of these funny videos and feel left out when others bring them up in conversation. Well, worry not! We're here to make sure you're not listening in on conversations but leading them … as long as those conversations are about funny internet videos. Here, our favorite comedy shorts of the month.
"A Message to the LGB.E.T. Community From Vice-President Kamala Harris," by Allison Reese
Second City performer Allison Reese kind of takes Maya Rudolph's Kamala Harris impersonation and puts it through the filter of a very slight nervous breakdown. We like this. We like this a lot. Here, Reese (or should we say Madame Vice-President?) delivers a special message for what she's calling the "LGB.E.T. Community" and her ardent support for it. Give Reese's Twitter a follow for more Kamala and other worthy things.
"A NYC Ranked-Choice Voting PSA But Make It Chaotic," by Christiana Lopez and Yves Armand Albaret
You know what? There may be a real comedy future in parodying PSA videos. We know, sounds nutty, but hear us out! The latest in a series (of three, so far, it seems) from Lopez and Albaret, this commentary on the shitshow that has become the NYC mayoral race is layered, smart, and deserving of each one of its eight-plus minutes. It's not often you can say that last part.
"The Day I Forgot How to Fuck," by Rob Tanchum
Rob Tanchum, the creator of comedy beats that are as reliably catchy as they are hilarious, has another gold record on his hands with "The Day I Forgot How to Fuck." Give one listen to this tale of a man whose lovemaking skills suddenly abandoned him, and we guarantee that you'll have the '70s R&B chorus stuck in your head for the rest of the summer.
"Doing My Part to Keep Cis Straight Male Comedy Alive," by Ryan Ken
This scathing parody of hack comedians from Ryan Ken pulls no punches, sensitively covering such topics as misogyny ("Speaking of the tiddy: I hate my wife. Oh my God, I hate my wife") and queer representation ("LGBTQ. That sounds like a Wi-Fi password to me"). It's all punctuated by their character's self-satisfied laugh. If they had an hour of this material, they'd be looking at a Grammy nomination for Best Comedy Album. No offense to the Grammys …
"Girl Who Cannot Tell a Coherent Story," by Lizzie Logan
We all have that one friend with a really great eye for detail. Particularly, details that are way too specific to be totally relevant to the story that they're trying to get across. Such a friend is this character played by Lizzie Logan, a motormouthed, iced-coffee-drinking young woman who can't possibly tell you what happened last night without summarizing the entirety of NBC's Just Shoot Me! We wish she'd get to the point, but we're also jealous that she got to meet David Spade. No, not the David Spade from Just Shoot Me! Some other guy.
"My Name Is Sahana Jayashree Srinivasan," by Sahana Srinivasan
Sahana Srinivasan, known to younger audiences as the host of Netflix's Brainchild, is also a stand-up comedian who desperately misses performing stand-up comedy. "I accidentally typed in my name as my bank-account password and it said 'strong,'" says Srinivasan in this reel of some classic oldies she particularly misses performing. We're looking forward to her being back onstage as well!
"The Pronoun Song," by Rose Kelso
The latest edition of Comedy Central Digital's woke Henson homage, Boomer Stoop, "The Pronoun Song," puts melody to a real hell-loop of a conversation many of us have been having with our parents, aunts, and uncles for the past few hundred FaceTimes. That is, trying desperately to answer why calling someone "they" is not, actually, reason enough to decry the end of civilization as we all know it but, rather, a sign that very civilization may be progressing. Judging by the YouTube-comment hate on this one, it's clear many of our parents, aunts, and uncles have kept their logins closer than their collective sense of human decency. Also, the puppets in this one are pretty cute-looking.
"Should We Get Salad for Lunch?" by Tom McDonald
Sure, Tom McDonald is an alt-animation talent who's been celebrated in these virtual pages before and, might we say, too-oft ignored since. But today is different. Today, he's gotten even weirder, and we're shouting it from the rooftops. Here with a fresh new playlist of trippy shorts called Hot Regards, McDonald is exploring the ultrabanal of corporate life and spitting it back in our faces as properly perverse. Just take this video of weird-headed people turning deliberation over a lunch order into a clinic in voicing unearned self-importance. Oh, it's tastier than the very best salad. That's for sure.
Skunky Funkybuns, by Dan Ronan
Earlier this month, comedian Joe Kwaczala posted this clip from his comedy show The Late Live Show to commemorate the seventh anniversary of the death of his friend Dan Ronan. In character as the controversy-magnet creator of a comic strip called Skunky Funkybuns, Ronan's immense talent is absolutely undeniable. A collection of his work is maintained here for posterity.
Like what you saw? Want to be on this monthly roundup? Show us your stuff! 
Luke Kelly-Clyne is president at Big Breakfast and a watcher of many web videos. Send him yours at @LKellyClyne.
Graham Techler has contributed writing to The New Yorker and McSweeney's Internet Tendency. Send him your videos at @gr8h8m_t3chl3r.