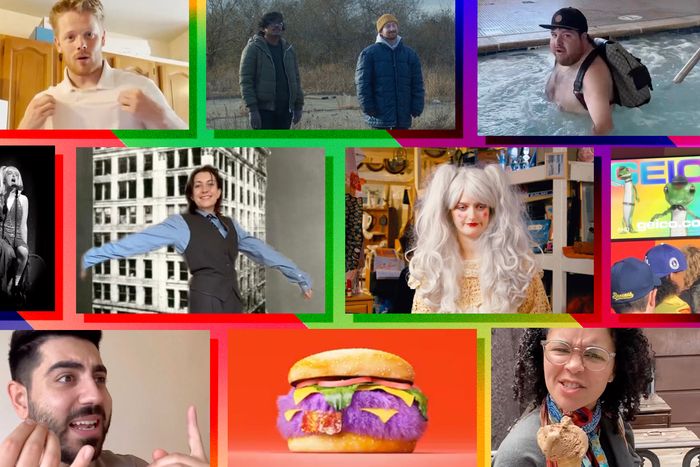 Photo-Illustration: Vulture
Each month, many funny videos are posted to every corner of the internet — from Twitter and Instagram to Vimeo and sometimes other weird places we'll have trouble embedding. Because you're busy living your life, you might miss some of these funny videos and feel left out when others bring them up in conversation. Well, worry not! We're here to make sure you're not listening in on conversations but leading them … as long as those conversations are about funny internet videos. Here, our favorite comedy shorts of the month.
"Buddymovie," by Ryan McGlade
This surreal short stars Jeremy Levick and Rajat Suresh as two old-school chums who have telepathic conversations with each other and a rude abandoned building. Levick and Suresh's chemistry ports over to this landscape easily, and a serene score solidifies the dreamy, odd tone that somehow feels perfectly normal the longer you spend in it. (Watch it here.)
"Geico Pride Sponsorship," by Luke Strickler
People say that corporate sponsorship during Pride month is insincere and corporations don't actually care about the LGBTQ+ community. In this quick video from Luke Strickler, the Geico gecko proves those haters wrong with a surprising announcement and the most moving display of allyship we've ever seen.
"Guys With Designer Backpacks Are Always Like This," by Nick Antonyan
With twinges of early Zach Galifianakis and Jonah Hill, Nick Antonyan's oeuvre is bringing us shades of a lovably self-aware doofus, perfectly bespoke for this generation of scrollers.
"Happy Birthday Grimace," by Richard Parry
The internet is certainly not short on Grimace content this month, but no TikTok of teens who passed out in a ditch with a purple smoothie dripping from their mouths can beat this video, in which Richard Parry challenges himself to match the current tone of McDonald's marketing … with a twist.
"Hypebeasts for Generic White Guy Clothes," by Dan Toomey and Mack Hubbel
It's a bland-ass White Guy Summer, folks! No, it's not. Please. Please, let's hope it's not. And this video explains precisely why we're holding out for a better theme. Though those new Greg Kinnear IVs in British Tan are kinda swaggy.
"If Eggs Had an Arab Lawyer," by Jesse Jaurji
All it took was Jesse Jaurji saying, "Mr. Egg," if we're being completely honest. Beyond that, though, the authenticity of this impression and the unabashed dumbness of this character's fodder? Better than any egg we've ever tasted.
"Interesting Americans: Pepper Slit," by Chloe Troast, Sam Blumenfeld, and William Kenton
Chloe Troast has been performing live as "Pepper Slit," a fictional 20th-century-showgirl icon who looks like a Raggedy Ann doll and talks like Carol Kane, for a while now. But for the uninitiated, the best way to meet her is this fantastic new mockumentary short that catches up with Pepper in her cabinet-of-curiosities apartment and follows her going on her first audition in years.
"POV:  Your Nonprofit Boss Buys You an Ice Cream and Reminds You About the Mission," by Nicole Daniels
Nicole Daniels is one to watch. Her character work is spot-on, as evidenced by this sweet elixir of smugness and performative altruism. Hell, that could be the archetype of the 2020s, the new version of the aughts' Frat Pack–branded oblivious narcissism. This is some dissertation shit!
"Triangle Shirtwaist Ambassador," by @myweeklyyarn
This brilliant riff on the recent ill-fated influencer trip to Shein's sweatshop sees a 1900s TikToker attempt to launder the image of the Triangle Shirtwaist Factory, which they assure us is supersafe and not going to have any kind of crazy murderous fire anytime soon.
"When Your Teacher Brings Her Kid to School: Field Trip Edition," by American High Shorts
We've been on a bit of an American High Shorts deep dive lately, and for that? We will not apologize. This recent contribution goes a long way toward explaining why we're loving the kind of loudmouthed high-school absurdity the AH team is serving up.
Like what you saw? Want to be on this monthly roundup? Show us your stuff! 
Luke Kelly-Clyne is a co-head of HartBeat Independent and a watcher of many web videos. Send him yours at @LKellyClyne.