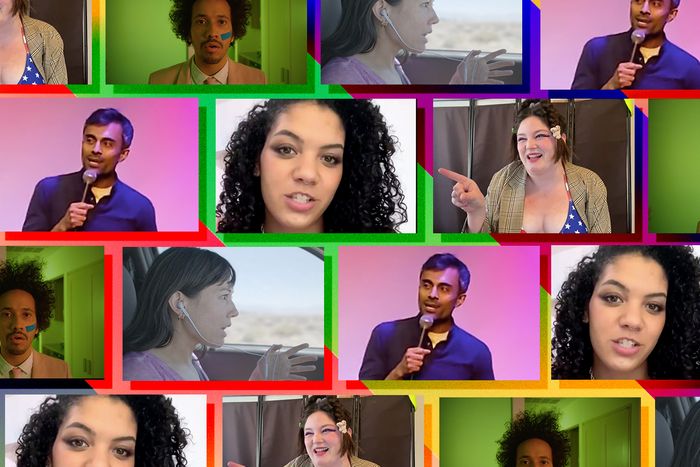 Photo-Illustration: by Vulture; Photos by Meg Stalter/Twitter, Dan Arnés/Vimeo, @sophiawpelton/Twitter, Katy Fullan/Vimeo
Each month, many funny videos are posted to every corner of the internet — from Twitter to Instagram, Vimeo, and sometimes other weird places we'll have trouble embedding. Because you're busy living your life, you might miss some of these funny videos and feel left out when others bring them up in conversation. Well, worry not! We're here to make sure you're not listening in on conversations but leading them … as long as those conversations are about funny internet videos. Here, our favorite comedy shorts of the month.
"Chet Hanks Has Declared It White Boy Summer," by James Coker
One half of the Vulture-approved Coker & Stratton, James Coker is here with a strangely spot-on impression of Tom and Rita's boy Chet Hanks, who's caused quite a stir with his peculiar White Boy Summer branding campaign of late. It's spot-on not because James sounds just like Chet, but let's put it this way: Never has the word "vibe" been more applicable in describing the similarities between the two videos that we've (collectively) watched more than 100 times. "Je ne sais quoi" also works.
"Corn," by Edy Modica
What starts as a memory about a daughter (Edy) examining a corn on her father's foot turns to a horrific story about that very same father's testicles falling out of a hole in his shorts. The name that he (Edy's father) gives himself after this little mishap is more than worth the proverbial price of admission.
"The General Mills Employee That Put the Shrimp Tails in the Box of Cinnamon Toast Crunch," by Meg Stalter
A story breaks about sugar-covered shrimp tails discovered in a box of Cinnamon Toast Crunch. The New York Times picks it up, introducing the world to the plight of Jensen Karp. Meg Stalter posts a video introducing a character who (hilariously) explains she was the culprit who placed said shrimp tails in the delicious cereal. The internet then discovers the whole thing isn't as squeaky-clean as we thought. Yikes. Well, let's just go back to the stellarness of Stalter's creation.
"Horse Body," by Friends Who Folk and Mary Houlihan
This track off the 2018 debut album by Friends Who Folk — the comedy music duo of Rachel Wenitsky and Ned Riseley — was given a new music video this month courtesy of comedian and animator Mary Houlihan. We'd take any excuse to get Friends Who Folk back into our listening rotation, but we're extra glad that it's come in the form of Houlihan's living diary, telling the story of a woman who suspects her ex-boyfriend may have a type.
"I'm Tired of People Telling Me to Grind," by Pardis Parker
If you're anything like us (indefatigable entrepreneurs who are constantly seeking that elusive and oh-so-transient state of "crushing it"), just a scroll through your Instagram feeds will present you with many opportunities to buy prints, sweatshirts, and hats that all share a similar credo: Never stop working. In this stand-up set, comedian Pardis Parker dissects just how flawed that reasoning is.
"It's Like Ur in Love With Me," by Aline Mayagoitia
Written and performed by Aline Mayagoitia as part of the 2021 ViacomCBS showcase, this music video gives Alexandria Ocasio-Cortez and other members of the Squad an opportunity to respond to the relentless attacks on them by someone like Tucker Carlson, whose obsession with AOC verges on being the living embodiment of "protests too much." This song is also available to be played at your rooftop barbecues this summer!
"Manpons: Tampons for Men," by Loie Plautz
You've all seen advertisements for men's concealer, men's body wipes, etc. But in this commercial, Loie Plautz introduces a line of tampons for men, since "trans mascs can have a little toxic masculinity, as a treat." These tampons are rugged and tough — tough like two bears fighting in the woods or coming out to your family as trans. If you're interested in purchasing manpons, they appear to only come out of the barrel of a gun.
"Men in the Park: Sebastian," by Josh Tobin
The first installment of Men in the Park, a series created by Josh Tobin and directed by Desi Domo, features Tobin as Sebastian, a marble-mouthed old man with a Lorax mustache and Christopher Plummer's warbling voice. He's a relic of a bygone New York, "when men were men: disgusting, in public, on purpose, no consequences!" Join him as he has a picnic on the park bench with animal crackers and a bottle of wine, won't you?
"Planet Fitness," by Katy Fullan and Paul Emerson
Katy Fullan's got extreme chops — that much we know from 2019's Chowder. And now she's back with a short about a lady who's coming up empty in every way until she hits an extraterrestrial with her car and finds love in a most unexpected place. Planet Fitness sports all the same bizarreness of Fullan's earlier work with a welcome veneer of cinematic polish that delivers on an unexpectedly saccharine denouement.
"Please Enjoy Your Stay," by Dan Arnés and Tynan DeLong
From creator Dan Arnés and Tynan DeLong comes a short that's as much a modern-art piece as comedy video. Thanks to daring visuals from DeLong and director of photography Ryan C. Mooney and solid performances from Arnés, Carmen Christopher, and Caroline Yost, we're delivered an experience that sparks laughs along with a burning curiosity to know just what the hell is going on. It's all part of the ride.
"POV: You're Watching the Insta Story of a Gen Z Influencer …" by Sophia Wilson Pelton
Here we have a peek into the life of a well-intentioned but perhaps slightly hypocritical influencer who struggles to balance her dual identities as an activist and an entrepreneur. This involves creating opportunities for organizers to link up and unite against the machine, as long as those opportunities involve buying a new journal and also getting a sweet Glossier discount somehow. If only we could see her upcoming livestream with Angela Davis.
"The Wallet," by Tim Dillon and Luke Jarvis
A parody trailer about a family's search for the password to a father's cryptocurrency wallet. Well-done and, also, a window into what the future probably holds for the kin of so many newly minted coin-millionaires. Wills, trusts, and estate lawyers take note, lest scores of hopeful survivors miss out on the vast and enduring riches provided by … Dogecoin?
"Why Does This Happen Every Time I Stay at a Guy's Place," by Jamie Linn Watson
The boy behind the camera in this new video from Jamie Linn Watson is slowly coming to a realization about the girl who just slept over at his place. We won't spoil that realization here, but we'll just say she has a thing, and she brings it up real fast.
Like what you saw? Want to be on this monthly roundup? Show us your stuff! 
Luke Kelly-Clyne is president at Big Breakfast and a watcher of many web videos. Send him yours at @LKellyClyne.
Graham Techler performs at the Upright Citizens Brigade Theatre and contributes writing to The New Yorker. Send him your videos at @gr8h8m_t3chl3r.