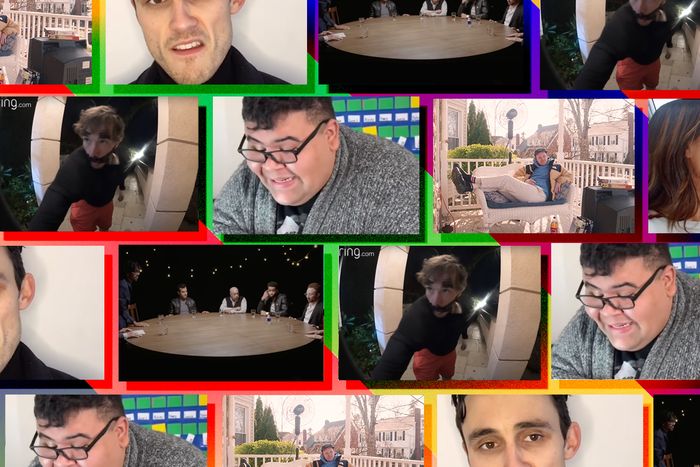 Photo-Illustration: Vulture; Photos: The Hollywood Recorder, Conner O'Malley, Jesus Nalgas, Ed Jones, Porches
Each month, many funny videos are posted to every corner of the internet — from Twitter and Instagram to Vimeo and sometimes other weird places we'll have trouble embedding. Because you're busy living your life, you might miss some of these funny videos and feel left out when others bring them up in conversation. Well, worry not! We're here to make sure you're not listening in on conversations but leading them … as long as those conversations are about funny internet videos. Here, our favorite comedy shorts of the month.
"FULL Actors Roundtable: Justin Theroux, Rajat Suresh, Jeremy Levick & More," by Jeremy Levick and Rajat Suresh
This one is, like, a full hour long, so maybe not the kind of thing you're going to want to browse at the office. Or maybe you don't give a flying fettuccine. And, in that case, strap in for what is a truly delightful parody of outrageously self-important, often out-of-touch actor roundtables.
"If I Was Trans," by Esther Fallick
Esther Fallick has been dropping tantalizing clips of the full songs she's performing during live sets, all of which take pastiches of musical-theater numbers and push them to the next level. In this song, Fallick plays a past version of herself wondering what life would be like if she were trans, evoking the wistfulness of The Best Little Whorehouse in Texas's "Hard Candy Christmas" with brilliant staging touches like the dramatic splashing of a puddle that previously served as a mirror. Drop the album, Esther!
"My Social Security Number," by Charlie Bardey
In a stand-up set at Brooklyn's Union Hall, Charlie Bardey struggles not to tell you his Social Security number, managing instead to give you the general "vibe" of the number complete with the narrative twists and turns the digits present to you and the little friend groups they make up. By the end of the bit, you will genuinely want to hear the number despite your brain telling you that Social Security numbers can't have compelling arcs … Maybe they can, though.
"Outdoor Lover," by Rachel Coster
Rachel Coster pines for an REI boy who longs for outdoor adventure in this inventive music video directed by Riley Taggart. The rapid-fire lyrics cover every conceivable REI-related topic from an innuendo-heavy inventory of products ("Belay me in my harness till your pulley goes 'click' / I've got a tiny screw-on carabiner you can flick") to the romance of labor ("Meet you in REI, hot boy, home base / No scabs, ACAB, unionize our workplace"). Thank you to the unionized workers of REI for being cool with them surreptitiously shooting this video in their store.
"The Overly Controlling Friend at the Dinner Table," by Corporate Natalie
Consultant turned comedian Corporate Natalie has a knack for capturing the worst kind of type-A privilege: passive aggressions, blind confidence, latent self-loathing. It's a thing of beauty, and nowhere is it on more sizzling display than in this installment.
"Porches," by Blank Check
We would normally blanch at highlighting a video made in reference to a podcast's running joke, and Lord knows the Nicole Kidman AMC preshow has gotten enough airtime, but Jordan Fish and Ray Tintori's contribution to Blank Check's recent live show somehow stands on its own merits. This ad reimagines Kidman's awe for the silver screen as producer Ben Hosley's oft-referenced enthusiasm for watching VHS tapes on a porch in New Jersey as a child, frequently in the cold. We come to this place, indeed.
"POV: Teachers When You Ask for Help During a Test Be Like," by Jesus Nalgas
It's frightening that Jesus Nalgas looks reasonably young and yet he's clearly been in every single one of America's elementary-school classrooms for the past 30 years. The dialogue rings true, yes. Scarily so. But we love his facial expressions most. Just brilliant character work.
"Rebranded Mickey Mouse," by Conner O'Malley
In a genuinely disturbing new video, Conner O'Malley attempts to rebrand Mickey Mouse into a new character who will appeal to younger, edgier generations. After scampering around the woods with a grotesque smear of makeup across his face until he's worked the character out, he takes his proposal to a Disney exec (in the privacy of his own home). You'll have to watch the video to learn how this all leads to nuclear armageddon.
"Trailer for a British Gangster Film," by Ed Jones
Click and delight in this one-man Guy Ritchie trailer circa 2001. Need we say more?
"What Makes a Woman Attractive," by Harris Alterman
We featured Harris a couple of months back when his on-the-street stylings answered pressing questions about what New Yorkers thought of the city's best restaurants. Now he's back with a query for the ages, and the passersby responses he receives? Well, let's just say they may be onto something.
Like what you saw? Want to be on this monthly roundup? Show us your stuff! 
Luke Kelly-Clyne is a co-head of HartBeat Independent and a watcher of many web videos. Send him yours at @LKellyClyne.
Graham Techler has contributed writing to The New Yorker and McSweeney's Internet Tendency. Send him your videos at @gr8h8m_t3chl3r.