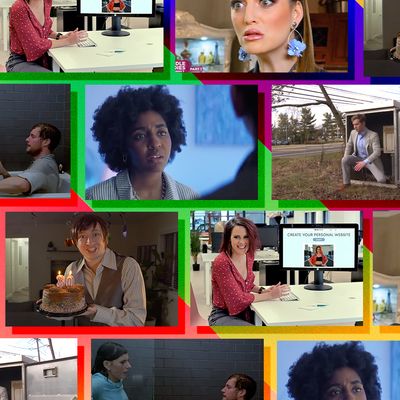 Photo-Illustration: Vulture, Anna Roisman/YouTube, @ComedyCentral/Twitter, Brendan and Cory/YouTube, Conlan-Williams Comedy/YouTube, Dara Katz & Betsy Kenney/Vimeo, @murtklurn/Instagram
Each month, many funny videos are posted to every corner of the internet — from Twitter to Instagram, Vimeo, and sometimes other weird places we'll have trouble embedding. Because you're busy living your life, you might miss some of these funny videos and feel left out when others bring them up in conversation. Well, worry not! We're here to make sure you're not listening in on conversations but leading them … as long as those conversations are about funny internet videos. Here are our favorite comedy shorts of the month.
"A Restored Painting of Eminem," by Max Knoblauch
Max Knoblauch adopts the soothing tones of Baumgartner Fine Art Restoration's YouTube videos for this delicate examination of a very personal piece of his: a portrait of Eminem "seemingly in his 2004, maybe 2003 era." The results are subtle, but profound.
"Catdog," by Tim Platt
"Catdog" neatly blends Tim Platt's musical and visual talents, photographed against a pastoral backdrop of dewy grass. It's a charmer that's as informative as it is silly, giving us a peek at the genealogy of a few backyard critters that even the book-learned among us may not have been aware of.
"A Song About Complex Feelings," by Friends Who Folk
Everyone is struggling to comprehend the reality of the situation we're in in their own way, so thank God the comedy-music duo Friends Who Folk (Rachel Wenitsky and Ned Riseley) have released a new single to put those feelings into the words that escape the rest of us.
"Big Fight Scene in an Indie Movie," by Gabbi Boyd
We're suckers for niche clichés in movies mocked with unrelenting specificity, and that's exactly what Gabbi Boyd delivers in this mumblecore-inspired rant from another film that strings totally unrelated sentences together and makes you decide whether they're important or not. If you're a fan of non-sequitur comedy (and hey, who isn't!), it doesn't get much better than this.
Breakers, by Matt Porter and Charlie Hankin
This pilot presentation from Matt Porter and Charlie Hankin of Good Cop Great Cop unfortunately never made it to series, but it functions perfectly as its own short film. Starring improvisers Cathryn Mudon and Connor Ratliff as small-time record adjudicators, Breakers is an excellent quarantine watch if you're looking for something with a refreshingly good attitude.
"Buffy the Vampire Slayer," by Jessy Morner-Ritt
Everyone is catching up on bucket-list TV shows right now, which provides us with new takes on old favorites. One example is this video from Jessy Morner-Ritt, which makes fun of those detached, sarcastic Whedonisms of the late '90s and includes constant reminders that the characters are technically supposed to be teenagers. "Xander. Willow. Enough with the chit-chat already. What are we, The View? You guys are my best friends."
"Candles," by Matt Klein
It's hard to celebrate any birthday in quarantine, but nothing compares to celebrating your 30th in a town with no a capella scene whatsoever … especially when your boyfriend has a steady job at Bank of America while you're nowhere near achieving your dream of being in Pentatonix. Matt Klein is here to show us why.
"Creating Your Personal Website With WixSpace," by Nicole Conlan and Rollie Williams
Just a heads up: This new sketch from Nicole Conlan and Rollie Williams may provoke a bit of an existential crisis if you've been on the fence about how much self-promotion you should be doing. Just as another heads up: The answer might be "less."
"Escape Room Hosts," by Johnny Berchtold
This character from Johnny Berchtold perfectly nails the canned spontaneity of anyone who has drilled a playful spiel to death and is utterly unable to recover if they're thrown off even a little bit. By the end, he's almost transformed into an amusement park animatronic with a busted circuit.
"First Moment I Saw My Wife at Our Wedding," by Natalie Rotter-Laitman
Twitter has been having a lot of fun recently with people who burst into tears of limitless sensitivity upon seeing their bride-to-be or prom date dolled up for the big day. But our favorite take was from Natalie Rotter-Laitman, who had one goddamn request for her wife that shouldn't have been too much to ask for.
I Adore Dolores, by Sam Marine, Jo Roueiheb, and Emily Wilson
We're sharing this with Adult Swim for their 3 a.m. programming block. It's as good as anything on the network: dark, hilarious, and clinically detailed. Watch all 20 minutes and be part of a consciousness you never knew existed.
I Seem to Have Difficulty, by Cory Snearowski
Back in 2018, we covered Daniel O'Hare, Brendan O'Hare, and Cory Snearowski's work in their short Branchburg. Now, Snearowski is back to introduce the world to a character he calls "Difficulty Man," in his new short I Seem to Have Difficulty. It's kind of Chris Farley as Bennet Brauer if Tim and Eric brainwashed him in a secret government camp that trained people to be socially disruptive, and not in the start-up sense. So, real good.
"Jon Dore's Socially Distant Stand-Up Set," by Jon and Emma Dore
Lots of people are stuck with their kids (we love kids, just saying!) during this forced WFH revolution, and the incomparable Jon Dore is no exception. Instead of lamenting, he's innovating, making his daughter Emma a surprise guest on his Conan mobile stand-up set. He raises the bar past most of what we've seen in-studio. Why have more people not watched this?! We're here to help.
The Shopping List (The Notebook Parody), by Anna Rose Roisman and Jared Hacker
Out of catastrophe comes art. Comedian Anna Rose Roisman and her boyfriend, director-editor Jared Hacker, know that and have created a truly impressive piece of quarantine content … reenacting a classic sequence from The Notebook in their Brooklyn apartment. As we're sure most readers will agree, shit gets truly real when the shower turns on. (If you want more after watching, Anna and Jared also did a Home Alone quarantine tribute.)
The Upper Middle Class Ladies of District 103 Reunion, by Betsy Kenney and Dara Katz
Betsy Kenney and Dara Katz are back with a Real Housewives parody just when we thought we'd seen every Real Housewives parody, and it's somehow worth watching. We don't know where District 103 is, and Kenney and Katz don't care to share. No matter. Their eyelash extensions and lip pursing alone are worth binging all three "reunion" shorts. Plus, Brian Faas is a pretty great Andy Cohen.
"Worst Guys on Dating Apps in the Same Room," by Ayo Edebiri and Rachel Sennott
Ayo Edebiri and Rachel Sennott's new digital series from Comedy Central is a great distillation of their comedic personalities, and this second episode — featuring a party full of guys obsessed with vaping, podcasting, and beers like "Piss Stinger" — is particularly rich and rewarding. Plus, it's littered with cameos from other comedians we love, such as Carmen Christopher and Jaboukie Young-White.
Like what you saw? Want to be on this monthly roundup? Show us your stuff! 
Luke Kelly-Clyne is president at Big Breakfast and a watcher of many web videos. Send him yours at @LKellyClyne.
Graham Techler performs at the Upright Citizens Brigade Theatre and contributes writing to the New Yorker. Send him your videos at @gr8h8m_t3chl3r.