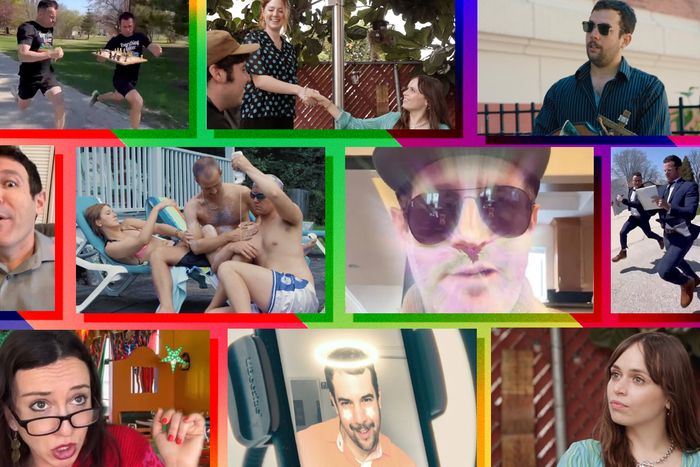 Photo-Illustration: Vulture
Each month, many funny videos are posted to every corner of the internet — from Twitter and Instagram to Vimeo and sometimes other weird places we'll have trouble embedding. Because you're busy living your life, you might miss some of these funny videos and feel left out when others bring them up in conversation. Well, worry not! We're here to make sure you're not listening in on conversations but leading them … as long as those conversations are about funny internet videos. Here, our favorite comedy shorts of the month.
"Anyone Else Got Plans for the Succession Finale?" by Josh Covitt
The show that defined a generation (or maybe affirmed the perverse desires of many) has ended. But, like The Sopranos impersonations before them, Succession imitations will endure. Especially if they're as good as these. Holy shit, Kendall?! Tom?! Logan's bad, but I think that's kind of the point.
"Gone Fishing," by John Mackey and Dan Lippert
This short from John Mackey and Dan Lippert (of the sketch group Big Grande) tells the story of a woman (Mary Holland) staying at a rundown motel, and the warm, weird, friendship she strikes up with a man (Lippert) being bullied by teens while getting some sun out by the pool. It's the perfect way to kick off your summer, and a reminder to reach out to any poolside freaks you may come across in your travels.
"How Guys Acted in the Early 2000s After a Breakup," by 818 Khalil
One, he's a fabulous dancer. Two, why were music video-directors so obsessed with precipitation 20 years ago? Couldn't anyone be sad without El Niño?
"I Asked ChatGPT to Write Me a Sitcom," by Kylie Brakeman
Public discourse around the use of AI as a creative tool hit new heights this month as the WGA strike began. But despite the hand-wringing, could an AI like ChatGPT actually do a good job writing a sitcom? The answer: absolutely not. The other answer: Kylie Brakeman is just really funny.
'La Piscina,' by Simple Town
In this fantastic new short from column regulars Simple Town, a backpacker taken in for the night by a trio of menacing siblings is initially put off by their bizarre dynamic, only to turn the tables on them before it's time for him to leave. The standout moment is a not-exactly refreshingly frank conversation about sex, in which one of the siblings (Sam Lanier) struggles to articulate the age-old question: "Are there any specific cultural dynamics around eating pussy in Argentina?" (Watch it here.)
"Seth's Prayer," by Eric Rahill, Danny Scaharar, and Harris Mayersohn
A comedy about euphoric self-delusion, "Seth's Prayer" follows a man (Rahill) whose ignominious dismissal from an elementary school (for telling kids that Earth is 3,000 years old) prompts him to aggressively pursue the path he believes God has chosen for him: being a model. It's hysterical throughout, with the high point being an incredible sequence in which Seth tries out a variety of looks with a sympathetic photographer only to discover he has to pay for the photos themselves. (Watch it here.)
"Star of Silverlake," by Gabriel Bernini and Clara McHale-Ribot
This strikingly uncomfortable short revolves around a casual/professional L.A. meeting between a young starlet and an acquaintance looking to collaborate. When the collaborator (writer and director Bernini) makes an attempt to establish his own neighborhood ubiquity, it backfires so specularly that you'll want to close your computer and walk away. You can, but you shouldn't. (Watch it here.)
"Straight Musical Theater Guy," by Douglas Goodhart
There are so many small moments worth celebrating in this one, from the pointing at a pair of people he happily recognizes to lying about his frequency of collaborations with the director, but the thing we're most excited about is the outfit.
"Things That Are Hard to Do While Sprinting. Part 2," by Daniel LaBelle
Rarely do the words comedy and sprinting occupy the same sentence, but Daniel LaBelle's contribution is worth celebrating for far more than that proximity. The sheer will it must've taken to prep for and execute this little array, let alone capture it on film, is worth celebration. Oh, and he did it not once, but twice!
"A White Woman's Olympics," by Becca Bastos
This one is too real, if we're being honest. But sometimes, a reminder about how not to act in public can be just as valuable as laughter. Not everything's fun and games in this column. Sometimes, we make public-service announcements where you'd least expect to find them.
Like what you saw? Want to be on this monthly roundup? Show us your stuff! 
Luke Kelly-Clyne is a co-head of HartBeat Independent and a watcher of many web videos. Send him yours at @LKellyClyne.