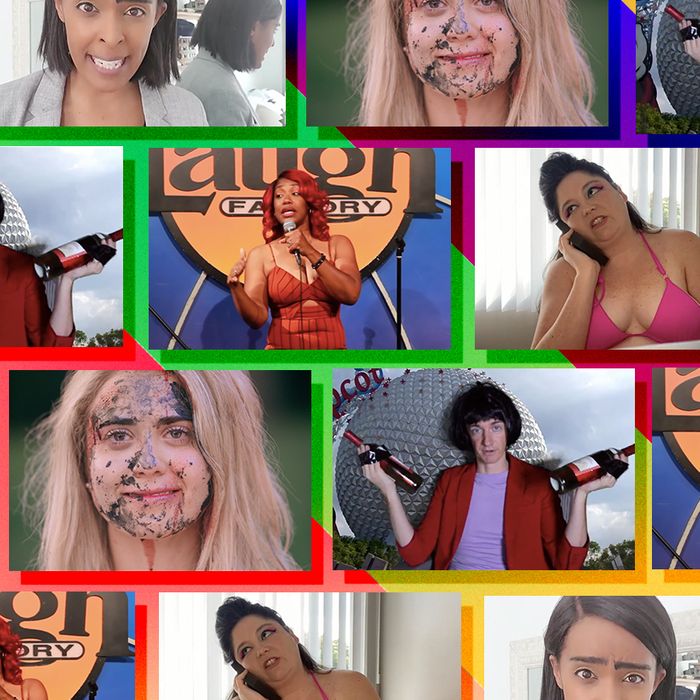 Photo-Illustration: Vulture, Meg Stalter/Instagram, Chocolate Sundaes Comedy Show/YouTube, Chris Fluming/Twitter, Corin Wells/Twitter and Riley Cecil Taggart/Vimeo
Each month, many funny videos are posted to every corner of the internet — from Twitter to Instagram, Vimeo, and sometimes other weird places we'll have trouble embedding. Because you're busy living your life, you might miss some of these funny videos and feel left out when others bring them up in conversation. Well, worry not! We're here to make sure you're not listening in on conversations but leading them … as long as those conversations are about funny internet videos. Here, our favorite comedy shorts of the month.
"Big Titty Biden," by Funny or Die
Now that we're on the other side of November and Biden has won the presidential election, people should probably give organizational credit where organizational credit is due. We're speaking, of course, of Big Titty Biden, the marketing strategy cooked up by Julie Greiner and Grace Thomas that features a host of other Vulture favorites making their own pledge to get a Big Titty Biden tattoo if it helped win the election. And it did!
"Candace Owens," by Corin Wells
When Corin Wells was working on her Candace Owens impression, she initially withheld it from the public, wondering if it was perhaps a little too harsh. When Owens started trending again this month, Wells withdrew her previous reservations about sharing the impression, and for that we are grateful.
"Check Please," by Abby Salzberg and Riley Cecil Taggart
This disturbing, charming short film from Abby Salzberg and Riley Cecil Taggart sees a woman's birthday wish come true in a series of increasingly bizarre ways after she impulsively gets engaged to a handsome stranger who is more uncouth and emotionally stunted than he initially lets on. "I'm feeling kind of bummed out today," she tells him, looking for sympathy. "Why?" he says. "Is it your birthday?"
"Gritty," by Nicole Conlan
From Late Show writer Nicole Conlan comes a French (English subtitled) explanation of the Philadelphia Flyers' hockey-team mascot, Gritty. The simple explainer video quickly turns from banal to brilliant as we realize Gritty's entire being may be a perfect, nay pubic, incarnation of our national decline and the loss of hope for a nihilistic humanity's course.
"I Became a Cougar Because I Was Tired of Negativity From Old Men," by Ty Davis
As part of her latest Laugh Factory set, comedian Ty Davis discusses the benefits of dating younger men and the rapidly sloping downside of getting into it with any dude over 30. It feels like well-trodden territory until you see the magic wand with which Davis reinvigorates the subject matter. You will laugh out loud.
"I Work at Four Seasons Total Landscaping in PA," by Christine Nangle
A perfect companion piece to Meg Stalter's Four Seasons Total Landscaping character further down on this list is this take from Christine Nangle of the employee on the other end of the line, who makes it very, very clear up top that you are not speaking to the hotel. The whole saga has to be one of the oddest in an extremely odd recent memory, so there's something weirdly grounding about Nangle confidently telling the Trump campaign, "Your poor planning does not constitute my emergency."
"If You're Feeling Homesick Over Thanksgiving …," by Andrew Farmer
The risk associated with holiday travel this year meant many people who would otherwise have been schlepping home to see their folks for Thanksgiving stayed put. Depending on who you are, this could have been a relief or deeply disappointing. Andrew Farmer has you covered either way with this rotation of Thanksgiving characters that spans everything adorable and obnoxious about being back home with family.
"Wear A Mask: Mary Tyler Moore Edition," by Peter Martin
A shot-for-shot remake of the Mary Tyler Moore Show intro, featuring writer-editor-star Peter Martin as Mary. You don't think you need this right now, but you do.
"The Weird Cousin," by Megan Patsel
It's probably not the first time we've covered a video that features a creator's family members as the actors, but we don't do it a lot — mostly because nonperformers tend to be bad at performing. That hypothesis holds for Megan Patsel's four-episode series The Weird Cousin. Somehow, though, this short — shot under quarantine with only the resources available to Patsel at what was, well, a pretty gorgeous seaside spot — turned out to be the perfect mix of low-fi and fresh, novice and inspired. The Weird Cousin is the kind of web effort that might have led to a TV series in 2011 but now rests somewhere on the Sunday-afternoon crafting scale: much less a ticket to the big time than a comedic practice session. But whatever it is, it's surprisingly well executed and certainly worth a watch, if only to appreciate Patsel's considerable charm.
"The Woman Who Booked Four Seasons Total Landscaping Instead of the Hotel," by Meg Stalter
Anyone following Jordan Firstman on Instagram should also be clicking that little validation button for Meg Stalter and doing it pronto. In this clip, Stalter plays the bikini-clad, Bible-misinterpreting Trumper who, we can all imagine, was responsible for the Four Seasons Total Landscaping misstep (as if we had to link to an explainer).
"You All Slept on Amy Klobuchar," by Chris Fleming
Fresh off our 2020 Comedians You Should Know list comes comedian Chris Fleming's next-level Amy Klobuchar impersonation. It doesn't matter that Fleming neither looks or sounds anything like the senator. Reporting "live" from Epcot Center, he imitates a postelection Klobuchar who's all sauced up on Zinfandel and feeling a little bit like maybe she wasn't given a fair shake. What follows is a no-holds-barred improv clinic hosted by Fleming, with gems like "I'm so behind on modern fiction. Everyone's like, 'Amy, you've gotta read The Coward's Penis. It's by Mark Grandfather. It exists in a world where Madeleine Albright has never heard of 21 Pilots'" and "I met Terry Gross. She's one-foot-one. I almost stepped on her ass in the parking garage because I thought she was a fruit bat trying to steal a Prius."
Like what you saw? Want to be on this monthly roundup? Show us your stuff! 
Luke Kelly-Clyne is president at Big Breakfast and a watcher of many web videos. Send him yours at @LKellyClyne.
Graham Techler performs at the Upright Citizens Brigade Theatre and contributes writing to The New Yorker. Send him your videos at @gr8h8m_t3chl3r.