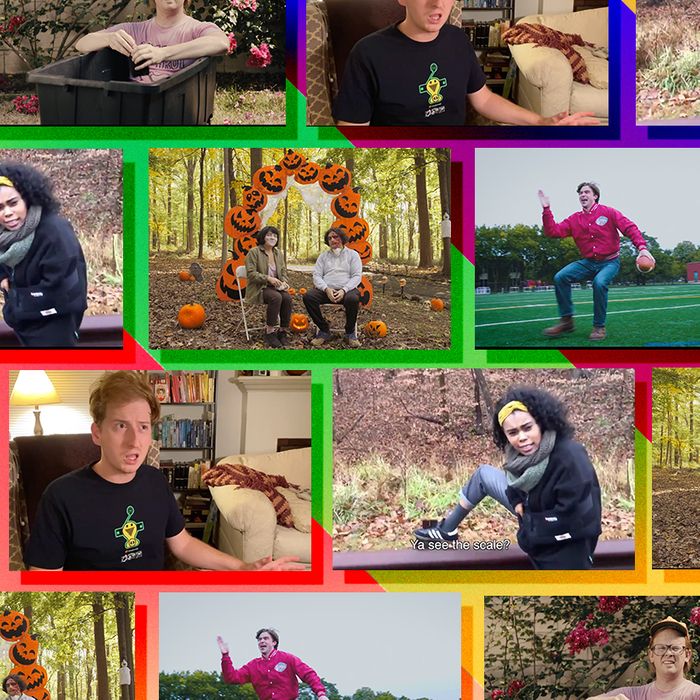 Photo-Illustration: Vulture, Jon Plester/Vimeo, Kevin Horn/Vimeo, @shrimpjaj/Instagram, @SydneyBattle/Twitter, Anna Suzuki/Vimeo
Each month, many funny videos are posted to every corner of the internet — from Twitter to Instagram, Vimeo, and sometimes other weird places we'll have trouble embedding. Because you're busy living your life, you might miss some of these funny videos and feel left out when others bring them up in conversation. Well, worry not! We're here to make sure you're not listening in on conversations but leading them … as long as those conversations are about funny internet videos. Here, our favorite comedy shorts of the month.
"Ditch, Please," by Sydney Battle
There are many different paths up the mountain that a show can take before it finds its audience. For Sydney Battle's "Ditch, Please," it was just taking Percocet after a surgery and forcing her dad to film her as she tours her favorite childhood ditches and rates them for our benefit. Six seasons and a movie, please.
"Every Young Adult Dystopian Novel," by Eric Feurer
I don't know whether to be more impressed by the sheer number of jokes in this new sketch from Eric Feurer and Hatched or at the actually significant world-building they do while taking shots at "the latest dog shit cookie-cutter YA dystopian series." I'm not saying I'd read the book, but I'd probably take my niece to see the inevitable movie adaptation, and based on the mythology Feurer sets up here, I think we'd have a pretty all right time!
"Finally, a Female Candidate You Can Grab a Beer With," by Rebecca Caplan, Meghan Ross, and Justin Ross
Four years after Hillary Clinton suffered the wills of many Americans who, let's face it, thought she was annoying because she was a powerful woman, and mere days before the world finds out if Kamala Harris will suffer or transcend Hillary's same fate, Rebecca Caplan and Meghan and Justin Ross offer us a look at what the perfect female political candidate might look like. Rachel Bloom narrates. We laugh too hard because we're so afraid. (Watch it here.)
"Governor Andrew Cuomo Announces Guidelines for Reopening NY Movie Theaters," by Alexis Pereira
Alexis is no stranger to our column, and this month he serves up a brilliant tinge of unhinged Governor Andrew Cuomo broadcasting what feels like a last-ditch PowerPoint before the inevitable third wave of COVID or the implosion of his brain from having to do so many daily briefings on the city's pandemic response.
"Lipstick City," by Courtney Karwal
A young actress (Courtney Karwal) is faced with the most difficult choice in Hollywood, a fork in the road with which all starlets must contend on the path to fame and fortune: Do I kiss my father to get the part? What's that, you say? Most aspiring actors don't have to make that choice? Well, strap in, it's gonna be a bumpy one. And it's worth every cringey second.
"Nick Barbieri and Friends, Episode 2," by Nick Barbieri
Nick Barbieri and Friends has just over 1,000 YouTube followers. Too few, we feel, considering this Thailand-based auteur has an uncanny ability to capture attention in a most peculiar way. And that way should not be attributed to the uniqueness of Barbieri's product. After all, this is a web series about a nobody trying to make a web series. More than a decade past the time when that sort of thing was viable, it's somehow the kind of stoner-bait perfect for a quiet Saturday afternoon, or really, any other day you'd like to check out of the world around you. Think of it like Lord of the Rings, but about nonsense.
"OMG More Leaked Footage From 60 Minutes," by James Austin Johnson
In the wake of the latest prime-time interview disaster from our sideshow-in-chief, actor and comedian James Austin Johnson unleashed upon the world the best Trump impression, bar none. There's not even an argument. We've featured other Trump impressions before, saying those were some of the best and, yes, they were pretty good. But this is a work of art. The jocular rambling, the deep inhalations, the unhinged swings in intonation … It's almost incomprehensible how one human could muster such an effective mockery. The existence of this Gilmore Girls–characters–as–Sex in the City–characters rant could have global effects that are more far-reaching than any single policy DJT championed over the past four years. Also, this one about Weird Al and this one about Scooby-Doo.
"The Possum," by Graham Wallace
A rumination on the vast space between privilege and promise, access and accomplishment, The Possum is writer-director-star Graham Wallace's ode to sadness and hope. In this mock-style account of a middle-aged hobbyist and wayward man-child heir named Kenny, we meet a man left behind by life, marching to the beat of his own drum as he peddles his possum wares around a small town he must face alone. Similar in tone to Wallace's JASH-endorsed Jasper, The Possum is noteworthy for Wallace's impressive physical transformation brought to bear by Emmy-nominated special makeup effects artist Sabrina Cruz Castro (The Mandalorian, Us). Just look at Kenny's receding hairline, would ya?!
"Randy Johnson Pitches With a Hulk Fist," by Austin Tolin
When Austin Tolan — the writer-director behind SXSW's underappreciated 2015 gem Detective Calzone — comes out with a new joint, it would behoove you to listen. Especially when it's one that revolves around storied pitcher Randy Johnson's rocket arm and an oft-forgotten "true" story about him swapping in his standard-issue baseball glove for a ubiquitously dumb-funny Hulk Hand. Wait, you don't remember when that happened? Weird.
"Regrets," by Jon Plester
We all have regrets, but I bet none are as wistful and melancholy as those felt by the initial star of Jon Plester's "Regrets," played by Andrew Cawley. Or his dad, played by Dan White. Or a bird, voiced by Jolie Darrow. Like I said, we all have regrets. This gentle but hilarious short has a soothing autumnal energy with more than a few chaotic spins for good measure.
"Spooky Town," by Omar Shaukat and Anna Suzuki
In this short mockumentary from Omar Shaukat and Anna Suzuki, a year-round haunted house is forced to reevaluate its approach during the pandemic, becoming a "drive-through" experience and applying for a small-business loan. The duo is so charming that you'll be desperate for them to succeed even though the What We Do in the Shadows–esque tone suggests that this business is more of the perennial underdog type. We're rooting for Spooky Town to weather the storm regardless.
"A Video for Quibi's Employees," by Rachel Pegram
The deceptively short history of Quibi (it was only live for six months, even though it felt like that word had been in our brains for 20 years) came to its inevitable conclusion this month. Adding insult to injury for the doomed streaming service's employees were reports that CEO Jeffrey Katzenberg had told them to listen to a song from Trolls to cheer up after losing their jobs. We'd prefer to have gotten the news from Rachel Pegram.
Like what you saw? Want to be on this monthly roundup? Show us your stuff! 
Luke Kelly-Clyne is president at Big Breakfast and a watcher of many web videos. Send him yours at @LKellyClyne.
Graham Techler performs at the Upright Citizens Brigade Theatre and contributes writing to The New Yorker. Send him your videos at @gr8h8m_t3chl3r.