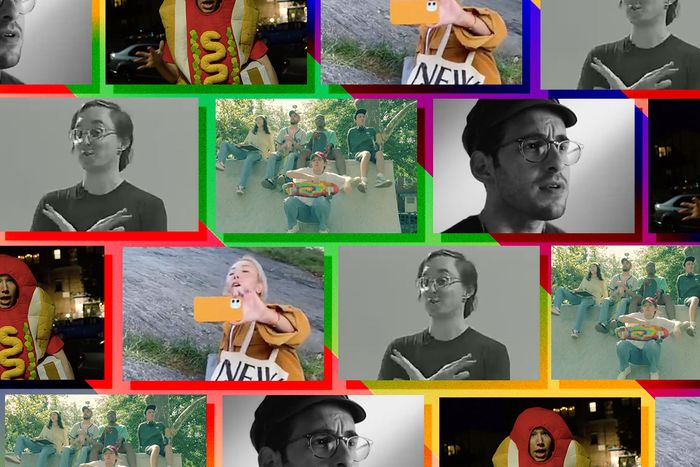 Photo-Illustration: Vulture; Photos by @gaybonez/Twitter, Young Douglas/YouTube, @jennyarimoto/Twitter, @alecrobbins/Twitter and NoBudge/Vimeo
Each month, many funny videos are posted to every corner of the internet — from Twitter and Instagram to Vimeo and sometimes other weird places we'll have trouble embedding. Because you're busy living your life, you might miss some of these funny videos and feel left out when others bring them up in conversation. Well, worry not! We're here to make sure you're not listening in on conversations but leading them … as long as those conversations are about funny internet videos. Here, our favorite comedy shorts of the month.
"A24 Presents: Skate Boy Friends," by Carly Silverman, David Morton, and Jeffrey Kitt
Maybe not every A24 movie has a skateboarder in it, but there's always that low-key simmer of a skateboarder's vibe: the grunge, the family trauma thinly veiled by kick-flip and ollie victories. Well, this enterprising young crew of creators has somehow translated that je ne sais quoi into a damn good bootstrapped parody.
"Bite Me," by Jessi Rayom
Keep an open mind. It's not laugh-out-loud, but it's not supposed to be. Jessi Rayom's piece is a 12-minute ode to outsiderdom in what amounts to a kind of Harmony Korine-inspired take on High Maintenance's early digital episodes. Is it weird? Well, yeah, but that's kind of what makes it so enthralling. And the direction is spot-on.
"Bootlickers," by Gabe González
In our haste to find the right disparaging word for people who suck up to institutions like the police or the billionaire class, we may have inadvertently left behind those for whom bootlicking is simply an essential part of what makes life worth living. This PSA — scripted by Gabe González and directed by Tyler Miguel Mercer, features González alongside Dylan Adler, Jay Jurden, and Zach Zimmerman as the titular bootlickers — seeks to educate and empower, and succeeds. Words matter, people.
"Celebrities Order Coffee Speed Round," by Matthew Friend
You've really gotta see all of comedian and impersonation impresario Matthew Friend's work to glean an appreciation worthy of his tremendous talents, but this one particular short about Pete Davidson, Armie Hammer, and even Bill Hader's legendary SNL character Stefon ordering coffee is pretty damned impressive. Perhaps Mr. Friend's TikTok handle @matturday.night.live offers a bit of foreshadowing. What do we know? We've never been exactly and totally right before.
"Hey Dave Chappelle!!! This Trans Comic Has a Message for You," by Esther Fallick
Dave Chappelle recently doubled down on his most recent doubling down on his remarks about the trans community, including demands for the conditions on which he'd consider continuing the conversation. Guess what, Dave? The trans community can demand too, and Esther Fallick's demands include everything from an unearned Chuck E, Cheese birthday, a shoes-off household, being a Johnny Knoxville completionist, and much, much more. No ifs, ands, or buts.
"I Love Being Christy Carlson Romano's Intern," by Jenny Arimoto
They say there are no second acts in American life, but tell that to Christy Carlson Romano, who has transcended her Disney Channel roots and is now famous mostly for walking through the hills letting you know what she thinks about stuff. That's great for her, but a little tougher on her intern (played here by Jenny Arimoto), who is forced to walk backwards over all kinds of terrain. Payment for this may or may not be forthcoming.
"Jeff Foxworthy Biopic Test Scene," by Evan Watkins
Evan Watkins is enjoying a back-to-back appearance on our roundup with this hilarious take on the controversial (and real eerie) "test scene" put together by actor Jamie Costa earlier this month. In it, Watkins swaps a Robin Williams impersonation for an expectedly baudy Foxworthy one. It doesn't disappoint.
"No Good Deed," by Phillip Clark Davis
All right, a couple of things: Aristotle Athari and Stevie Lynn Jones need their own show. The chemistry is off-the-charts, even when set against a delightfully weird (but tough to pull off) neo-noir. Second, we're pretty sure this entire piece was written around the (true) idea that there's a trend in Italy wherein ladies wear their thongs pulled up above their pant line. The fact that this came from that one weird specific is comedy gold, through and through.
"Shepherd," by Gil Ozeri, Emily Strachan, Ben Schwartz, and Bill Benz
The month started off very strong with this sneak peek at an unfortunately unreleased sketch pilot created by Gil Ozeri, Emily Strachan, Ben Schwartz, and Bill Benz for Comedy Central. Ozeri has promised the slow release of more of these sketches, and based on the strength of this one — in which a Biblical shepherd shepherds his gentle, pastoral flock around the mountainside — he needs to stick to his word.
"This Is an Open Message to Panera Bread," by Alec Robbins
Man, restaurants can be quick to judgment and slow to forgiveness, can't they? Especially a place like Panera Bread. Especially if you've lugged a giant monitor into the place so you can watch some non-pornographic Japanese animation. Alec Robbins (creator of the comic strip Mr. Boop) is here to take a stand, and we can only hope that Panera Bread will listen.
Like what you saw? Want to be on this monthly roundup? Show us your stuff! 
Luke Kelly-Clyne is president at Big Breakfast and a watcher of many web videos. Send him yours at @LKellyClyne.
Graham Techler has contributed writing to The New Yorker and McSweeney's Internet Tendency. Send him your videos at @gr8h8m_t3chl3r.