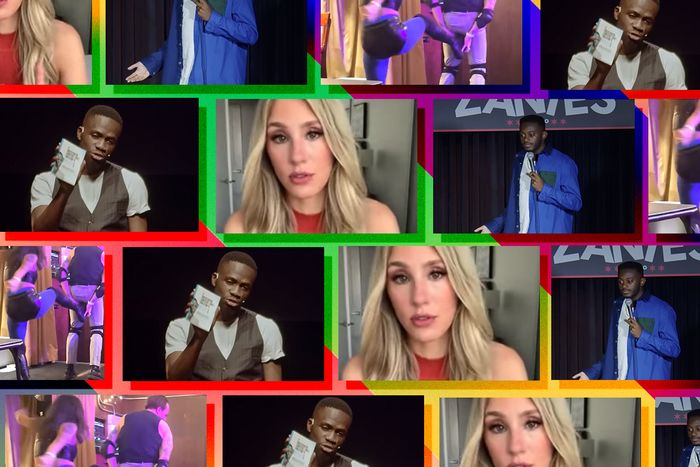 Photo-Illustration: Vulture; Photos Courtesy of @crudcountry/Twitter, Zanies Digital/YouTube, sport now/YouTube and Josh2Funny Ent./YouTube
Each month, many funny videos are posted to every corner of the internet — from Twitter and Instagram to Vimeo and sometimes other weird places we'll have trouble embedding. Because you're busy living your life, you might miss some of these funny videos and feel left out when others bring them up in conversation. Well, worry not! We're here to make sure you're not listening in on conversations but leading them … as long as those conversations are about funny internet videos. Here, our favorite comedy shorts of the month.
"A Donda Parent Driving Their Kid Back to Normal School After Kanye's Donda School Closed," by Carey O'Donnell
One of the Kanye West headlines this month that got overshadowed by, well, all the other ones was the closure of his creepy school. In this video, Carey O'Donnell impeccably imagines the awkward car ride home after the closing of the Donda school, full of nervous attempts to pave over something that seems like a huge mistake in hindsight.
"The Fastest Reader in the World," by Josh2Funny
This is staged, but it's so well executed that its fakeness actually makes it worthy of featuring. Josh2Funny has a whole string of these "Audition" videos on his YouTube channel, wherein two masters of deadpan critique his wildly dumb "talents."
"Heckler OWNS Comedian," by C.R.U.D.
Are you sick and tired of boring crowd-work videos and repetitive tiffs between comedians and their hecklers? Well do we have a video from the Hideout in Chicago for you, in which a comedian's joke about women drivers messes with the wrong audience member. One choppily cut-together wrestling match later and he'll think twice about trying that zinger out again.
"I Asked People on the Street in NYC What They Do for a Living," by @geemcgwee
There's very little to explain (or that could be explained) in this video, a parody of "person-on-the-street" walk-by interviews of the sort that are TikTok popular. But we have to give serious credit to every participant for their ability to make the same answer sound completely spontaneous and completely quotidien every time.
"Love You Tyler," by Ari Itkin and Devon Diffenderfer
Glad we stuck with it. What might at first seem like lazy humor with a homophobic undercurrent becomes very much the opposite. The performances and writing are so outstanding that we're giving this two-year-old short some much-deserved light.
"The Moment in a Shakespeare Play That the Audience Inexplicably Finds Hilarious," by Jacob Kaplan
This video from Jacob Kaplan nails a pattern that has long perplexed us as audience members. No disrespect to Mr. Shakespeare, whose plays are indeed very funny and, we feel confident in saying, have stood the test of time. Kaplan's video is more directed at a particular style of line delivery that seems to leave regional-theater audiences in obligatory stitches.
"Parently," by Meesh Hell
Intricate and hilarious, "Parently" reminds us of internet comedy of yore (so, like, five or six years ago), when attention spans were slightly longer and smart conceits trumped those designed purely for serotonin repair. No judgment — it's been a hell of a past five or six years.
"To My Followers Do Better," by Lisa Gilroy
Lisa Gilroy's material is always incredibly smart and surprising, so we should know what to expect. We're a little ashamed to say, then, that she got us here. Bad. And she will get you too if you happen to watch the video before checking out this spoiler of a description.
"Slave Songs," by Skyler Higley
In this stand-up clip, comedian Skyler Higley poses a fair question to those who get suspiciously defensive in their attempts to "All Lives Matter" the history of slavery. Then he brings the very thing the question proposes doesn't exist to life — a hypothetical pop-punk caucasian spiritual in all its whining, nasal glory.
"World's Worst HR Manager," by Friday Beers
The Friday Beers crew is back this month with its patented brand of unrelenting sophomorism. In this edition? An HR manager befit more for the local chapter of Pike than a workplace. Simple in its aim? Sure. Satisfying? More than you might expect. This edition, from earlier this year, is also quite strong.
Like what you saw? Want to be on this monthly roundup? Show us your stuff! 
Luke Kelly-Clyne is a co-head of HartBeat Independent and a watcher of many web videos. Send him yours at @LKellyClyne.