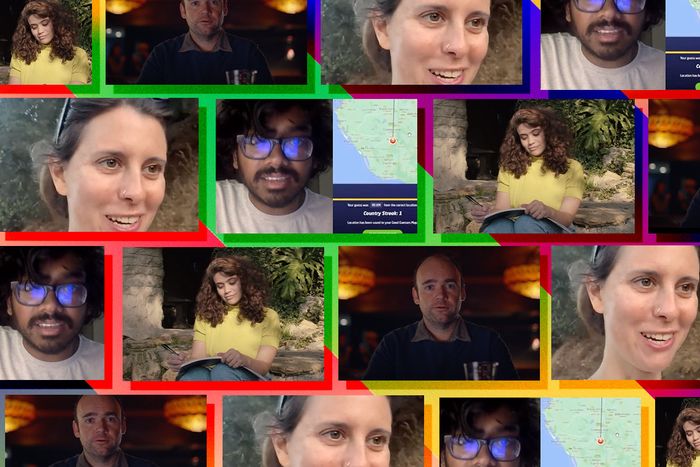 Photo-Illustration: Vulture
Each month, many funny videos are posted to every corner of the internet — from Twitter and Instagram to Vimeo and sometimes other weird places we'll have trouble embedding. Because you're busy living your life, you might miss some of these funny videos and feel left out when others bring them up in conversation. Well, worry not! We're here to make sure you're not listening in on conversations but leading them … as long as those conversations are about funny internet videos. Here, our favorite comedy shorts of the month.
"As a Brit, This Is What the Queen Means to Me," by Ben Flores
When Queen Elizabeth II died this month, Americans got more than a taste of the weird psychological grip the British monarchy has on its population. Even when our old lady (Betty White) died, we didn't feel the need to explain to strangers how she was actually our mom. This incredible video from Ben Flores, complete with specifics like "When I was a wee lad … stealing Cadbury Dairy Milks from the Tesco," is that platonic Briton personified. Who's gonna spank his little bum now?
"Comedy Verité," by Tim Myer
At such a precarious time in our human existence, comedian Tim Myer brings us a kind of docu-sketch wherein he chronicles the intrinsic stupidity of comedy, often from a Maysles-esque first-person POV. "Being a comedian is selfish," Myer laments. "We tell lies for money. That's how our business works." Ah, so meta. It's all very silly in its self-important, Vice-y quest for truth. And it's funny, too!
"Fish Porking," by Gareth Reynolds
Warning: We're featuring two pieces of The Little Mermaid content this month. Get over it. Comedian, podcaster, and frequent Instagram poster Gareth Reynolds gets a little subversive with his very real, very earnest plea to "let white people have" fish fucking.
"GeoGuessr With Only 'Welcome To' Signs," by Rajat Suresh
The internet is fascinated by GeoGuessr, the browser game that asks you to guess specific geographical locations from street-view images. More specifically, the internet is fascinated by the players who can instantly identify where in Siberia they are from the texture on a blade of grass in one second. So I assume they'll also be fascinated by Rajat Suresh, who, in this video, displays an uncanny ability to identify a location based on nothing, nothing other than the sign that identifies it specifically.
"Greeting Humans vs. Their Dogs," by Emma Pope
This video from Emma Pope nails the weird two-faced overtures we humans aim toward other humans out on a hike (normal, polite, professional) when they also have a canine companion for us to greet (bizarre and alien baby talk). The switch from the latter to the former is always a little embarrassing, and yes, it would be easier for any dog lover if they were the last human on earth, with all the dogs in the world to greet in any silly voices they wanted, like that one Twilight Zone. We don't live in that world, unfortunately, but we do have this video to explain our behavior on hikes to future civilizations.
"I F'ed Up Royal, Episode 1 'Steve,'" by Ben Weber
A radio play synced with static images. A slideshow with really decent prerecorded audio, kind of. Whatever this is, Ben Weber innovates with his five-season series of one-minute episodes wherein our narrator chronicles the slow dissolution — and then resolution — of his marriage in what amounts to a kind of fever dream we could imagine sparking between the synapses of the fictitious Jack Handy or the very real Dave Eggers. Start with "Episode 1," and you won't want to stop.
"The Runner," by Dru Johnston and Matt Porter
Who among us hasn't made a perfunctory life change in the name of romance only to be shocked when our efforts are in vain? That's the premise of this excellent short film about a man who takes up running to get his ex back, then sees his new hobby take a strange turn. Writer and star Dru Johnston leads the film with a sense of neurotic outrage. "I wasted three months of my life literally running in circles," he says. "I can't get that time back." The film also benefits from the crisp and muscular direction of Matt Porter, who is equally at home with searing heavy-metal riffs as he is with low-key indie melancholia. Recalling the best of Albert Brooks and Spike Jonze alike, this is a first-rate short from artists we'll be very excited to watch moving forward.
"Sandy's Appeal," by Sandy Honig
In this video, Sandy Honig (Three Busy Debras) pulls a stunt that'd make Michael Moore green with envy. After learning that her insurance would not cover a procedure that provides relief from her gastroparesis (a condition that causes her to vomit almost everything she eats), she took matters into her own hands. "They said I could mail [a letter] and leave it with any relevant documentation," says Honig outside the California offices of Anthem Blue Cross Blue Shield. Then, she does what any American dealing with the health-care system would and vomits into the envelope for them.
"Showed My Best Friend the Little Mermaid Trailer," by Never Sad
Jed R. Feiman and Nehemiah Markos make up the New York–based sketch duo Never Sad. Here with a fresh TikTok that lambasts the virtue-signaling rampant in so many parts of white society right now (and always?), the two remind us that perpetual happiness means introspection … and never reading any comment on the Little Mermaid trailer. No, really. That one's a bit of advice from us, but, for real. It's a horrifying time.
"Wealthy Woman Goes to Ohio," by Leah Rudick
Stop reading and go follow Leah Rudick, and then come right back. Okay, back? Great. Now you can watch this video of Rudick's Wealthy Woman character talk about flying her PJ over Ohio and know there's plenty more where that came from. The stunned ebullience she has when talking about regular people shit. The speedy curiosity. The unknowing (but knowing) slights juxtaposed with stunning brags. It's just gorgeous.
Like what you saw? Want to be on this monthly roundup? Show us your stuff! 
Luke Kelly-Clyne is a co-head of HartBeat Independent and a watcher of many web videos. Send him yours at @LKellyClyne.
Graham Techler has contributed writing to The New Yorker and McSweeney's Internet Tendency. Send him your videos at @gr8h8m_t3chl3r.