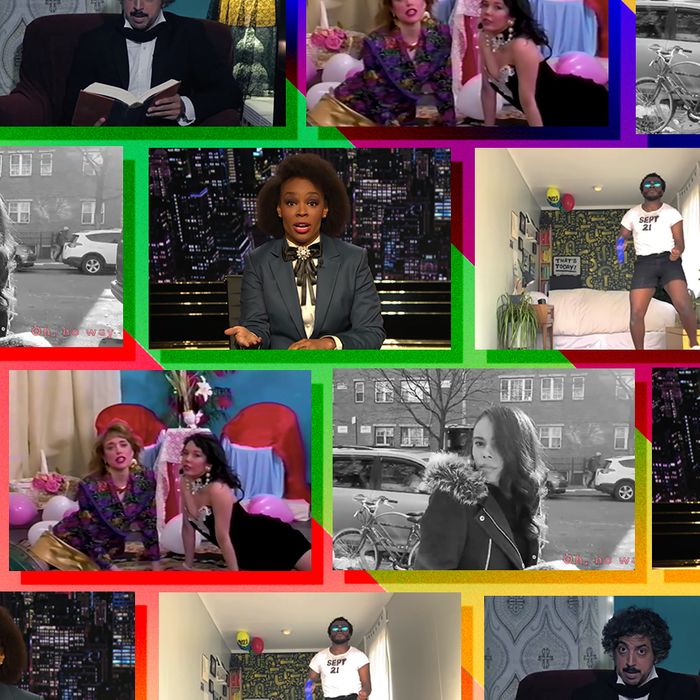 Photo-Illustration: Vulture, Demi Adejuyigbe/YouTube, Alexis De Wokeville/Twitter, Adult Swim/YouTube, Peacock/YouTube and Sydney Battle/Twitter
Each month, many funny videos are posted to every corner of the internet — from Twitter to Instagram, Vimeo, and sometimes other weird places we'll have trouble embedding. Because you're busy living your life, you might miss some of these funny videos and feel left out when others bring them up in conversation. Well, worry not! We're here to make sure you're not listening in on conversations but leading them … as long as those conversations are about funny internet videos. Here, our favorite comedy shorts of the month.
"9/21/20," by Demi Adejuyigbe
Comedian Demi Adejuyigbe has done it every year since 2015, and if you haven't watched him go, now is your only chance … well, until almost exactly one year from now. Wondering what we're talking about and still haven't clicked play? It's a celebration of Earth, Wind & Fire's monolithic "September" by a man who apparently knows no bounds when ringing in the start of fall. Go watch 2015–2019, and read more about just what the hell Adejuyigbe's thinking when he creates these annual Twitter-scorchers here. Oh, and in case you didn't already think Adejuyigbe was perfect in so many ways, he has used the attention this year's video garnered to raise over $300,000 for charity. Kind of begs the question: How could we ever not remember?
"Actresses Discuss Same-Sex Love Scene," by Kelley Quinn and Joanna Bradley
In this great parody of Kate Winslet and Saoirse Ronan's Hollywood Reporter feature about their new film Ammonite, Kelley Quinn and Joanna Bradley play two actresses who seem all too insistent on separating their real-life sexuality from the roles they play on film, burying their discomfort in artsy jargon like "the form is … is dictated by … the medium."
"Brock's Stock Picks - Top 3 Stocks You Should be Investing in!," by Douglas Widick
Doug Widick takes the 2020 day-trading boom head-on with what we'd like to think is a perfect send-up of Barstool Sports founder and self-proclaimed stock "maven" Dave Portnoy. We applaud Widick for creating Brock and would love to see more of him, mainly so the army of DraftKings fanatics turned Wall Street wannabes have the opportunity to take a good look in the mirror.
"Can Your Vagina Be Too Wet?," by Natasha Vaynblat
Three little letters have turned this fall into a potpourri of horniness, thanks to Cardi B and Megan Thee Stallion's single, "WAP," about — you guessed it — Wet-Ass Pussies. But Natasha Vaynblat has gone further than the rest of us in spreading this salacious phenomenon not by Spotify streams or horrifying Disney mash-ups but by a new episode of her Comedy Central Digital series, Your Worst Fears Confirmed. In the piece, she scientifically breaks down why, depending on when and why a pussy is wet, there could be catastrophic and slippery consequences.
"Edgardo Allan Poe, Uruguay's #1 Horror Writer," by Alexis Pereira
Comedian Alexis Pereira kicked off a series of videos featuring Edgardo Allan Poe, Uruguay's top horror writer, with this rendition of The Cask of Amontillado, a classic tale of terrifying immurement. Edgardo clarifies, however, that he was inspired to write it after hiring a couple guys to do some work on his house but forgetting to tell them not to seal up the front door. "That day," he says, "I learned the human capacity for darkness is a well of unimaginable depths."
"Elizabeth Loses Her Mind on the Beach," by Zeph McDonough
As we pass the half-year mark of COVID quarantine, writer-director Zeph McDonough has bestowed upon us a video to which we can truly, viscerally, relate. It's the story of one woman, alone on a beach, gradually losing her mind. That's all. Isn't that enough? We chart her decline from the moment a gust of wind steals her mask all the way up until the point she starts hoarding sandy shells in her dress and convincing herself the cast of Friends are indeed her actual friends. Someday soon, this woman will be all of us. If not today. If not … today. (Watch it here.)
"Every Time Someone Shares Their Screen on a Zoom," by Alan F. Giles
It's funny to think that Zoom literacy and etiquette was something that didn't exist on a widespread scale a few months ago, and now there's a whole new category of ways to be awkward at work. Alan F. Giles nails one of them with this snippet of a team meeting completely derailed by one employee's inability to keep his Cheesecake Factory obsession off the clock. Good touching base, everyone. See you next Monday.
"Guy Does Impressive Trump and Obama Impressions," by Evan Berger
We know, we know — enough with the Trump and Obama impressions. We hear you. But even in a very crowded field, and even if we only want to hear one of these men's voices ever again, Evan Berger's Trump and Obama are, somehow, so, so good. Hate-watch or love-watch, no matter what side of the aisle you're on, you won't be able to contain your laughter … and unrelenting tears.
"It's the First Day of Fall. You Must Kill the Leaf Man," by Grace Thomas
A new season is upon us and, with it, all the folkloric figures from seasons gone by. Fall, however, is a little light on good characters other than, like, the Headless Horseman. In comes Grace Thomas's legend of the Leaf Man, a harbinger of fall you must ritualistically slaughter and who seems suspiciously like just some guy who is sleeping with your mom.
"Liberal Politicians Having Fun Online," by Kylie Brakeman
This has unfortunately been another banner month for the people whose job it is to tweet something along the lines of "Someone should do something." No one nails the tenor of liberal politicians ineffectually shouting into the abyss quite like Kylie Brakeman, whose impressions of this style of leadership have been a cathartic watch all summer.
"Luxury: Cars & Boats," by Katy Fullan & Carrie Barrett
Writers and performers Katy Fullan and Carrie Barrett love a good period piece. The '80s, to be exact. And now they're back with a three-episode series called Luxury, a typically lo-fi public-access show wherein the feathered hair flows free and the antiquated notions of femininity shine as bright as Don Johnson's under-blazer T-shirts. While this installment does a nice job easing viewers into the world of the series by focusing on a familiarly vapid celebration of fancy cars and boats, the duo's follow up, "Dogs," is a perfect ante up.
"Pre-Quar Creepy Old Men Would Come Up to My Desk at Work and Lecture Me …," by Sydney Battle
Back when she was working at an office where anyone could just walk up and breathe at her, Sydney Battle unfortunately experienced an onslaught of weird old guys telling her about things like the Homeric definition of beauty. She turned this coal into a diamond, however, with this lyrical short film that's a cross between a commercial narrated by a shitty Matthew McConaughey and a Terrence Malick movie.
"The White Forgiveness Countdown Clock," by The Amber Ruffin Show
Amber Ruffin's long-awaited late-night show finally touched down this month, and an early highlight was this bit in which Ruffin sets a 48-hour clock and promises white people that they can officially go back to brunch if the clock can count down without something terrible happening to Black people. Suffice it to say, 48 hours was ambitious.
"Zeke With a Beak," by Nick Mestad
Zeke (Nick Mestad) is a normal kid with normal-kid problems, just like yours. He also has one pretty specific problem, which is that he is undergoing a gradual Cronenberg-esque body-horror transformation into all the least elegant aspects of a bird. This is physical-tweenage-bird comedy at its finest.
Like what you saw? Want to be on this monthly roundup? Show us your stuff! 
Luke Kelly-Clyne is president at Big Breakfast and a watcher of many web videos. Send him yours at @LKellyClyne.
Graham Techler performs at the Upright Citizens Brigade Theatre and contributes writing to The New Yorker. Send him your videos at @gr8h8m_t3chl3r.