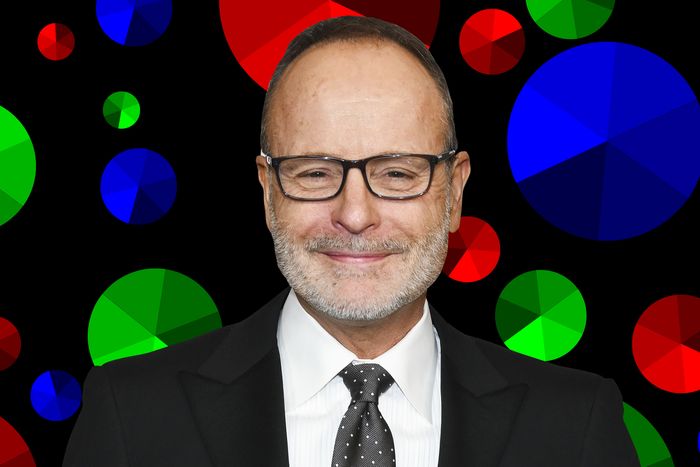 Photo-Illustration: Vulture. Photo: Michael Buckner/Variety via Getty Images
John Landgraf was in trouble. It was late 2016, and on the surface, everything was going spectacularly well for the longtime FX boss and the network he had transformed into an original programming powerhouse. At the Emmy Awards in September, House Landgraf had walked away with a stunning 18 statuettes, coming tantalizingly close to dethroning longtime champ HBO (which snagged 22). Critics were even more enamored of FX, ranking Atlanta, The Americans and, The People vs. O.J. Simpson as the top comedy, drama and limited series of the year, per a Metacritic tally of year-end lists. Newcomers Better Things and Baskets had also just debuted to strong notices. It should have been a time for unbridled jubilation, but to hear Landgraf tell it now, it was anything but. "I was staring at an abyss," he says.
Landgraf's unexpected anxiety was prompted by the massive storm clouds he saw rapidly moving in over his network — and all of Hollywood. Despite having what was arguably its strongest-ever creative year, as well as big commercial hits such as American Horror Story, FX's audience in 2016 actually declined nearly 10 percent, both in overall viewers and among the ad-friendly demo of adults under 50. This wasn't a case of critics and Emmy voters being disconnected from what the audience wanted: Except for the older-skewing Hallmark Channel, every top cable network which focused on scripted programming saw its under-50 viewership drop that year, with many suffering far worse declines than FX. Instead, as Landgraf had famously warned a year earlier in his landmark Peak TV address to a roomful of journalists, and as New York Magazine detailed in our 2016 story about "The Business of Too Much TV," Netflix and other streamers had begun cranking out so much content that the slow of erosion of linear TV audiences had started turning into a mudslide.
And thus Landgraf found himself peering down that abyss, or what he more specifically defines as "the challenge that basic cable networks were going to have as the ecosystem evolved: maintaining a competitive investment in scripted programming." With so many shows flooding the market in late 2016, he says, "It was just difficult, really, to contemplate how you were going to get across that chasm," to a place where legacy brands like FX could thrive in the emerging streaming world order.
As it turned out, however, FX — and Landgraf — would find their path to the future just a year later, in December 2017. That's when The Walt Disney Co. announced plans to purchase most of the entertainment assets of Rupert Murdoch's media empire, including FX. In theory, this moment might have marked the end of Landgraf's journey as FX guru. Disney CEO Robert Iger could have decided to bail on a fading cable asset or simply put one of his own execs in charge of the network. Instead, Landgraf and most of his bosses at Fox's TV operation ended up pushing out many of Disney's key small screen execs. It also quickly became clear that Iger saw FX as Disney's new premium TV brand, as well as a key part of the company's emerging plan to charge into the streaming wars by taking full control of Hulu and launching Disney+. Landgraf leaves no doubt about how he judges the effect of the merger on FX in the long run. "Thank God that Disney bought us and wrapped us into its larger streaming service, and its larger family of linear networks," he says.
Not that the last five years have been easy. In addition to the steep learning curve that came with adjusting to the massive differences between the Fox and Disney corporate cultures, there was the very messy business of transitioning FX from a programming brand expressed through its three cable networks (the mothership, FXX, and FX Movie Channel) to one which now lives primarily on Hulu. As if that weren't enough, there was also the whole matter of the pandemic, which slowed down FX's ability to launch its next generation of hits and played a role in keeping one of its biggest success stories — Atlanta — out of commission for four full years. And of course, rather than Peak TV peaking circa 2017 as Landgraf once forecast, the number of new shows kept growing as more players stepped into the streaming arena: Back in August, the exec predicted 2022 would see yet another record number of original scripted series (surpassing 2021's record tally of 559).
Landgraf is expected to deliver an update on the Peak TV tally today during his first in-person appearance before the TV Critics Association since the pandemic broke out. But late last month, the man industry reporters have dubbed "The Mayor of Television" spent 90 minutes talking to Vulture about how he and his team managed to transform FX into a streaming-centric brand. Our conversation also covered a wide array of other topics, including the early tension between FX and Hulu staffers, how he defines the FX brand today, the future of linear TV, and why he's suddenly a fan of streaming ratings.
Tell me about your 2022 and how you think FX did.
From an FX perspective, it was really a good year. We were a part of the Disney purchase of FX — then there was a pandemic, which made production a little slower and a little more difficult. So while there was a period of time when we were able to maintain a really robust slate of successful television series (like Snowfall, Mayans M.C., It's Always Sunny in Philadelphia, Archer, and Better Things), it took us a while to get Atlanta back and to get new things to launch like The Patient, The Bear, and The Old Man — in other words, to get to full strength. We just got the last piece of our critical library back for Hulu, which was The Americans.
So in 2022, we got the whole band back together in terms of the critical FX library from The Shield forward — all the linear shows that were able to return, then a bunch of new FX exclusives that we made for Hulu. And the combination of that really was pretty powerful. We had our most watched television series in our 20-year history and most watched drama (The Old Man), our most watched half-hour television series in our entire history (The Bear), and our most watched unscripted series in our entire history (Welcome to Wrexham).
Part of why Disney brought Fox into the fold and brought Dana Walden, me, former Disney exec Peter Rice, and others on that team over and combined us with the existing team at Walt Disney Television was to try to unite for strength, if you will. And we did a lot this year to rebalance the scripted-series business and pull some gravitational weight into the Walt Disney Company. So that was a great year.
We're coming up on the third full year of FX on Hulu, which we now just call FX. I was hearing reports early on about tension and difficulties surrounding the two companies coming together. I don't hear those rumors anymore. What was the integration really like? 
I think there was some friction in the early going. It was not at all with Bob Iger, who's been a great champion of the brand, or frankly with Dana or Peter, who've been my bosses during this time and have been great champions of the brand. But there were folks in the system who just said, "Why be a brand? Why not just make stuff for Hulu?"
And you firmly believed that there was value in keeping the FX brand at least somewhat distinct from the Hulu brand.
I think when you have brands like Hulu, Netflix, or Amazon that are the equivalent of department stores or supermarkets — meaning they have everything anybody might want to buy at any time — there's a value in having more bespoke brands. There's value in having boutiques in department stores or brands inside supermarkets. It's using the Disney model, where they have nurtured and protected the Disney, Pixar, Marvel, and Lucas brands for so many years.
Hulu Originals is a good team and does a really able job of making Hulu originals. It wasn't a matter of wanting to make all the programming on Hulu or thinking that Hulu Originals doesn't have a vital and broad role to play in terms of fueling that platform. It was feeling like we had a distinctive identity — one that we had spent years nurturing.
How is your role different now than it was during the cable era of FX?
In many ways, this job is the same, and in other ways, it's fundamentally different. For example, for years and years, I was responsible for a business that had a P&L called FX Networks, and I'm not anymore. The stewardship of that business is with Chuck Saftler, who reports to Debra O'Connell at Disney. When we came to Disney, for a while, we were still running the channel and trying to figure out how to put the FX brand — in its entire legacy, its entire library — on Hulu. It was a big transformation from running the platform on which the brand rested, and controlling every aspect of that, to making a brand for a platform that I don't run, which is Hulu.
It has just been different. We had to learn everything over again — about the nature of streaming and what works and what doesn't work. And we had to learn an entire new set of colleagues across the breadth of a very large company, the Walt Disney Company, at the corporate and distribution levels. Then we had to figure out how to work successfully with a group of colleagues at Hulu.
That's been hard, but it's been great, because they're great, have a whole platform and access to consumers and technology that we didn't have, and know a lot that we didn't know. I've probably learned more in the last several years than in the prior ten in terms of aspects of this new and changing system. But boy, was there a lot of work and learning associated with this — and a lot of new partnerships that had to be forged.
It worked out in getting eyeballs on FX shows, right? According to the press releases you've put out, viewership for some of your newer projects has been much higher than it was when you were just on cable.
We went through a cycle where every one of our returning original shows grew in ratings averages by more than 50 percent — some of them upward of 100 percent (like What We Do in the Shadows). It was a revolutionary benefit for all of our returning shows. And now, we've had really important successful shows like Reservation Dogs, The Bear, The Patient, A Teacher, Under the Banner of Heaven, and Fleishman Is in Trouble — award-winning, on year-end best lists, and some of them really, really big hits.
That's a big difference from early on, when you seemed to get more press about people confused by what was an FX show or an FX on Hulu show or which shows ran on which platform first. Or even just before the integration, when FX was getting swamped by the tsunami of originals on Netflix, HBO Max, and Apple TV+. 
It was very hard to stand out as a brand when there were so many. It was really a struggle to retain any kind of separate identity when you had so many competitors and you had so much money and so many shows coming into the system.  It just takes time. When you mush two companies together and all these different new initiatives and projects, it takes time. But it felt pretty smooth. I don't think the ecosystem is smooth at all, as we were discussing, but actually, the internal functioning of the Disney ecosystem and FX inside it was pretty smooth for the past half of this year, and that's evidenced by the performance.
The number of FX originals is a lot more than it used to be. It started going up even before the network joined Hulu.
It's more than we've ever made in our history. I can tell you that I have never worked harder in my life — nor has the FX team worked harder in our lives — than to try to really be deeply, emotionally connected as well as intellectually, mentally connected to as much programming as we're making. If Disney wants to invest that much, we can undoubtedly make maybe 25 titles a year or something like that. But once it gets beyond that, I can't pay attention to it anymore. There becomes an amount of content that outstrips your ability to pay close attention.
What is the FX brand now — in this new streaming era? What makes something an FX show other than the fact that it's being crafted by your team and your relationships? 
In a trailer or on a poster, the FX brand will be above the logo exactly like Marvel or Star Wars. We redesigned it to be more theatrical and horizontal in its aspect ratio. It's in a block, so it holds that position better. Then there will be an "FX Presents" in a trailer. Somewhere in that trailer, it will say "An Original Series," "Only on Hulu," "Only on Star+," or "Only on Star." So what we are now is the presenter, the brand that brings it to you. And not everything that FX makes is going to be your cup of tea. FX is not trying to make programs for everybody in America. That's the job of Hulu. That's the job of the Walt Disney Company. That's the job of Netflix. That's the job of Amazon. FX, like HBO, is trying to make a particular kind of programming for people who like programming that is more original, more adult, more edgy.
And how do we get there? Well, certainly, it has to do with who we choose to work with and what topics or characters we choose to make shows about with them. But a lot of it has to do with the fact that we interrogate those shows. We have endless repetitive conversations that derive out of creative and personal relationships with the people who are making these shows, where we ask over and over again "What is the best version of this show?" "What is your intent?" "Why did you want to make this show?" "What is it about?" "If we continually refine our questions and our examination of it, can we make it a purer, better version of what it is?" So there's a distillation process that comes in a personal relationship that has a lot of trust and a lot of energy invested in it.
That is the opposite of this idea that you give people a bunch of money, then they give you a show. It's a very deep, deeply personal relationship. You can't have that kind of interrogation without trust, and you can't have trust if we don't put the work in to really, really develop those relationships and hear and listen to them. So something emerges from that process that's a little bit different, a little more consistently excellent — depending on what your definition of excellence is. If you watch an FX show, you may like it or not, but you'd better think that somebody really, really worked hard to make something good.
Let's talk about the big picture. Where are we right now in the transition from linear TV to the new streaming era?
I think that in terms of the transformation the industry is going through, we're at best in the middle innings of the nine-inning game. We still have a fair amount of distance to go.
What's your take on what has happened so far and what comes next? Is it as simple as lots more consolidation and fewer TV shows?
Well, let's go backward. We had a capital-efficient system, where there were three, then four or five broadcast-network participants dominating the ecosystem. They were all quite profitable, and the studios that made content for them were profitable. Then there was a reorganization around a different model, where there were multiple channels but two satellite companies and several cable companies that sort of split the retail ecosystem.
The cable era, basically.
That was the cable system. All participants were essentially part of that system and making a profit. Then piracy started nipping around the heels of that when the internet arrived. Netflix creates an actual commercial model where people can subscribe. It comes in at a very low price and a very attractive form factor in product and reorganizes the entire library of all the best media companies in a way that has no commercials. It's bingeable and grows so fast that it puts pressure on the entire ecosystem to follow. That's where we're at now: a lot of companies that followed into that ecosystem.
But we don't have a compact business model — a limited number of retailers and a limited number of wholesalers, all of whom are profiting from the ecosystem. We will arrive at that place again, in my opinion. But the reason we're seeing so much difficulty right now is that there are so many participants in that ecosystem, and they have been spending to pursue a beachhead to the future following the Netflix model. So as the old ecosystem declines, and the new ecosystem is not yet fully consolidated, there's pressure across the board on profitability.
But you seem to think that, eventually, we can get back to where things were in the broadcast and cable eras, right? How long will that take?
I don't have any doubt that there will be a compact ecosystem that will reach equilibrium for some period of decades or even generations at the end of this. When these kinds of changes happen, they take generations. There are people in the cable-TV ecosystem who will be in it for the rest of their lives. You're talking about the kind of change that takes not just years or even decades but generations to unfold. And it's messy — like what you write about every day, every week. These are really messy transitions.
I'm old enough to remember how some people in the early 1990s still had black-and-white TV sets, even though color had been out since the 1960s. This is a much bigger change, but these things really do take years to sort themselves out. 
Yes, I mean it's really more like vaudeville to movies or movies to TV. It's just foundational, because it's the entire business model of distribution and the technology on which it sits. The fundamentals of people wanting to watch high-quality entertainment don't change. The Globe Theatre existed, and that's why Shakespeare wrote his plays. But the change of the technology does change the form factor in terms of how stories are told — at least to some extent.
What do you think happens to linear TV? Some in the industry have been blunt, suggesting broadcast and cable are going away. Do you agree?
You're talking to a guy who came up through the creative side of the business and has a degree in anthropology. I've tried to learn to be a good, intuitive, and analytic businessperson, as I've been in this job now for almost 19 years. But one model of analysis I really like is from a business professor at Harvard named Clayton Christensen.
Television is a singular word, and it's easy to think it's a singular thing, but he would break it down into the jobs that consumers are hiring television to do for them. And he would suggest that there are multiple different jobs for TV — and that a lean-forward weekly viewership of House of the Dragon or The Old Man or a lean-forward binge of The Bear or Wednesday is one job you're hiring for. But having the TV on and tuned to Chip and Joanna Gaines's channel inside the Discovery networks or having it on for news, daytime serials, the Disney channels, or live sports — different jobs.
Your question was about linear TV, and I didn't forget that. But this, for me, is an interesting observation: No matter how much new, original programming you throw at the viewer, the equilibrium point seems to be that they spend around 20 percent of their time watching lean-forward scripted programming and about 80 percent of their time watching some form of lean-back, more passive programming. When we bought The Simpsons, we built an app called Simpsons World that had every episode ever made in a perfectly searchable system. Then it had so-called channels, which were linear streams of Simpsons episodes. Eighty percent of the consumption was from the linear playlists, and 20 percent was on demand. Netflix threw more scripted original series and original movies at its consumers than any service in history in any given year by quite a margin. And as far as we can tell, according to Nielsen, what that has yielded is about 25 percent consumption of original, first-window product and about 75 percent consumption of library-window product. Their internal data might be a little bit different than that. But my view of that, directionally, is that you can skew that 80-20 balance if you throw everything under the sun at the consumer to 75-25. But there's still an equilibrium point there.
So what I would say is that I just don't think the various jobs that people are hiring television to do is going to change. And therefore, passive consumption, which might include the autoplay algorithm of YouTube now in addition to long-form television — that more passive consumption, which you and I would have described as a linear channel — just isn't going anywhere. It's not as if people are saying, "I'm going to spend every minute of my day leaning forward, pressing play, and making a conscious decision to watch the newest whatever it is." That's not what people want from television.
And I think that, right now, there's this interesting bifurcation in that linear channels are extremely good at that and streaming platforms are not as good at that. There's this thing in between the two called the FAST channel, which is a free, ad-supported TV channel. Because FAST channels are channels, they're sort of linear playlists or whatever. So again, I look at that as a symptom of this allegory we're describing of a nine-inning baseball game and the fact that we're in the middle innings, where you don't quite know who's going to be the player of the game and how long your pitcher's going to stay in. You're in the middle of the transformational change, and every year feels very consequential because a lot happens.
I get thinking that the linear-TV experience will evolve into FAST channels on streaming. But do you see a world where it still makes sense to distribute linear content through broadcast airwaves and cable TV — the old pipelines? 
I do. Because for one thing, if you look at the capacity of a broadcast network to deliver something live at scale, it's very, very high. Internet systems are getting better. Amazon can put on Thursday-night NFL games. But you couldn't port the whole of the Super Bowl onto the backbone of the internet and create 130 million concurrent streams for four-and-a-half hours. The internet's not capable of that yet — even in America. And if you look at the number of homes that have access to those broadcast channels, it's still a superior footprint of distribution to even the most highly penetrated internet-distribution streamer. So I still think they have a key role to play in the ecosystem right now for the largest aggregation of concurrent streams in live.
But again, if I come back to this notion of a compact system — think about the MVPD cable ecosystem; its maximum footprint in America was about 100 to 105 million homes. So you're going to need a methodology in the long run for streamers that creates a footprint that's close to that 100 million. And exactly how we get there — I don't really know. But I think we'll get there.
You obviously believe that the Walt Disney Company will be able to make it to that promised land, as it were.
I don't have any doubt whatsoever that the Walt Disney Company, which FX is now part of, will be one of the winners. Everybody's hand has challenges to it. There's nobody in the existing ecosystem in these middle innings that can fully declare victory, nor can we see the sharp, clear outlines of what the system will look like in the end. But of all the hands that anybody's holding, I personally like the Walt Disney Company's best. The reason I think that Disney has a really strong hand is it's a streamer at scale domestically and globally. It's still growing really fast. It has technology. It has best-in-class programming across virtually every genre. It holds the cards in every key job that you'd want television to do for you. And it has a phenomenal footprint in the real world — i.e., theme parks, consumer products, cruise ships — as well as an independent source of revenue that comes from that.
After this process of consolidation we've been talking about happens, and if (as you expect) you survive, would you welcome a world where you were making fewer shows than you are now? Is there an ideal number for FX to be churning out every year?
Well, I think that overall, there's probably an optimal number of scripted series, even for the consumer. Scripted series are made for various reasons. There's scripted for children, there's sitcoms — there's a lot more than what FX and HBO do. But I would say that it depends on the size of the other brands that do what we do. When we were a basic-cable network, we made about a dozen shows. When we reorganized ourselves and looked forward to a future in which there were, we thought, going to be maybe 600 television shows, we thought maybe 30 (5 percent of that total) would be a good number and probably about the most we thought we could do while maintaining the quality.
Now if you ask me, I don't think there are going to be 600 television shows in the long run. So the range I'm thinking of at the moment is 20 to 25. And whether it's at the low end of that range or the high end really depends on how many other competitors there are and how many shows they're making.
It does also depend on profitability. In the long run, every one of these companies, as the industry consolidates, has to get back to an equilibrium where there's a match between the amount of money that these companies are spending on all forms of programming and the amount of money they're taking in from all forms of distribution. And I have no doubt that one of the things Mr. Iger will do is find that equilibrium in the future. But I can't say for sure where it will be for any of these companies — let alone where it will be for FX.
At the Television Critics Association press tour on January 12, there's a good chance you're going to be asked about the state of the streaming wars and what's being called a market correction. What's your answer going to be to what's going on right now? 
Here's what I would say. Let's go back to the beginnings — the very beginnings of film in theaters as a medium. Studios made thousands of movies, and it took them a while to figure out that investing more in fewer and better movies, marketing them, then putting them into a stable and valuable library was a better long-term investment than just making thousands of movies. And I think every medium that opens up new vistas of distribution has to go through a process where it figures out how to optimize that distribution.
I don't think the internet is going to be as constrained as, say, the broadcast era. But you always have to have a reckoning. It's just normal, in times of transition, for distribution systems to overshoot the mark, right? That's kind of what peak TV is. I think it's then equally normal for them to come back down to some kind of equilibrium. And I don't know what that equilibrium looks like. I wish I had a crystal ball. I'd be Warren Buffett. But I know it's happening now and it will proceed apace until a new structure is reached.
The idea that it's difficult and expensive to make a big movie or a really good television series — so you have to put real effort into it, and you have to try to make it good — I think that's good for the consumer. It's good for the artist. It's good for the distributor, and it's good for the studio. In the long run, that equilibrium, once reached, has a benefit to all participants in the system.
Certainly, peak TV has opened a lot of doors and given a lot of opportunities to a much more diverse group of talent in front of and behind the camera than Hollywood had ever seen in its 100-year history. And along with that have come some real bolts of inspiration from unlikely sources, some great television. It has not been a bad thing in the aggregate. But a healthy ecosystem has a kind of equilibrium between the participants, in which there's tension and there's conflict but everybody has reached a stasis.
You hinted last summer that you think 2023 will be the real turning point when we see a retreat from the highs of peak TV. Do you feel more confident predicting that now?
I tentatively suggested as such in the summer, knowing that I've been wrong a couple times before and I wasn't looking to be a three-time loser. And I would say now that I'm more convinced than I was in August that '23 will be the year when the peak happens on scripted.
A few more things I want to ask about before we wrap up. I've noticed lately that you and FX are both regularly citing streaming ratings that those of us in the media can't see — at least not easily. You talked about record numbers for shows like The Bear, for example. For the longest time, that is something you tended to rail against when Netflix did it. What changed, and are you seeing more streaming data than you used to? 
Much more data, and the Nielsen data is getting better and better too. The streaming ratings now encompass multiple platforms for many, many years. But they still don't really measure consumption on phones, tablets, and computer screens. So, for example, even though The Bear is very highly rated as a comedy in terms of average audience inside the Nielsen streaming data — I think it's the second-highest-rated comedy after Only Murders in the Building of the year — they didn't catch all the ratings. I have access to internal data too. I would like to be able to share that internal data with you and the entire press, but none of the market participants — none of them — are sharing the internal data in an apples-to-apples and complete way, and I'm not at liberty, therefore, to break ranks with the industry or my company.
As part of what we were talking about in the aggregate — the reorganization of our ecosystem into a new, more compact and stable model that could last for decades or generations — I'm hoping that includes apples-to-apples, comprehensive measurement. The only thing I can say about it is that I'll play any game against anybody, anytime, anywhere with clear rules and good referees. And may the chips fall where they may. I don't especially like playing a game where everybody gets to make their own rules. That doesn't feel like a good way to organize an ecosystem to me. But I'm not — remember that the mayor of television is an unofficial position, and it's a very weak mayoral system, in which the City Council holds all the power. I can't wave a wand and change that, unfortunately.
You obviously have a lot of respect for Bob Iger based on what you've said already. But how did you hear the news about his return to Disney, and what was your immediate reaction? Were you at the Elton John concert like half of the company? 
I had been to the Elton John concert the night before, so I was home watching a basketball game with my middle son. And I was really surprised. I didn't have any prior knowledge of it, and like everyone else, I was like, It's not April Fool's Day, is this true? But then it quickly became clear that it was. And look, all I can say is that I met Bob when he called me the first day that the Fox transaction was leaked, and he's been fantastic ever since. I worked diligently and loyally with Bob Chapek and Kareem Daniel when they were the CEO and chairman and head of Disney Media and Entertainment Distribution. But I love Bob Iger. In a stormy sea, it's good to have a really, really seasoned captain.
So bottom line, after all the drama of the last five years or so, you feel good about the future of FX on streaming.
I think increasingly, as there are fewer and fewer and fewer brands, I think the ones that are meaningful are more meaningful. A lot of what this has been is like, Okay, there's going to be a game of musical chairs, just a game of survival. Can we just find one of the few chairs that's going to be available to a team that does what we do in the streaming future as opposed to the past as we knew it? There was a perfusion of channels and streaming platforms. You just saw more and more and more and more and more businesses getting into it. And now you're going to see a winnowing process. If we can survive that winnowing process — and I'm optimistic, as you can hear, that we will, after a really tough transition — I think there's a real chance that the brand will be meaningful and will be a big contributor to the platforms on which it exists and the company of which it is a part.
This interview has been edited and condensed.