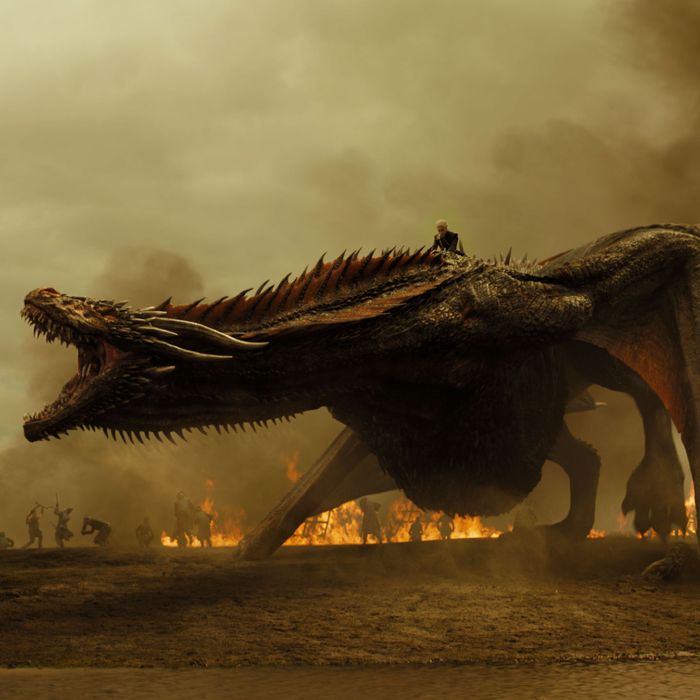 The
Fire & Blood
adaptation
House of the Dragon
has been ordered to series and will likely be the first post-
GOT
series out of the gate.
Photo: HBO
In 2019 we reached the end of Game of Thrones, finishing an eight-year saga spanning seven kingdoms, three dragons (that we know of), and too many stabbings and beheadings to count. In the weeks leading up to the finale there was much wringing of hands over how it marked the end of the monoculture, the final iteration of a time when we all, I don't know, gathered around in our sunken living rooms with our TV dinners to watch M*A*S*H, or something. The flip side of all this talk of fragmentation, though, is that we're still very much in an age of serialization and franchise juggernauts, so it made absolute sense when HBO announced that multiple spinoffs would vie to fill the Wun Wun–size hole in our hearts after Game of Thrones ended. So take comfort in knowing that at least one new series is coming — even though HBO nixed several others — and regardless of whether or not GOT stuck the landing (it didn't), we don't have to say good-bye to George R.R. Martin's world. So let's put on our Samwell hats and lay out everything we know about the post–Game of Thrones–iverse so far.
It's a Dunk and Egg prequel!
History will not just be written by the dragonborn. HBO wants more lore, giving a series order to A Knight of the Seven Kingdoms: The Hedge Knight, following "a young, naïve but courageous knight, Ser Duncan the Tall, and his diminutive squire, Egg." So it's a … buddy drama? Gonna need a funky rap intro to go with it. "Set in an age when the Targaryen line still holds the Iron Throne and the memory of the last dragon has not yet passed from living memory, great destinies, powerful foes, and dangerous exploits all await these improbable and incomparable friends," the network promised in a press release April 12 during the announcement of the Max streaming service (no relation to the Three-Eyed Raven, who's also called Max).
Fans have long hoped for an adaptation of the Tales of Dunk and Egg series of novellas. The Hedge Knight is based on a short story by ruler of this realm, George R.R. Martin, that first appeared in a 1998 anthology of stories by fantasy authors including Stephen King. It takes place 90 years before the events of A Song of Ice and Fire, telling the tale of hedge knight Ser Duncan the Tall and his trusty squire, Egg, a boyhood nickname for (spoiler alert!) King Aegon Targaryen the Fifth (Dany's great-grandfather, if I read the family tree correctly).
Of course, we have the Fire & Blood adaptation, House of the Dragon.
In the fall of 2018, George R.R. Martin released the 800-page companion book Fire & Blood, which covers Targaryen history going back to the conquest of Westeros, 300 years before the events of the television series. Martin remains enamored with the Targaryens, and in a May blog post wrote about the upcoming series in development: "What are they about? I cannot say. But maybe some of you should pick up a copy of Fire & Blood and come up with your own theories." Then, on October 29, HBO gave a ten-episode direct-to-series order to a Fire & Blood adaptation that will be called House of the Dragon. The series is co-created by Martin and Colony creator and showrunner Ryan Condal. Condal will serve as co-showrunner alongside "Battle of the Bastards" and "Winds of Winter" director Miguel Sapochnik. Season two is currently on the way, now with more dragons.
Naomi Watts's pilot is a no-go for HBO.
Prior to the House of the Dragon announcement, it seemed like the first post-GOT project we'd actually get to see would be one helmed by Jane Goldman and co-written by Martin, which filmed its pilot this past summer. HBO ordered the pilot in 2018, and later that year we learned that the series would star Naomi Watts as a "charismatic socialite with a dark secret" and take place around 10,000 years before the events of Game of Thrones, near the end of the Age of Heroes. This series was one of many initially announced with women at the helm. Back in September when rumors about the Fire & Blood series were spreading, Martin wrote on his blog: "Some websites are suggesting that the news about Ryan's show moving forward means that Jane's show won't. If that's so, no one has told me. I don't think it's so." In October, however, Goldman sent emails to the cast and crew to tell them that the pilot would not be moving forward. It would seem it was, in fact, so. According to Deadline, this news comes "after a lengthy post-production, which included re-editing of the initial cut after it was not well received, and rumors about issues during filming in Northern Ireland." What kind of world are we living in, where people can treat Naomi Watts like this? HBO has yet to comment.
HBO has had as many as five series in development.
In 2017, HBO announced that it had begun the process of developing "multiple possible spinoffs" for Game of Thrones, and by the end of the year, there were five in development. According to a September update on George R.R. Martin's blog, "in these days of a hundred networks, channels, and streaming services, I think television has plenty of room for two shows set in Westeros … or hell, maybe three or four … I still want to do SPEARCARRIERS, after all." That last bit, by the way, is a reference to a show Martin wants to make that would be the Rosencrantz and Guildenstern Are Dead to the original Game of Thrones series. Hey, if it worked for Lion King 1 ½. 
Bryan Cogman's spinoff is off.
Later in 2017, Entertainment Weekly reported that there was a fifth Game of Thrones prequel in the works at HBO, this one led by GOT co-executive producer Bryan Cogman, one of the show's most prolific writers, having penned more episodes than George R.R. Martin. Martin blogged his excitement, adding that he would personally work on the project alongside Cogman. But in April 2019, Cogman admitted that HBO passed on the pitch and said, "So it is a good-bye. I am done with Westeros."
Whatever we get, they'll likely all be prequels.
George R.R. Martin remains deeply interested in the fictional history of Westeros, so it seems highly likely that whatever new series we do eventually get will take place before the events of Thrones. So this is almost certainly the end of the Kingsroad for the show's characters.
Sorry, probably no Robert's Rebellion.
If news of Game of Thrones prequels sparks visions of "Rob and Ned's Excellent Adventure," don't hold your breath. As early as 2013, George R.R. Martin stated that while he would be interested in writing a prequel about Westeros, "I don't think, however, it would be a prequel about Robert's Rebellion."
Still, there is plenty of source material.
In addition to dreaming of Robert's Rebellion, writers might also draw from The World of Ice & Fire, Martin's 2014 Westerosi history book that covers the backstories of everything from the great houses to the Age of Heroes. 
One more thing: Don't call them spinoffs.
In a post to his personal blog earlier this year, Martin confessed, "I mislike the term 'spinoffs.'" Instead, Martin's devised a term for the new series that perfectly fits with his universe's themes of royalty and bloodlines: They're called "successor shows," sweetie. Get it right.
This post has been updated.