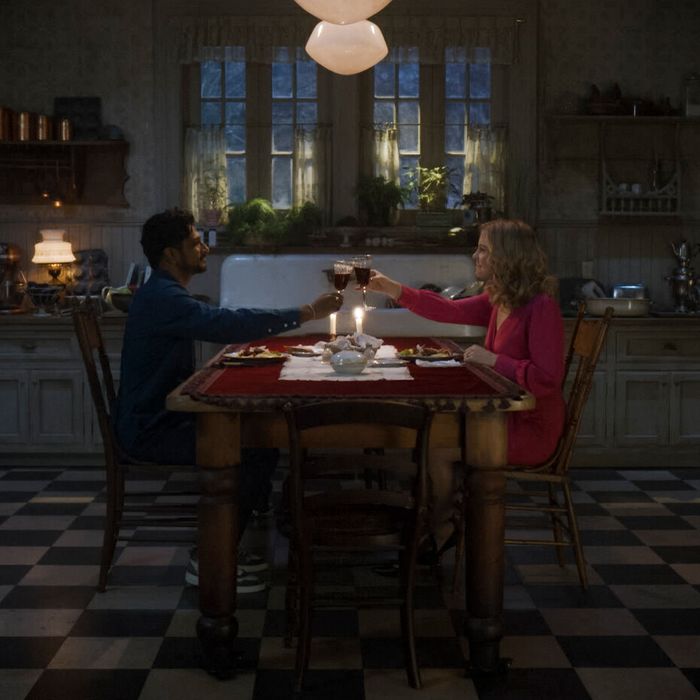 Love is in the air at the Woodstone B&B! Okay, well, thanks to Hetty and Nigel's feud over Isaac, petty rivalry is in the air, too! Oh, and I guess "thanks" to Thor's traditional Viking dinner date menu, the aroma of sour ram's testicles is also in the air. So, in summary, that's love, petty rivalry, and ram's testicles in the air at the Woodstone B&B. It's a busy time.
You may recall that after the harrowing few minutes spent in the Ghost Trap 2000 in which Thor and Flower faced the possibility of being expelled from all planes of existence forever, Flower finally agreed to go on a one-on-one date with our hopeless romantic of a Viking, no third necessary. Well, the time has come for Flower to make good on her promise, even though she remains wildly nervous about going on such an intimate outing. With so much pressure riding on this one night that he's been dreaming about "ever since magical day when Flower get eaten by bear," Thor calls in a few favors. He asks Sam to have Jay cook a traditional Viking meal for him and Flower to smell, and since Sam is having issues saying no to the ghosts, she and Jay cancel their Valentine's Day dinner plans to help the guy out. Meanwhile, Alberta agrees to an after-dinner concert performance (all of Thor's dating knowledge comes from reality TV, so he knows you have to have a post-dinner private concert, preferably by an unknown country star who is on a label owned by the same TV network) and an improv show from Pete, if they have time. Even in the most desperate of times, no one really wants to watch Pete's improv.
The date goes incredibly well. Okay, it goes well for Thor and Flower, but maybe not so much for Jay, who was already peeved about having to make a four-course meal just for smelling, but then really gets the short end of the stick when Sam makes him eat the ram's testicles and describe them to Thor and Flower, since Thor can't exactly remember. He doesn't care that, according to Sam, "they are loving the smell of your testicles!" The man just wanted a nice dinner with his wife. But it's for the greater good. The night hits a minor bump in the road when Flower starts talking about the last one-on-one date she went on with some man named Michael, and she seems a little uncomfortable, but other than that, Thor and Flower share a nice (smelling) meal. Thor opens up about the loss of his father, Alberta covers "a famous unknown country singer," especially for Thor, and hey, even Pete's improv is a hit. Flower is impressed by Thor's thoughtfulness in planning a great night and even more so that he "didn't even mention murder once." I'd say that's a low bar to clear when it comes to what constitutes a really nice date, but … have you been on dating apps lately? Anyway, when Thor walks Flower back to her room, they share a kiss so good that Thor has no control over his ghost power, and the lights start flickering. It's so sweet. I'm really rooting for the hippie and the Viking to make it work!
Unfortunately for both me and Thor, the next morning, Flower forgets the date even happened. Thor is crushed! He decides the best course of action is to recreate the date entirely and hopes she remembers this time. Sam should show him 50 First Dates for some inspo, but perhaps at another time! Nobody's thrilled about participating in this do-over date (Sam and Jay have to cancel another dinner reservation) and are especially annoyed when Flower slips and reveals that she was lying about not remembering.
Sam confronts her about it, and we learn that Flower had an entire life before becoming a hippie. She was in law school! And engaged to be married to a man named Michael! But we flashback to Michael in a coma, and Flower explains that after Michael died, she swore off falling for just one person. She never wanted anything too good or to get close to any one person because she could lose all of it so easily; she never wanted to feel that type of pain again. So, when she had this amazing date with Thor and began to feel like she could be happy with just him, she got scared. Look at our Flower with all the depth and complexity going on! Sam encourages her to talk to Thor about it, and he immediately gets it (again, another person with depth that always surprises!). He understands loss and pain, too. They can navigate it together. Flower's on board for a second date, and they share another kiss just for good measure. It's a real opposites attract situation, and I'm here for it.
Flower and Thor aren't the only ghost couple in the house, though, remember? Nigel has officially moved into the library (can we get an update on how Jenkins is taking it?) and almost immediately rankles Hetty when he imposes on her standing Weekly Ponder date with Isaac. You see, every week, they spend time staring out the window and pondering "life's great mysteries." Those include but are not limited to: "Why are we here? What is our purpose? Do fish have nightmares?" It's important stuff, and when Nigel asks to join, Hetty is not having it. But then Nigel goes and makes a bigger faux pas: He decides to throw a Welcome Tea to introduce himself to the other ghosts but invites Hetty last. Even after Nancy the Basement Ghost! She is livid.
So what does Hetty do? Well, first, she vents to Trevor, WHO SHE IS STILL HAVING SEX WITH! This news is truly the greatest Valentine's Day gift I could've ever received. Can we take a minute just to revel in the fact that the thing Hetty will finally agree to do with Trevor is pillow talk? The guy just wants to have a heart-to-heart with his girl! And he's apparently an amazing listener, too, because when Hetty tells him all about how she needs to get back at Nigel for this slight, he reminds her of the rival party she once threw to totally devastate someone who had tried to step to her power back when she was alive. He really listens to her stories! I cannot wait until these two are outed. What a glorious time that will be.
Hetty basically says if it ain't broke, don't fix it, and enacts that same plan: She invites all the ghosts — even Nancy! — to a party at the exact same time as Nigel's. She wins Alberta over by telling her that Nigel called jazz music "American filth," and Sas agrees to come because the man lives for drama. His "thank you for doing this" to Hetty is so sincere.
The plan works: Nigel's party is a bust. When Isaac finds out what Hetty did, he gets his best friend and his boyfriend in a room together to hash things out. Hetty admits that she was jealous and worried about being left behind now that Nigel had moved in, and Nigel admits that he did indeed invite Hetty last on purpose — he's intimidated by her and wanted to show her up. Isaac gets them to see that "there's enough of old Higgintoot to go around," and the two agree that they're being petty, silly, and immature about the whole thing.
But then Isaac leaves the room. Hetty and Nigel make it very clear that neither is sorry for what they did nor has any plans to share Isaac with the other. Oh, this rivalry is very much on.
Ghouls Just Want to Have Fun
• Jay and Sam do finally get to have their date — although it's at home since Jay got blacklisted from his favorite restaurant after his multiple cancellations — and they even get Thor to guard the door from the other ghosts so they aren't interrupted. The two livings remain very cute!
• Thor's nervous about the date going well, and to calm him down, Jay gives him a pep talk: "You're amazing, and Flower has almost no other options." Okay, so it's not the greatest pep talk.
• Sas, after Flower details all the multi-person dates she's been on, including one that was just "however many people could fit on a VW bus:" "She didn't say no, Thor. She just said she was nervous. And then overshared about some sort of road orgy."
• When Sam is surprised to hear that Flower was in law school, Flower responds: "Well, not always in law school. A lot of times we were outdoors walking from one building to another." Just flawless delivery from Sheila Carrasco right there.
• The pile-on in regards to Pete's romantic life continues. When he suggests that Thor can totally pull off a great first date at the B&B, Thor asks the group: "Really? Do others who actually have success at dating agree?"
• Before Trevor gets any big ideas about what Hetty opening up to him might mean, she reminds him: "I still view you largely as a replacement for the washing machine." Now that's love, people.